An In-Depth Look At The Donruss Diamond Kings Place In The Hobby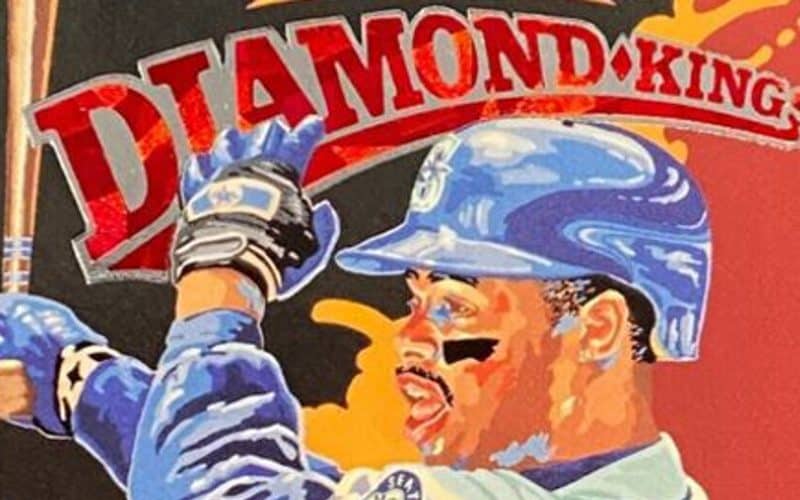 "They were actually my favorite cards to collect, due to having these players that I love so much just being represented in a different way, something that was unique from just a photo or an image."
Donruss Diamond Kings trading cards have been a staple of the baseball card trading card industry over the last 40 years. These unique cards feature vibrant and outstanding images that have thrilled collectors since they were first released in the 80s.
This article shall dive into the history of the Donruss Diamond Kings subset, their value, and how to get started collecting these cards.
Shop for Donruss Diamond Kings cards on eBay
A brief history of Donruss Diamond Kings
1980 marked a new dawn in trading card collection as several new players entered the trading card game. Using exclusive contracts, Topps became the sole producer of bubble gum baseball trading cards in 1956.
As expected, Topps faced several legal challenges to its monopoly of the trading card market. In 1980, Fleer Corporation filed a lawsuit against Topps Chewing Gum Inc. The lawsuit claimed that Topps' exclusive contract with nearly all major and minor Baseball players made it impossible for competitors to enter the market.
The lawsuit was significant as it was one of the first cases to address the issue of monopolistic practices in the trading card market. After a lengthy trial, the court found that Topps had clearly engaged in anti-competitive practices, and Topps was ordered to cease its monopolistic practices.
This significant victory for Fleer leveled the playing field and ensured other trading card companies could enter the market. One of those trading card companies was Donruss, a subsidiary of General Mills, which already had much experience creating non-sports cards.
"We figured that if anybody should be involved, it ought to be us… after all, the company knows the business."

According to the Donruss President Stewart Lyman in 1981
However, Donruss was just one of many new companies entering the trading card market. With many companies now producing cards, Donruss needed a way to differentiate itself from the pack. Their search for this unique selling point gave birth to several ideas, one of which was the Diamond Kings subset.
Shop for Donruss Diamond Kings cards on eBay
Typically, a trading card featured a photograph of weary men with frozen smiles or standard game action poses. Diamond Kings spiced this up by having renowned artist and official Baseball Hall of Fame artist Dick Perez create something different, a departure from the standard, staid shots.
"I wanted to bring not just art as a way of showing a player, but art as art, You're not looking at a photograph. This work was done by somebody's hands. The subset would be made up of 26 cards, each card featuring a player from each MLB team."
1982 Donruss Diamond Kings
Donruss's attempts to separate themselves from other companies by having actual art in their packs was an instant success. The Diamond Kings subset was applauded and accepted by collectors and fans alike.
Shop for Donruss Diamond Kings cards on eBay

Dave Jamieson, author of Mint Condition, a history of the baseball card business called Diamond Kings a treat.
"Baseball cards in the 1980s were undistinguished. Specialty cards—league leaders, record-breakers—were always a part of sets but always bland. The business of making baseball cards was more or less just that; no one was trying too hard. The Diamond Kings cards felt like a treat in the way that those other specialty cards did not generally."
Baseball card industry veteran Tracy Hackler called the Donruss Diamond Kings cards a "mesmerizing work of art".

Donruss had offered what no other card manufacturer was offering, a chance to open a pack and pull something different that stands out from the regular bored portraits. It was the "new shiny toy," and collectors enjoyed every bit of it.
"I had never seen something like that."

Cuyler Smith, illustrator and avid trading collector since the early 1990s.
Perez and Steele enjoyed total creative control when creating Diamond Kings cards. This included choosing the players and how Perez would paint them. While Perez maintains that succeeding as an artist requires a good amount of luck, several factors made the Diamond Kings cards a popular card.
A Donruss Diamond Kings card typically had a hand-drawn portrait and a tiny in-set painting of a player in action to accompany the main portrait.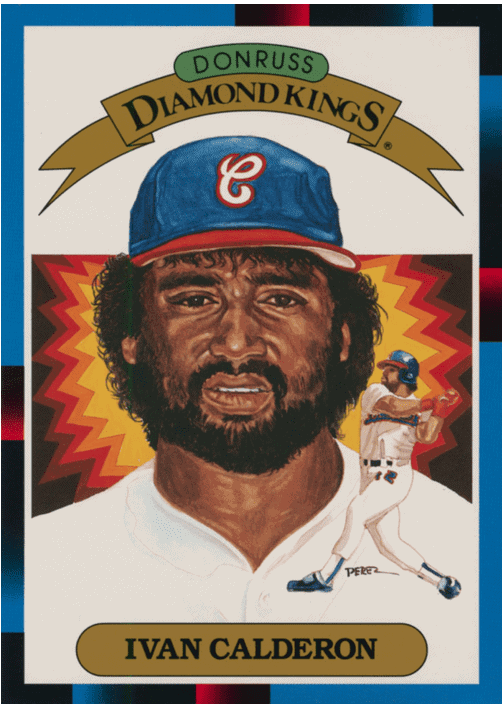 Perez painted using watercolours which dried quickly. While he started by doing safe and straightforward portraits, he experimented extensively over his 15-year run with the subset. He experimented with colors, went abstract and generally did all he could to create distinct works of art.
Perez said he didn't want his work to resemble a photograph and painted these cards with that in mind. He says he drew inspiration from magazines, pictures taken by Donruss's photographer's team and his library of baseball books. Diamond Kings cards were painted during the season's home stretch when the stars from each team were somewhat established.
"I'd rather work knowing that those are for sure the guys, rather than draw or paint something and then have to redo it."
Pinnacle Brands Inc. acquired Donruss in 1997 and effected several significant changes to the Diamond King subset. Aside from replacing longtime Diamond King artist with Dan Gardner, they limited the number of Diamond Kings in the set to 10 cards.
The 1997 Donruss series was the smallest Diamond King set ever. The cards were serial-numbered to 10,000 copies and randomly inserted into packs.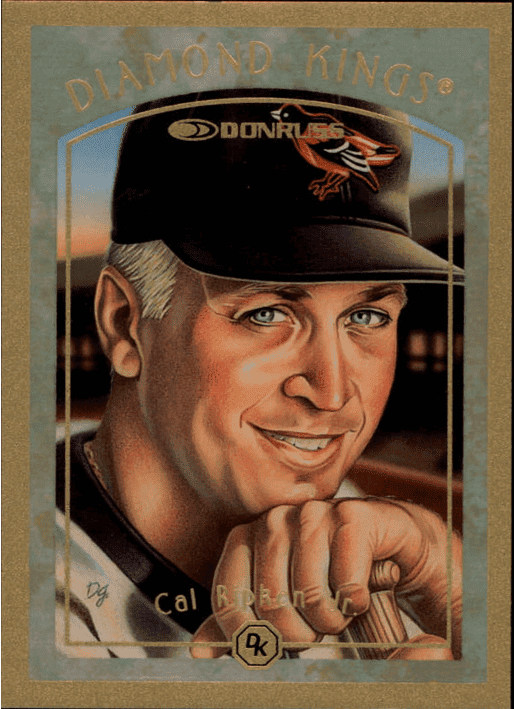 1997 Donruss Diamond King checklist
1 Ken Griffey, Jr.
2 Cal Ripken, Jr.
3 Mo Vaughn
4 Chuck Knoblauch
5 Jeff Bagwell
6 Henry Rodriguez
7 Mike Piazza
8 Ivan Rodriguez
9 Frank Thomas
10 Chipper Jones
Shop for 1997 Donruss Diamond Kings on eBay
While collectors noticed the difference between both artists' styles, the general design of the Diamond King subset stayed true. However, the miniature in-set painting of a player in action that accompanied the portrait was gone.
A timeline of the changes to the Diamond Kings brand through the years
1982 Donruss Diamond Kings – The birth of the Donruss Diamond King brand
1991 change – became a single shot versus a smaller action spot with the portrait shot.
1992 change – first year where Diamond Kings became an insert
1996 King of Kings Cal Ripken – This was the final year that famed artist Dick Perez would help produce the Diamond Kings insert set.
1997 Pinnacle Brand acquires Donruss – Donruss changed hands and in the process replaced the long-time Diamond King artist with Dan Gardner. It also limits the number of Diamond Kings to 10 cards. Shop
1998 – The final Donruss Kings cards that were issued in the 90s. Pinnacle filed for bankruptcy just two years after purchasing Donruss.
2001 Donruss: Donruss Diamond Kings were reintroduced in 2001 under football card manufacturer Playoff. In addition to the first Diamond Kings cards in three years, there are several Diamond King-themed inserts.
Playoff issued a red-bordered Diamond King promo card of Alex Rodriguez to announce that Donruss-Playoff had received an MLB license. Donruss-Playoff also released a 1999 and 2001 Retro Diamond King set.
This set features Diamond King cards that Donruss would have produced had they been around in 1999 and 2000. Lastly, an "All-Star Diamond Kings" set featured ten Hall Of Famers. Each card in this insert was serial numbered to 2500 copies.
2005 – Donruss introduced the first Diamond Kings standalone set. It also marked the first-time parallels were released. Each of the 25 Diamond Kings (cards 1-25 in the base set) was available in the following parallels.
Gold (serial-numbered to 2005 copies)
Studio Series (serial-numbered to 250 copies)
Studio Series Black (serial-numbered to 100 copies)
2006 – Donruss-Playoff had lost its license to produce Major League Baseball cards. Hence, there weren't any Diamond Kings cards made.
2007 – Donruss released an "Elite Extra Edition". It was not MLB/MLBPA licensed and did not feature any active players. It also didn't have any Diamond Kings cards.
2008 – Diamond King cards were back, but as "Threads Diamond Kings". With no MLB or MLBPA license, this product had all trademarks airbrushed and featured retired players and prospects only.
2014 – Diamond Kings inserts are back and weren't painted. The first licensed Donruss Diamond Kings card in nine years. Each Diamond King was short-printed and seeded into packs at the rate of 1:4. Series One hobby boxes came with an oversized Diamond Kings box topper.
2015 – Standalone Diamond Kings are back and with images that give the appearance that they're painting. Panini makes the Diamond Kings brand a standalone set after a decade. Twelve-pack hobby boxes contained two autographs, memorabilia cards, and a pair of framed parallels.
2019 – Donruss reintroduced the classic Diamond Kings design. With a checklist highlighting legends from MLB's earliest years, this Diamond Kings set drew inspiration from iconic releases from 50 years back.
2020 – The 2020 Diamond King paves the way for what we have today. While it uses an artistic approach to highlight current players, it also covers a variety of eras. There's a perfect balance of modern designs and designs that long-term collectors will recall fondly.
How Donruss Diamond Kings cards became an iconic insert/series
While most subsets take a while to grow on collectors, the Diamond King insert was an instant collector's favorite. Back then, Baseball cards were bland, undistinguishable, and generally had all players in the same pose. Donruss Diamond King cards and their evocative watercolor portraits brought an unusual visual grandeur to every pack.
This flashy insert was the newest hip new thing, and collectors collected them en masse. While the demography of collectors today has changed, it was made for children back in the 80s, and the flashy Diamond King design especially appealed to them.

It inspired thousands of art projects as kids attempted to draw a rendition of their Diamond King card. Aside from its distinctive design and striking version of the players, Donruss Diamond Kings was usually not a rare insert and was relatively easy to maintain. As expected, collectors highly coveted them, which only helped grow their fame.
Their collectability increased further in 1996 when Donruss made them a serial numbered insert, lowering print runs.
Shop for Donruss Diamond Kings cards on eBay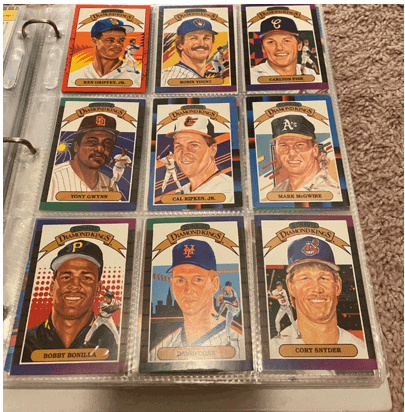 Diamond Kings today
Today, the Diamond Kings brand has gone from a popular subset and insert to a standalone Panini Donruss product. While a lot changed, Diamond Kings generally has stayed true to its roots of using colorful illustrations to portray players.
However, the 2014 Donruss Baseball Diamond King set differed from other Diamond King cards as Panini did NOT paint the cards. After an outcry response from collectors, painted Diamond Kings returned in 2015 and have remained so until this day. The 2015 Diamond King set also marked the first appearance of Babe Ruth in a Panini product.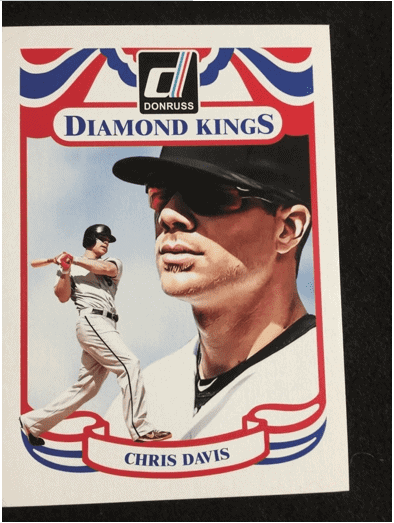 Panini's Diamond Kings have performed spectacularly well as a standalone brand. There are several good-looking cards, serial-numbered inserts and autographed cards.
Panini's Diamond Kings Baseball remains the place to collect a variety of cards done with an artistic look and feel. This variety of options and the rarity of some of its inserts has ensured the Diamond King brand is a fan favorite.
Are Diamond Kings cards collectible?
The fact that Diamond King cards are a favorite for several of today's collectors has ensured that their cards hold their appeal quite well. Here are a few reasons Diamond Kings cards are pretty valuable even today.
Shop for Donruss Diamond Kings cards on eBay
Unique design
The unique and vibrant hand-drawn image of the featured player made Diamond Kings loved when it first debuted in the 80s. This artistic representation of players carved out a niche for Diamond King cards and ensured they stood out among other trading cards.
Its design appeals to many collectors, who love visually appealing cards that are different from the norm.
Rare Inserts
As a standalone set, the Diamond King series also includes several rare inserts and limited-edition inserts. These inserts are highly coveted by collectors and can increase the value of the set as a whole.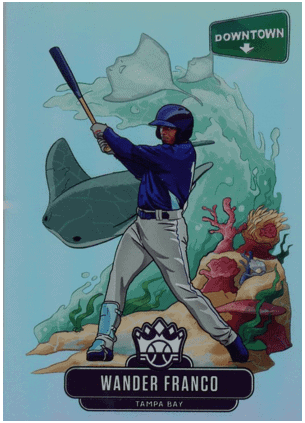 Legacy
Diamond Kings cards are one of the older inserts from one of the most established brands in the trading card market. Diamond King cards have a long history of producing high-quality cards and have built a strong reputation among collectors.
Shop for Donruss Diamond Kings cards on eBay
Investment potential of Donruss Diamond King cards
Diamond Kings still has some demand from old junk wax collectors as well as newer and young collectors. Collectors looking for an upside ROI see Donruss Diamond Kings cards as a potential investment, especially graded cards in PSA 9s and PSA 10s.
Overall, the combination of a unique design, rare inserts, the legacy of the Diamond King brand, and investment potential has made Donruss Diamond King cards a popular choice among collectors.
Shop for Donruss Diamond Kings cards on eBay
Popular Diamond Kings cards
Diamond Kings cards showcase a variety of styles and tons of colors. With an extensive checklist that ensures it showcases both past and present stars, the Diamond King set has garnered quite a number of loyal followers. Let's consider a few of the modern and more iconic Diamond Kings cards.
1991 Donruss #9 Roger Clemens Diamond Kings
Throughout his 24-year career, Roger Clemens established himself as a dominant pitcher renowned for his hard work, competitiveness, and durability. Collectors especially covet his 1991 Diamond King card. The average value of 1991 Donruss Roger Clemens is a few cents with prices up to $30 for a PSA 10.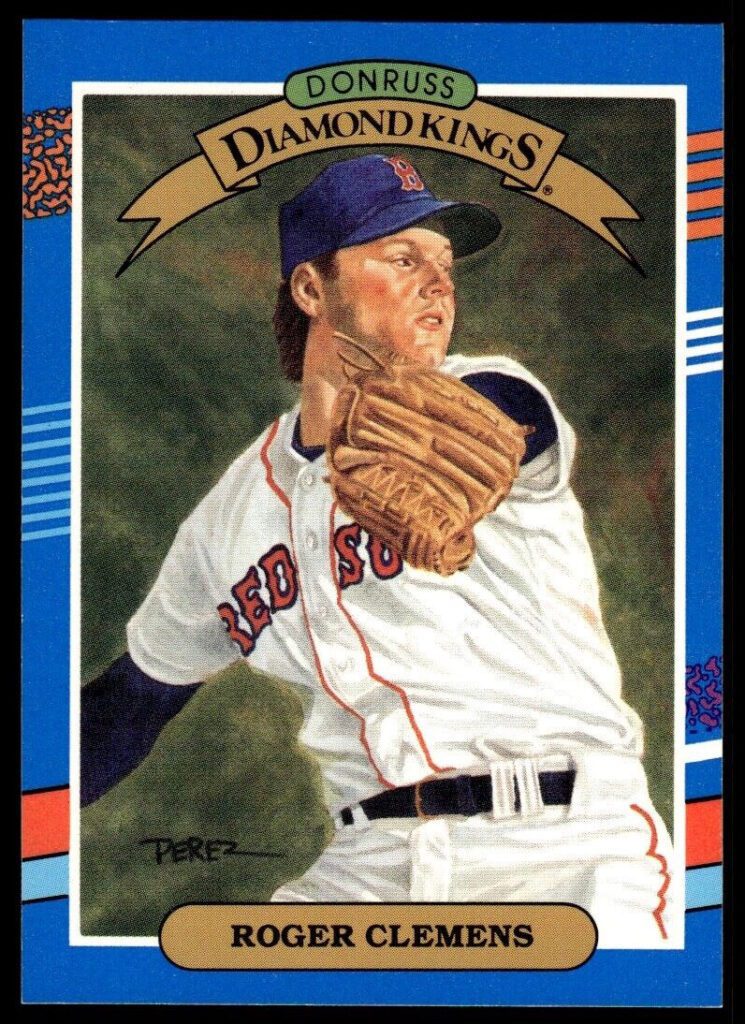 1988 Donruss #1 Diamond Kings Mark McGwire
Mark McGwire is undoubtedly one of the most prolific home run hitters in baseball history. The average value of 1988 Donruss Diamond Kings Mark McGwire is $2.96. Sales range from a few cents to $38 for a PSA 10, depending on the card's condition.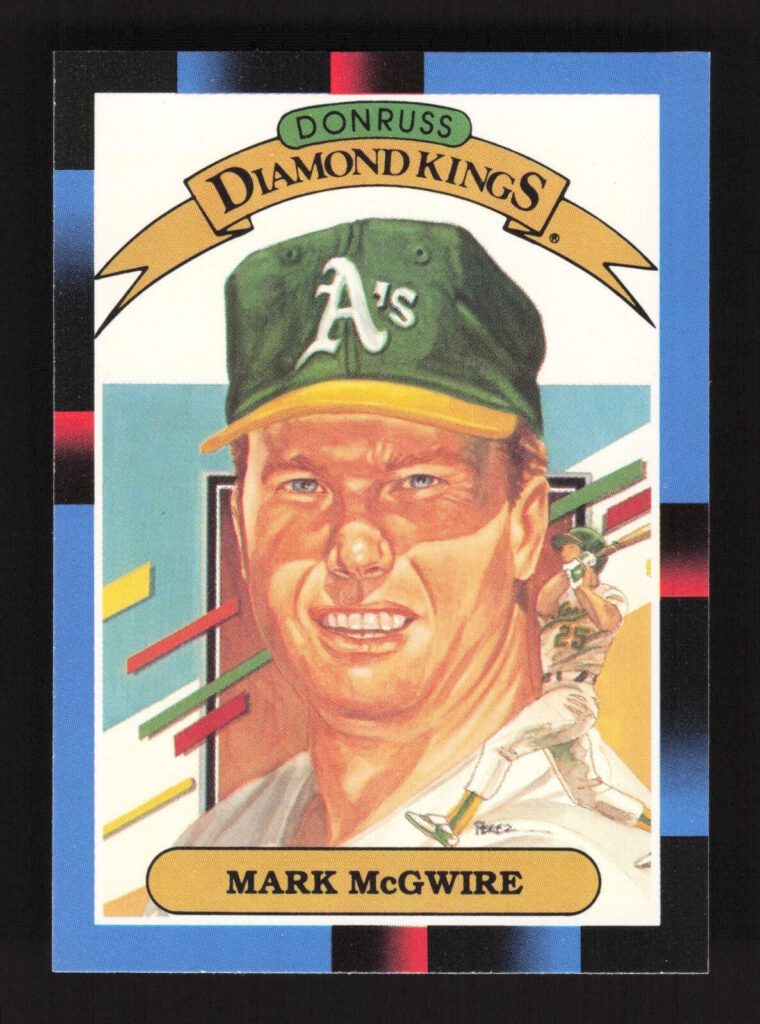 1990 Donruss Bo Jackson Diamond Kings #1
Renowned for his exceptional speed, power, and athleticism, Jackson lit up the pitch during his 8-year Baseball career. He is the only professional athlete in history to be named an All-Star in both baseball and football. The value of his 1990 Diamond King card ranges between $1 to $165 for a PSA 10.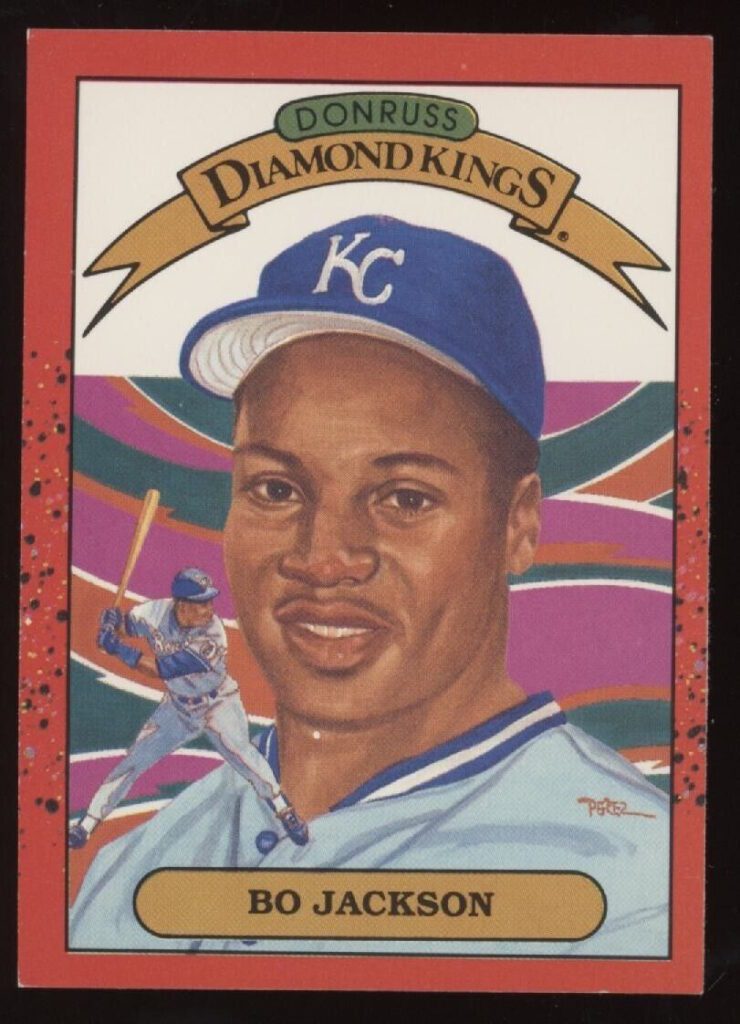 1995 Donruss #3 Diamond Kings Chili Davis
Chili Davis was a dominant and accomplished hitter who left an indelible mark on Major League Baseball. His 1995 Diamond King card is Diamond King artist Perez's favorite of the hundreds of Diamond King cards he painted for Donruss in 15 years.
While it's not especially valuable, it's a great-looking card with a lot of history behind it.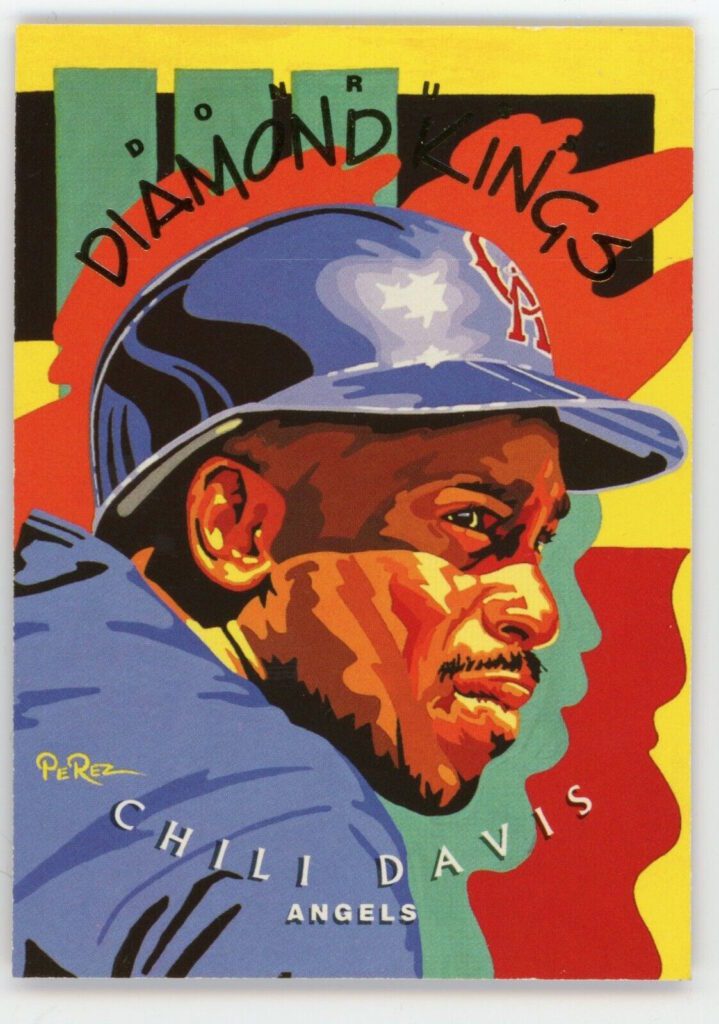 2018 Panini Diamond Kings 1982 Signatures Shohei Ohtani
Shohei Ohtani is the only MLB player who has hit 45 home runs, stolen 25 bases, and struck out 145 batters in a single season. With such an accomplishment, it is not surprising that collectors especially value his baseball cards. He's a popular favorite among Diamond King collectors.
A lot of the most valuable Diamond Kings cards are Ohtani. His 2018 Panini Diamond Kings 1982 Signatures is just one of his many Diamond King cards with incredible value. Prices for this card range from $90 – $1393.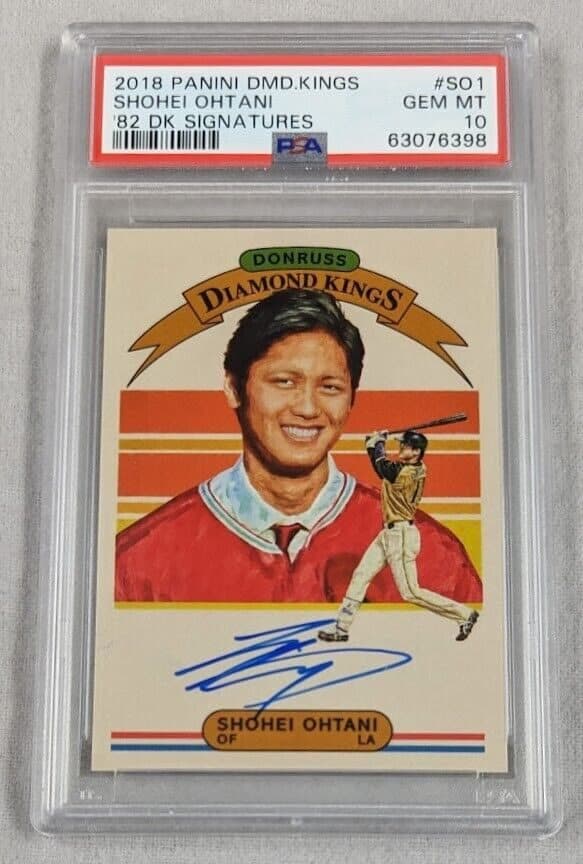 2005 Donruss Diamond Kings Gold 1/4 Kirby Puckett buyback Auto
Renowned for his infectious smile, incredible talent and youthful enthusiasm, Kirby Puckett quickly became a fan-favorite in Minnesota where he spent his entire career. His skills on the diamond made him one of the game's greatest players. Puckett was a six-time Gold Glove Award winner and was named in 10 consecutive All-Star teams from 1986-1995.
Few personalities were as loved as Kirby Puckett in baseball. A Hall of Famer, Puckett's cards are highly sought after by collectors. His rare 2005 Donruss Diamond Kings card is especially popular with baseball collectors.
This signed card released a year before Puckett passed away in March 2006 has garnered impressive value. This signed copy sold at auction for over $600, and PSA 10s sell for impressive figures.
1993 Donruss Diamond Kings Ken Griffey Jr.
Ken Griffey Jr. is widely regarded as one of the greatest baseball players of all time and it's no surprise his several of his Diamond Kings cars are highly coveted. One of such card is the 1993 Donruss Diamond Kings Ken Griffey Jr.
The average value of 1993 Donruss Ken Griffey Jr Diamond Kings is $5.40. With prices ranging from lows of $2 to $400 for a PSA 10 depending on the card's condition.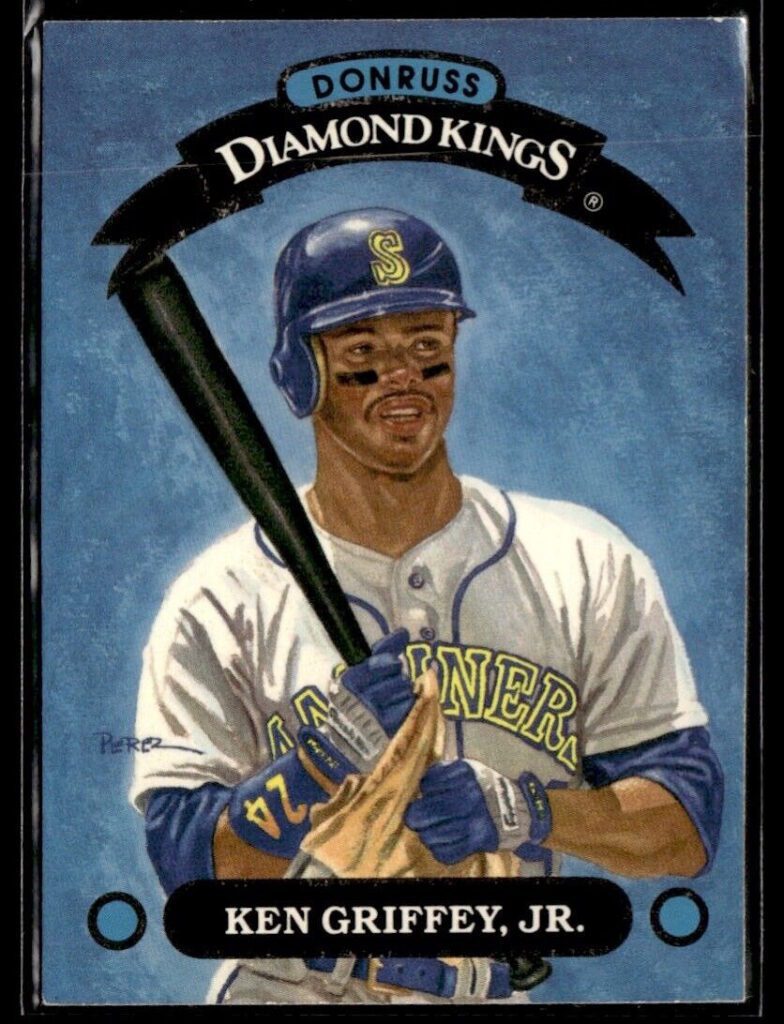 2001 Ichiro Suzuki Donruss Diamond Kings
Ichiro enjoyed an amazing MLB career after arriving in 2001 from Japan. He was a 10x All-Star. 10x Gold Glove award winner and had ten straight 200-hit seasons.
It's easy to see why his Diamond Kings cards attract ample attention from collectors. His 2001 Diamond Kings rookie card is especially popular and goes for impressive figures. Its value ranges from $5 for raw to $250 for PSA 10.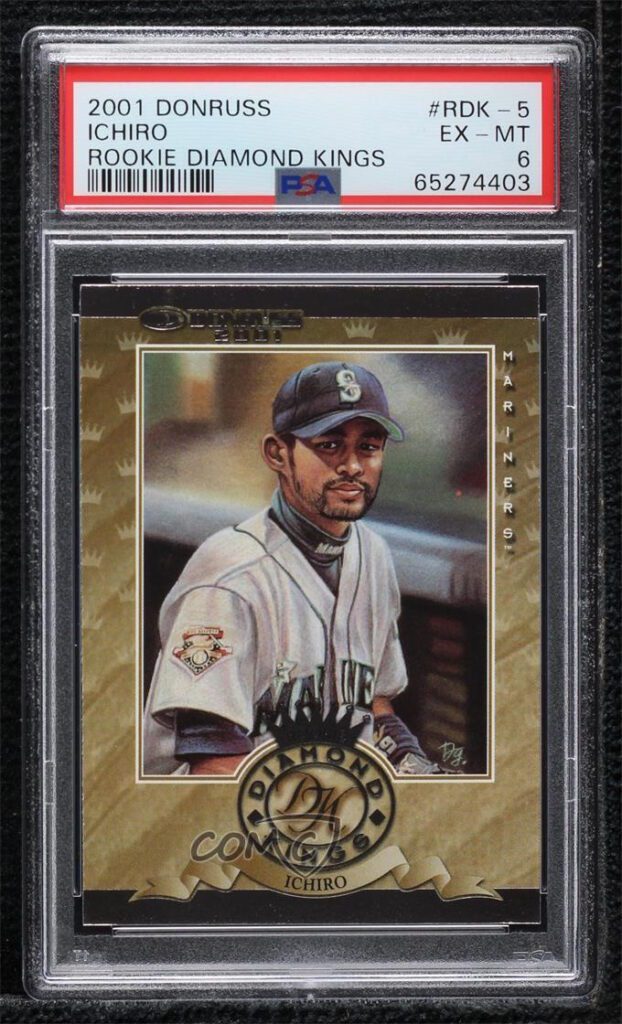 Tony Gwynn Autograph 1994 Donruss Diamond Kings Jumbo
Hall of Famer Tony Gwynn, also known as "Mr. Padre," was widely regarded as one of the greatest hitters of the game.
With eight National League batting titles, five Gold Gloves awards and a career 3,141 hits, Gwynn's cards have ample demand. His 1994 Diamond Kings Jumbo card is one that's amazingly popular with Diamond Kings collectors.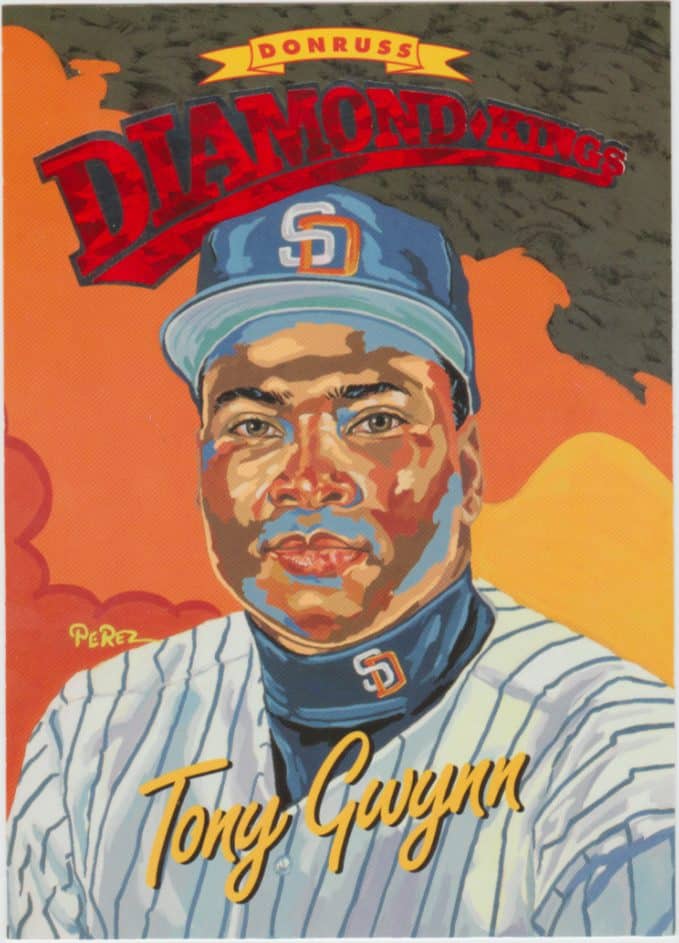 1990 Donruss #4 Ken Griffey Jr. Diamond Kings
Ken Griffey Jr. was inducted into the Baseball Hall of Fame in 2016 with the highest percentage of votes in HOF history with 99.32% of the votes. He's arguably one of the greatest baseball players of all time and it's easy to see why he makes this list twice.
The average value of 1990 Donruss Ken Griffey Jr. Diamond Kings is $4.33. With prices ranging from lows of $1 to highs of $400. There's an error variation of this card that sells for over $3,000 in good condition.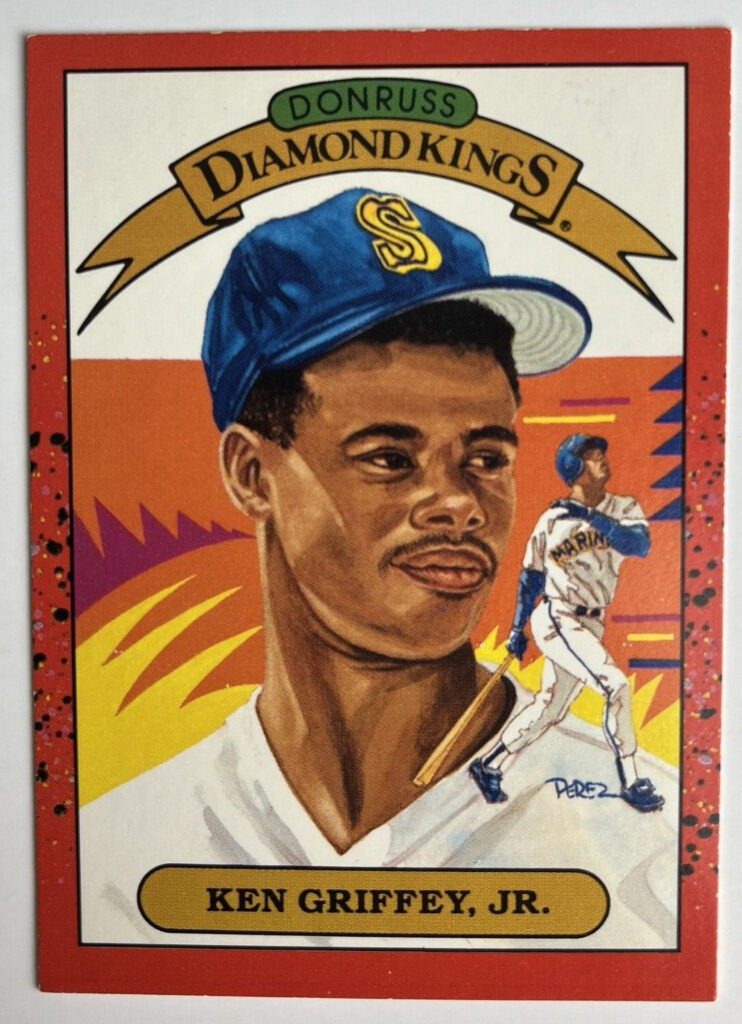 Bottomline of Donruss Rated Rookie cards
The Diamond King cards with their unique vibrant design and rare inserts are still highly sought after by collectors. Generally, the value and appeal of Panini's baseball product has dropped since 2011 when Panini wasn't allowed to use team logos on its baseball cards.
However, the Diamond Kings brand still holds its appeal after all these years. These attractive cards are a staple of the trading card industry and have many loyal followers who still collect them religiously.
Whether you're a longtime Diamond King fan or a new collector, these vibrant cards are fun to rip and are must-haves for any trading card collection.
Shop for Donruss Diamond Kings cards on eBay