Intro To Star Trek Trading Cards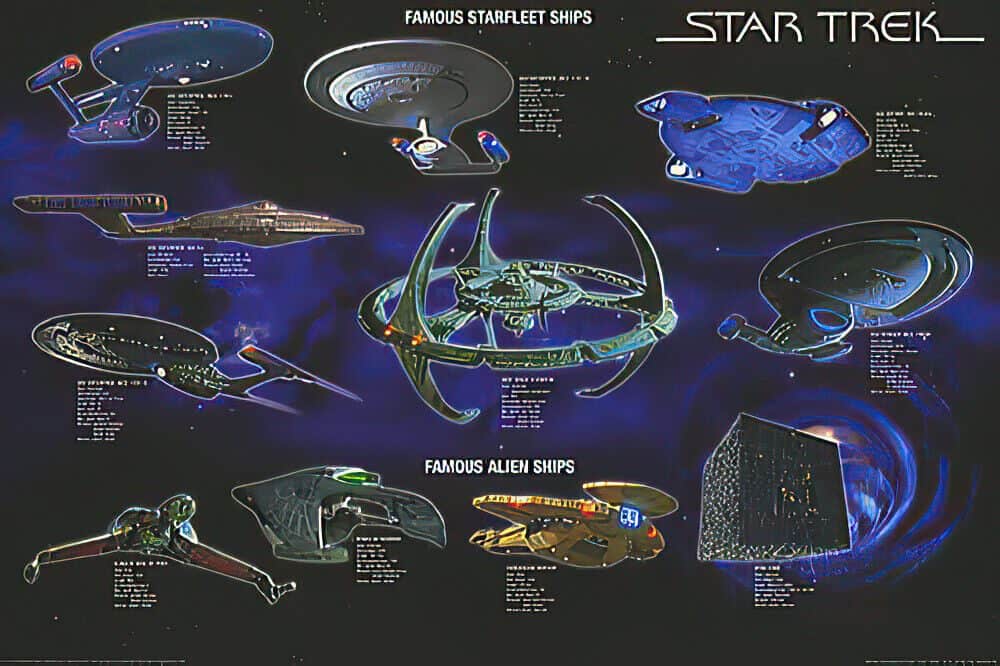 An Intro To Star Trek Trading Cards has a lot of ground to cover. Star Trek: Discovery Season 3, Rittenhouse Archives' newest release based on the iconic sci-fi entertainment franchise, debuted in the marketplace on March 9 with a 78-card base set, plus nine insert collections, autograph inserts, and sketch cards from at least eight artists.
For Rittenhouse and company president Steve Charendoff, the Star Trek license remains their longest continuous-release property. Discovery Season 3 is the firm's 39th Trek title, a run that dates back to September 1999. Charendoff cast his line after a 4 1/2-year stint as a marketing director for Fleer/Skybox, where he helmed Trek trading cards and other non-sport merchandise. As a result, he and his establishment bear witness to much history and evolution in both hobby and entertainment circles.
Intro To Star Trek Trading Cards Problematic Maiden Voyage 
Since The Original Series debuted on the NBC network, Star Trek and the trading card industry have shared missions. In 1967, within a year of Trek's television premiere, Leaf Brands, a Chicago-based bubblegum and confections house, printed a 72-card black-and-white glossy obverse set. Leaf's Star Trek is a scarce commodity. The limited population has been attributed to Paramount Studios' legal complaints regarding the unauthorized publication of the cards' imagery. Leaf Brands was no neophyte in trading card manufacturing. The corporation had been producing non-sport collectibles since the early 1960s. Still, its most historically notable release remains the 1948 Leaf Baseball series, the industry's first non-monochrome post-World War II sports card product.
The original Star Trek cards have a gorgeous classic aesthetic. Look for PSA-graded ones on eBay. 
The 1993 "European Find"
In 1993 a Canadian importer attempted to distribute "authentic" Star Trek (1967) sets (the so-called "European find") – some 2,700 in all – through ads in a non-sport periodical printed by a naïve publisher. Their origin remains unclear. Today, too many examples of the 1994 version exist on eBay and other after-market portals. It has led, ultimately, to confusion between the authentic Leaf cards and their Europe counterparts. Differences in texture and card stock among the Leafs and the alleged reprints are relatively easy to spot. It is worth telling them apart since genuine 1967 cards are prime candidates for grading.
Raw Trek 1967 singles appear on eBay relatively frequently. Successful transactions of raw cards (in auctions and Buy-it-Now) range between $5 to $15, depending on card condition and which actors appear on the obverse. It cannot be deduced which lots are of actual '67 Leafs or the mid-90s Europeans. But a recent online inquiry into high-end lots featuring undeniable vintage cards reveal interesting value data:
Graded Cards
#1           SGC – 4                $56.00   (11 bids)
#72        SGC – 4                $  7.52   (  6 bids)
#14        PSA – 4                $11.52   (11 bids)
#34        PSA – 6                $14.65  (16 bids)
#21        PSA – 7                $57.45  (BIN)
#16        PSA – 7                $75.00   (BIN)
Intro To Star Trek Trading Cards In The Topps Years 
By 1976, Topps had settled into a formal pattern for its entertainment division with (usually) an 88-card set augmented by sticker inserts. Meanwhile, interest in the Star Trek Original Series grew considerably in the '70s with the grassroots evolution of fan conventions and the NBC animated 30-minute Saturday morning program of the 1973 and '74 seasons. So naturally, Topps was interested. But for some reason, the initial 1976 Star Trek release was limited in its distribution. In addition, Star Trek is a one-off collection, as no follow-up series was printed.
The 1976 release has that campy old-school sci-fi flick feel. Look for these on eBay. 
Two factors seem to have been in play. First, sometime in 1975, the Fleer Corporation brought a $17 million antitrust suit against Topps and the MLPA for monopolistic practices within the baseball card realm. A more prosaic but still elusive account exists. As told to this writer by a 20-year veteran trading card vendor for a Non-Sport Update feature, Topps was hit by a labor strike two days into its Star Trek printing process. The merchant claimed the work stoppage lasted for two weeks. As a result, Topps found itself in a bind. Their baseball card series had been slated for the Duryea, Pa. production line immediately after Trek, but the employee action disrupted the schedule. As the labor settlement took effect, the Star Trek lithographic plates were removed immediately, and baseball card manufacturing commenced.
The 1976 Topps Releases
A brief look into Trek (1976) current trade prices is in order. Despite the truncated print run, full 36-pack display boxes can be found. In addition, the Baseball Card Exchange of Schererville, Ind., conducted an eBay auction of a BBCE-sealed Trek box last October. It fetched a $7,525 final listing. "We did get $7500 for a box, but that was at the peak of ridiculousness!" opined Steve Hart, owner of Baseball Card Exchange and its chief unopened box authenticator. "I'm sure we have done 30 to 40 (1976 Star Trek) boxes, but we didn't keep track at all (the submissions) for the first several years." Further research revealed another BBCE-sealed Star Trek (1976) box secured and sold by Robert Edward Auctions of Chester, N.J. In late 2016, a like-new box racked up a $10,800 hammer price.
Voyages Into The 1980s
Star Trek gained tremendous momentum after its second film, The Wrath of Khan (1982), earned close to $80 million globally. Topps published a series on the self-absorbed 1979 flick Star Trek-The Motion Picture. Unfortunately, it failed to generate much enthusiasm at trade shows, most likely due to the paint-by-the-numbers Topps treatment of the subject matter. The independent Fantasy Trading Card Company then picked up the Trek license. Unfortunately, a lack of editorial imagination pervaded the FTCC output. As a result, the pair of Trek titles, The Search for Spock and The Voyage Home, left hobbyists and cross-over fans with a sense of unfulfillment.
Intro To Star Trek Trading Cards In The Modern Era
Upper Deck's 1989 baseball card created a storm in the industry. Here were pasteboards with semi-gloss finishes (front and back) and color pictures of players on the reverse side. It proved a boon for the non-sport card niche as well. Concerning any proposed Star Trek product, these new manufacturing techniques – the future of trading card sales and distribution – somehow meshed into the Trek ethos of technological advancement.
The first firm to exploit the advanced printing methods for Star Trek was Impel Marketing, Inc. In short order, Impel's title list outpaced its competitors. In addition, Impel's Star Trek 25th Anniversary issue allowed collectors a glimpse into the future of nearly innumerable superb releases covering Gene Roddenberry's creations.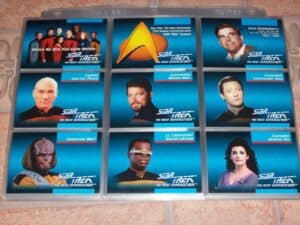 1992 Next Generation Inaugural Edition releases are perfect for fans of that popular TV adaptation. How much do they go for on eBay?
By far the finest Trek project by Impel is the 1992 Next Generation Inaugural Edition set. An amalgamation of both character studies and detailed descriptions of the Enterprise's hardware, ST: TNG is often considered the best non-sport issue of the 1990s. One-hundred twenty semi-gloss photos (obverse and reverse), plentiful, informative narratives, and, most importantly, a generous print run allowed trading card hobbyists and Trek fans to enjoy this encyclopedic treatment of the television program.   Further, the set configuration (both pack-based and complete set tins) includes among the hobby's first true insert, bonus, or "chase cards."  Sadly, The Next Generation Inaugural Edition turned out to be the last hurrah for Impel as an independent group. It merged with Fleer/SkyBox in mid-1992.
Intro To Star Trek Trading Cards In The Fleer/Skybox Years 
In 1992, Fleer was purchased by Marvel Entertainment, which then bought SkyBox International three years later for $150 million. The Fleer/Skybox imprint produced impressive Star Trek titles augmented by aesthetically pleasing – and valuable – chase card inserts. The three-part Star Trek: The Original Series, beginning in 1997, brought all the production techniques of its time to the forefront. A lengthy 148-base card set was partnered with no less than five chase series beginning with Season One.
The most important aspect of this release centers on its 26-card signature group, which was seeded in a 1-in-30-pack ratio. Trek regulars included William Shatner, Nichelle Nichols, James Doohan, George Takei, and Grace Lee Whitney; guest stars ranged from Ricardo Montalban, Joan Collins, Gary Lockwood, and Clint Howard. Aside from the participating heavyweight celebrities, the photographic layout of the autograph cards elicited powerful positive reactions from the public. As a result, demand drove prices higher, much to the delight of vendors.
Star Trek: TOS cursives have aged well in value as some of the autograph signees passed away. A Season One autograph of Doohan sold in mid-February for an even $200. His castmate Nichols, in a two-bid auction, finished at $152. A pair of Whitney Buy-it-Now was purchased for $45 and $58.50, respectively, while Majel Barrett was taken home for $250. Kelley's signature had been packed out for Star Trek: TOS Season 3 in 1999. A two-bid January auction was hammered down at a final $845 figure. The marketplace still holds some sealed boxes of all three Fleer/SkyBox Star Trek series. Generally, these boxes carry an asking price between $325 (for Sea. 1) to $110 (Sea. 3).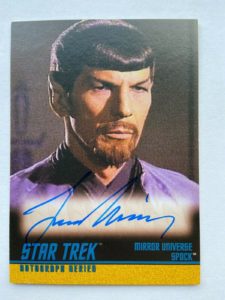 Star Trek: The Original Series cards made great use of autos. Fancy a Leonard Nimoy auto? Check them out on eBay. 
Rittenhouse Archives Enters The Fray 
For years during the Star Trek triumphs, financial difficulties pervaded the Marvel-Fleer/Skybox triumvirate, an atmosphere that included executive shuffling and bankruptcy. Meanwhile, Steve Charendoff decided to form his own trading card group with a science fiction focus. Rittenhouse Archives became the new kid on the block in a shrinking neighborhood of mid-sized manufacturers. "When I left SkyBox in 1999, I had no guarantees from anyone for any licenses," Charendoff told Non-Sport Update in 2009. "People thought I was crazy for starting a card company in what was then thought to be a rapidly shrinking market." Within a few years, Charendoff & Co. published an array of impressive titles. They included the then-popular Xena: Warrior Princess show and James Bond cards. More recently, Rittenhouse has made waves with its Game of Thrones releases.
For Charendoff, Star Trek had never been far from his creative mind. In addition, Star Trek Discovery, seen through the Paramount+ streaming service, allows Rittenhouse plenty of opportunities. They can use chase card offerings to cover storylines, offer relevant autographs, and produce sketch cards from top illustrators. "The production team for Star Trek Discovery has been phenomenal to work with," Charendoff told the author recently. "They're based in Toronto. As a Canadian myself, I relate very much to their work ethic of everyone pulling together for the common good. So, they view our trading cards as part of the overall effort to build, support and promote the show. "
Understanding The Star Trek Universe
Few start-up card makers would have been able to immediately comprehend the immensity and pop culture vastness that Star Trek encompasses. "I think we demonstrated early on, including my time at Fleer/Skybox, that we had a powerful command of the mythology and knew how to deliver strong products that would appeal to the die-hard fans," Charendoff said. "We don't collaborate too much with the studio on our projects because they know we're committed to the franchise and thoroughly understand it. There are times when they come to us to help them with their own projects that have nothing to do with trading cards. So, it's been quite successful on both ends. (W)e have such an expansive set of relationships with cast members."
Charendoff asserts Rittenhouse would never have reached the 39-product plateau without the kind-hearted aid of legendary Star Trek figures at the outset. However, he declares that little time is spent considering the secondary market values of his product output over the years, particularly of all the autographs he's supervised. "I think about the many cast members I've had the pleasure to work with over the years, and sadly, many are no longer with us," Charendoff reflected. "Leonard Nimoy, in particular, was an extraordinarily generous man and (he was) very good to me. I miss his presence. But (there are) so many others, including Arlene Martel, Grace Lee Whitney, and Yvonne Craig, to name a few. And certainly, there are the actors still alive to whom we are similarly grateful, including William Shatner, Patrick Stewart, Brent Spiner, Marina Sirtis, Kate Mulgrew, Jeri Ryan, and so many others."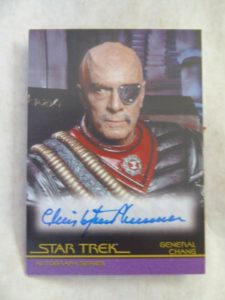 Star Trek in motion features signatures from Christopher Plummer and other great actors. Look for them on eBay. 
Intro To Star Trek Trading Cards Throughout The Generations
The space/time continuum along which Rittenhouse and Charendoff travel with their Star Trek license has been more than a generation's worth of publishing. It began modestly with Star Trek In Motion, with a 24-card lenticular base set; a 1-in-120-pack-seeded memorial card of DeForest Kelley (500 produced); and an innovative "Sound In Motion" six-card chase set that housed digital voice file chips containing snippets of dialog taken directly from The Original Series soundtrack. Unfortunately, due to the passage of time, most, if not all, of the Sound cards are dead due to battery drain.
Season 3 covers the 13 one-hour episodic run that concluded in January 2021. Signature card participants include series leads Sonequa Martin-Green (as Michael Burnham); Doug Jones (Saru); Anthony Rapp (Paul Stamets); and recurring characters Michelle Yeoh (Captain Georgiou); and Janet Kidder (Osyraa). Two autographs and one relic card are assured in each packed-out box. The chase card series rundown features a 78-card parallel set, 14 storyboard art cards; 27 costume relics; and six additional bonus chase issues. The company also offers six-case and nine-case purchase autograph incentives.
Bottomline Of The Intro To Star Trek Trading Cards 
Streaming services such as Paramount+ have cast new light on home entertainment. The Star Trek franchise traverses through this domain with Discovery and the 2020 opening of the Star Trek: Picard series. No-one associated with the Trek's first 1966 episode, or Gene Roddenberry, who conceived the sci-fi adventure two years earlier, could have forecast this 21st Century television delivery system.
There exists some quaint glimmer of recognition, a sense of continuity, in the trading card itself. For Star Trek fans, non-sport enthusiasts, and collectors in general, it seems a marvel that picture cards, invented in the 19th Century, can still hold our attention and promote a sense of community amid an ever-evolving – and equally-separating – digital age.