2022-23 Panini Prizm English Premier League Rookies Ranked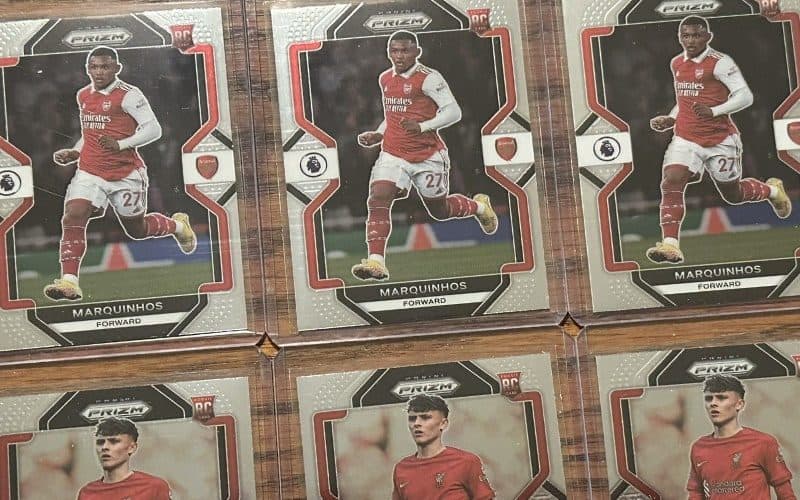 The Panini Prizm line has yet to produce a truly strong rookie. But some players from previous years appreciate in value as we speak.
And there is a relatively vital class of rookies in the 2022-2023 Panini Prizm English Premier League release. But who should you invest in? We have divided the rookies into three tiers for your convenience.
Anyone in the top tier could be the next Phil Foden or Mason Mount. So, to help you separate the wheat from the chaff, here is your guide to 2022-23 Panini Prizm English Premier League Rookies.
Shop for 2022-23 Panini Prizm English Premier League rookies on eBay
Tier 1 2022-23 Panini Prizm English Premier League Rookies Ranked
The players in Tier 1 are all likely to be high-caliber starters in the Premier League. Furthermore, they have the offensive upside and young age, making their rookie cards potentially valuable. So, if you pull any of these guys, grade their cards. You won't regret it.
Shop for 2022-23 Panini Prizm English Premier League rookies on eBay
Julian Alvarez – Forward – Manchester City #16
Julian is already one of the best-known soccer players in the world. So naturally, therefore, he is the top guy among the 2022-2023 Panini Prizm English Premier League Rookies.
The only drawback is that he is perhaps too well-known and, at 23, isn't a rookie in the traditional sense. Still, you can't argue with the brilliance Alvarez brings to the pitch.
The whole world witnessed what the forward could do, most notably when he scored two goals in the semifinals against Croatia and became the youngest player since Pele in 1958 to score two at that stage.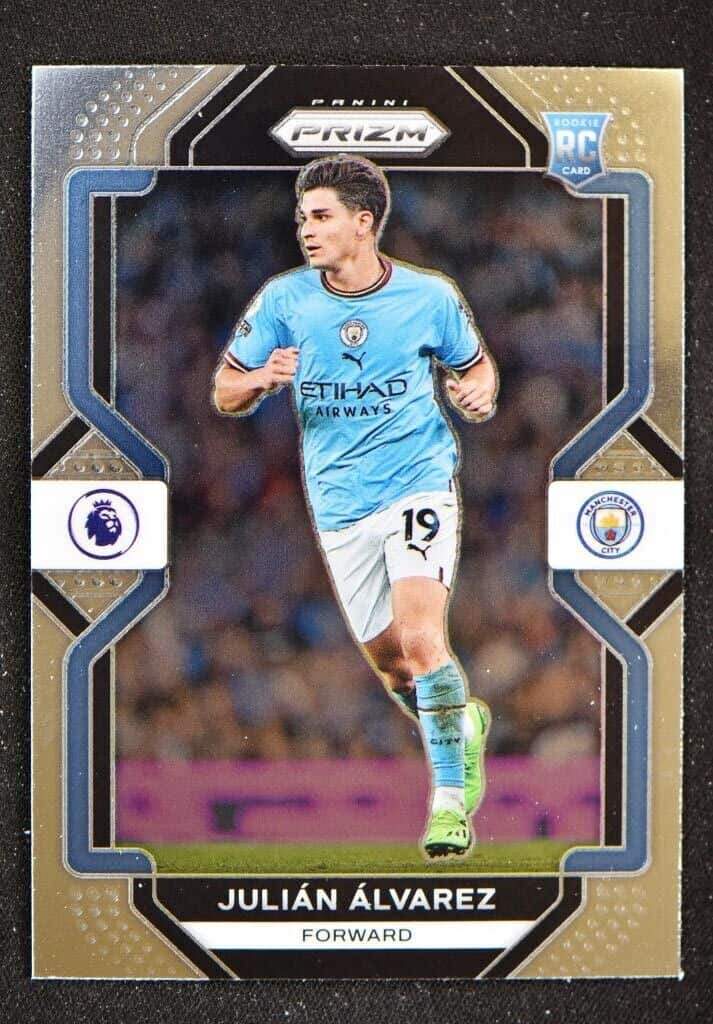 Rico Lewis – Right Back, Defensive Midfielder – Manchester City #17
Pep Guardiola has always been the kind of coach who encourages young players and builds them up. But it was easier to do in Barcelona FC than win now Manchester City.
So, for a player to break through, they have to be a remarkable talent. Don't let Rico's tiny frame fool you. Sure, he is only 5″ 5, but his soccer IQ means the player is always at the right place at the right time. And his diminutive frame and sharp reflexes allow the defender to operate cleanly in tight spaces.
Lewis is clearly slated to take over Kyle Lewis's spot as a right-back as he ages out of contention. However, Rico's ability to play in midfield is an added bonus. While Lewis is primarily a defensive player, he has enough offensive upside to collect and grade.
Malcolm Ebiowei – Central Midfield, Winger – Crystal Palace #31
Although only 19 years old, Malcolm has already caught the eye of fans throughout the country. In 2021-22, Wayne Rooney used him extensively at Derby Country.
As the team fell apart around the youngster, Ebiowei showed tremendous poise and delivered a series of consistent performances toward the end of the season.
He doesn't look like the typical tricky winger, standing at 6 feet tall. But his strength allows Malcolm to hold off defenders and play effectively in the center. But from a collector's perspective, the good news is that this guy can play deep and is expected to score regularly as his career progresses.
Keane Lewis-Potter – Forward – Brentford #45
Keane is a young English forward who looks alarmingly like a young Wayne Rooney. But has he got the same knack for scoring? Probably not quite that good. But there are some striking similarities.
Lewis-Potter is gifted with tricky dribbling skills, a thunderous pace, and an eye for goal. He played for amateur side Hessle Rangers and scored a tremendous 128 goals in one season as a 13-year-old, and was soon snapped up by Hull City.
Still a teenager, he became the biggest star on Hull's team in 2020-21. However, since moving to Premier League Brentford, Lewis-Potter hasn't been able to find consistent form. But it is likely just a matter of time.
Alejandro Garnacho – Winger – Manchester United #90
The 18-year-old winger came to United through Getafe and the Atletico Madrid youth academy. Normally, the winger plays on the left. But like most modern players, Garancho can switch to the right when needed.
At just 18 years of age, the Spaniard has 17 appearances for the "Red Devils." And the fans adore him. There hasn't been this much enthusiasm around a teenager at Old Trafford in decades.
It is Alejandro's speed and close control that set him apart. His well-timed runs routinely tear defenses apart. His ability to translate these abilities into goals and assists will determine whether the winger is a star or a superstar. But his ceiling is tremendously high.
While born in Spain, Argentina is delighted that Garancho has chosen to represent them, and he represents part of their plan to retain the World Cup in 2026.
Jeremy Sarmiento – Winger – Brighton Hove & Albion #136
The young winger made headlines when he chose to represent Ecuador at the senior level after playing for the England U21 team. And to make matters more complex, Sarmiento was born in Spain and played in Portugal.
The man is a walking advertisement for globalization. That gave Jeremy a chance to start in the World Cup. That has undoubtedly increased his confidence and global reputation.
Chelsea coach Graham Potter is a fan and said after facing Sarmiento, "I thought his performance was really positive. Some of his actions were at an incredibly high level. He can receive the ball behind the lines of the midfielders in tight spaces, turn quickly and drive at defenses.
That is a rare attribute." We agree. And did we mention Jeremy is only 20 years old?
Julio Enciso – Forward – Brighton Hove & Albion #134
Julio is a 19-year-old player who has already become an inseparable part of the Paraguayan national team. He has that old-school scoring knack that so many younger forwards lack.
Julio came with 18 goals in the Paraguayan top flight and ten caps for his country. In 2022 his excellent form helped Libertad win the national title, as he scored 11 goals and three assists 2022. At 5'6, Enciso is adept at using his low center of gravity to trick opposing defenders and leave them hapless with devilish twists and turns.
His two best skills are leading the counterattack and avoiding offside traps. Both are very useful in Europe. We don't know how well his skills will translate to the Premier League quite yet, but he looked good in his first few appearances for Brighton.
Brennan Johnson – Forward – Nottingham Forest #147
Brennan is only 21 years old but has already established himself as a regular for the Welsh national team. He has 28 goals for Nottingham Forrest in his career.
But perhaps most impressively, 8 of those were in 2022-23 in the Premier League. An impressive haul for this stage in his career. And there is a lot to recommend Johnson at this level.
The forward is particularly adept at attacking in transition, mainly by carrying the ball directly into the danger zones. His shot can use some improvement, but Brennan has an almost preternatural ability to squeeze penalties out of unlikely plays.
To me, what makes Johnson stand out is his versatility. He can play anywhere in attack or attacking midfield. A big team will likely be interested in his services soon enough.
Marquinhos – Forward – Arsenal #166
Not to be confused with Brazilian center-back Marquinhos of PSG. No, this Marquinhos is a mercurial forward on the Arsenal books. But he is currently plying his trade with Norwich City.
At only 19- years of age, the Brazilian doesn't have a proven scoring record yet. However, the capabilities are there and are significant. Marquinhos has a plethora of strengths and few weaknesses.
In particular, his pace, acceleration, and dynamic performances have been turning heads for years. But unlike some of the other speed demons in his age cohort, Marquinhos has formidable technique as well.
Elliot Anderson – Central Midfield – Newcastle United #182
Aged only 20, Elliott has already been in the center of an altercation between Scotland and England over who to represent at the international level. His Newcastle teammates refer to this young prodigy as "the ballerina" due to his graceful ability to evade tackles while remaining on his feet.
Sure, that is partly a dig at his physical similarity to Billy Elliott, the fictional ballet-dancing boy from the northeast. But it's a testament to his incredible dribbling ability that has drawn comparisons to Paul Gascoigne and even Diego Maradona. And he isn't some unproven kid, either.
Anderson proved indispensable to Bristol Rovers while on loan there and helped them to an unlikely and impressive promotion campaign with an eight-goal haul. This guy looks like the real thing.
Fabio Carvalho – Attacking Midfielder, Winger – Liverpool #198
A product of the vaunted Benfica system in Portugal, Carvalho was already tempted by the prominent English money back in 2015 when Fulham purchased his rights.
In the 2021-22 season, he was just 19 years old. But that didn't stop Fabio from scoring 10 league goals and helping the boys from Craven Cottage back into the Premier League. Clearly, his talent was too big for Fulham, and Liverpool purchased him for a relatively modest fee.
Carvalho is a top-notch dribbler and is technically far above the competition. But it's his balance and fluidity that really set Carvalho apart. Great things always seem to happen when the attacker has the ball at his feet. We expect him to be at the heart of the Liverpool rebuild.
Bobby Clark – Forward – Liverpool #199
Clark was a product of the Newcastle FC academy, and his father made 200 appearances for the club. However, in 2021 he waved goodbye to Geordie land and has tried his look at breaking into the Liverpool starting XI.
His father, former coach Lee Clark describes his son as "more of an offensive midfielder. In a 4-2-3-1 system, he would be the midfield player closer to the striker in the No 10 role.
He is very athletic, has a good change of pace, and he is tall for his age. He has good leadership skills. We have had good feedback from the coaches on how he captains both on and off the field."
As of yet, Clark is unproven at the highest levels. But scouts believe he has what it takes to make an impact and, more importantly, score many goals.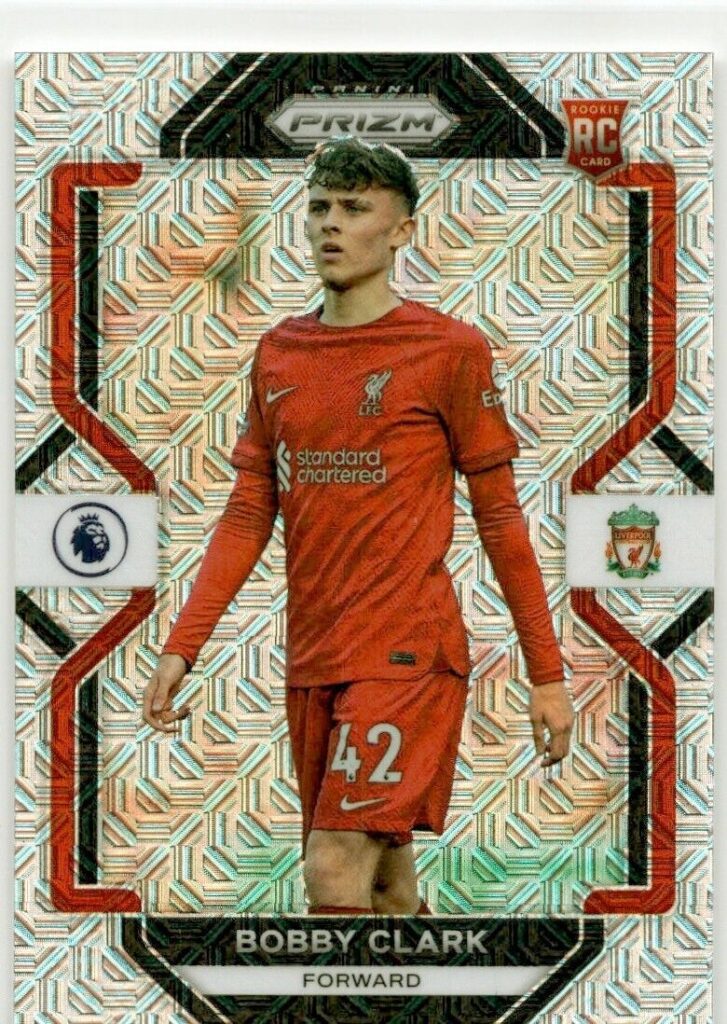 Sekou Mara – Forward – Southampton #209
Mara is another example of how the Premier League is emptying out the talent from around Europe. There was a time when a gem prospect from a big French club like Bordeaux would never move to a small English club like Southampton.
But times have changed. Mara is an all-around finisher at a young age. Though he is only 20, there isn't much work he needs to do in that regard. But what really stands out about the French forward is his peerless soccer IQ and deep understanding of the game's flow.
However, Mara has struggled in the Premier League so far. He hasn't scored any goals in 19 league games. But he has the talent and should be able to bring it all together next season. Most expect him to be a regular for the French national team soon.
Sam Greenwood – Central Midfield, Forward – Leeds United #270
Sam has played for England at every level, including the U21. His dominance in central midfield has drawn comparisons to the great Steven Gerrard.
Greenwood has two strong feet, making him a menace from anywhere on the pitch. So, you can't give him any space, or he will hammer at the goal or set up a beautiful pass.
And with his versatility in positioning, Sam is the consummate modern soccer player. So, there is a good chance he will also be a regular for the senior England side.
Tier 2 2022-23 Panini Prizm English Premier League Rookies Ranked
The gap between tier 1 and tier 2 is significant. While the players in this list can become valuable stars, I would be surprised if any of them do. They all have either a lack of offensive chops or advanced age working against them.
Shop for 2022-23 Panini Prizm English Premier League rookies on eBay
Josh Dasilva – Central and Right Midfield – Brentford #44
Josh grew up in the Arsenal youth system and was considered one of the better players there. He even played for England at all the youth levels.
But the midfielder did not feel that Arsenal appreciated him and didn't see a path forward. So in 2018, he left the club and signed for the smaller Brentford side. In retrospect, this was a wise decision. Dasilva has since made over 100 appearances for "The Bees."
He generally plays on the right side of midfield but can change sides at will. His outstanding play off the ball and excellent passing play make him instrumental for Brentford.
He may be a big star yet, but there are two marks against Josh. First, he is already 24. Second, his remarkable skills may be a bit subtle for superstardom.
Tyrell Malacia – Left Back – Manchester United #89
Malacia has already established himself in the Dutch national team at 23. Of course, everyone first notices Tyrell's incredible athleticism, combining speed and strength to maximum effect.
But there are some downsides to his play. In particular, the positioning aspect of the left-back game. Too often, he is left stranded in his forays upfield.
Adding the age factor and his defensive position makes him less than a top-notch investment. But things may fall into place, allowing Tyrell to click into an absolutely world-class player.
Levi Colwill – Center Back – Brighton Hove & Albion #137
Levi came up through the Chelsea system and has represented England at every junior level. The big London club loaned out to Brighton for the 2022-23 season, and he has looked the young prodigy every bit. And Colwill looks the part.
Standing 6″ 2, he is lean yet powerful. And as a defender of the new generation. Levi has excellent technique and absolute control on the ball.
So you can see that I am a fan. Colwill will likely end up a regular on the England squad and at Chelsea in the near future. But as a defender, his collecting ceiling may not be as high as this fantastic player deserves.
William Saliba – Center Back – Arsenal #167
The 22-year-old Saliba has slipped into the "Les Blues" starting lineup. He seems set to continue a long and proud tradition of first-rate French center-backs.
Before heading over the channel, Saliba won the Ligue 1 award for Young Player of the Season. He checks all the boxes of what you expect from a modern defender. William has well above-average athletic and physical gifts. And his technique is about as good as any central defender in the world.
While Saliba will have to work on his prowess in the air and passing, he will likely be top-notch. The only problem is that he is a defender, after all.
Bruno Guimaraes – Central Midfield – Newcastle United #179
Bruno came to Newcastle as part of the significant rash of spending at St. James Park recently. They splashed out £40m to bring him over from Ligue 1 side Lyon.
And he immediately made an impression with a powerful back-heel volley goal in a 2–1 victory at Southampton in his complete game debut. He can play as a pivot or a number 8, spreading the ball well throughout the pitch.
There is little doubt he will be a highly influential player in the Premier League. The only knock against Bruno is that he is already 25.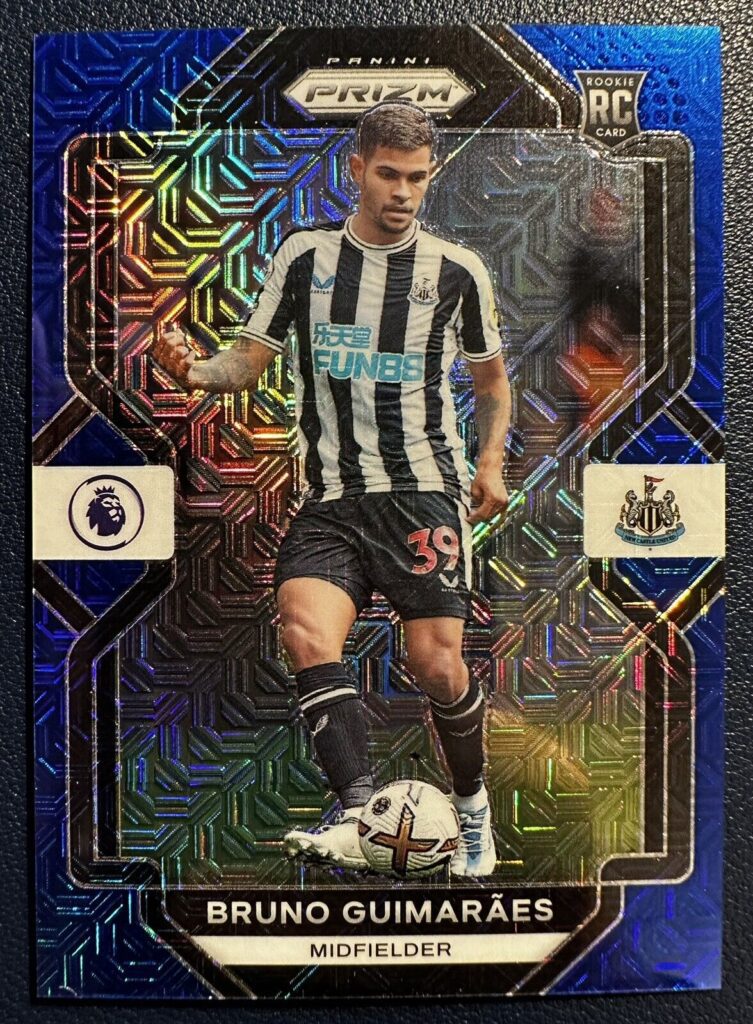 Stefan Bajcetic – Center Back, Defensive Midfielder – Liverpool #196
This 18-year-old came up with Spanish Celta Vigo before signing with Liverpool in 2020. He has since become the third youngest player to ever score for Liverpool, behind Michael Owen and Raheem Sterling.
Bajcetic really benefitted from the inexplicably bad form of some of the Liverpool FC stalwarts in 2022-23. He brings an incredible amount of maturity to the center of midfield.
In particular, Stefan is a top-notch ball-winner who can quickly drive the ball out of defense and set up promising counterattacks. And all this at 18. However, I wonder if he will be enough of an offensive factor to drive up the prices of Bajcetic's cards.
Gavin Bazunu – Goalkeeper – Southampton #210
Gavin is just 21 but already the regular Republic of Ireland goalkeeper. That is quite impressive. He is particularly well known for operating as an extra defender in the box with great aplomb.
Some have predicted that he will become a world-class keeper. But I am not sure he quite has the reflexes needed to reach that level. And goalkeeper cards aren't worth much unless they are absolutely elite.
Romeo Lavia – Defensive Midfield – Southampton #211
Romeo has an excellent pedigree, coming first through the Belgian Anderlecht system and then receiving finishing from the vaunted Manchester City academy.
Southampton purchased the untested player for £12 million. Lavia has been finding his feet, but he looked promising in the games he has played for the Saints at the top level. But we doubt he will have enough offensive upside to be an excellent investment.
Marcus Tavernier – Central Midfield – Bournemouth #225
Marcus is one of the best dribblers in the game. And watching him is an absolutely glorious experience. It seems something exciting always happens when the ball is at his feet.
However, he is not entirely effective enough to become a star and is already 24 years old. We don't believe his finishing will ever reach the standard we would like for high value.
Jaidon Anthony – Winger, Forward – Bournemouth #226
What I love about Anthony is his impressive work rate. He seems to be everywhere on the pitch and is not afraid to get down and tackle when needed. But he doesn't have the dribble or finish of a top-level Premier League attacker.
Marcos Senesi – Center Back – Bournemouth #227
Marcos is a very reliable center-back and has figured on occasion in the Argentine national team. At Feyenoord, he was one of the better defensive players in the Dutch league.
But as we know, having worthwhile cards as a defender takes a lot of quality. Unfortunately, Senesi doesn't quite have it.
Amadou Onana – Defensive Midfielder – Everton #240
Onana is one of the new generation of Belgian talents hoping to take over where the "Golden Generation" left off. But does he have what it takes? In my opinion: no. He has some significant advantages, like moving the ball in transition and off-the-ball movement.
But he is missing the polish and technique on the ball you want from a world-class midfield lynchpin. Still, he is an outstanding player.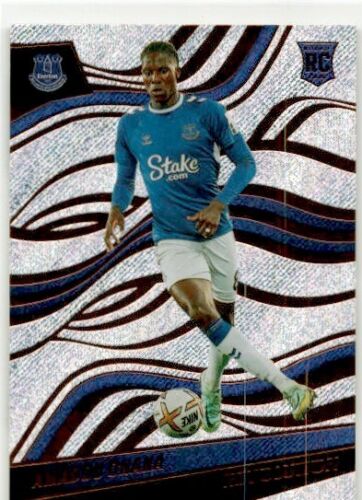 Nathan Patterson – Right Back – Everton #241
Nathan has been a regular Scotland starter for a while, and it's easy to forget that he is only 21. Nevertheless, Patterson is an exciting all-action type of full-back, very much in tune with the modern game.
He is excellent at double passing and keeping the ball moving in all sorts of unpredictable patterns. And most importantly, Patterson can easily dribble past most opponents while covering his defensive spots. But he is still a primarily defensive player, and his value will reflect that.
Chem Campbell – Winger – Wolverhampton Wanderers #254
Many experts expected Chem to have a breakthrough year for Wolves in 2022-23. And instead, he ended up on the bench for most of the campaign.
So is it too late for Campbell? Not even close. He may be outstanding yet. But we haven't seen any star quality from the winger yet.
Matheus Nunes – Attacking Midfielder – Wolverhampton Wanderers #255
Nunes is a creative force with good passing and off-the-ball skills. But he is already 24, and I still don't see him possessing the kind of deft first touch and sophistication you want from a top-class playmaker.
My guess is that Nunes will get there. But too late for collectors to have much interest in his cards.
Luis Sinisterra – Forward, Winger – Leeds United #267
The Colombian international came to the Premier League with a reasonably strong record in the Eredivisie with Feyenoord. And he is an instrumental player because he can play as a modern second forward or winger.
A scouting report summarizes his strengths:
"When at his best, the Colombian attacks defenders one-on-one at the edge of the box, either to drive to the byline for a cutback on the ground or to cut inside for a shot." But I think he isn't quite enough of a scorer to warrant a vital investment. But he could surprise us.
Tier 3 2022-23 Panini Prizm English Premier League Rookies Ranked
The world is a weird place, and crazy things happen. So any of these guys could be the next Premier League sensation. I guess. But you could also win the lottery.
Shop for 2022-23 Panini Prizm English Premier League rookies on eBay
Cheick Doucoure – Defensive Midfielder, Center Back – Crystal Palace #30
Doucoure isn't a rookie in the traditional sense. We are talking about a player with 115 appearances for Ligue 1 team Lens. But 2022-23 was his first season in the Premier League, which is enough for Panini.
From a coach's perspective, one of his most significant advantages is Cheick's ability to play in just about any defensive position on the field.
While the player has impressive dribbling capabilities, technique, and fluid passing, I don't see him having enough of an offensive impact to warrant high card values.
Kenny Tete – Right Back – Fulham #73
Kenny is a fine player who has 14 caps on the Netherlands team. You know anyone who is a regular for the "Oranje" will have some skills.
He is a formidably physical player with impressive strength. However, his sprint has always been a bit lackluster for a wing-back.
Still, Fulham is finding him very useful. But as a 27-year-old, he really isn't a rookie. And it doesn't seem clear why some players who debuted this season in the Premier League are considered Panini rookies and others aren't.
Daniel Amartey – Central Defender, Central Midfield – Leicester City #105
Daniel has the rookie card designator on his card because Panini has never bothered to produce one of him earlier. But Amartey has played for Leicester since 2016 and is now 28 years old.
He was an exciting prospect from Ghana whose career did not take off until late. So while we wish him well, it's a bit late from a card investment perspective.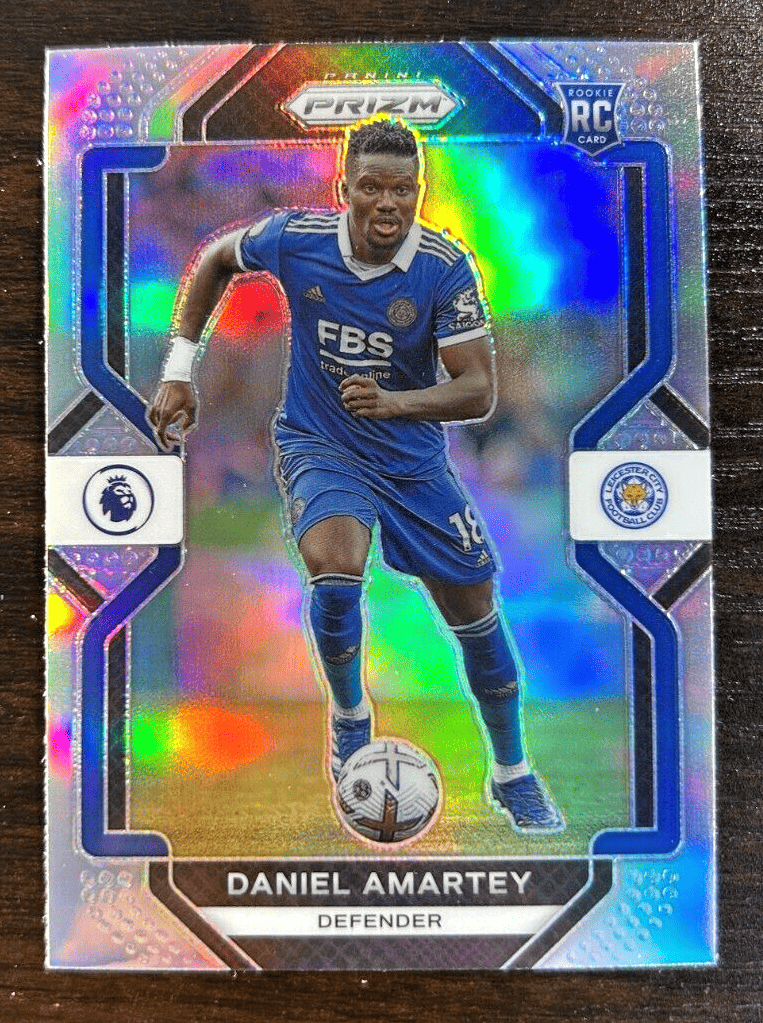 Deniz Undav – Forward – Brighton Hove & Albion
Denis had a tremendous scoring record in Germany and Belgium before Brighton brought him over for 6 millions Euros. His last season for Belgian club Union SG was spectacular, as he nabbed 25 goals and 10 assists in 33 appearances.
And it's no coincidence that he had so many assists. Deniz is known for being a particularly team-oriented player. While he is a natural scorer, Undav loves to find the open man and is, therefore, a complete attacker. Despite high hopes, the goals have been slow to come in the league.
However, Undav shed first blood in a 3–0 away victory over League One side Forest Green Rovers in the EFL Cup. I believe he will prove a capable Premier League striker. However, at 26, he is not really a rookie in the meaningful sense of the word.
Joe Worrall – Center Back – Nottingham Forest #143
Joe is a veteran defender who has been a mainstay in the Nottingham Forest defense for several years. He is only a rookie because Forest was recently promoted, and Joe is new to the Premier League.
The 26-year-old is no lower-league hack. Worrall remains the lynchpin of the Premier League's move from defense to offense. He's great at serving up the ball to midfielders in advantageous positions, creating crossing opportunities routinely. Worrall is also very effective at covering the back. But he is an older defensive player.
Lewis O'Brien – Central Midfield – Nottingham Forest #144
Lewis was an excellent lower league midfielder, winning Huddersfield Town's 'Player of the Year' for the 2019–20 season. O'Brien has a tremendous influence on the pitch, so much so that he has been compared to Luka Modric.
According to one scout report, he can hold the ball, pass, create at a high level and combine with teammates all over the field. Of course, you would expect a highly rated midfielder to be amongst the goals, but the 22-year-old is more of a playmaker and controller in the middle of the park."
A handy player to have. But at 24, he may be a bit mature enough to have the collecting impact we want.
Ryan Yates – Central Midfield Nottingham Forest #149
Like many of the Nottingham Forest "rookies," Yates is a veteran who simply hasn't played in the Premier League before.
Ryan is mainly known for having a problematic relationship with Forest fans. But he has overcome their doubts with tenacious play.
The midfielder is vital in the air and has the kind of dominant tackling you want in a central midfielder. Indeed, his defensive chops are strong enough to double as a center-back.
Harry Toffolo – Left Back – Nottingham Forest #150
Harry was once one of the most promising young defenders in the country, starting as a left-back for the England U21 team. But his career has not taken off the way he hoped.
Toffolo has found himself languishing in the lower leagues for most of his career. He has developed into a confident player who can advance effectively at the Premier League level. However, at 27, he is a bit old to be a rookie.
Joe Aribo – Central Midfield – Southampton #212
Joe is a valuable veteran midfielder. The Saints brought him over from Rangers FC in Scotland. He anchored the team and proved invaluable in the 2020–21 title-winning season for the Glasgow team.
His main gift is an elite first touch with great acceleration. He has even established himself as a regular for the Nigerian national team. This is all great. But at age 26, he isn't going to be an excellent rookie investment.
Mark Travers – Goalkeeper – AFC Bournemouth #214
Mark is a solid goalkeeper who will likely be a starter in the Premier League for the rest of his career. Especially since he has successfully won a permanent spot in the Republic of Ireland squad, but he is no Shay Given. And come to think of it, even Given's cards aren't worth that much though they should be.
Jordan Zemura – Left Back – Bournemouth #222
Jordan was a top-notch defender in the Championship last year. Therefore, Bournemouth kept him in the same position in the Premier League. And Zemura has adapted well to the higher level. Still, he is not a star. He ain't and will never be.
Ben Pearson – Central Midfield – Bournemouth #224
Ben used to be a promising prospect who came up with Manchester United. But his development has been slow, and he never became a top-notch regular.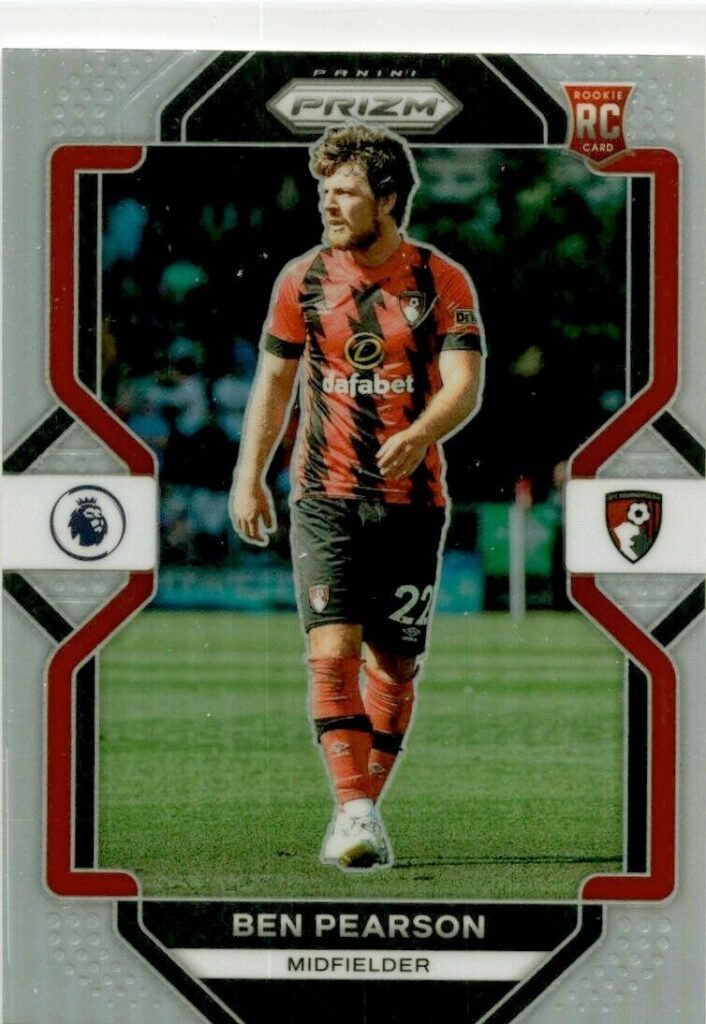 Rasmus Kristensen – Right Back – Leeds United #268
Rasmus has all the physicality you would expect from a Danish international right-back. But he also has a lot more in terms of pace and defensive intensity than most. While Leeds has made an excellent investment in him, Kristensen is still a 25-year-old defender.
Djed Spence – Right Back – Tottenham Hotspurs #300
Djed had an outstanding season in 2021-22, helping Nottingham Forrest earn promotion to the Premier League. Spurs hoped he was ready for the big time and gave him a few chances to play in 2022-23, but Spence did not look quite ready.
Therefore, they loaned him out to Rennes. We are sure Djed will work things out, but as a defender, he will probably not have much value either way.
The final word on 2022-23 Panini Prizm English Premier League Rookies
We still hope the next Cristiano Ronaldo or Lionel Messi emerges from the Premier League. But the truth is, it is tough to jump into this league and succeed immediately.
It is fast-paced, demanding, and challenging to maneuver for young players. But the folks in Tier 1 of the 2022-23 Panini Prizm English Premier League Rookies list have the upside to do it. In particular, Elliott Anderson, Bobby Clark, and Fabio Carvalho look like the real thing.
Shop for 2022-23 Panini Prizm English Premier League rookies on eBay