Investing In Sports Cards: Card Quest 16
This week, I put on m speculative hat. I bought some cards that could pay off during playoffs.
Investing In Sports Cards With Jesse: The Rules Of The Game
But first, as always, here are the rules. Every week, I'll be spending about $100 on cards. I will be telling you what cards I purchased, why I bought them, what strategies I used, and how you can apply them to your collecting.
We're tracking progress, too. Every week I'll share:
My total amount spent
My total amount sold
Total value (the comp price of my cards + total amount sold).
From there, we'll be able to calculate my gains.
I challenge you to take on this initiative, too. Invest more or less than me–totally up to you–but track your progress.
Together, let's show the world the power of card investing.
Week 16 Of Investing In Sports Cards With Jesse Purchases
This week, I spent $92 on four cards. Three of them are pretty speculative. However, one of them was a lousy listing that will net profit even if some don't pan out. That's the beauty of finding a poor card listing.
Let's give these cards a look.
Purchase One: Patrick Mahomes Limited Patch /99
As I have written before, there is money to be made purchasing poorly listed good lots.
This purchase is the first and most likely to notch a hefty profit. I found this Patrick Mahomes patch card listed as "football cards" and picked it up for $26.98, total. This card recently sold for $65. With the Chief's surging, I think I can get the same for mine.
The logic here is simple: it was a bad listing. Therefore, it had fewer eyes on it, and I paid much less than it was worth. Easy profit.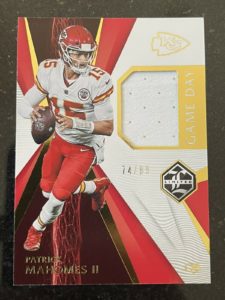 Purchase Two: Cam Akers Prizm Rookie /249
This card is probably the riskiest of my purchases. However, it was also the least expensive. I only paid $13.97 for it, and I'm going to comp it at $15.
Akers has potential. The Rams look poised to make a playoff run, and Akers is a dynamic running back. So there's a chance he could return this year for the playoffs, and if he does, it could be a boost to their ground game.
Since he's missed the entire 2021 season with an Achilles tendon injury, we'll have to see what he looks like in his return. However, Akers is not on many collector's radars right now, granting added value.
Purchase Three: AJ Brown Gold Lazer Prizm
Oh, look, another Titans card. Big surprise, right?
I'm all-in on Tannehill. So naturally, it makes sense to add a little AJ Brown to my investment project.
Brown's an absolute weapon when he's healthy. Unfortunately, with him and Derrick Henry both on the IR, the Titans have been less explosive. Still, they've collected enough wins to all but guarantee a playoff spot. Therefore, I hope Brown returns and reemerges as the go-to pass-catching target. That development would boost the value of his cards.
I bought this for $16, and I'm comping it for $20.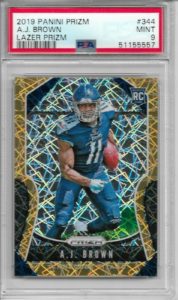 Purchase Four: Derrick Henry Optic Patch RC /50
The logic for buying this awesome card is similar to the motive behind the AJ Brown purchase. If Henry returns for the playoffs and looks half as good as the first half of the season, collectors will love it.
If not, I have a sweet rookie patch of the last decade's best running back. I can live with that.
Paid $34.93 for it, and I'm comping it at $35.
Investing In Sports Cards With Jesse: New Sales
Since my last report, I have made two big sales. First, I sold three of my four Jalen Ramsey rookie autographs for $175. Meanwhile, I retained one I'm holding and comping at $65. As a reminder, I paid $132 total for them.
I sold the Justin Herbert, Jonathan Taylor, and Joe Burrow Rookies. I had obtained them from a poorly-listed rookie lot for $70.
With those updates, here's why I stand:
Investing In Sports Cards With Jesse: Cards Held
Shai Gilgeous-Alexander Rookie Lot: Bought $75, Comp $130
SGA Prizm Rookie: Bought $121, Comp: $185
Tannehill Triple Threads Auto /25: Bought $83; Comp $90
Tannehill Rookie Card Lot: Bought $17; Comp $50
Nickeil Alexander-Walker lot of 96 Hoops Rookies: Bought $40, Comp for $144
 NAW lot of 5 Optic Silver Wave: Bought $25, Comp for $55
 NAW lot of 11 Rookies: Bought $10.81, Comp for $74
 Minshew Prizm Lot: Bought $50, comp $75
 1 Jalen Ramsey RC Auto /25: lot paid off, comp $65
 20 Card Football Lot: Bought $31.77, Comp: $100
Ryan Tannehill Rookie Lot: Bought $60, Comp $90
Trey Sermon Certified RPA: Bought $41, Comp $41
Trey Sermon Certified RPA: Bought, $39, Comp $39
Nickeil Alexander-Walker Mosaic Auto Fusion Red: Bought, $47, Comp $70
 Nickeil Alexander-Walker Optic Red Choice /88: Bought $29, Comp $55
 Jaren Jackson Jr. Prizm Lot of 3: Bought $30, Comp $42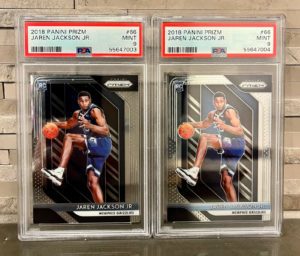 Tyler Herro Prizm and Purple Scope Rookie: Bought, $15.55, Comp $22
OG Anunoby Certified RC /25: Bought, $25, Comp $35
 DeShaun Watson Prestige /150: Bought, $15, Comp $25
 DeShaun Waston Rookies and Stars Auto /75: Bought, $85, Comp $100
10x 2016 NFL Panini Rookie Set: Bought $105, Comp $200
Desmond Bane Certified RC Auto: Bought $18, Comp $35
NFL Rookie Card Lot: Bought $38, Comp $60
Mahomes Patch /99: Bought $27, Comp $65
 Cam Akers RC /249: Bought $14, Comp $15
 AJ Brown Gold Lazer RC: Bought $15.5, Comp $20
 Derrick Henry RC Optic Patch /50: Bought $35, Comp $35
Investing In Sports Cards With Jesse: Cards Sold
McCaffrey Rookie /100: Bought $36, Sold $80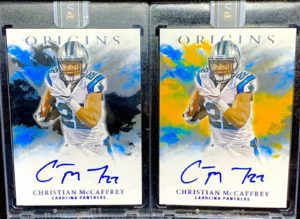 Heinicke Contenders Auto: Bought $37, Sold $125
 Heinicke Rookies and Stars Auto /50: Bought $19, Sold $100
3 Jalen Ramsey RC autos: $175
John Wall Rated Rookie /25: Bought $14.58, Sold $100
 Tylan Wallace 3 Card Lot: Bought $50.80, Comp $100
 Matthew Stafford Contenders Rookie /99: Bought $43.06, Sold for $100
Aaron Rodgers Bowman Rookie /200 SGC 8: Bought  $80.46, Sold $335
 Nickeil Alexander-Walker  Donruss Auto /35: Bought, $51, Sold $10
 Desmond Bane Absolute Auto: Bought, $23.02, Sold $10
 OG Anunoby Optic RC: Bought, $6, Sold $10
PARTIAL Rookie Lot: Sold for $75, still holding $60
Investing In Sports Cards With Jesse: The Totals
Spent: $1602
Held (Comps): $1872
Sold: $1373
Value: $3,245
Profit: $1,642
Net: 207% increase
What will I be buying next week? Then, come back next week for the next update.
Are you taking on this project yourself? Tweet me @realjessehaynes or @card_lines to tell us about it!