Jim Kaat Cards: HOF Card Series
There is a slew of new Hall of Famers heading to Cooperstown. To celebrate we are starting our HOF card series. Today we begin the series with long-time starting pitcher and broadcaster Jim Kaat. Without further ado, lets jump into the rewarding world of Jim Kaat cards.
Jim Kaat And The Hall Of Fame
December 5, 2021, was a historic day for baseball fans and card collectors. Six new members of baseball's Hall of Fame were announced that day.
We'll explore each of those players this off-season. Our overviews will include their Hall of Fame credentials, the path to the Hall of Fame, and of course, their rookie and other baseball cards.
Hall of Fame Elections in a Nutshell – The BBWAA Ballot
A player becomes eligible for election into the Hall of Fame five years after their retirement. For example: imagine a player with a 10-year career selected by the committee. First, they appear on the ballot to be voted on by the Baseball Writers Association of America (BBWAA).
The player will then appears on the ballot until elected by winning selection on 75% of ballots. After that, however, they will drop off the ballot if appearing on less than 5% even once. Alternatively, they will face elimination by appearing on the ballot for 10 years (until recently, the maximum number of years on the ballot was 15).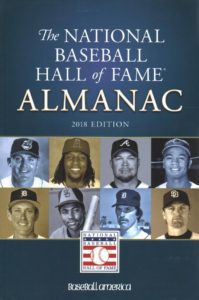 Alternate Paths to Cooperstown
Now, after a player drops off the ballot, induction into the Hall of Fame isn't off the table. The Hall of Fame knows that some players' careers can be re-examined, and their Hall of Fame case becomes more convincing with more time. So the Hall has a series of committees that meet to examine these players and their Hall of fame merits.
These committees consist of 16 members that meet in person and vote. Like the BBWAA ballot, 75% or more of the vote is required for induction, in this case, 12 out of 16 votes.
Jim Kaat Cards: His Pitching Career
In 1959, a 20-year-old Jim Kaat got into three games (2 starts) with the Washington Senators. He put up an unimpressive 12.60 ERA in those games. After he struggled again in 13 games in 1960, very few people were likely predicting great things for Kaat.
However, things changed. The Senators moved to Minnesota during the off-season and became the Twins. For whatever reason, that turned Kaat's career around.
He ended up pitching twenty-five seasons, appearing in a major league game in four decades. Kaat did not retire until after the 1983 season at age 44.
Jim was a very different pitcher than his current-day counterparts. Kaat pitched many innings, gave up a lot of hits, hit a good number of batters with pitches, and didn't strike many hitters out.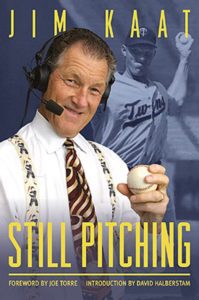 Kaat's Hall of Fame Credentials
Nonetheless, Kaat was very effective. Over his 25 seasons, he ended up with a 283-237 record (.544 W-L %) with a 3.45 ERA (108 ERA+). In addition, Jim was a three-time All-Star, a three-time 20+ game-winner, and a SIXTEEN-time Gold Glove winner.
The Downside To Kaat's Career
However, Kaat's career had many ups and downs. His career WAR total was 50.5. He had two 7+ WAR seasons and one 5+ WAR season.
That number is a bit low for a Hall of Fame starting pitcher. The average WAR for a Hall of Fame starting pitcher is 73, although that is a bit inflated by some guys like Walter Johnson and Cy Young. Still, realistically, a starting pitcher typically needs to have 65, maybe 60, career WAR for Hall of Fame consideration.
Putting Kaat's Career In Perspective
So, Kaat's career was unique, with some soaring highs and incredible longevity. He followed his playing days with many years as a popular broadcaster. That kept him in the public eye and added a few "lifetime achievement" points in his favor. His baseball media work continues with the MLB Network, which only adds to the appreciation for Kaat.
When combined, these contributions on the field and in the broadcast booth begin to paint the picture of a Hall of Fame career. The theme of contributions both on and off the field is a theme you'll see throughout this Hall of Fame class.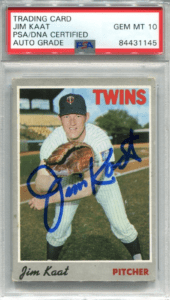 Kaat's Path to the Hall of Fame
Kaat appeared on the BBWAA ballot from 1989 to 2003, maxing out at 29.6% of the vote.
He appeared on several different versions of the "veteran's committee" ballot over the years, coming close but never quite getting the required votes. Until now!
Jim Kaat was elected as part of the 2022 Baseball Hall of Fame class via the Golden Days Era Committee ballot. In addition, 12 of the 16 voters included him on their ballots, giving him 75% of the total (the minimum required for induction).
He will be inducted to the Baseball Hall of Fame in Cooperstown, New York, during induction weekend on July 25, 2022. The MLB Network will be covering the festivities.
Jim Kaat Cards: The Standouts
The Trading Card Database (TCDB.com) lists 334 Jim Kaat cards. However, only 128 were released during his playing days (the others were released in the years since).
Jim Kaat Topps 1960 #136 Rookie Card
His rookie card is in the 1960 Topps set, card #136. A couple of weeks ago, the card was selling for $375-500 in PSA 8. In the immediate aftermath of the Hall of Fame announcement, that jumped to $850-950.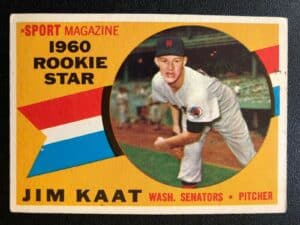 Jim Kaat Venezuelan Rookie Card
Check out the Venezuelan version of his Topps RC if you're looking for a real challenge. From 1959 to 1968, Topps partnered with a company in Venezuela to produce cards for the Venezuelan market. The design is very similar. However, they're scarce today and tend to be in pretty rough shape when found. PSA has only graded 16 copies, with nothing higher than PSA 5. So if you find one, it's likely not to be cheap.
Jim Kaat Cards: The Rest
While his rookie card is the key Kaat card, he has many other fascinating cards that are worth your collecting attention. Whether it's one of his early-career regular-issue Topps cards, league leader cards with him and other stars, or post-career autograph issues, there's an attractive Kaat card for any collection or budget. If you're looking for the truly rare and exciting, because of the many decades in which he played, Kaat appeared in many regional and oddball sets. Therefore, it can be an enjoyable challenge to track them down many years later.
Here is a sampling of Kaat's cards, including their total PSA population and some recent sales info:
| | | | |
| --- | --- | --- | --- |
| Year/Set | Total PSA Pop | Recent Sale Pop | Recent Sale Price |
| 1960 Topps RC | 1.741 | PSA 8: 309 | $850.00 |
| 1963 Fleer #22 | 441 | PSA 8: 208 | $47.00 |
| 1963 Salada-Junket Coins | 103 | PSA 8: 47 | $25.00 |
| 1967 Topps AL Pitching Ldrs | 334 | PSA 8: 183 | $30.00 |
The Final Word On Jim Kaat Cards 
Jim Kaat had a long lifetime in baseball, spending a quarter-century as a player before spending even more time as a broadcaster. His Hall of Fame case was argued countless times over the decades since he hung up his spikes, and he always came up a bit short in the votes that counted.
But the view of what makes a player a Hall of Famer isn't static, and time and contributions to the game don't end with a player's retirement. The newfound perspective that time provides led Kaat to the Hall of Fame.
When he is giving his acceptance speech in front of the Hall of Fame in Cooperstown on a hot day this July, it will be a celebration of a lifetime in baseball. So if you have a few Jim Kaat cards with you on that day, you can hold a little piece of that celebration.