Vintage Spotlight: The Best Rookie And Star Cards From 1974 Topps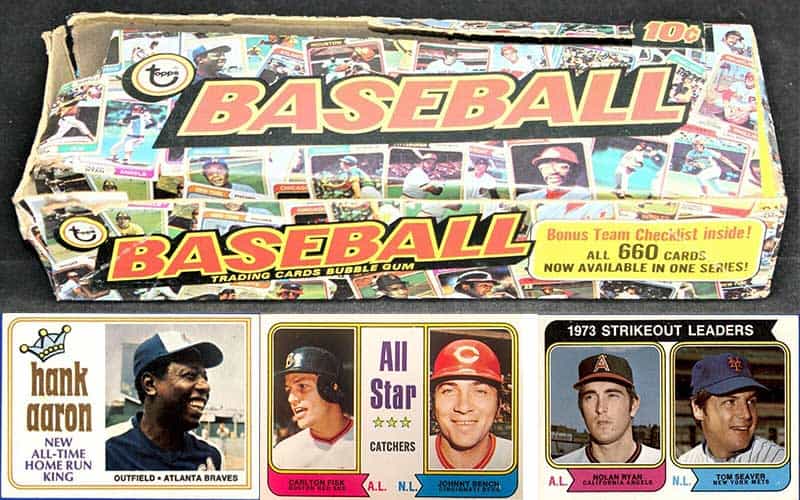 The 1970s were a wild ride, and that extended to the baseball diamond.
1974 was no different. President Richard Nixon resigned. The world population hit 4 billion. The Rubik's Cube and Dungeons & Dragons debuted. On the baseball diamond, the story of the year was Hank Aaron breaking Babe Ruth's career home run record.
Topps produced some classic sets in the 1970s, with some amazing rookie cards. Less modern production and quality assurance processes, plus the ravages of time have made some of these cards challenging and valuable in top condition.
In this series, we'll look at the top cards for each set, including key rookie cards and other valuable cards, with info on their PSA populations and recent values. Come hop in the way back machine and relive the glory that was 1970s Topps baseball.
We'll look today at the 1974 Topps baseball cards.
Find over 100,000 1974 Topps cards on eBay
Topps 1974 baseball cards – The basics
1974 Topps actually is responsible for several "firsts" in Topps history. These include the first Topps set released in just one series, the first factory set offering, and the first traded set.
The traded cards were included in late run packs, and showed players in their new uniforms. They were numbered with the original card number, with a "T" after it. The set includes 44 cards, including Hall of Famers Ron Santo and Juan Marichal.
The Factory Set was offered exclusively through J.C. Penny stores. Topps would not offer cards in factory set form until the 1980s.
The 1974 Topps set contained 660 cards, plus 44 Traded cards, and 24 team checklists that were not numbered and randomly inserted into specially marked packs.
1974 Topps packs are available on eBay – click here
Standard wax packs typically contained 8 cards and cost a dime. There were harder-to-find packs that contained 12 cards and cost 15 cents.
Cards were also available in 22 card cello packs at 25 cents each and 42 card rack packs, which sold for 39 cents. 2-card packs with a piece of gum were marketed around Halloween, and 500-card vending boxes were also available.
PSA has graded 206,464 1974 Topps baseball cards, of which 4,674 were graded PSA 10 (2.2%).
Check out the 1974 Topps cards in a PSA 10 on eBay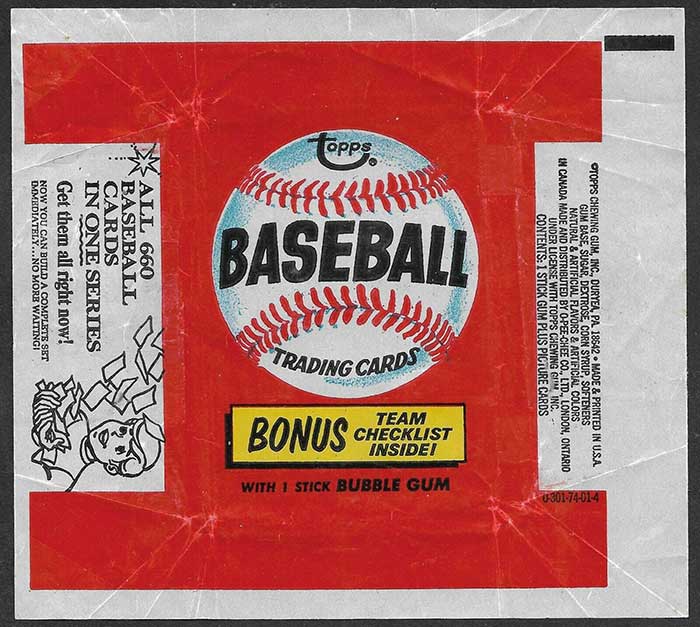 1974 Topps Baseball cards – The design
Topps in 1974 offers up a classic vintage Topps design. A player photo is ringed in a yellow "rounded rectangle" on a white-bordered card. Colored flags in the upper left and lower right of the photo contain the team city and team name.
The player position is in the upper right, next to the team city, and the player name is in the lower left, next to the team name.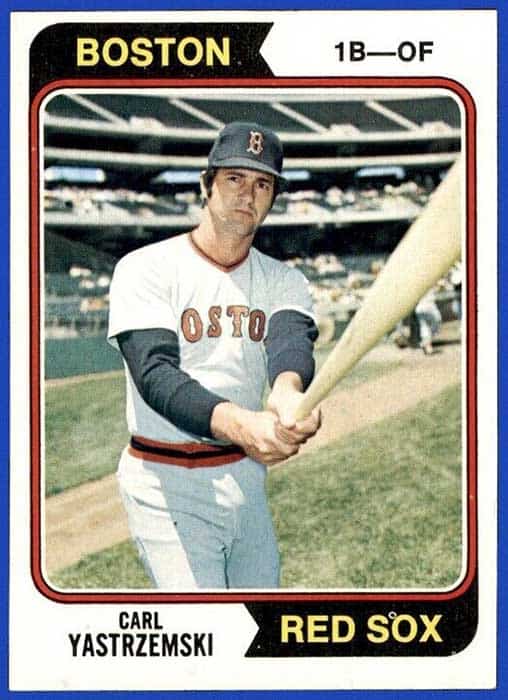 The 1974 Topps back is black and green ink on a gray background. The card back has the card number in a black circle in the upper left corner, with the full player name and a facsimile signature on a green bar to the right.
The back also contains the player's full stat line, bio info, a cartoon, and in many instances, a few additional data points about the player. Over, there's a lot going on, but it fits together nicely. In 1974 we were still nearly two decades away from white card stock, which is too bad because that'd make these card backs really pop.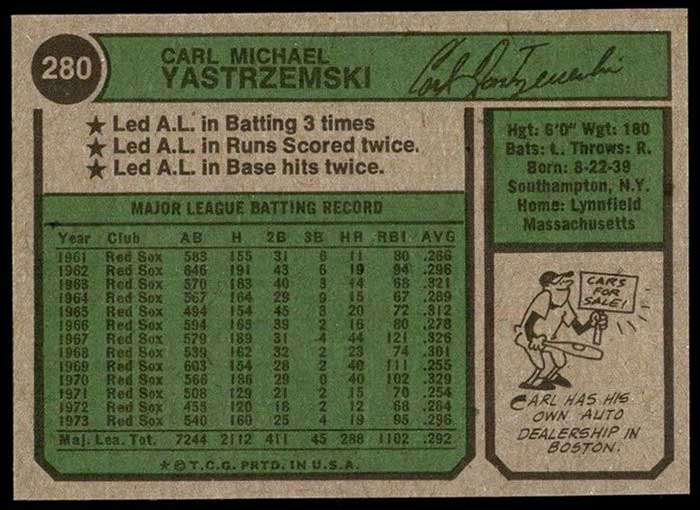 Subsets include League Leaders (201-208), All-Stars (331-339), Playoffs (470-471), World Series (472-479), and Rookies (596-608). In addition, the first card in the set honors Hank Aaron's breaking of Ruth's career home run record. Cards #2-6 also honored Aaron with additional info on Aaron's career, and recreations of four Aaron Topps cards on the front of each card.
Early print runs of 1974 Topps contain an interesting variation. Topps was working under the assumption that the San Diego Padres were going to move to Washington, D.C. So, Topps printed cards of that team's players with Washington Nat'l Lea as the team name. When the Padres were instead sold and remained in San Diego, later print runs went with the San Diego Padres version.
Find over 100,000 1974 Topps cards on eBay
Interestingly enough, the key Padres card in the set, the Dave Winfield RC, does not have a Washington version.
Topps 1974 baseball cards – Key rookies
The rookie class in the 1974 Topps set is admittedly not the most robust of the decade. Regardless, there are a few rookies of note worth exploring.
Dave Winfield
They key rookie card in the 1974 Topps set is also the only Hall of Fame rookie card in the set. That would be card #456, Dave Winfield.
Winfield was a 12-time All-Star and 7-time Gold Glove winner who finished his career with 3,110 hits and 465 home runs. He racked up 64.2 WAR in his career and was elected to the Baseball Hall of Fame in his first year of eligibility in 2001.
PSA has graded over 7,500 copies of the 1974 Topps Dave Winfield RC. Only 10 have been awarded the PSA 10 designation. There are 460 PSA 9's, and over 2,000 PSA 8's, however, so there's plenty of high grade copies available. A PSA 9 sold recently for close to $1,600.
Find 1974 Topps Dave Winfield rookie cards on eBay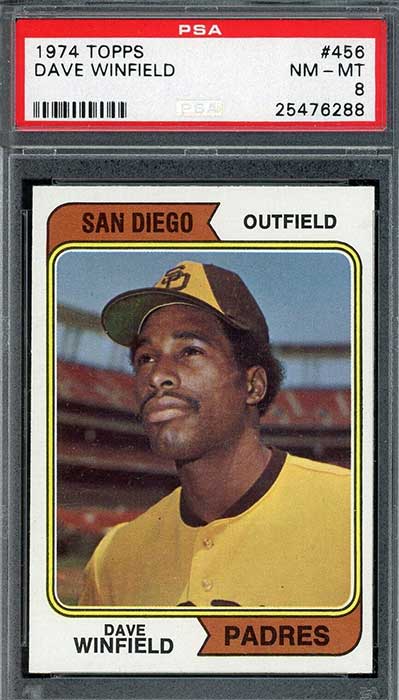 Dave Parker
Another Dave with this rookie card in the set has his Hall of Fame advocates. For now, though, Dave Parker isn't in the Hall of Fame, but his rookie card continues to sell well.
Parker won an MVP award, was a 7-time All Star, won three Gold Gloves and two batting titles. Of the 2,441 copies graded by PSA, there are only 8 PSA 10s and 231 PSA 9s.
Dave Parker 1974 Topps rookie card on eBay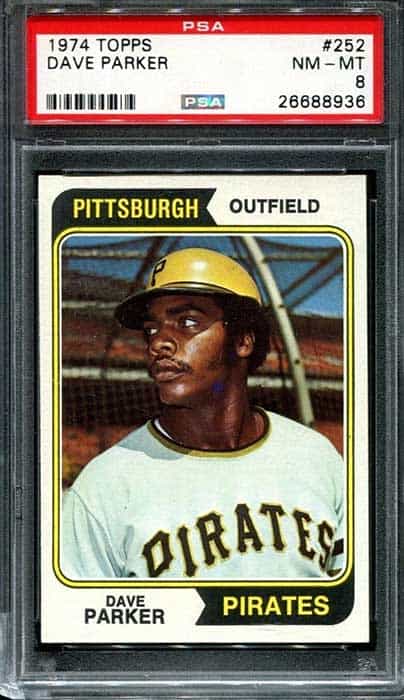 Ken Griffey Sr.
Back in the time before he was known as "Ken Griffey Jr.'s Dad", Griffey Sr. was a great player in his own right. He played 19 seasons in the majors, made three All-Star teams and finished with more than 2,000 career hits and a .296 batting average.
Ken Griffey Sr. rookie cards can be found on eBay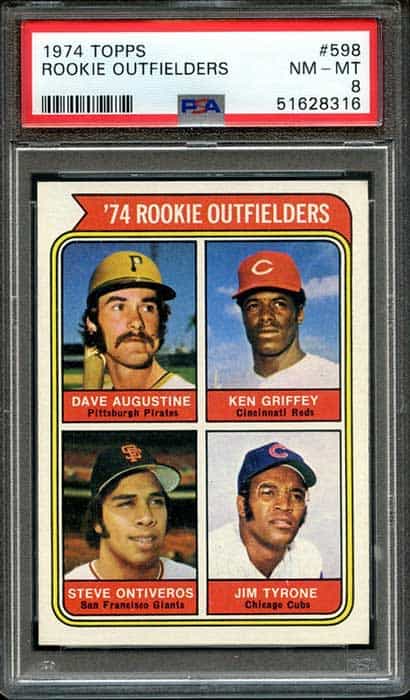 Frank White
White played 18 years in the majors, all with the Kansas City Royals. He made 5 All-Star teams, won eight Gold Gloves, and won a Silver Slugger.
He's not going to make the Hall of Fame, but he had a long and successful career, and his rookie card is fairly low pop and very affordable.
Check eBay for the latest prices on Frank White 1974 Topps rookie cards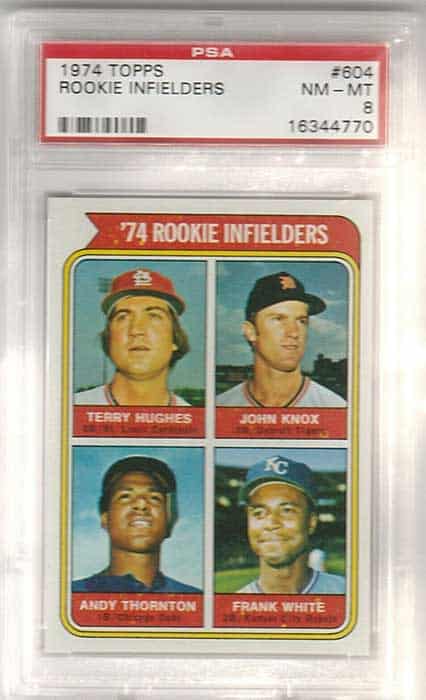 1974 Topps Baseball cards – Other key cards
The 1974 Topps set contained the final cards of Hall of Famers Al Kaline, Orlando Cepeda, and Luis Aparicio produced while they were active players.
The highest-priced non-rookie cards in the 1974 set represent the biggest stars of the era. These include home run record breaker Hank Aaron, Nolan Ryan, Tom Seaver, Reggie Jackson, and the 2nd year card of Mike Schmidt. All five are now members of Baseball's Hall of Fame.
The final word on 1974 Topps
1974 Topps baseball cards are 48 years old, a fact that is likely shocking to long-time collectors. It represents a time in the history of Topps cards that were very much of their 70's monopoly. Centering issues and thin stock, plus almost 50 years of wear and tear, can make finding high-grade copies a challenge.
Whether you're a mid-grade set builder, a collector of rookie cards, or just someone who appreciates cards of some of the all-time legends of the game from their playing days, there's a place for Topps 1974 baseball cards to your collection.
Other 1970s Topps baseball sets
Check out our other features on Topps baseball sets from the 1970s.