Top Ten Cards Of The 1986-87 Fleer Basketball Set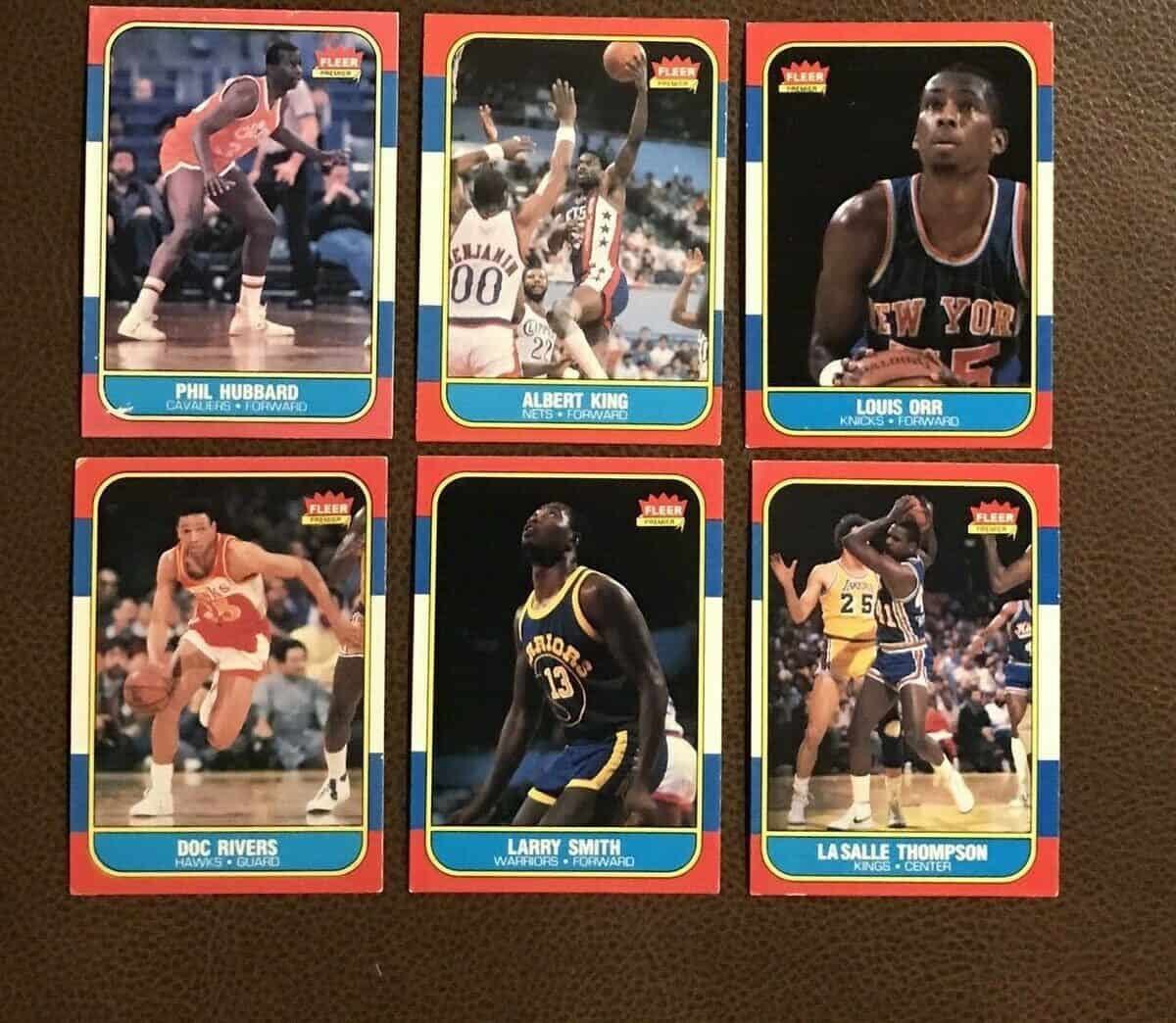 There is no other card set more iconic or storied than the 1986-87 Fleer basketball set. While most sports have seen their fair share of unique looks and designs, none quite snap to a mental image like the red, white, and blue border of the 1986-87 Fleer basketball cards.
Of course, this is the set that contains the Michael Jordan rookie card, but that's far from the only noteworthy card in the set. So let's look into the set to figure out why it's so special and which cards you should collect.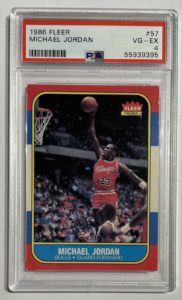 The Importance Of The 1986-87 Fleer Basketball Set
The stars aligned in 1986-87, and an incredible combination of players and design changed collecting forever. Of course, there's no way the employees of Fleer knew what they were doing when they put together this design and checklist. But the result is nothing short of magical.
Perhaps the single best indicator of how popular this set has become is the astounding number of reprints on the market—particularly of the Jordan rookie.
If people are forging your work, you've made it.
How Fleer Ended Up With The Most Important 1986-87 Set
This set has a bit more of a history than most—one that spans several seasons.
For one, Topps abandoned basketball cards after poor sales in 1982-83, which left the market wide open for Fleer or Donruss to step up and take over the basketball market.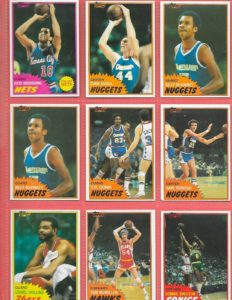 They didn't. Instead, Star was the only licensed manufacturer of basketball cards, and they didn't even come in packs.
In 1985, Fleer secured the basketball license and became the only company that could produce NBA cards. Unfortunately, they didn't print many cards, but they put together a checklist and started printing again in 1986-87.
Therefore, the 1986-87 Fleer set was the first time in several seasons that collectors could open packs, and it had a long list of players that had yet to make their own officially licensed card. That's why the Michael Jordan Fleer card, along with many others, is not his rookie season—it was his third season—but it was still considered his rookie card since it was the first printing from a significant company.
Timing Is Everything
And that played well for the collecting, too. Jordan was exploding in this third season. He averaged 37 points per game, the highest of his career. As he earned the "air Jordan" nickname, the sports world truly fell in love with him that year.
It's kind of like imagining what would happen if the 2018 rookies made their first cards today. People would be going nuts chasing Luka, Trae Young, and probably Ayton, while other Top 10 picks like Mo Bamba and Marvin Bagley III wouldn't demand nearly the price.
So, looking back, the 1986-87 Fleer set isn't popular only because of one thing: while the design is excellent and the player checklist is deep, it was a perfect storm that formed over several years that made this set what it is today.
Notes On 1986-87 Fleer Basketball Set Population
Nobody is confident of the print run of 1986-97 Fleer, but it was released in significantly lower amounts than the baseball cards that came in the years before.
And, despite a lower print run, it still has a reasonably high population of graded cards on PSA.com because of the number of set-builders looking to capture this timeless card set in slabs. A total of 270,000 of these cards have been graded.
According to the population report, the Michael Jordan card has been graded the most, with nearly 20,000 slabbed cards. Of those, almost half (8000) are PSA 8, with only 318 PSA 10.
The Hakeem Olajuwon, Charles Barkley, and Clyde Drexler rookies have been graded quite a bit—around 6,000 times.
That said, perhaps the most note in the pop report is that every single card in the set has been graded at least 1,000 times. Every card. Even the worst player to make a card. That's a testament to just how many people want these sets.
By comparison, only 6 of the 132 player's cards from the next season have been graded at least 1,000 times. It is a unique set, and therefore, the cards in it have a relatively high population.
Notes On The 1986-87 Fleer Basketball Set Design
The 1986-87 Fleer design is one of the most classic and successful designs ever. It features an iconic red, white and blue border that represented the patriotism of basketball.
The design inspired more tributes down the road, including the 2007-08 and 2008-09 Fleer set, which included rookie cards that mimicked the design of the iconic set.
What Else Do I Need To Know About The 1986-87 Fleer Basketball Set
The only inserts at the time were stickers, which came 1 per pack. The Michael Jordan sticker, while still worth nowhere near his rookie card, is the second most valuable card in the sets.
There are many "rookies" in this set, which we'll explore in the next section, but it's also noteworthy to see who didn't make the set. With only 132 cards, Fleer had to make tough decisions about who earned a card and who didn't. With so many choices and so few cards, Fleer cut some actual 1986-1987 rookies. Dennis Rodman, Mark Price, Scott Skiles, and the #1 overall pick of the draft, Brad Daugherty, didn't appear on a card until the following season. Can you imagine if Panini left the #1 pick out of their sets? Collecting has changed a lot.
The Top Ten 1986-87 Fleer Basketball Set Cards
While some star veteran players, primarily graded, are valuable, most of the best cards to collect from this checklist are rookies. Here are the top ten cards and the price of a PSA 8:
Michael Jordan Rookie #57: $9,000
Michael Jordan Sticker #8: $2000
Charles Barkley Rookie #7: $400
Hakeem Olajuwon Rookie #82 (Akeem): $320
Patrick Ewing Rookie #32: $265
Dominique Wilkins Rookie #121 $220
Larry Bird #9, $210
Karl Malone Rookie #68: $180
Clyde Drexler Rookie #26 $180
Chris Mullin Rookie #77, $160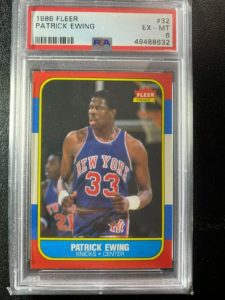 The Cardlines Pick
While it's tempting to pick a card or player that feels a bit more slept-on, I'd be a fool not to say invest in the Jordan rookies. Based on your budget, buy either a sticker or a rookie, and wait for the value to climb over time. These cards are as close to blue-chip stocks as you'll ever see.
Bottom Line On The 1986-87 Fleer Basketball Set
But one note: when buying a Jordan rookie, get a slabbed version from BGS or PSA. There are far too many fakes out there to risk it. Even then, double-check to make sure that the slab is legit.