Is The 2021-22 National Treasures Basketball Release Worth The Price? A Breakdown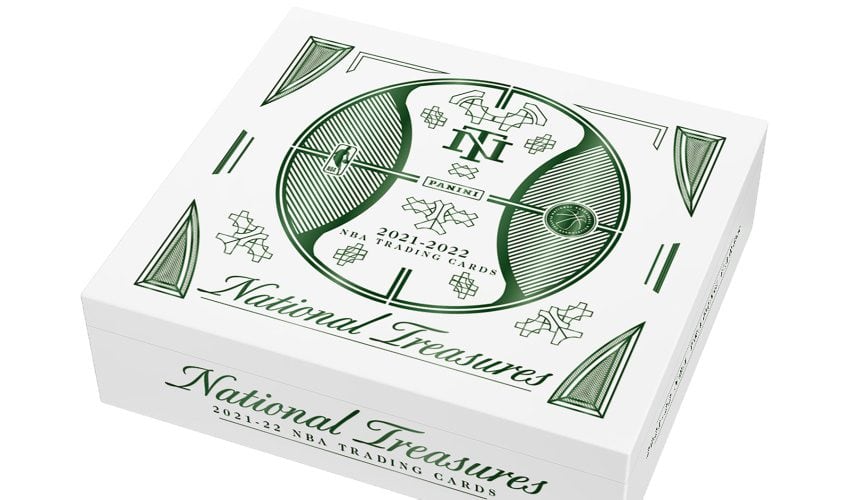 National Treasures is one of the highest-end products Panini has to offer. In the last year or so, it has been overshadowed by Flawless and its high profile. However, National Treasures basketball cards remain a highly prestigious release.
However, the boxes are not cheap. The FOTL boxes sold out at $5,400 per box. So, the main question is, is a purchase worth that price? We break down the release and run the numbers for you.

View the latest 2021-22 Panini National Treasures Basketball box prices on ebay.
Intro to 2022 Panini National Treasures Basketball
The product first appeared in 2009-10 and was a big hit. It was the first of its kind in offering a selection of hits and very little filler or base. For example, this year's release has 8 cards that could be classified as hits and two base cards in each hobby box.
It attained its status by introducing the Rookie Patch Auto as a significant draw. It also was one of the best early sources of Logoman cards.
Looking for other similar National Treasures releases? The 2021 National Treasures Football review and checklist.
Panini 21-22 National Treasures basketball release date
Unfortunately, Panini has experienced massive delays over the past year. The supply chain problems seem to have hit them far more significantly than their competitors at Topps.
Release formats
National Treasures never has, and will never, have a retail release. Instead, it has a hobby box release and a first-off-the-line (FOTL) box release.
Hobby Box
10 cards per pack
1 pack per box
4 autographs per box average
4 memorabilia per box average
1 printing plate per box average
1 base or base parallel per box average
4 per case
Presells for $5000.
Cases presell for $20,000
FOTL Box
11 cards per pack
1 FOTL RPA guaranteed
4 autographs per box average
4 memorabilia per box average
1 base or parallel per box average
1 printing plate per box average
Presells for $8,500
The most popular 2021-2022 National Treasures basketball auction listings on ebay
2021-22 National Treasures basketball checklist
The rookie class primarily determines the strength of the checklist. So, we will discuss that at length below. But as always, National Treasures offers a great variety of autos and RPAs. The base cards are a real afterthought in these boxes.
National Treasures Rookie Patch Autos
The headlining feature of National Treasures is the RPAs. So, each year's release's value is determined by the quality of the RPAs.
That is the advantage of the FOTL box over the regular hobby variant. It guarantees one of the following:
RPA Gold /24
RPA Purple /8
RPA Blue /3
One great feature of this product is the availability of RPA Logoman cards. So if you hit one of those, you will have one of the absolute premier rookie cards for that player.
View the latest 2021-22 Panini National Treasures RPA listings on ebay
Rookie Material Autographs
A less prestigious but still very cool version of the RPA is the Rookie Material Autographs. Again, the card features quad relics. So, the material featured on it comes out of all four corners of the card.
Other autos
The product features the following auto varieties as well:
Peerless
Penmanship
Treasures of the Hall
Dual autographs
Triple autographs
Logoman autographs
Treasured Tags autographs
Memorabilia
The National Treasures line is mainly known for incorporating relics in its cards. So, it is no surprise that 2021-2022 National Treasures Basketball features a good selection of memorabilia cards.
Colossal
Colossal Logoman
Treasure Chest Booklets
The rookie class
Since the product stands and falls on RPAs, the question is, how good is the 2021-22 rookie class?
There is no one recognizable superstar in this class in the LeBron James or Zion Williamson mode. That will certainly impact the value of the boxes in the short term.
However, it is by no means a weak class. On the contrary, it has a notable amount of depth.
Cade Cunningham is almost sure to be a legitimate NBA star in the long term. His 17.4 points, 5.5 rebounds, and 5.6 assists per game line are impressive even for a grizzled veteran. It is pretty clear that Cade will be averaging over 20 per game soon.
Jalen Green has similar numbers on the offense but is already an absolute top-level defender. As a legit two-way ace, Jalen seems like a solid long-term investment. Scottie Barnes shot almost 50% from the field in his first year. He can not only shoot but also rebound and steal. Other rookies with star stuff are Josh Giddey and Evan Mobley.
If so, there is no sure thing major superstar. But we would not be surprised if several of these players make a substantial long-term impact on the hobby.
Panini National Treasures Basketball cards value
The boxes started at $10,000 in the Dutch auction format. However, the final price fell to about $8,000 and can now be purchased for about $8,500.
That could be a real problem in terms of deriving value out of a box. After all, how many cards can recoup that amount on the open market without a blockbuster rookie class?
Singles
Let's take a look at how RPAs from previous years have done.
| Card | Estimated value |
| --- | --- |
| 2021 Corey Kispert 7/35 RPA (raw)  | $50 |
| 2017 Jayson Tatum RPA (PSA 8) | $830 |
| 2017 Jaylen Brown RPA /99 (BGS 9)  | $13,000 |
| 2019 Luka Doncic RPA /25 (BGS 8.5) | $27,877 |
The numbers make clear that you are only likely to make your investment back if you hit some very specific RPAs. If you hit a non-star RPA, the cards will be worth very little. But as you can see from the Tatum card, even the superstars do not always pay.
You will need to hit a numbered future star and get a decent grade to profit substantially from your box. Then you can make a serious profit.
Wax
One of the best ways to make a profit is sitting on wax. But how does National Treasures hobby boxes do? Let's take a look at recent year's releases:
| Year | Value | Top players |
| --- | --- | --- |
| 2016-2017 | $6,388 | Joel Embiid, Jaylen Brown |
| 2017-2018 | $10,000 | Donovan Mitchell, Jayson Tatum |
| 2018-2019 | $15,000 | Trae Young, Luka Doncic |
| 2019-2020 | $6,795 | Zion Williamson, Ja Morant |
| 2020-2021 | $4,000 | LaMelo Ball, Anthony Edwards |
As always, the price of a box is a referendum on the quality of the rookie class. The 2021-22 class is probably more similar to the 2016-17 class than the 2018-19 class. There probably isn't a Luka in there. So if you get a box at $5,000, you are looking at a profit of $1,000 or so down the line.
That is unless one of these rookies turns into a legend, which may not be likely, but is certainly possible.
These numbers are pretty promising. There is no risk if you buy a box and sit on it. If the class overperforms, you may profit significantly.
Bottomline of the Panini National Treasures Basketball release for 2021-22
National Treasures is no longer king of the Panini high-end releases. Flawless has usurped that role entirely over the last year. However, that is not necessarily a bad thing. Boxes of National Treasures cost significantly less than their Flawless equivalent. But the top-end RPAs still sell for solid prices.
So if you believe in the 2021-22 class and don't want to pay Flawless prices for a chance to hit an RPA or to enjoy the appreciation of wax, National Treasures is the smart play.