Are 2021 Panini Prizm WNBA Worth It?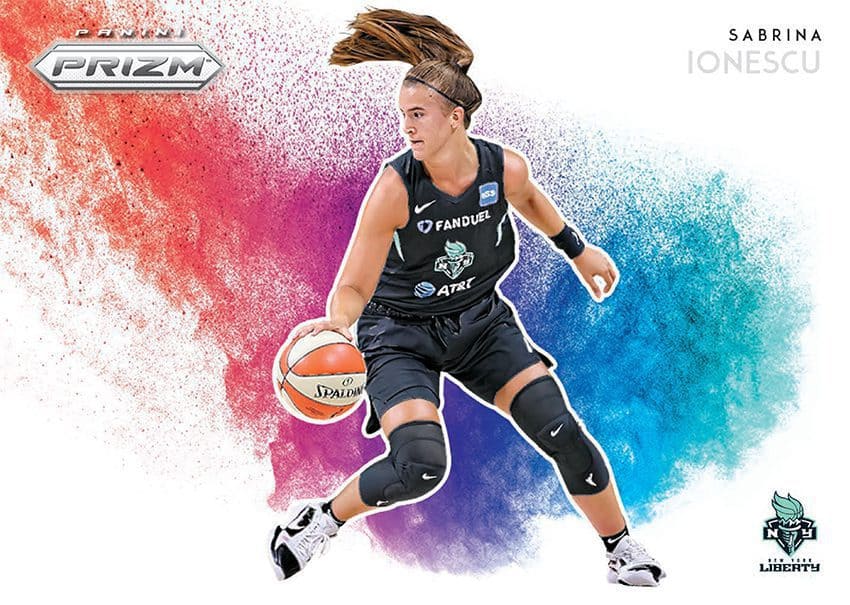 2021 Panini Prizm WNBA drops on August 13th, 2021, and is available on pre-sale. We know you have a million questions, and we will try to answer them all.
History Of Panini Prizm WNBA
This is the second year of the WNBA Prizm release. Panini is happy with the reception to its first-year release and is putting some effort into promoting this year's iteration.
The product is fully licensed by the WNBA and includes the players in their pro uniforms. Indeed, it is the league's flagship card release.
Following the wildly successful 2020 WNBA Prizm release, Panini hopes to recapture that success with the sequel. Within this set, the iconic silver Prizm cards return and the first-ever color blast cards for the WNBA. Here is everything you need to know about the 2021 WNBA Prizm set, with the release expected to be August 13th.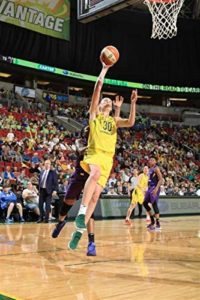 2021 Panini Prizm WNBA Release Formats
The only option to buy this year will be hobby boxes. Each box contains 12 packs with 12 cards, for a total of 144. The blaster boxes released last year have been discontinued. At least for now. You can expect to receive 22 Prizm parallels, 10 inserts, and two autographed cards within each hobby box.
While Fanatics had a release for last year's set, it looks like this will not be the case this year. There has been no announcement indicating that any boxes will be sold through them this year.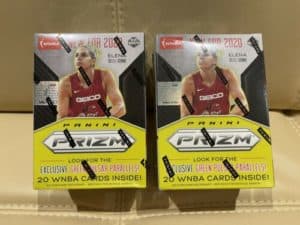 2021 Panini Prizm WNBA Checklist Information
So who should you be looking out for in this release? All the veterans like Diana Taurasi and Sue Bird are coming back. But of course, the most important part is the rookie class.
Key Players
The WNBA Prizm release presents the first opportunity for collectors to get their hands on some of the stars of this WNBA rookie class. High draft picks who will be the league's future like Charli Collier, Michaela Onyenwere, and Aari Mcdonald will be available in the set. Onyenwere has been phenomenal this season, leading all rookies in scoring more than halfway into the season.
It is unlikely any players in this class will reach the heights of Sabrina Ionescu, the star rookie of the 2020 class. Though she has only played a handful of WNBA games due to injury, her legendary NCAA stats bolster the guard's stellar reputation.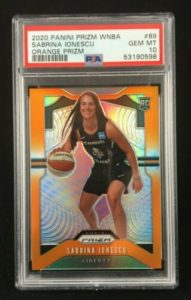 Inserts
According to preview images of the set released from Panini, Ionescu will be receiving a rare color blast card this year. This is the first year that the WNBA will have color blast cards, and you can expect it to be ultra-rare. Due to the exceptional value of her previous cards and the rarity of the color blast, there is a good chance the Sabrina Ionescu Color Blast cards will be the most valuable in the set, even though it is not her rookie year.
Prizms in this set include:
Mojo Prizms /25
Gold Prizms /10
Black Gold Prizms /5
Black Prizms 1/1
The autos included in the series are part of the Autograph series. They are numbered with two autos in each hobby box. The signature series includes:
Mojo /25
Gold /10
Black 1/1
Some of the most popular Prizm inserts make an appearance in this series:
Color Blast
Far Out
Get Hyped
Widescreen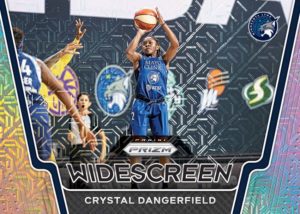 Wax Value
As we mentioned, the only release this year is a WNBA hobby box. They are currently preselling for $318.88.
The 2020 WNBA Prizm hobby boxes are reselling for $549.95. Meanwhile, hobby box packs are reselling for $79. With 12 in a box, that would net you a profit of $400.
So seems like a no-brainer to resell at a profit, right? Not so fast. Those boxes are almost definitely worth that price and more. Last year's series is unique for two reasons. First, the inaugural release gives it some long-term importance if the series takes off. Keep in mind that the launch of the series is an important moment of feminist social significance. Second, it includes the Sabrina Ionescu rookie.
The long-term value of the 2021 release depends primarily on the quality of the rookies. However, keep in mind that the standard for female athletes tends to be much higher. So while super athletes like Mia Hamm and Diana Taurasi fetch a good value, 'regular' all-star players do not. At least not yet.
Singles Value
The best metric we have for the value of 2021 WNBA Prizm singles is the value of the previous year's releases. So instead of looking at Sabrina Ionescu, who does not have an equivalent in the 2021 WNBA, we will look at values for the more comparable no. 2 picks, Satou Sabally. Also, all cards are PSA 9's or raw because there are not many PSA 10s out there.
| | |
| --- | --- |
| Base Rookie #90 | $87 |
| RC Auto Series | $199 |
| 16/25 Green Shimmer (Raw) | $760 |
| Gold Auto 1/10 Raw | $1,406 |
Keep in mind that Sabally was an All-Star in her rookie season. So she is an excellent player.
The prices are not bad at all. There is also a notable lack of PSA 10s and low pops in general. Let's take a look at some pop figures. Here are the five top 2020 draft picks:
| | | | |
| --- | --- | --- | --- |
| Card | PSA 9 | PSA 10 | Total |
| Sabrina Ionescu | 231 | 177 | 419 |
| Satou Sabally | 16 | 5 | 21 |
| Lauren Cox | 0 | 1 | 1 |
| Chennedy Carter | 1 | 0 | 1 |
| Bella Alarie | 10 | 0 | 11 |
Aside from Ionescu and, to a lesser degree Sabally, the pops are almost non-existent. Moreover, the pops for the rare cards are incredibly low, even for the two big stars. So there is a lot of scope for growth.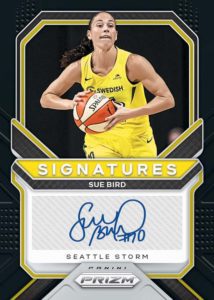 Bottomline On 2021 Panini Prizm WNBA
Overall, the 2021 WNBA Panini Prizm release looks to be an exciting one. With a new crop of exciting rookies, the new color blast cards, and the return of the iconic Prizm Silver, WNBA collectors will undoubtedly return for this year's set. However, it remains to be seen how high their appeal will be for casual all-around sports card investors.
As an investment, it is not a bad one. WNBA is growing, and the rookie class for this year is solid. In addition, the pops will be very low since there is no prominent franchise player among them. So if you believe in one of the prospects, there is a massive upside.