2023 Topps Golden Mirror SSPs Ditch the Numeric Code For Clearer Way To Identify SSPs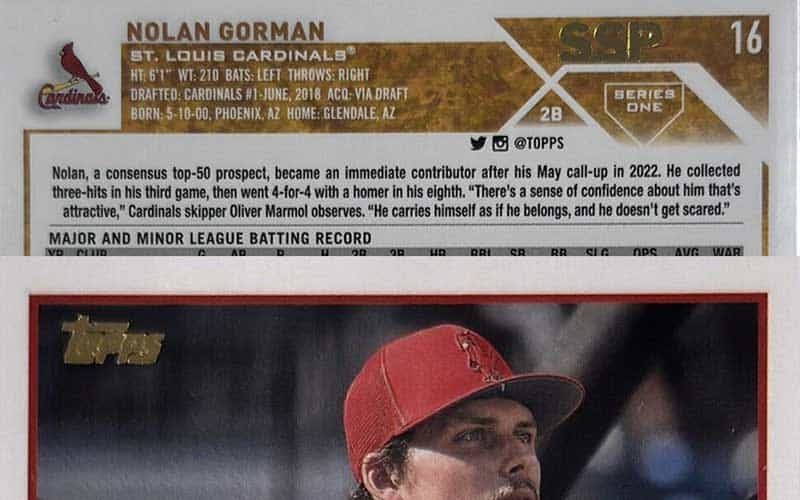 The release of 2023 Topps Series 1 Baseball marks the unofficial start of a new season of baseball card collecting. Much like the excitement of a new class of rookies, there's always excitement about the new hits the product will include.
But there's one development that has gone a bit under the radar, and it's a welcome improvement to a popular part of any Topps release – the SSPs.
Shop for 2023 Topps SSP cards on eBay
What is an SSP?
Short for Super Short Print, SSPs are typically a variation of the base card with some kind of twist, making it a hard-to-pull but fun-to-chase variation. While being tough to pull, SSPs often do not have serial numbers to help identify them as a hit.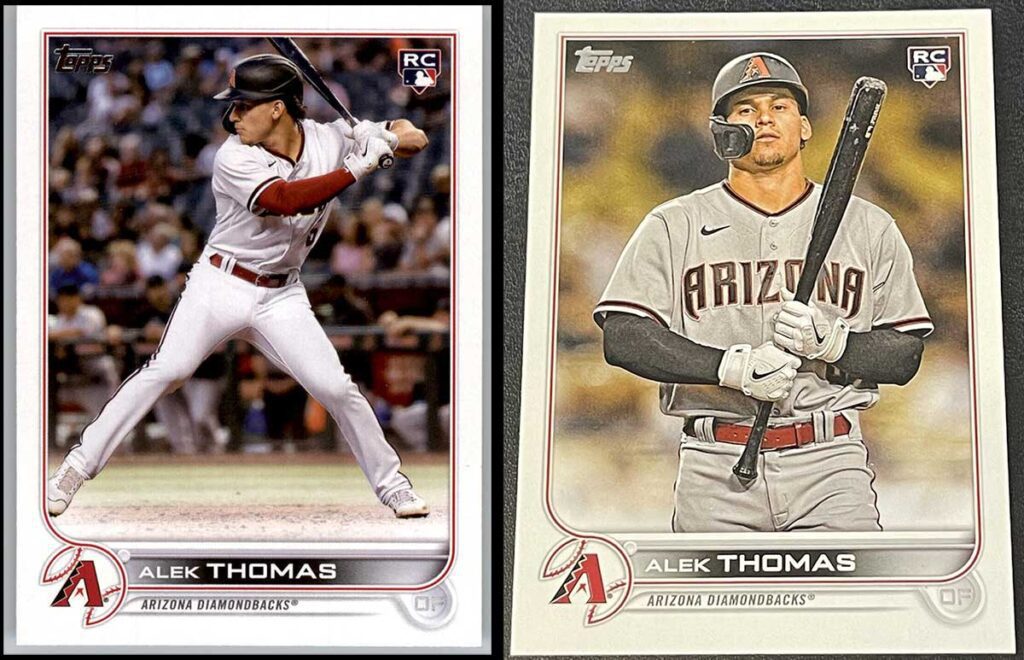 Identifying an SSP historically
From around 2018 through 2022, Topps used a system of codes that were in fine print at the bottom of the card back that helped identify what type of SP, SSP, or the like the card may be.
The code was in approximately 4-point font, making it very hard to read with the naked eye, especially for collectors over a certain age. Also, a lot of fans unfamiliar with the archaic codes probably missed out on realizing their hits.
See: A Guide To Identifying Topps Flagship Short Prints From 2018 To 2022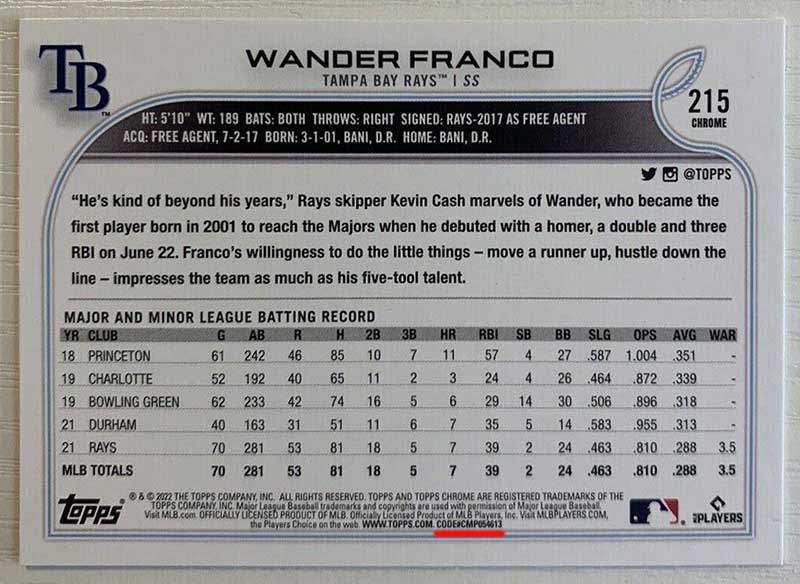 What is a 2023 Topps Golden Mirror SSP?
In 2023 Topps Series 1, Topps offered up the Golden Mirror SSP variations. These cards contain a different photo than the base card, plus a golden-colored back.
There is a Golden Mirror SSP version for every card in the 330-card base set. They are not serial numbered but are a tough pull.
Shop for 2023 Topps SSP cards on eBay

2023 Topps Golden Mirror Pack Odds
The odds of pulling a Golden Mirror SSP (Base Variation) varies across the multiple release formats. The list below shows the odds for popular hobby-exclusive and retail formats.
Identifying a 2023 Topps Golden Mirror SSP
In 2023, Topps cast aside the arcane numbering system for a much easier way to identify the Golden Mirror SSP. The cards have a gold back, which is one giveaway, although the most obvious change is the text "SSP" on the card back in large golden font and the Topps logo on the card front being in gold foil instead of silver.
Shop for 2023 Topps SSP cards on eBay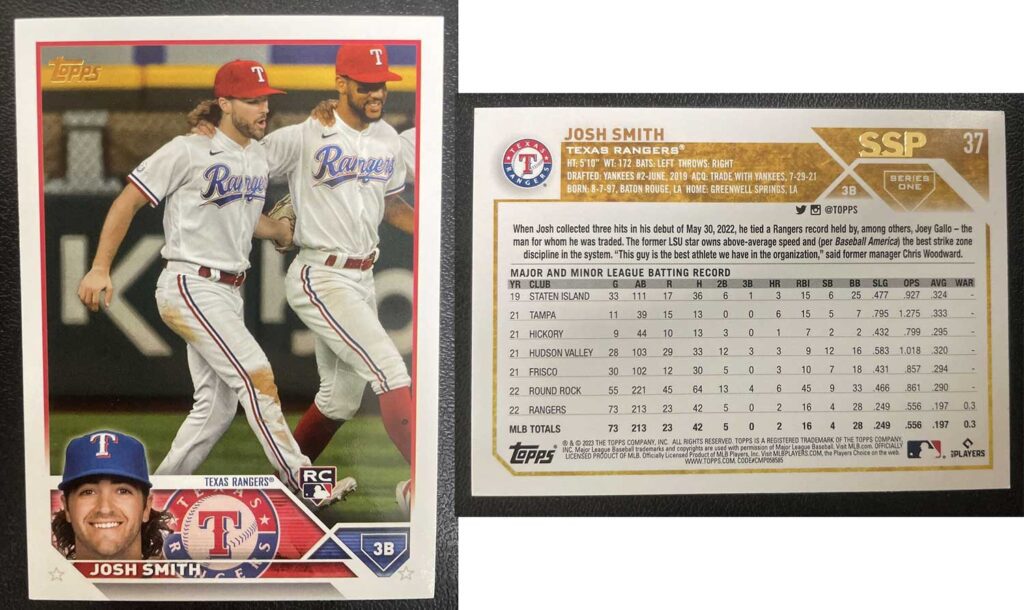 Is this an improvement?
In a word, YES! Being able to rip packs without a magnifying glass nearby is an amazing development that cannot be overstated.
The clear indication of super short print on both the card front and back is a huge improvement over the tiny font code. An SSP is a great card and a great pull. Making it easy to identify and visually obvious is a clear improvement and something we hope that Topps carries forward in future releases.
Is the new format perfect? Not entirely, as gold foil text on a gold background certainly isn't the best choice for contrast. This is important, as making our hobby accessible for those with vision impairments and other considerations is something that we should always be striving to improve.
That being said, the new changes are a vast improvement over the status quo, and should be celebrated.
Shop for 2023 Topps SSP cards on eBay
2023 Topps: Are there other SPs or SSPs?
In most recent years, Topps has had a series of SP and SSP offerings, including Image Variations, legendary variations, and the like. All indications from both pack odds and early reports from collectors breaking product is that this is not the case for 2023.
This could still change (if it does, we'll update this article), but for now it looks like 2023 Topps Golden Mirror is the only 2023 Topps Series 1 SP or SSP.
The good news is that Topps has already confirmed that the Golden Mirror SSP will persist across Series 2 and Topps Update this year as well, meaning the full 990 cards from Topps flagship offering will all have Golden Mirror SSP versions.
Final thoughts on 2023 Topps SSPs
Making a special pull easily identifiable as such seems obvious, but that has not always been the case, in particular with SP/SSP Image Variations. Topps appears to be making moves to change this, which I think should be applauded.
What do you think of the new 2023 Topps Series 1 SSPs? Let us know on Twitter @card_lines.
Hat Tip to Twitter users @CardPurchaser and @CyberBreaks7 for helping to publicize the much-needed improvement from Topps.
Shop for 2023 Topps SSP cards on eBay
2023 Topps Series 1 Golden Mirror SSP Checklist
With 2023 Topps Series 1 Golden Mirror "SSPs," there is an SSP for every card in the checklist! Yes, this means that all 330 cards have a Super Short Print version:
| wdt_ID | Set | Number | Player | Team | Rookie? |
| --- | --- | --- | --- | --- | --- |
| 1 | Golden Mirror SSP | 1 | Juan Soto | San Diego Padres™ | |
| 2 | Golden Mirror SSP | 2 | Zach Thompson | Pittsburgh Pirates® | |
| 3 | Golden Mirror SSP | 3 | Bryce Harper | Philadelphia Phillies® | |
| 4 | Golden Mirror SSP | 4 | Yadier Molina | St. Louis Cardinals® | |
| 5 | Golden Mirror SSP | 5 | Albert Pujols | St. Louis Cardinals® | |
| 6 | Golden Mirror SSP | 6 | Paul Blackburn | Oakland Athletics™ | |
| 7 | Golden Mirror SSP | 7 | Bobby Witt Jr. | Kansas City Royals® | |
| 8 | Golden Mirror SSP | 8 | Sam Moll | Oakland Athletics™ | |
| 9 | Golden Mirror SSP | 9 | Scott Barlow | Kansas City Royals® | |
| 10 | Golden Mirror SSP | 10 | Trevor Story | Boston Red Sox® | |
| 11 | Golden Mirror SSP | 11 | Rafael Devers | Boston Red Sox® | |
| 12 | Golden Mirror SSP | 12 | Jeffrey Springs | Tampa Bay Rays™ | |
| 13 | Golden Mirror SSP | 13 | Giovanny Gallegos | St. Louis Cardinals® | |
| 14 | Golden Mirror SSP | 14 | Brandon Drury | San Diego Padres™ | |
| 15 | Golden Mirror SSP | 15 | Michael Grove | Los Angeles Dodgers® | Rookie |
| 16 | Golden Mirror SSP | 16 | Nolan Gorman | St. Louis Cardinals® | Rookie |
| 17 | Golden Mirror SSP | 17 | Shohei Ohtani | Angels® | |
| 18 | Golden Mirror SSP | 18 | Tanner Scott | Miami Marlins® | |
| 19 | Golden Mirror SSP | 19 | Joey Votto | Cincinnati Reds® | |
| 20 | Golden Mirror SSP | 20 | Pete Alonso | New York Mets® | |
| 21 | Golden Mirror SSP | 21 | Max Scherzer | New York Mets® | |
| 22 | Golden Mirror SSP | 22 | Clayton Kershaw | Los Angeles Dodgers® | |
| 23 | Golden Mirror SSP | 23 | Fernando Tatis Jr. | San Diego Padres™ | |
| 24 | Golden Mirror SSP | 24 | Miguel Cabrera | Detroit Tigers® | |
| 25 | Golden Mirror SSP | 25 | Byron Buxton | Minnesota Twins® | |
| 26 | Golden Mirror SSP | 26 | Trent Grisham | San Diego Padres™ | |
| 27 | Golden Mirror SSP | 27 | Mike Trout | Angels® | |
| 28 | Golden Mirror SSP | 28 | Corey Knebel | Philadelphia Phillies® | |
| 29 | Golden Mirror SSP | 29 | Trevor Rogers | Miami Marlins® | |
| 30 | Golden Mirror SSP | 30 | Kenley Jansen | Atlanta Braves™ | |
| 31 | Golden Mirror SSP | 31 | Riley Greene | Detroit Tigers® | Rookie |
| 32 | Golden Mirror SSP | 32 | Jordan Montgomery | St. Louis Cardinals® | |
| 33 | Golden Mirror SSP | 33 | Kyle Farmer | Cincinnati Reds® | |
| 34 | Golden Mirror SSP | 34 | Zack Thompson | St. Louis Cardinals® | Rookie |
| 35 | Golden Mirror SSP | 35 | CJ Abrams | Washington Nationals® | Future Stars |
| 36 | Golden Mirror SSP | 36 | Brandon Lowe | Tampa Bay Rays™ | |
| 37 | Golden Mirror SSP | 37 | Josh Smith | Texas Rangers® | Rookie |
| 38 | Golden Mirror SSP | 38 | Jorge Mateo | Baltimore Orioles® | |
| 39 | Golden Mirror SSP | 39 | Adam Wainwright | St. Louis Cardinals® | |
| 40 | Golden Mirror SSP | 40 | Keegan Thompson | Chicago Cubs® | |
| 41 | Golden Mirror SSP | 41 | Brian Serven | Colorado Rockies™ | Rookie |
| 42 | Golden Mirror SSP | 42 | Franchy Cordero | Boston Red Sox® | |
| 43 | Golden Mirror SSP | 43 | Paul Goldschmidt | St. Louis Cardinals® | |
| 44 | Golden Mirror SSP | 43 | Freddie Freeman | Los Angeles Dodgers® | |
| 45 | Golden Mirror SSP | 43 | Jeff McNeil | New York Mets® | |
| 46 | Golden Mirror SSP | 44 | Jesús Sánchez | Miami Marlins® | |
| 47 | Golden Mirror SSP | 45 | Gerrit Cole | New York Yankees® | |
| 48 | Golden Mirror SSP | 46 | Jorge Alfaro | San Diego Padres™ | |
| 49 | Golden Mirror SSP | 47 | Ryan Mountcastle | Baltimore Orioles® | |
| 50 | Golden Mirror SSP | 48 | Jacob deGrom | New York Mets® | |
| 51 | Golden Mirror SSP | 49 | Mitch Haniger | Seattle Mariners™ | |
| 52 | Golden Mirror SSP | 50 | Mookie Betts | Los Angeles Dodgers® | Rookie |
| 53 | Golden Mirror SSP | 51 | Chas McCormick | Houston Astros® | |
| 54 | Golden Mirror SSP | 52 | Matthew Liberatore | St. Louis Cardinals® | |
| 55 | Golden Mirror SSP | 53 | Dylan Cease | Chicago White Sox® | |
| 56 | Golden Mirror SSP | 54 | Marcus Stroman | Chicago Cubs® | Rookie |
| 57 | Golden Mirror SSP | 55 | Cristian Javier | Houston Astros® | |
| 58 | Golden Mirror SSP | 56 | Jermaine Palacios | Minnesota Twins® | Rookie |
| 59 | Golden Mirror SSP | 57 | Ha-Seong Kim | San Diego Padres™ | |
| 60 | Golden Mirror SSP | 58 | Iván Herrera | St. Louis Cardinals® | |
| 61 | Golden Mirror SSP | 59 | Eduardo Rodriguez | Detroit Tigers® | |
| 62 | Golden Mirror SSP | 60 | Josh Rojas | Arizona Diamondbacks® | |
| 63 | Golden Mirror SSP | 61 | Tyrone Taylor | Milwaukee Brewers™ | |
| 64 | Golden Mirror SSP | 62 | Aaron Judge | New York Yankees® | |
| 65 | Golden Mirror SSP | 63 | C.J. Cron | Colorado Rockies™ | |
| 66 | Golden Mirror SSP | 64 | Josh Donaldson | New York Yankees® | |
| 67 | Golden Mirror SSP | 65 | Triston McKenzie | Cleveland Guardians™ | Rookie |
| 68 | Golden Mirror SSP | 66 | Brandon Crawford | San Francisco Giants® | |
| 69 | Golden Mirror SSP | 67 | Travis Swaggerty | Pittsburgh Pirates® | Rookie |
| 70 | Golden Mirror SSP | 68 | William Contreras | Atlanta Braves™ | |
| 71 | Golden Mirror SSP | 69 | Caleb Kilian | Chicago Cubs® | |
| 72 | Golden Mirror SSP | 70 | Darin Ruf | New York Mets® | |
| 73 | Golden Mirror SSP | 71 | Merrill Kelly | Arizona Diamondbacks® | |
| 74 | Golden Mirror SSP | 72 | Jon Berti | Miami Marlins® | |
| 75 | Golden Mirror SSP | 73 | Jon Gray | Texas Rangers® | |
| 76 | Golden Mirror SSP | 74 | Tarik Skubal | Detroit Tigers® | Rookie |
| 77 | Golden Mirror SSP | 75 | JT Brubaker | Pittsburgh Pirates® | |
| 78 | Golden Mirror SSP | 76 | Josh Winckowski | Boston Red Sox® | |
| 79 | Golden Mirror SSP | 77 | Kyle Bradish | Baltimore Orioles® | |
| 80 | Golden Mirror SSP | 78 | Sonny Gray | Minnesota Twins® | |
| 81 | Golden Mirror SSP | 79 | Tyler O'Neill | St. Louis Cardinals® | |
| 82 | Golden Mirror SSP | 80 | Tanner Rainey | Washington Nationals® | |
| 83 | Golden Mirror SSP | 81 | Ozzie Albies | Atlanta Braves™ | |
| 84 | Golden Mirror SSP | 82 | Framber Valdez | Houston Astros® | |
| 85 | Golden Mirror SSP | 82 | Justin Verlander | Houston Astros® | |
| 86 | Golden Mirror SSP | 82 | Alek Manoah | Toronto Blue Jays® | |
| 87 | Golden Mirror SSP | 83 | Tylor Megill | New York Mets® | Rookie |
| 88 | Golden Mirror SSP | 84 | Toronto Blue Jays® | Toronto Blue Jays® | |
| 89 | Golden Mirror SSP | 85 | Max Stassi | Angels® | Rookie |
| 90 | Golden Mirror SSP | 86 | Gregory Soto | Detroit Tigers® | Rookie |
| 91 | Golden Mirror SSP | 87 | Ethan Small | Milwaukee Brewers™ | |
| 92 | Golden Mirror SSP | 88 | Luis Robert | Chicago White Sox® | Rookie |
| 93 | Golden Mirror SSP | 89 | Brett Baty | New York Mets® | |
| 94 | Golden Mirror SSP | 90 | Korey Lee | Houston Astros® | Rookie |
| 95 | Golden Mirror SSP | 91 | Josh Naylor | Cleveland Guardians™ | Rookie |
| 96 | Golden Mirror SSP | 92 | Triston Casas | Boston Red Sox® | |
| 97 | Golden Mirror SSP | 93 | Angels® | Angels® | Rookie |
| 98 | Golden Mirror SSP | 94 | Oswald Peraza | New York Yankees® | |
| 99 | Golden Mirror SSP | 95 | Jonah Bride | Oakland Athletics™ | |
| 100 | Golden Mirror SSP | 96 | Kyle Gibson | Philadelphia Phillies® | |
| | Set | Number | Player | Team | Rookie? |