A Breakdown Of 2022 Panini Contenders Football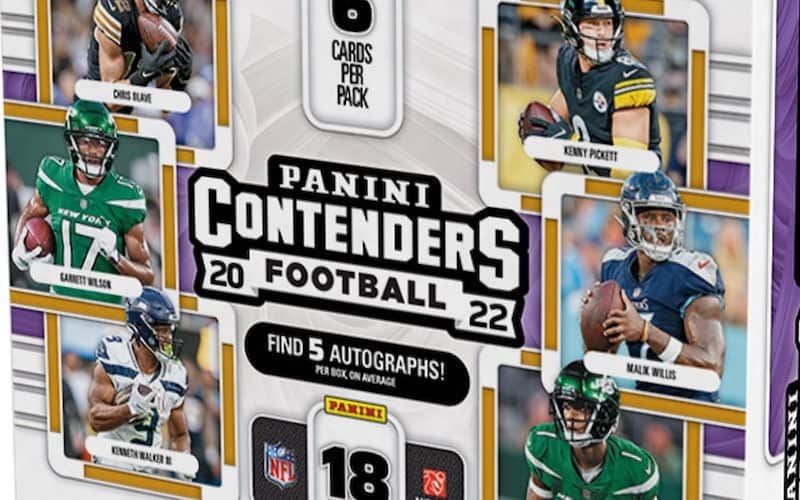 2022 Panini Contenders keeps the long-running tradition going and returns as one of the most popular football products of all time, but at $450 per box, is contenders worth the investment? Let's dive in.
Shop for boxes of 2023 Contenders Football
Panini Contenders 2022 Football product introduction 
Contenders 2022 football hobby boxes are scheduled to release on March 29th at $450 per box, providing this year's rookie class with their much overdue rookie ticket autograph, cracked ice cards, and more.
This product has been around for longer than almost any current brand. In fact, NFL Contenders debuted in 1992. It was a product initially launched by the Playoff corp. Through a series of acquisitions, it fell into the hands of Panini in 2010, where it's been ever since.
After Panini acquired the product, they doubled down on their focus on rookies. In 2010, the Contenders release's first year under Panini ownership contained 171 rookies, up from just 100 the year before. They've continued to include between 150-180 rookies each year for the past decade.
Contenders is best known for its "Rookie Ticket" cards, one of the most anticipated rookie cards every year. Its extensive depth of rookie offerings is one of the things that makes it a unique product.
Shop for boxes of 2023 Contenders Football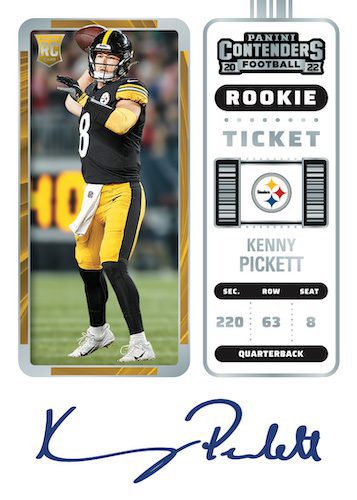 What to expect from 2022 Contenders Football
Considering buying a box of 2022 Contenders? Here's what you need to know.
For one, Contenders is an a release where you can pull a huge hit. That can't be over-emphasized. It doesn't include high-dollar rookie card potential like Optic, Prizm, Select, and other brands.
In fact, rookie card collectors who open a box of Contenders are almost certain to be underwhelmed. You won't pull a "gold prizm rookie /10" that will sell for several thousand dollars. Most of the rookies are inserts and don't demand big dollars. If you search fo "Trevor Lawrence 2021 Contenders rookies" on eBay, you probably won't find any selling for more than $30 that isn't autographs (or perhaps a parallel from Contenders Optic).
If you're hoping to make money opening Contenders, the only true high-dollar cards you'll find in Contenders are the rookie autographs (or the occasionally big-name veteran), so those are the cards you're hoping to find.
You do, fortunately, have several chances of pulling a big name: each box contains 5 autographs, with one being on-card. The downside of this is that the on-card is typically a top rookie and the other four are… everybody else.
Said differently, only one of the autographs will really have big potential and you almost certainly won't pull two nice rookie autographs.
Shop for boxes of 2023 Contenders Football
Box breakdown for 2022 Contenders Football
Here's how the boxes break down for the upcoming Contenders release.
2022 Panini Contenders Football Hobby box
18 packs
6 cards per pack
5 autographs
1 parallel
18 inserts
2022 Panini Contenders Football Blaster box
8 packs
5 cards per pack
1 autograph or memorabilia
While there are no stated odds, the blasters seem to contain memorabilia instead of an autograph in about every four out of five boxes, judging by watching a couple of case breaks from last year's product (again, this is no exact science). It's a product that's pretty stingy with autographs.
Shop for boxes of 2023 Contenders Football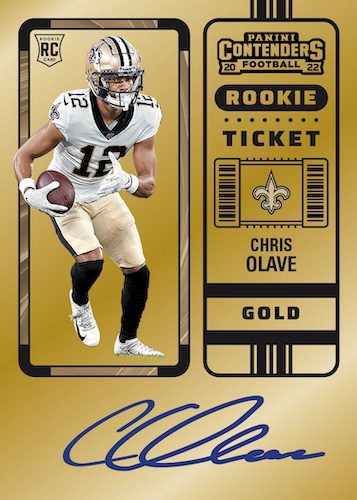 2022 Football Contenders checklist information
As usual, "tickets" are the theme running through the entire checklist, keeping this product in line with the Rookie Ticket Autograph.
You'll be able to pull NFL Ink, Legendary Contenders, MVP Contenders, Rookie of the Year Contenders, Coaches Ticker and Sunday Ticket Signatures, and the roster of Hobby-exclusive inserts includes Look for the Rookie Clear Ticket, SSP Rookie Clear Ticket Mosaic, and the brand new 2002 Rookie Ticket RPS, celebrating two decades of the product.
Other insert debuts include Superstar, Contenders Pennants, Crown Jewels and Touchdown Tandems – many of which have a nice die-cut design.
The autographs are the big-money cards here. The top draw is going to be the Rookie Ticket line, which features parallels like gold, clear, and clear mosaic SSP.
Here's the parallel lineup for the Rookie Ticket autos:
Ticket Stub – #/99 or less
Playoff Ticket – #/99 or less
Championship Ticket – #/49 or less
Cracked Ice Ticket – #/22 or less
Super Bowl Ticket – 1/1
Value of 2022 Panini Football Contenders
2022 Contenders Football hobby boxes are pre-ordering for $450/box, but are they worth that price?
The biggest caution is something I've mentioned earlier but will repeat in case you're skimming: the value in this product is in the autographs. There are five of those per box, but only one is the on-card autograph. That alone should be a huge concern if you're thinking about buying this product to rip.
It's definitely a big risk — so how should you invest in it?
Shop for boxes of 2023 Contenders Football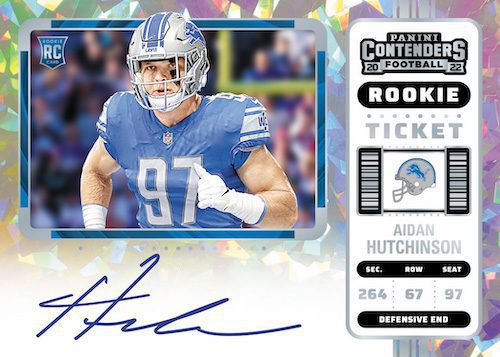 Investing in wax
Perhaps you're not buying this product to rip, but rather to stache and hold for the future.
Here's how much the last four years of boxes sell for (as of 3/15/23).
| Hobby Product | Average Selling Price |
| --- | --- |
| 2017 Contenders Football | $2500 |
| 2018 Contenders Football | $730 |
| 2019 Contenders Football | $230 |
| 2020 Contenders Football | $910 |
| 2011 Contenders Football | $380 |
From these recent sales, one message is abundantly clear: the value of the box greatly depends on the rookie class. The 2017 Patrick Mahomes box is a clear outlier, worth over 2.5x as much as the next most valuable box – the 2020 class featuring Burrow, Hurts, Herbert, Jefferson and others.
The 2021 class is stronger than the 2022 class, so the $380 price tag on recent sales for 2021 football is a clear sign you should stay away from 2022 at the release price of $450.
Shop for boxes of 2023 Contenders Football
Investing in singles
Since The Rookie Ticket auto is one of the most desirable rookie autos to have long-term, singles is the way to invest in Contenders.
This is a big risk, big reward. If you're buying an auto from one of the top rookies, you need to be prepared to pay a premium for it. The hope, obviously, is that the card will be worth more over time if the rookie season turns into a successful career.
The strategy is simple: pay a lot for a player that has a great chance of being great, or pick a player that's not making headlines and hope he turns into a star. It Just depends on how much you want to spend.
Shop for boxes of 2023 Contenders Football
The bottom line on Panini Contenders 2022 Football
2022 Contenders football is not a product you should buy and hold sealed, and it's probably not a great product to rip. You probably won't make your money back, and if you somehow do, please tweet us so we can give you a big shout-out for the monster pull.
It could, however, be a singles investment opportunity if you really like one of the rookies from a generally underwhelming 2022 class.
In the end, do what makes the most sense for you and your budget. This is a "hobby," and while you can make a decent amount of profit off it, hobbies are also about having fun.
What do you think of 2021 Contenders? Share your thoughts on Twitter @card_lines.
Shop for boxes of 2023 Contenders Football