What Is Reign Makers? DraftKings Combines Sports Cards, NFTs And DFS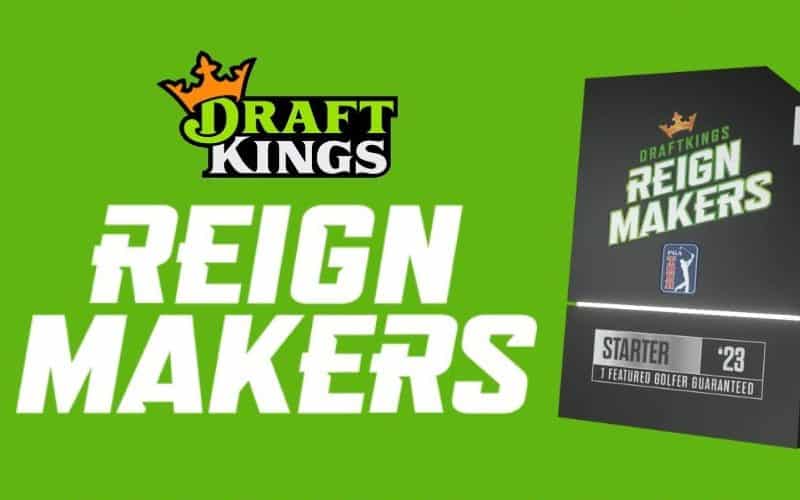 Sponsored by DraftKings
DraftKings is changing the landscape of both sports card collectibles and fantasy gambling with the new DraftKings Reignmakers.
Reignmakers fuses the excitement of both hobbies to create a never-before-seen experience for anybody who loves sports collecting and daily fantasy sports. And best of all, you can collect DraftKings Reign Makers cards in every state and enter contests with the cards in over 40 states for millions of dollars in prizes every month.
We've teamed up with DraftKings to review the product, and we're also offering new users a chance to sign up and get a free starter pack with 8 cards to enter real money contests!
Let's give it a look. Or want to sign-up to DraftKings Reign Makers now? Click here.
What are daily fantasy sports?
For those of you who are strictly collectors, it's first important to understand Daily Fantasy Sports, or DFS.
DraftKings revolutionized DFS by bringing legal fantasy gambling to everybody in the United States. In DFS, you "draft" a team of players for a certain event/game and earn points based on their performance. Most DFS games cost a flat fee to buy in, but winning teams (usually a top 20% of all entries, give or take), win a tiered percentage of the pot.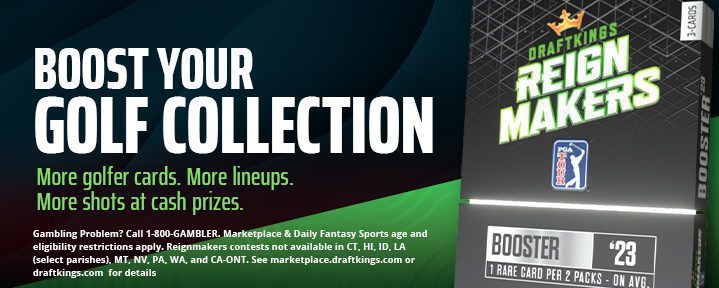 If you haven't played DFS before but this sounds like fun, DraftKings is the place to do it.
Similarly, Reignmakers is built to take the same excitement of DFS… and add a sports card-collecting twist.
Sign-up to DraftKings Reign Makers here to get a FREE pack of 8 cards!
What is DraftKings Reignmakers?
DraftKings Reignmakers, in many ways, feels like a logical next step for DFS. Participants buy packs of cards, which they unwrap and add to their digital collection. (This might feel a bit familiar if you read our NBA Top Shop review).
One big – and positive – difference here is that the Reignmakers cards actually have utility. The cards, which are officially licensed by the NFLPA, UFC and PGA Tour all represent players that owners can draft in fantasy contests throughout the year.
Like traditional DFS, the athletes score points based on their in-game performance.
And you don't have to have a huge deck of digital cards to win. According to DraftKings, "There are a wide variety of fantasy contests posted in the Reignmakers lobby that cater to participants with both large and small Reignmakers' player card collections. "
Another win for Reignmakers? There's no entry fee for Reignmakers contests provided you own enough cards to complete a lineup.
Confused? Check out this video from CardLines's Jesse Haynes:
Here's how to learn more about DraftKings UFC Reignmakers contests:
Get Free DraftKings Reignmakers NFT cards
Reignmakers cards are easy to come by because they can be acquired in several ways. One great way to get started for free is by taking advantage of our CardLines DraftKings Reignmakers bonus, where you can sign up right here and get a free starter pack.
Sign-up to DraftKings Reign Makers here to get a FREE pack of 8 cards!
Gambling Problem? Call 1-800-GAMBLER. Limit one (1) pack per customer, no resale. Starter packs tailored to confirmed field for upcoming golf event. Starter contests free plays contingent upon future playing fields for golf events and may require use of DK Crafting Portal. Please see DraftKings for more info. __ Marketplace & Daily Fantasy Sports age and eligibility restrictions apply. Reignmakers contests are not available in CT, HI, ID, LA (select parishes), MT, NV, PA, WA, and CA-ONT. See draftkings.com for details
DraftKings Reignmakers Bonus details
When you Join DraftKings Reignmakers for the first time, you will be able to claim an eight-card starter pack to start your PGA collection!
Get started by clicking this link and selecting your "champion"
You will then receive a champions card + 7 additional golfer cards
Players can only receive one free starter pack per season!
DraftKings Reignmaker players can use these cards to enter contests including $100,000 in free contests for the season.
For continued DraftKings Reignmaker rewards, look no further than the DraftKings Dynasty Rewards program, where you can earn benefits for using any DraftKings products.
How else can you acquire DraftKings Reignmaker cards?
What comes next? You can enter contests right away or you can also get additional cards by joining pack drops, bidding on cards at auction, winning cards during Reignmakers contests or purchasing cards on the DraftKings Marketplace.
What can you do with Reignmakers DraftKings cards?
As mentioned above, the Reignmakers cards have a distinct advantage over most NFTs because they have utility.
There are three primary things you can do with your cards:
Draft the players in weekly DFS-like fantasy contests
Buy and sell on the DraftKings Marketplace
Held overtime to build up your Franchise score and earn points
Two things to note.
For one, selling cards – even digital cards – on the DraftKings Marketplace should feel very much like eBay to many of you savvy card collectors. In some ways, it's even easier… no shipping and handling is required on any of these digital auctions, some of which can sell for quite a bit.
Also, note that the Frankchince score is a "collector-focused reward mechanism for Reignmakers. Every player card collected is an opportunity to earn Franchise Score points and build the ultimate collection. Your points allow you to build up a ranking on various leaderboards and compete against other collectors to earn amazing prizes every month."
In short, the more cards you have, the higher your franchise score will be and the better prizes you'll compete for. This is a reward for holding on to your cards, so way this carefully before taking any to the auction.
Sign-up to DraftKings Reign Makers here to get a FREE pack of 8 cards!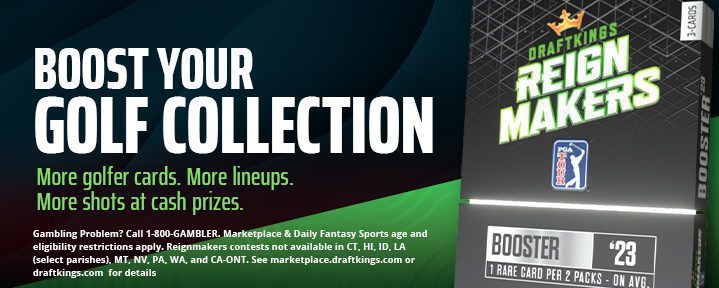 DraftKings Reignmaker contests
Reignmakers contests are easy to enter and don't cost anything as long as you have cards of the right tiers (more on tiers in the next section).
All you have to do is join a contest found in the DraftKings Reignmakers lobby. Most of these contests don't have a hard cap, but they do have pretty large payouts.
Here is a look at the lobby with the card requirements to enter a contest.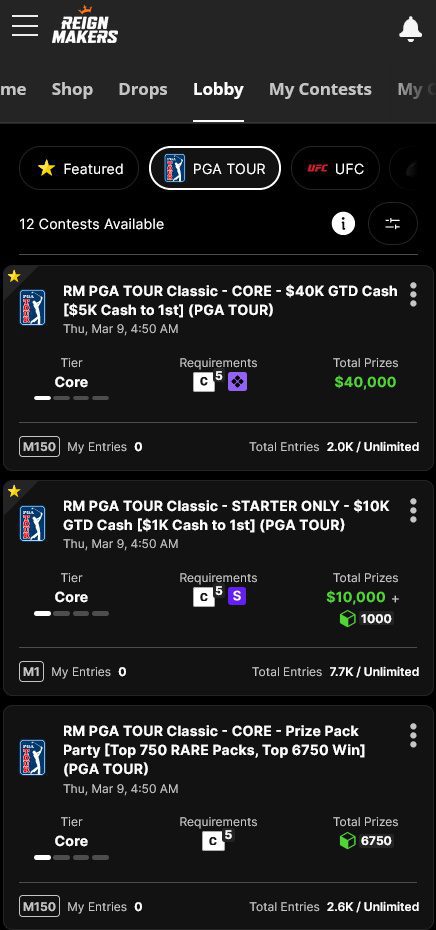 Once you have selected a contest that you can enter with the cards you have, you can select a lineup from cards in your possession. For PGA contests, choose a captain carefully, as they will earn points at 1.5x the normal rate. All other positions will earn at the regular rate, accumulating points in a similar fashion as standard DFS contests.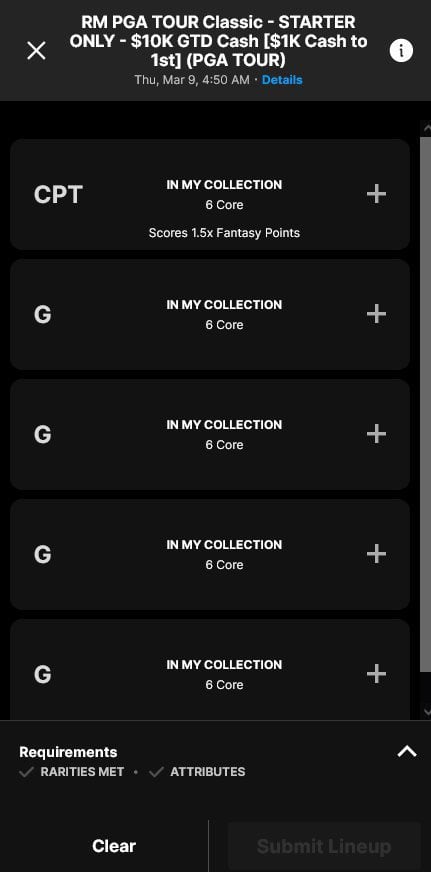 For example, at the time of writing, the Legendary Tier PGA Tour Classic tournament pays out $75,000 total with $15,000 going to first place. Cash winnings extend all the way down to 45th place, which wins $500.
We'll be trying out these contests for ourselves in the coming weeks and posting a follow-up article!
Sign-up to DraftKings Reign Makers here to get a FREE pack of 8 cards!
Tiers in DraftKings Reignmakers Cards
If you've ever tried to build out a rainbow or Prizm parallels or admired a red refractor, this part of the game is going to feel familiar.
Much like sports cards, Reignmakers cards have different tiers of rarity.
Fortunately, unlike a 30-something color checklist for Prizm, there are only five tiers of Reignmaker cards. Listing from most to least common, they are:
Core
Rare
Elite
Legendary
Reignmaker
The tiers do two different things. For one, it's a scarcity thing, much like refractors. Different tiers mean different scarcity for a variation of a card, set, and athlete.
And, equally important, tiers can mean different contest entry eligibility. Each type of content has a different requirement. For example, a "Reignmaker" NFL contest means you must draft at least two Reignmaker tier cards + three legendary tier cards.
If you don't have those, you can't participate. With that in mind, having higher-tiered cards unlocks more and better opportunities.
Sign-up to DraftKings Reign Makers here to get a FREE pack of 8 cards!
Craft and Burn
Craft and Burn is a tool you can use to make sure your collections don't crash and burn if something happens to one of your players or if you need to trade in old cards for new ones.
In short, you choose from your owned cards, "burn" your selection, and receive your prize. For sports card collectors, it's almost like being able to trade your old common cards for a few new packs.
There are different recipes to follow, and each Craft & Burn recipe has a set of required collectibles, and "once you have filled each requirement slot you can submit those collectibles to be burned in return for crafting a specific reward.

Submitted collectibles will be permanently removed from your DraftKings portfolio and burned, thereby being removed from the circulating supply for that collectible."
The fact that it's a specific reward gives players and advantage, especially those who know what they're after.
Conclusion: Sports fans and collectors should try Reignmakers DraftKings and compete for big prizes
Reignmakers is a positive, refreshing spin on DFS that can lead to big payouts while infusing daily fantasy sports with the excitement of sports card collecting that kept people chasing cards for over a century.
If you sign up today using this link, you'll get a free pack, on us. Try out Reignmakers for yourself and let us know what you think on Twitter @card_lines. And don't forget to sign-up for our free newsletter!
Now, go make it Reign.
Sign-up to DraftKings Reign Makers here to get a FREE pack of 8 cards!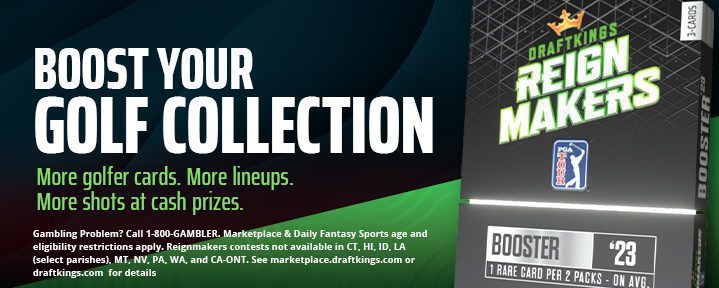 DraftKings Reignmaker Frequently Asked Questions
What is DraftKings Reignmakers?
DraftKings Reignmakers melds the world of sports cards, NFTs and Daily Fantasy Sports into an exciting product for sports fans and collectors. However, unlike many NFTs, DraftKings Reignmaker cards actually have utility, which can be used to enter real money contests.
Cards can also be bought and sold in the DraftKings marketplace as well as collected over time to build up a "Franchise Score" to earn rewards.
How can earn get DraftKings Reignmakers cards?
In addition to the free DraftKings Reignmakers starter pack, you can also get cards by purchasing them in the DraftKings marketplace, joining pack drops and winning them in certain DraftKings Reignmakers contests.
Where can I play DraftKings Reignmakers NFT game?
DraftKings Reignmakers NFT cards can be bought and sold in all 50 states and Canada. However, if you are located in CT, HI, ID, LA, MT, NV, OR, PA, WA and Ontario, CA will not be able to enter contests with your Reignmaker cards.
What sports can I collect DraftKings Reignmaker cards?
Reignmakers DraftKings has been so far been introduced for Golf, Football and UFC.
How does DraftKings Auctions tie into Reignmakers?
If you choose not to use your more rare DraftKings Reign Maker cards for contests, you also have the option to sell them in the DraftKings marketplace through auctions.
What is a DraftKings Pack Drop?
Anytime a Reign makers card, pack or collection gets added to the DraftKings marketplace by DraftKings it is known as a "Drop."