The Best August Sports Card Releases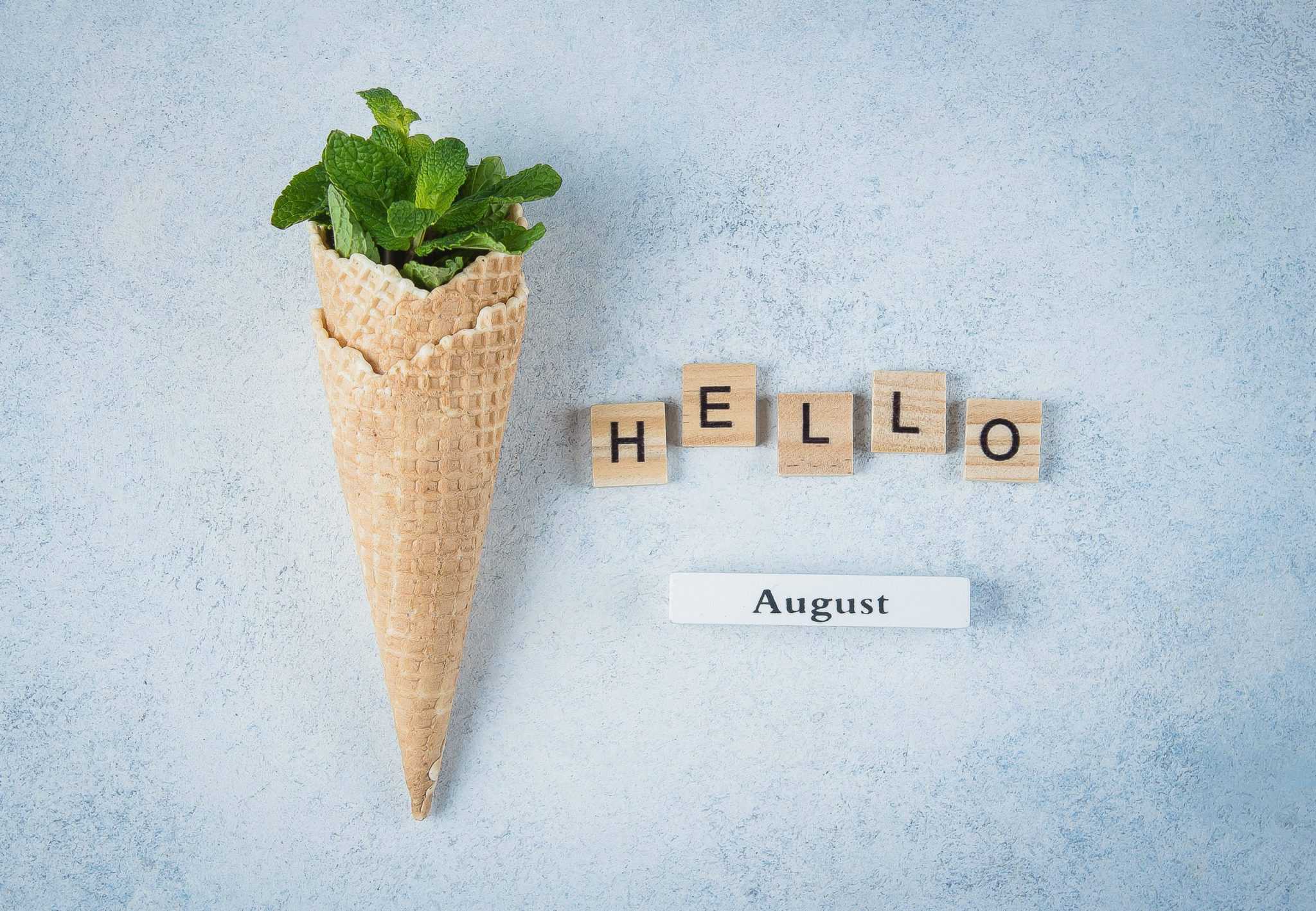 August is an excellent time to buy cards. Both the NBA and NFL season are taking their time off, but they're also going to be progressively heating up in response to the NBA draft and summer league plus the NFL pre-season. On top of that, baseball is reaching its climax, and some exciting baseball releases will appear on shelves. So there is a lot to look forward to, when it comes to August Sports Card Releases.
In other words, the market, in general, should rise throughout the month and into September, so it should be a bit safer to invest. Indeed, there are already some signs of recovery.
But what should you buy? Many big-time releases are coming up, and in today's post, we'll dive into the most notable ones to determine what you should be looking for based on what sport is the most interesting to you.
That said, here are the August Noteworthy releases. And please note, all these dates are subject to change for manufacturer considerations.
Noteworthy August Sports Card Releases
2021 Panini Gold Standard Football (August 4)
Gold Standard lives up to its name. It takes full advantage of the gold theme, with gold-based inserts and cards that include actual pieces of valuable rare earth minerals. The one drawback is that this is a $400 box that only consists of 7 cards/pack, so you can make a lot of money… or lose it. However, it has an added appeal. While the Pen Pals autographs from Elite featured headshots of the rookies in their NFL uniform, this will most likely be the first product to include NFL jerseys for the rooks entirely.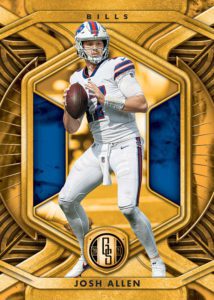 2020-21 Panini National Treasures Basketball (August 11)
Perhaps none are more iconic than the National Treasures releases when it comes to high-end, one-pack boxes. The brand has always been a big risk, big reward. However, if you're feeling like rolling the dice on a $3,800 hobby box, this is an excellent place to do it. Each 10-card box contains 4 autographs, 4 memorabilia, 1 printing place, and 1 base or parallel. Many legendary cards come out of this set, including RPA and logoman autographs, but it's always a high-stakes roll of the dice.
For fans of this Panini product, the 2021-2022 National Treasures Basketball was released in July 2022
2021 Topps Allen & Ginter Baseball (August 17)
The new release of Allen  Ginter is 15 years strong as of 2021. This year the focus is "notable stars from the MLB sharing the stage with greats from outside the Baseball diamond." This will continue a long Allen & Ginter tradition of including cards of pop culture and political figures. The boxes will deliver three hits each, including on-card autographs, relics, original A&G buybacks, book cards, cut signatures, and rip cards. It's a great mix of considerable hit potential for a friendly price point: $130/box is the current pre-order.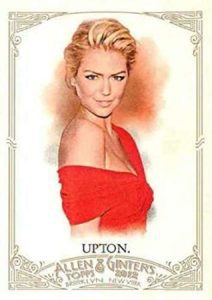 2020-21 O-Pee-Chee Platinum Hockey (August 11)
O-Pee-Chee Platinum is a longstanding brand that brings Chromium technology to hockey cards. These cards come from Upper Deck, who used to be one of the major sports card giants and now focus primarily on hockey cards. The boxes include twenty packs of 4 cards—including at least one autograph—and several rainbow parallel cards. While hockey has a reasonably large market, the price tag is not a hefty one: just $120 pre-sale.
2021 Panini Prizm WNBA (August 13)
Prizm WNBA cards make their second annual appearance this August, and last year's release can be seen as nothing but a success. With the previous year's Sabrina Ionescu rookies demanding a premium price, there could be more of the same this season. The 2021 WNBA Prizm is constructed similarly to the NBA counterpart: 2 autographs, 22 Prizms, and 10 inserts in the 144-card box. This year's set also includes the Color Blast SSP, which could bring considerable value. And, just common sense here: there are fewer WNBA teams, so your odds of pulling the card you want—whatever that may be—are higher than in most products. Pre-order boxes for $325 right here.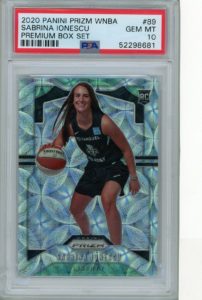 2021 Panini Prizm Baseball (August 13)
Panini Prizm Baseball is an unlicensed product (Topps has the MLB license). Therefore, it falls flat for most collectors. But, of course, it is still Prizm and has some die-hard enthusiasts. Prizm baseball will come out in both blaster and hobby boxes, with the blasters presumably costing $20 and hobby boxes preselling for $275.  Should you flip it? Currently, the 2020 blaster version of this product sells for about $40 after a year on the market, and after shipping and fees, the returns are barely worth the hassle. Maybe the rookie class will prove exceptional, but most indications suggest this is not a flipper.
2021 Bowman Sterling Baseball (August 18)
Bowman Sterling is a classic and iconic set of higher-end baseball cards. Featuring premier prospects and rookie superstars, it's one of the best ways to land big-ticket autographs of the stars of tomorrow (and today). Each box contains 5 packs of 6 cards and a total of 5 autographs—many of which are on-card. The boxes are available for $300 as a pre-order.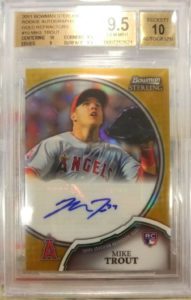 2021 Panini National Treasures Collegiate Football (August 18)
National Treasures Collegiate Football is the perfect product for the high-rollers who love college football. The boxes cost $1,000 and only contain 8 cards, so they're not for the faint of heart. But the product has the potential for massive pulls. Of the eight cards, 7 should be autographs, and many of the autos will also include brilliant swatches of college jerseys. That said, it is a college jersey, so remember that there will be less long-term value than NFL National Treasures.
2021 Topps Chrome Baseball (August 20)
Topps Chrome baseball is both a retail and hobby staple making highly-chased cards for many years. It's back again in 2021, with the 24-pack hobby box of 4 cards/pack that has become its standard.  Each box will also contain two autographs and various color parallels, with a new wave of refractors including aqua, aqua wave, and magenta. Also, hobby boxes include the chance to pull an exclusive orange refractor, #'d to 25. Hobby boxes will cost $350, while retail boxes will land somewhere around $20-30, as usual.
2020-21 Donruss Optic Basketball (August 25)
Optic basketball is a familiar product for any collector because it is one of the most popular products for both basketball and football every year. It's easy to see why: the chromium cards come with many eye-catching parallels to chase while the rookie cards look simple, timeless, and classic. Optic hobby boxes contain 20 packs of 4 cards with one autograph, so it's also a great product to open if you like products that allow for a lot of ripping. It is after all, probably the most important among August sports card releases. That said, this box will set you back $689.95 for the 80 cards. Optic should also hit retail shelves… if you're lucky enough to find them.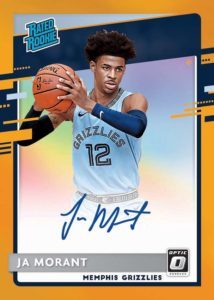 2021 Panini Certified Football (August 25)
Certified is a cornerstone of the hobby as a pre-season release that delivers some nice autos and patches of both up-and-coming talent and established greats. The Mirror cards—which are Certified's versions of Prizms and Holos—are a great parallel that will be in hot demand, especially at first release. Each box comes with a Freshman Fabrics signature, an additional autograph, 2 memorabilia, and 2 rookies or rookie parallels. All this can be yours for a pre-order price of $325.
Bottomline on August Sports Card Releases
The releases for this month contain a good mix of high-end and low-end products. Optic, Topps Chrome, and National Treasures are staples of the hobby and will always be in high demand.