Best NBA Sports Card Investments: Under 25 Edition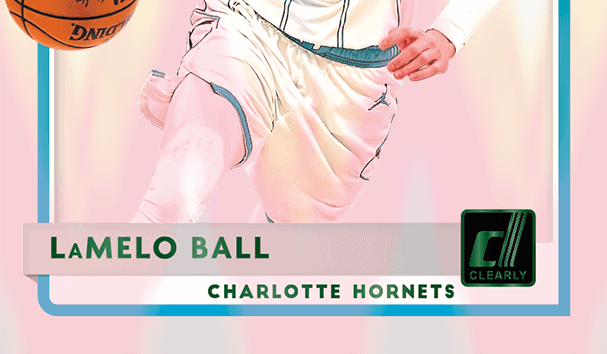 LeBron, Kevin Durant, Steph Curry, Kobe Bryant, and a select few other names dominated basketball collecting for well over a decade. For years, they were the best NBA sports card investments
The winds are shifting. Now, as the 2020s get into full swing, an inevitable change is coming: new players will emerge as the faces of both the league and the hobby.
Today, we're ranking the top 10 players under 25 in which you should invest. But, of course, this does not mean we think this is an ordered list of the top 10 players under 25 today. Instead, this is our prediction of the top 10 players in the league 5-7 years from now.
Honorable Mention Among The Best NBA Sports Card Investments:
Ben Simmons, Philadelphia
We're not going to be the 408th outlet to say, "Simmons would be elite if he could develop a jump shot." Guess what? Giannis would be better if he could shoot like Steph. Neither one of these things is happening, and we need to stop trying to make Ben Simmons into something he is not.
He will always be a very tall, very athletic guard who can make plays and provide elite defense. His ceiling might not be the highest, but he will be very good for a long time.
The Best NBA Sports Card Investments Under 25
10. DeAndre Ayton, Phoenix
We might currently be witnessing the breakout of Ayton. Until this point, he's always been "the guy who was drafted ahead of Luka and Trae." Now, at just 22-years-old, Ayton is emerging as a force to be reckoned with in the paint. He's a great rebounder, efficient scorer, and could be a player that instills hope that a more traditional center can still thrive in the modern NBA.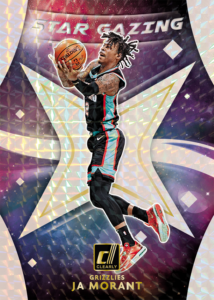 9. Ja Morant, Memphis
Ja Morant has only played two seasons (and two very unusual seasons, at that), but he's already shown flashes that suggest he could be a Top-3 point guard at some point in his career. He's fast, dynamic, and uber-athletic, and pairing his natural skills with unmatched confidence on the court makes him an impressive force. On top of that, a surprisingly deep Memphis Grizzlies team could turn many heads by 2024.
8. LaMelo Ball, Charlotte
LaMelo Ball? After half a rookie season? Are these guys nuts? Sure, there are plenty of reasons to doubt Ball—particularly the lack of playing time we've seen from the youngest Ball brother—but we've also seen enough from him to know that he has enough on-court talent to match his flashy playing style. And still a teenager, he'll be dynamic for many seasons to come.
7. Shai Gilgeous-Alexander, OKC
SGA is the biggest wildcard here, but he is a lot more likely to overperform than underperform the #7 spot on this list if we were to bet. At least when it comes to prospecting him, the problem is that we've never seen SGA on a Thunder team expected to do well. Last year, he had a breakout season while working with Chris Paul. Meanwhile, this year he was making the Thunder so competitive that they had to shut him down for the season to fulfill their tanking goals (that is just a hot take from an Oklahoman). Since the Thunder have a ton of picks at their disposal, SGA could be the best player on an excellent team soon. Coming off an injury now is the time to invest.
6. Trae Young, Atlanta
Young has been drawing attention for the playoffs, for better or worse. He's living up to the promise of a high-volume scorer and playmaker while also offering some on-court antics that will quickly make him the villain the tomorrow's NBA if he doesn't change course. Of course, young might be divisive amongst NBA fans (and even the Hawks locker room). Still, his skill set will surely win over a larger following over time, and his Hawks could be a legitimate Eastern Conference contender for a decade.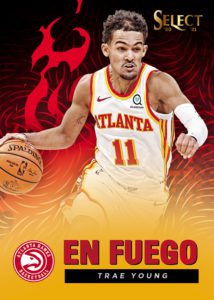 5. Donovan Mitchell, Utah
Donovan Mitchell is evolving from a high-volume scorer to a playmaker. He's also in a good location: the offensive focus of a very balanced Jazz team anchored by Gobert on defense. While many were thinking the Jazz's NBA-leading record was a fluke, they seem to be on a trip to the Western finals, and Spida Mitchell's bucket-getting is a large part of the playoff success.
4. Devin Booker, Phoenix
Why do people compare Devin to Kobe? His 70 point game should give you a clue. As the Suns are plowing through the playoffs, he's living up to the comparisons. We know Booker as a scorer, but he's becoming a leader on the court, too. (Taking notes from Chris Paul, surely). Although he's been in the league since 2016, he's still a young buck with a lot of room to grow.
3.  Jayson Tatum, Boston
This season, observers expected Tatum to leap into the upper echelon of stardom. It only made sense—after the all-star break last year, he was playing at an out-of-his-mind level that somehow felt sustainable. Then, in 2020-21, things got off to a rocky start for the Celtics star. Particularly, COVID-19 hit Tatum (enough that he mentioned using an inhaler for the first time in his life). Fortunately, Tatum ended the season putting up mind-blowing numbers once again and almost single-handedly winning games for his team after losing Jaylen Brown to an injury. Now, it wouldn't be surprising to anybody if Tatum turned into a top-5 player as soon as next season.
2. Zion Williamson, New Orleans
Zion will always have critics. But he still looks likely to fulfill that generational talent expectation he has faced since high school.
The Pelicans still haven't unlocked his full potential with personnel or playstyle, and nobody has told Brandon Ingram that he's not the best player on the team. However, Zion is still an unstoppable force.
He's bullying grown men in the post despite the height difference, and he has shown surprising playmaking skills when running the floor as a point-forward. But, after finishing his second season averaging 27/7/4, the sky is the limit for Zion.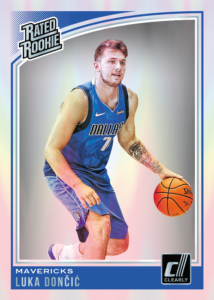 1. Luka Doncic, Dallas
There has perhaps never been a more poised, mature blend of basketball skills and savviness at age 22 than Luka Doncic. He's a playoff-matchup nightmare, he's flirting with being a Top 3 player, and he will be a perennial MVP favorite for the next decade. In other words, he is on the same trajectory as a young LeBron James. By 2031, Luka could have a slew of MVPs, rings, and perhaps his place on the Mount Rushmore of basketball talent. For the first time, the face of the NBA might be a foreigner—a sandy-haired young man from Slovenia.
What Is The Bottom Line On The Best NBA Sports Card Investments
Here is a chart of the entry fee to invest in the players on the list. The values are estimated based on comps at the time of writing. The rookies we looked at are Optic PSA 10's:
| | |
| --- | --- |
| Player | Rookie Card Price |
| Luka Doncic | $430 |
| Zion Williamson | $180 |
| Jayson Tatum | $180 |
| Devin Booker | $400 |
| Donovan Mitchell | $140 |
| Trae Young | $170 |
| Shai Gilgeous-Alexander | $70 |
| Lamelo Ball | $400 |
| Ja Morant | $150 (comps vary wildly) |
| DeAndre Ayton | $55 |
| Ben Simmons | $70 |
Most of these players do not have a cheap entry fee for the investment. However, that doesn't mean they are past the stage of high returns. In addition, prices are down for most cards, and it is probably a good time to invest.
Based on this list, the best plays look like Zion, Taytum, and SGA. None of these players seem like a bad investment since the cards are unlikely to go down in value, barring unforeseen disasters. However, Ball seems like the worst investment. It is probably worth waiting for his values to go down as they did for Zion and others.