Cracking Cards Out Of PSA And BGS Slabs + A Test Of More Durable PSA Slabs Introduced In 2023
Graded cards fetch more on the market than their raw equivalents. Therefore, they are the cornerstone of many collections. So, why would anyone consider breaking cards out of a PSA or BGS Slab?
Unfortunately, not every grade comes back a gem mint 10. Sometimes, the grade looks pretty unfair to us. And we wonder if there is anything we can about it. The answer is yes. There are several steps you can take.
Why Resubmit An Already Graded Card?
For general card submission guidelines, read our complete guide. However, if you have already received your cards back and are unhappy with the grades, read on.
When you have received a grade you think is not justified, take a good close and objective look at the cards you submitted. You may also want to get a second opinion from someone who understands grading to see if the graders were right.
If you have evaluated the grade and still believe your card deserved higher, you may want to resubmit the card.
Another scenario where you might want to consider resubmitting is when the same grade from another third-party grader would raise the value of your card. If you used a grader that is neither BGS nor PSA and got a good grade, you might wish to resubmit to one of the big two.
Finally, if you have a BSG graded card with a good grade, you could increase its resale value by getting the same grade on PSA.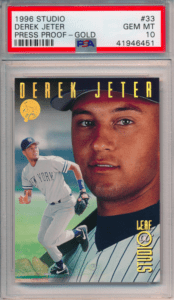 Grade Reviews
Another option is to have your grades reviewed. PSA will allow you to resubmit cards they have graded for review, as long as you are willing to pay for the service, of course.
However, the PSA website kind of warns you that it is a waste of time. It says:
"It is important to note that we have a minimum of two or more, professional graders review your item, and they must agree upon a grade…Nevertheless, PSA is here to provide a third-party, unbiased opinion to ensure that our customers (whether a buyer, seller or collector) receive the most accurate estimation of the item."
Beckett provides the same service. However, the language on their website is less discouraging. Take that for whatever it is worth.
Crossover Grades
When you want to resubmit your card for grading, you do not have to break it out of its slab. One option you have is to resubmit it as a crossover grade.
When you do so, you have the option to ask that they reslab the card only if it passes a specified minimum card. For example, you can send in a BGS 9.5 card and ask that they only reslab it if they give it 1o gem mint grade. Otherwise, the card will remain in its BSG slab. Obviously, you pay for the service either way.
Beckett provides the exact same service.
Why Are People Breaking Cards Out Of A PSA Or BGS Slab?
If both major grading companies provide a crossover grade service, why would you break open the slab before submitting it? Not everyone trusts that the graders will not be prejudiced by the previous grade when reexamining the card. This is particularly relevant when you resubmit the card to the same grading company.
It is human nature to be prejudiced by existing grading. It gives you an immediate frame of reference.
In some cases, something happens to the slab, and it cracks or stains in an unsightly way. This can also affect the resale value of the card.
What You Will Need To Crack Open A Slab
Make sure you have the following implements:
A good pair of pliers. Don't get one of those small sets, but instead get a good old-fashioned regular-sized pair. A set of tile cutters is even better, but Cardlines is not handy enough to have a set of those.
A flat-head screwdriver. In this case, smaller is better. You will use this as leverage on a small space, so a sturdy small screwdriver is best. Do NOT try to use a Philips screwdriver for this.
Protective glasses. When you pop open the edge, a sharp piece of plastic will fly out. Make sure you don't lose an eye to resubmit a Trae Young rookie card. It is just not worth it.
A penny sleeve. So that you can immediately protect the card once you have removed it from the slab.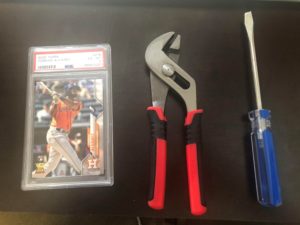 The Secret To Breaking Cards Out Of A PSA Or BGS Slab
As we all know, the grading companies divide the slabs into two separate sections. The top section contains the grade and information. Meanwhile, the lower half has the card itself.
The secret to opening a slab is to create a puncture in the top part of the slab, from which you can pry the entire slab open without directly touching the section containing the card. That way, the card does not sustain any damage from the process.
If you remember nothing else, keep this in mind. While you can basically do whatever you want with the plier and screwdriver in the top section, do not ever use a tool on the bottom half. If you crack the bottom with the plier or jab the screwdriver in that section, you risk damaging the card.
Breaking A Card Out Of A PSA Slab
Cardlines decided to subject a 2020 Topps Yordan Alvarez rookie card to heavy-handed experimentation. Here are our findings:
PSA puts their slabs together well. Almost too much so. So be prepared for some heavy resistance when you come in and try to break it.
Use the pliers to make a big incision at the corner of the card. Usually, that will be enough. Try to make the incisions as close as possible to the top edge. That way, they are kept far away from the card.
If you have trouble getting the screwdriver in, your incision may not be big enough. Make another in the middle and another on the opposite side.
Put your screwdriver in about halfway into the grading label section of the slab and push upwards. You are trying to create as much of a separation between the top and bottom half of the slab as possible.
Once the bottom and top half of the slab are only loosely connected, use your hands to manage the final break. In this stage, take close care not to damage the card.
As soon as you remove the card from the slab, put it in a penny sleeve and possibly a top loader as well (if you can still afford those!)
Clean up all the bits of the slab. They are pretty sharp, and you don't want to step on them afterward!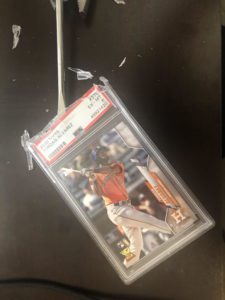 PSA slabs are now harder to crack
In the middle of 2023, PSA began producing PSA slabs in a more durable and more scratch-resistant plastic. PSA undoubtedly hopes that the new slabs will lead to fewer cards being cracked open for regrading, as this messes with population numbers and also undermines the reliability of PSA grades when they are turned around for different grades.
CardLines Jesse Haynes opened up a slab of the old plastic as well as the new. In his test, he confirmed that the new slabs are much more difficult to open, although not impossible. You will want to be very careful if you wish to open a newer case and probably should practice on a cheap card if you want to try it out.
The new cases are slightly more frosty than the previous slabs. Collectors will appreciate that it will be much harder to scratch the cases to keep the presentation of the graded cards as aesthetically pleasing as possible.
However, if you are a collector who likes to crack open cases in the hopes of a better grade, you are going to have a tougher time and likely will not welcome the new cases.
Ok, but how about a Dremel tool?
If cracking a case isn't your cup a tea, how about another method? Jesse also put the Dremel tool to the test, as seen here in a recent YouTube video.
Breaking A Card Out Of A BCG Slab
To demonstrate, we chose to bust open a card of my man crush, sorry, I mean favorite player Shohei Ohtani. This beautiful Topps Museum Collection card got a 6 from Beckett, so we aren't too worried about opening it.
The Beckett slabs are not put together as securely as their PSA equivalents. However, they are thicker. Therefore, it is not always easier to pry them open. Nevertheless, the same general principles apply.
Use the pliers to make incisions on the top of the slab. I found that I could not make much headway by trying to cut through close to the edges of the card. Therefore, I made my first cut smack in the middle of the graded section.
It was tough to get enough of an incision to apply leverage with just one crack. Therefore, I made several and cut open the entire top of the graded section.
Once I had a large open incision, it was easy to pry it open with a screwdriver.
Beckett already provides a high-quality penny sleeve for the card. This adds an extra layer of protection if you choose to break it. Place in a top loader if needed. Breaking an SGC Slab.
SGC cards are the easiest to break. One incision with the pliers, or two at most, will provide you with the necessary leverage. Once you get it open with your screwdriver, it will just come apart into two pieces quite neatly.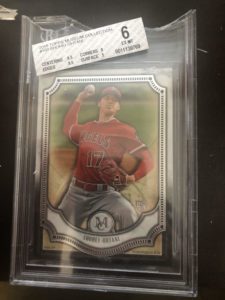 What Else Do I Need to Know About Breaking Cards Out of a PSA or BGS Slab?
The Cardlines approved method of opening slabs is as good as it gets. You will most likely get the card out completely intact. However, it is not a completely safe process. Something can always go wrong, and your may damage your card in the process.
In addition, resubmitting a card after grading will skew the population numbers. These are essential stats collectors rely on in assessing value. Once the process is finished you may want to contact the original grader and let them know it has been cracked open so they know to correct their pop numbers.
Have fun and good luck!