Digital Sports Card NFTs: Here To Stay
Do not dismiss Digital sports card NFTs (Non-Fungible Tokens) as a passing fad. Often, the importance of technological innovations becomes more apparent once the initial hype dies down. Check out our primer on NFT's here.
Many investors dismissed the sudden rush of tech companies into the dot-com bubble of the late 1990s, as well as the first wave of mass cryptocurrency enthusiasm in 2017. However, they were proven wrong. Amazon and Bitcoin are hardly a flash-in-the-pan phenomenon.
Fine-tuning the NFT Ecosystem
NFTs are currently down from their highest levels. They have registered a 70% drop in average price since February.
However, this is merely a "weeding out" of gimmicky, useless tokens. It is not a sign that NFT's are dying out after the initial hype.
Instead, we are probably emerging from the height of inflated expectations. Keep in mind that the highs were dizzying. For example, Beeple's art piece "The First 5,000 Days" sold for $69 million.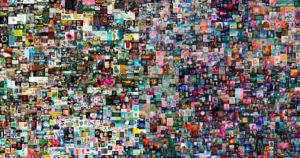 The value will now likely level out on a journey toward the same "plateau of productivity" that Amazon reached following the dot-com bubble.
NFTs are creating new business opportunities that did not exist before. For example, artists can attach stipulations to an NFT that ensures they get some of the proceeds every time the token is resold. This means they receive more compensation if their works increase in value.
Athletes have enjoyed similar contractual clauses regarding future transactions involving them. The advantage that NFTs have over those contracts is that they do not require tracking the asset's progress and enforcing such entitlements on each subsequent move.
NFTs Are Verifiable, Indisputable Contracts
The potential of NFTs goes much further. They change ownership rules entirely.
Since transactions in which ownership changes typically rely on layers of intermediaries to establish and ensure trust in each transaction to ensure that money changes hands. In the future, with NFTs, none of this will be necessary. Transactions on blockchains are reliable and trusted because the information is immutable and therefore unchangeable.
Many transactions replace lawyers and instruments such as escrow accounts with smart contracts. They are instruments that can automatically ensure the exchange of money and assets. They can also assure that both parties honor their agreements. NFTs seamlessly convert assets into digital tokens to move around within this system with perfect transparency and accountability.
Athletes Capitalize on Digital sports Card NFTs
In the sports world, NFTs are gaining significant ground as athletes realized their potential value. One example is Rob Gronkowski, tight end for the Tampa Bay Buccaneers and a four-time Super Bowl winner.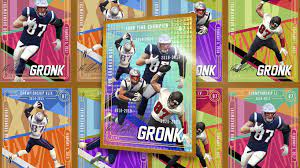 Gronk was the first athlete to auction off a set of digital trading cards and was surprised at how successful the auction was. The tight end said "I had no expectations. I was thinking like, all right, I can bring in a little bit of money like that will be cool, like a little extra bonus," Gronkowski said at the time. "I was talking to all the NFT people, and next thing you know, I sell like 350 cards total and they sell for fricking $1.8 million in [digital currency]."
In addition to Gronkowski, potential NFL superstar Trevor Lawrence has ventured into the NFT ecosystem. Last month, Topps launched a collection of six NFT cards designed by the future Jacksonville Jaguars quarterback's brother, Chase, and sister-in-law, Brooke. The company modeled the sale on the methods they use for physical trading cards.
That collection sold for roughly $225,000. However, if Lawrence lives up to the hype, the value can easily be ten times as much, or more, in a few short years.
Adidas Gets In On NFTs
Last week, Adidas held an auction for an NFT that also featured Lawrence. They announced that they would donate all the proceeds to charities around Jacksonville, FL.
That digital card sold for $53,000, and two other NFTs of Lawrence, also sold by Adidas and valued at $100 each, sold out all 1,211 copies in a matter of minutes. In ten years, their value will likely be much greater.
The biggest names of all are now joining the bandwagon. 43-year-old Tom Brady is arguably the most successful NFL football player ever, with a record of seven Super Bowl championships.  The quarterback is launching his own NFT platform called Autograph to capitalize on the popularity of NFT's.
Brady looks to onboard other notable names from various industries, including sports, fashion, pop culture, and entertainment. He hopes that the platform will allow them to develop their own personal and unique digital artwork platform.
Dillon Rosenblatt, Autograph's co-founder, and CEO explains that the platform will enable the creation and release of "NFTs and ground-breaking experiences to a community of fans and collectors." The platform will have Brady and Rosenblatt as co-chairs and includes an advisory team featuring Lionsgate CEO Jon Feltheimer, Live Nation Entertainment CEO Michael Rapino, DraftKings co-founders Jason Robins and Paul Liberman, and others.
Sports Leagues Take Notice
Gronkowski, Lawrence, and Brady aren't the first sport-related figures to gain NFT exposure, as the NBA and the MLB have already shown the desire to launch NFTs to bolster fans' interest. With all the money on the NFT market, it's no surprise that professional sports have taken notice.
Sports teams already use merchandise, trading cards, bobbleheads, or memorabilia as eCommerce options. The big difference, though, is that NFTs provide more significant potential for creativity.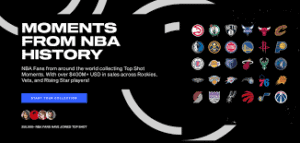 There is no better example of the success of NFTs and US sports joining forces than NBA Top Shot. The company has launched digital basketball cards that notable game highlights.
At the end of the day, though, the market will be determined by the fans. If physical sports card trading is any indication, the esteem associated with the purchase of a six-figure digital NBA card will undoubtedly endure. As long as leagues, teams, and players see NFTs as a money-making proposition, digital trading cards and tokens will be a part of the sports industry.