Does NASCAR Cards Have Room To Grow + A Review Of 2022 Donruss NASCAR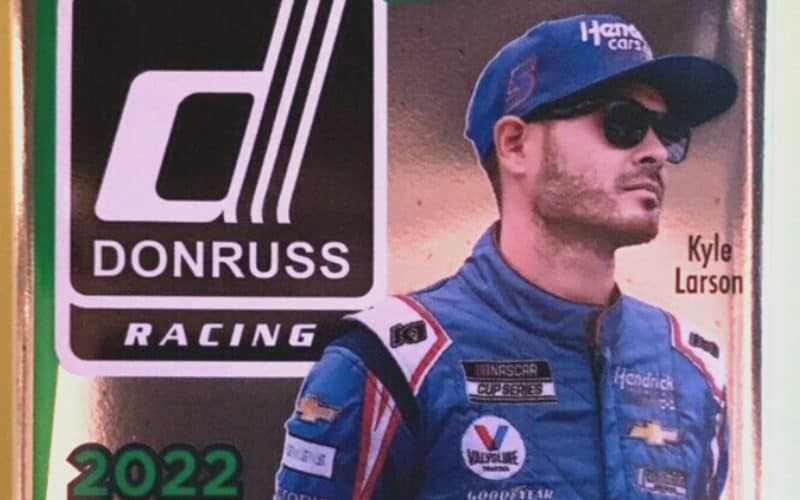 With the Daytona 500 right around the corner, Donruss is preparing to release its 2022 edition of NASCAR cards. The product (which has, of course, been pushed back a few times over the past few months) was released on March 16th.
Over the past several years there has been a split opinion on the viability of NASCAR cards as an investment proposition; some see a sport that is as marketable as ever, while others feel that the return on investment simply isn't worth it.
Donruss NASCAR is the only officially licensed product available, and in this review, we'll break down everything you need to know – from the specifics of this year's designs, what we like and what we don't, and an analysis of whether NASCAR cards hold any value as an investment.
Buy 2022 Donruss NASCAR hobby boxes on eBay
History of Donruss NASCAR
NASCAR cards don't have the storied past of other sports like baseball, basketball, and football. Despite the organization of NASCAR itself dating back to the 1940s, the first racing cards didn't arrive on the scene until 1988.
The official license for NASCAR cards was passed around by a few companies before Panini acquired it in 2016, printing them under their Donruss branding. Donruss NASCAR draws on many of the Donruss brand's most recognizable features, most notably using the ever-popular "rated rookie" format for NASCAR newcomers.
The 2022 release doesn't seem to be messing with the formula that Panini has established over the last seven years. This year's product will be highlighted by their premier-rated rookie cards and will feature some fun new parallels and inserts.
What we like about Donruss NASCAR 2022
The relatively low price point makes this hobby box a reasonable rip.
Ripping on a hobby box that costs you upwards of $500 can be a stomach-churning event. As we all know, these rips rarely pay off, as the individual resale value of the cards inside the box often doesn't exceed the price of the box as a whole. From an investment standpoint, buying and holding wax is typically the most surefire way to turn a buck in the hobby box world.
That said, buying and flipping hobby boxes takes away from the heart of the hobby. Many of us got into collecting because of the thrill of opening a pack and having no idea what's inside.
For those who still enjoy buying a hobby box with the intention of actually opening it, the $111 price point is pretty reasonable. While the cards inside most likely won't earn you your money back, a hundred bucks isn't an eye-popping amount to lose.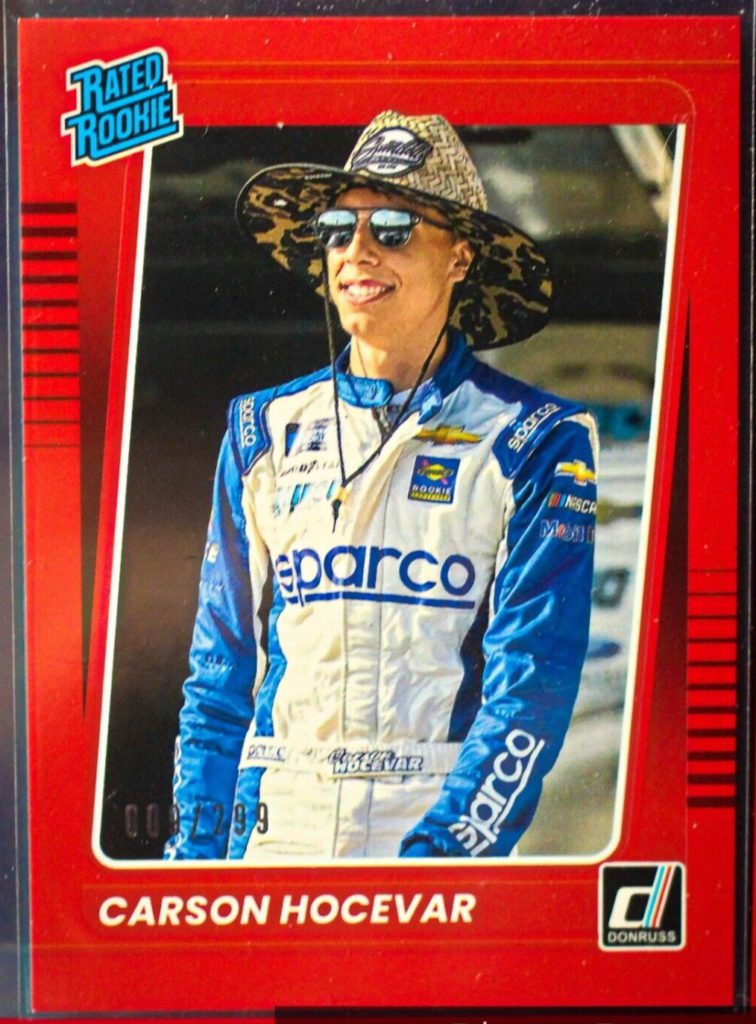 What we don't like about 2022 Donruss NASCAR
Donruss NASCAR needs to shake things up on the design front. This year's release is pretty similar to years past. Sure there are a few new inserts, but there aren't really any flashy, eye-catching cards.
Other than the addition of a few new rookies, it's pretty tough to feel like this year's set is different from last year's in any noticeable way.
Donruss NASCAR also doesn't really have cards with name value. In other sports, Panini has done a great job of creating great-looking inserts whose name has value alone (think Prizm, Cracked Ice, etc.). These cards make the hunt exciting; they're the cards that people buy the boxes for, hoping they'll be able to pull.
While the inserts are decent, there is no single card that we look at from the checklist and really get excited about it. The type that people go crazy for on live breaks, or showcase in the forefront of their collection.
The market confirms that other hobbyists aren't too excited about any particular NASCAR card either – no card from the 2021 release has sold for over $150 so far this year on eBay.
Obviously, some of this has to do with NASCAR's lower popularity in general, but that doesn't explain it all. A few years ago, Soccer cards weren't very expensive, and their popularity was fairly low.
Still, certain rare cards from top players could command a lot more in resale value than what we're currently seeing in NASCAR. That tells us that the problem lies somewhat with the release itself.
Donruss NASCAR should take more stylistic risks, and try to establish a premier card that people recognize and value.
Hobby box breakdown
The Donruss NASCAR hobby box is the only item available for presale and it's going for $111.
Here's what each hobby box contains:
24 cards per pack,
8 packs per box
192 cards total
And here's a breakdown of what cards collectors will receive per box:
– 24 Silver or #'D Parallels
– 24 Optic Cards
– 1 Autograph
– 2 Memorabilia Cards
Buy 2022 Donruss NASCAR hobby boxes on eBay
NASCAR Donruss 2022 checklist info
The official checklist isn't out, but based on previous years, we should expect to see every driver on the circuit included in the base set.
Here's a list of some of the inserts Panini has announced so far (odds of hitting aren't out yet):
Timeless Treasures: A 5 card set that includes race-used memorabilia
Legendary Signatures: Autos from 8 of the sport's best-ever drivers
Retro 1981: Race warn swatches and a throwback design
Rated Rookies: The classic rookie card that features different colored parallels and 5 different subsets (Base, Cars, Rated Rookies, Retro 1981 and Race Kings)
Optic Retro: Optic versions of base cards
Under the lights Xplosion: An insert new to the set in 2022
This year's ultra-rare inserts will be marvels, downtown, watercolors, and a blank slate.
Find 2022 Donruss NASCAR cards on eBay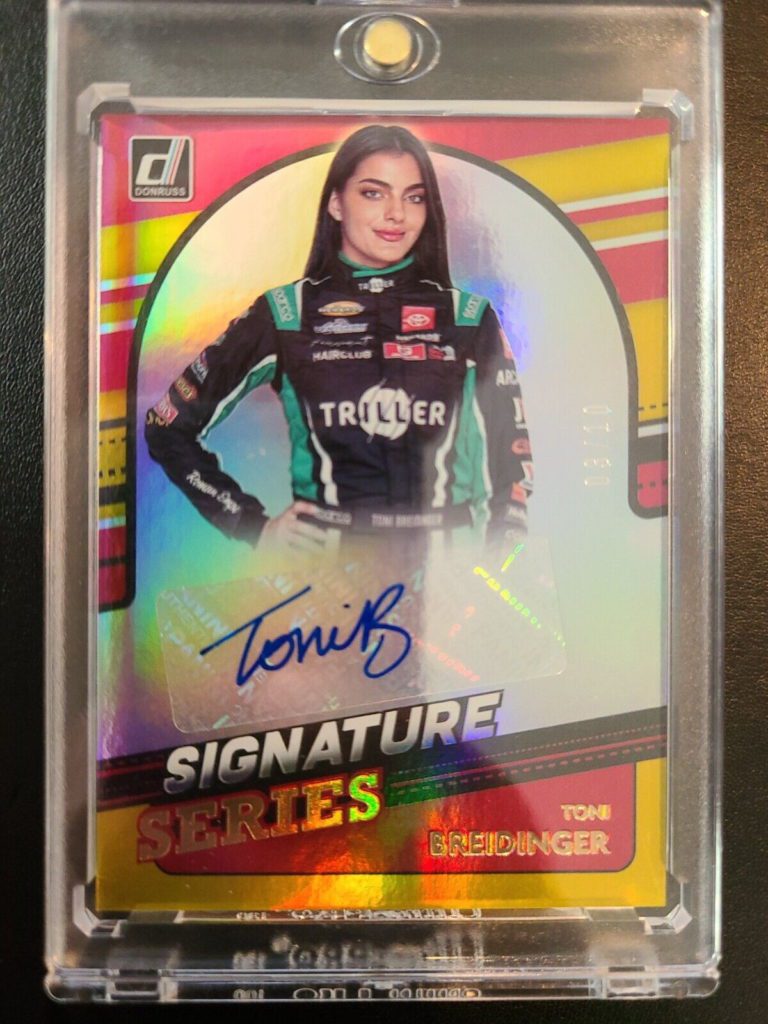 Are 2022 Donruss NASCAR cards a good investment?
The return on investment isn't great with NASCAR cards. Wax prices are pretty steady from year to year, and playing the singles market is an almost guaranteed loss.
That said, NASCAR could be a sneaky candidate for a popularity bump over the next few years. Here's a breakdown of Donruss NASCAR by the numbers.
Wax Value
How well does a buy-and-hold strategy pay off? Take a look at the chart for hobby boxes below:
As you can see, the numbers aren't particularly impressive. In other sports, returns of $200-600 on wax have been common in recent years, but we just aren't seeing that with NASCAR right now.
This trend of minimal value increases extends to packs and blaster boxes as well. You can maybe make a few bucks by reselling in future years, but history doesn't suggest that you should expect much more.
It is worth noting that none of the years above actually lost money. So, if you are looking to take a flier on a hobby box in hopes that the sport's popularity skyrockets in the next few years, the risk of doing so is pretty low.
Singles
The singles market isn't usually the best place to make money when investing in sports cards. It's generally more hit-and-miss and relies on pulling the big cards to make it worth it. Considering the lack of big cards in the Donruss NASCAR set, trying to play the singles market here is pretty much a guaranteed loss.
So far this year, only 3 cards from the 2021 set have sold on eBay for more than $110 (which was the original sale price of the hobby box.) Many autos and memorabilia cards from well-known drivers routinely sell for less than $10.
Each box only comes with one auto, so that ten-dollar card is likely the biggest pull from a box, and it covers less than 10% of the box as a whole. The rest is likely just base cards that cumulatively wouldn't even pull in another $10.
You don't even get the benefit of a high ceiling. The highest selling card from the entire set went for $150 on eBay last year; so in the best situation where you're pulling a super rare "Chase Elliot Marvel card," you're just making a few extra bucks.
Could Donruss NASCAR see a big bump over the next few years?
When investing in a smaller sport like NASCAR, there is always the question "could this sport increase in popularity over the next few years?"
Sports like football or basketball are pretty much set – we know those sports are going to attract attention, and their popularity doesn't really factor into the investment.
But in 2019, transitions for Soccer cards increased over 1400%. Not to say that soccer is a small sport, but in the world of sports cards, they were pretty low on the totem pole at the time. The increase in trading popularity has meant skyrocketing prices for Soccer cards. Investing in 2018 could have meant a big payoff in the following years.
So could NASCAR be poised for a similar jump? There are a few reasons why we think it could:
Huge increases in the popularity of formula one racing suggests that there is commercial appetite and star appeal in car racing
People have been talking about a breakthrough in NASCAR popularity for years, and it never seems to quite pan out. That said, we've seen these breakthroughs happen for other sports in recent years, and all it would take is a few new exciting new stars, and NASCAR could see a bump in popularity across the board.
Should you buy 2022 Donruss NASCAR?
2022 Donruss NASCAR is far from perfect. Many of the designs are too conservative, and they haven't done a great job of changing things up from year to year. Also, as an investment, the returns are very low. Still, there is some upside to this product.
Donruss NASCAR 2022 is a great buy for people who are NASCAR fans (it's the only officially licensed product), those who want to invest in a potential rise in the sport's popularity, or anyone looking for a fun rip that won't break the bank.