Future Hall-Of-Famer Pitcher Cards: Sure Things
There are typically around 35-40 active players in each MLB season who will make baseball's Hall of Fame. Some are rookies getting their first taste of the majors. Some are superstars in their prime. Finally, some players aren't done yet but have already punched their ticket to Cooperstown. But today we will talk about future Hall-Of-Famer pitcher cards.
More specifically, we'll talk about the starting pitchers who are active in the majors now who would make Baseball's Hall of Fame if they retired today. We'll talk about the key rookie cards of these players and the investment prospects of these cards.
If you missed it, in a previous article, we explored the hitters who have already punched their ticket to Cooperstown.
Just a note on WAR. When WAR is referenced in this article, we are using Baseball-Reference WAR, not Fangraphs version. Also, as a reminder, a player becomes eligible for the election to the Hall of Fame 5 years after they retire. Then they remain eligible for 10 years or until they are named on less than 5% of ballots. The Hall of Fame voting results are announced in January, and the induction ceremony is in July.
What Makes a HOF Starting Pitcher?
By raw numbers, what a Hall of Fame starting pitcher looks like has changed a lot over the years. However, when you look at a more advanced statistic like WAR, we can usefully normalize across eras.
There are 65 starting pitchers in Baseball's Hall of Fame. The average WAR for these pitchers is 73.3, although that's a bit skewed by early baseball all-time greats Walter Johnson (164.8) and Cy Young (163.6).
Of the 29 pitchers with more than 73.3 career WAR, all but three are already in the Hall of Fame. The exceptions? Roger Clemens (139.2) who's performance-enhancing drug troubles have kept him out, Curt Schilling (79.5), who could make it this year, and 19th-century pitcher Jim McCormick (76.2).
The List Of Sure Thing Hall-Of-Famer Pitcher Cards
I think the discussion starts right around 60 WAR (Andy Pettitte finished with 60.2). Of the 66 pitchers with over 60 career WAR, only 14 are not in the Hall of Fame. Several of those 14 will make the Hall of Fame eventually.
Four of those 14 are still active, and those are the ones we're going to talk about today.
Zack Greinke
Age: 38 Career WAR: 73.1
As mentioned above, the Johnson/Young inflated average WAR of a Hall of Fame pitcher is 73.3.
Greinke's career WAR is currently at 73.1. That was why it was surprising to hear several commentators during the playoffs this year question Greinke's Hall of Fame prospects. Sure, he's never won 20 games, but he's won a Cy Young award, 6 gold gloves, and two ERA crowns.
Greinke is a free agent after the season. Att 38, he's not as dominant as he once was. However, he does appear to have his sights on a least another year or two. Assuming Zack is effective, those years should make his case somewhat stronger.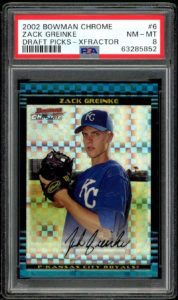 Clayton Kershaw
Age: 33 Career WAR: 71.9
The general feeling around Kershaw seems to be that he's a sure Hall of Famer in the twilight of his career. While he may not be as dominant as he once was, Kershaw (another impending free agent) could end up with the highest WAR of this quartet.
Kershaw's 185 wins are on the lower side for a Hall of Famer. However, his 2.49 career ERA, 3 Cy Young awards, and .688 career winning percentage scream all-time great.
Justin Verlander
Age: 38 Career WAR: 71.8
At 38 Verlander is no spring chicken. Additionally, Tommy John surgery kept him out for the entire 2021 season. These are not promising signs for the longevity of the veteran starter.
Nonetheless, Justin seems motivated to add to his legacy. Verlander stated that he would like to pitch into his mid-40's. The numbers in his last full seasons (21-6, 2.58 ERA, and 300 K's in 223 IP) and the excellent history of Tommy John surgery recovery are signs that Verlander has more in the tank.
What is the bottom line? Verlander has all the hardware – a Rookie of the Year, 2 Cy Young Awards, and an MVP award for punching his ticket to Cooperstown whenever he and his rebuilt elbow hang it up.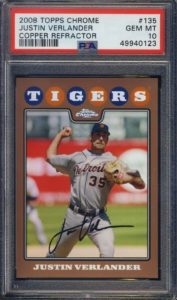 Max Scherzer
Age: 37 Career WAR: 67.2
Max Scherzer is another impending free agent who, at 37, is on the older side. However, Max couldn't have set himself up better for a big payday. After a mid-season trade from the struggling Nationals to the playoff-bound Dodgers, he went 7-0 in 11 starts with a 1.98 ERA.
Greatness is nothing new for Scherzer, who has been one of the best starters in the game for the last decade. With three Cy Young awards to this credit and a career 190-97 record with a 3.16 ERA, Scherzer will head to Cooperstown five years after he retires.
A Word On Pitcher Card Values
Pitchers, including starting pitchers, suffer lower value bias compared to position players. This trend seems to persist across time and space. Compare prices on cards of Babe Ruth and Ty Cobb to Walter Johnson or Cy Young, or cards of Bob Feller to his hitting contemporaries for examples.
For young players, this may make sense since pitchers are more susceptible to injury. But for players who are retiring or approaching the end of their careers, the reasons are unclear. Maybe it's the fact that a starter only pitches in 30 or so games a year.
You'll see the effect as we explore the key rookie cards of the sure-fire Hall of Fame starting pitchers who are active today in terms of both card value and PSA population.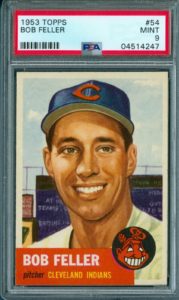 Maybe that will change in the future. Pitchers are pretty popular. After all, both Kershaw and Scherzer had TV commercials during this year's playoffs.
Whatever it is, go check out relief pitcher values before you go feeling TOO bad for starting pitchers!
Key Rookie Cards, Pop Reports & investment Thoughts
Key Rookie Card
PSA 10 Pop
Total PSA Pop
Recent PSA Sales
2002 Bowman Chrome DP&P Zack Greinke #BDP6
22
232
PSA 9 = $300-$350
2006 Bowman Chrome Clayton Kershaw AUTO #DP84
111
198
PSA 9 = $1,000-1,100

PSA 10 = $3,500+

2005 Bowman Chrome Justin Verlander AUTO #331
58
138
PSA 9 = $300-$400
PSA 10 = $805-$2,000
2008 Bowman Chrome DP&P Max Scherzer #BDP33
97
347
PSA 9 = $80-$200

PSA 10 = $300-$550
Zack Greinke's 2002 Bowman Chrome Draft Picks & Prospects card is a very low-pop card. Indeed, recent comps on PSA-graded cards are challenging to come by. Still, PSA 9's sell well in the $300-$350 range.
The 2006 Bowman Chrome Clayton Kershaw AUTO is a high-priced card because it is a certified autographed rookie card. It's a reasonably low PSA pop, although most graded cards are 10's.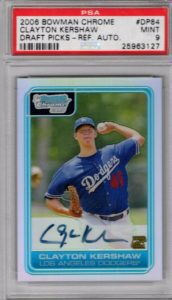 Justin Verlander's 2005 Bowman Chrome AUTO is another certified autograph RC with a substantial selling price, especially in a PSA 10, with a low pop.
Interestingly enough, the 2008 Bowman Chrome Draft Max Scherzer is the highest total pop card in the lot. Even in a PSA 10, though, it feels reasonably priced.
The Final Word On Hall-Of-Famer Pitcher Cards Investment Upside
So, which of these players and cards has the most upside? I think you can't go wrong on most of the rookie cards of these guys. However, the low cost of the Scherzer in a 9 makes that a particularly attractive buy.
A few other thoughts:
With Verlander missing the 2021 season and maybe not being ready to pitch until mid-season in 2022, there's a chance his values soften somewhat. That makes him a great pickup before the return.
All four of these pitchers are free agents after the season. If one signs with a popular, playoff-bound team, their cards could see at least a temporary jump. Keep an eye on the rumor mill and buy before that happens for a potential quick flip.
Players from this era have a LOT of rookie card options…you can quickly go upscale and look at Refactors, Press Plates, and the like. Or you can look at alternate rookie cards at lower price points, such as Bowman Heritage. And don't forget about pre-rookie cards from companies like TriStar, Donruss, and Upper Deck.
Once these players retire, expect a softening of their card values 2-4 years after they retire, but then a bit of a bump when they are elected to the Hall of Fame.
Bottomline On Sure Thing Hall-Of-Famer Pitcher Cards
Pitchers don't often get the attention (and card values) of their position player peers. However, they offer an opportunity to buy into the career of a sure-fire Hall of Famer at reasonable prices with some upside. But, of course, there are lots of options, so there's a card for every buyer!