Are Garbage Pail Kids Food Fight NFTs the Next Top Shot?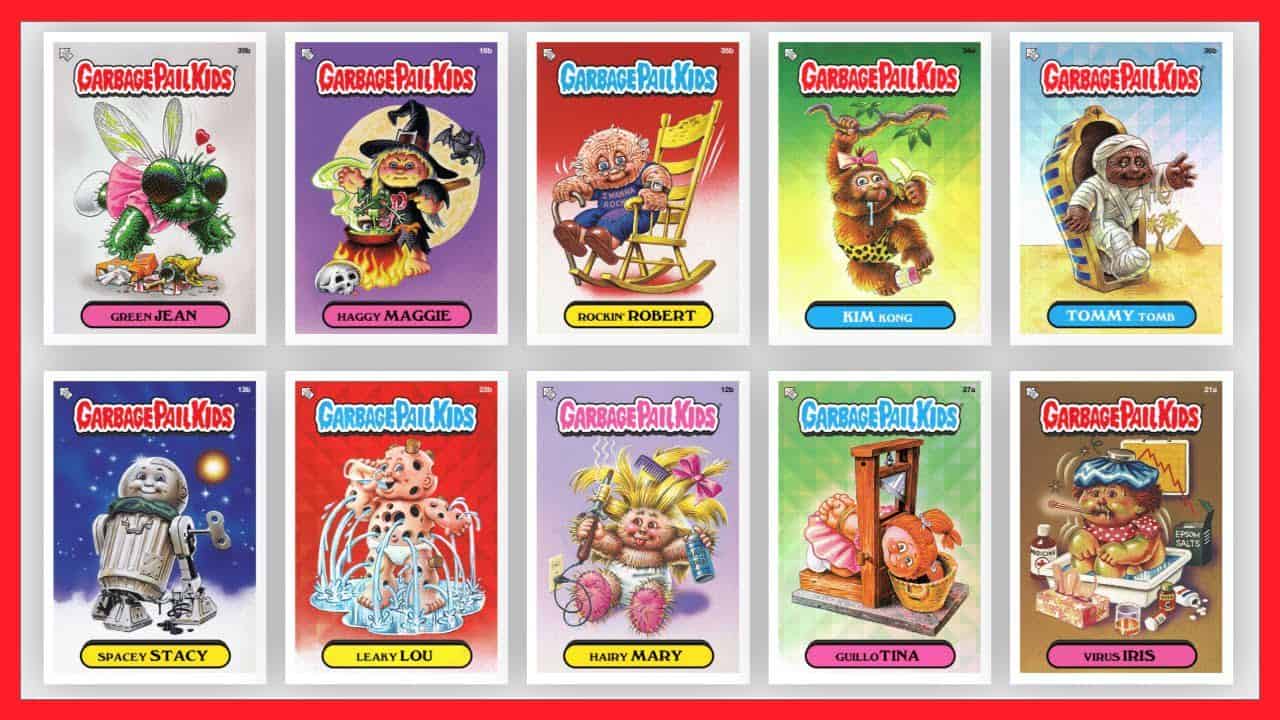 Topps has decided to release its latest Garbage Pail Kids (GPK) release as both a traditional cardboard release and in a Non-Fungible Token collectible (NFT) format.
If you don't know what an NFT is, read our NFT primer.   The NFT market has exploded in recent months.
From sportscards collectors' perspective, the most remarkable phenomenon has been the explosion of the NBA Top Shot collection.
What are Garbage Pail Kids Cards
If you were a kid in the 1980s, you probably remember this series quite well. If not, we got you covered.
Back in that strange decade, the Cabbage Patch Kids dolls were a massive sensation. Pulitzer Prize cartoonist Art Spiegelman pitched the idea of issuing cards parodying the cutesy dolls to Topps. The card company released the subversive cards in 1985, and they were an immediate global sensation.
The figures in these cards were usually comically deformed or else suffered from horrific circumstances. One of my personal favorites was "Electric Bill," a Garbage Pail Kid executed by electric chair.
The series was so successful that in 1987 MGM released an (absolutely jaw-droppingly awful) live-action movie inspired by the series. It was the first movie to be based on trading cards and is, therefore, a milestone of sorts in collector history.
Parents absolutely hated the series. Some parent organizations picketed the films, and the cards were banned in many schools throughout the world.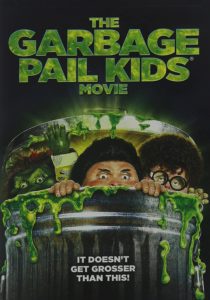 New Garbage Pail Kids Release Details
Topps and WAX released the annual Garbage Pail Kids series with a Food Fight theme. However, this year boxes will contain codes redeemable for NFT cards.
Series 1 GPK NFT's are not available directly. Instead, they are available through redemption codes available in boxes since February 24. Topps has promised that every boxed product (Blasters, Retail Display, and Collector Boxes) will contain a redemption card.
However, collectors have complained that some do not contain these redemption cards. But I picked one up, and it had two.
Topps and WAX dropped a second NFT release during the Topps Digital Winter Con 2021 held from February 25 through to the 28th.
Original Releases of the Garbage Pail Kids
The first series was released in the United States in 1985. Releases around the world soon followed it: they were known as the Basuritas in Latin America, the Garbage Gang in Israel, the Snotlings in Italy, etc.
Topps released 15 series of cards in the mid-1980s, but the company discontinued the series in 1988 after a drop in sales.
All-New Series and Brand-New Series GPK Releases
In 2013, Topps brought the series back, hoping to capitalize on a wave of 1980s nostalgia. The 1st All-New Series (ANS) was based entirely on artwork intended for the aborted 16th series in 1988.
Having run out of original artwork, Topps released the 2nd ANS series in 2004, featuring brand new artwork. The series was uniquely interactive, allowing collectors to redeem silver and gold foil insert cards to build their own Garbage Pail Kids online. The 2005 release celebrated two decades of GPK releases with unique Sketch Cards, which Topps only placed in special hobby boxes.
In 2012 Topps rebooted the series in response to criticism that the ANS release had veered too far from the original 1980s versions.
The latest release was labeled the Brand-New Series (BNS) and included 55 new characters. The BNS series ran for three iterations and included parallels, motion cards, artist sketch cards, and other innovations.
Recent Garbage Pail Kids Releases
In response to Topps chrome sportscards releases' success, they issued a chromatic version of series 1. The release included 14 new characters on top of the classic cards.
In 2015, Topps marked 30 years of GPK products by launching the 30th Anniversary Series. The cards were not numbered straight through like previous sets. Instead, they were made up of several subsets, such as one where different characters pushed Adam Bomb's famous button and a subset of famous artworks in GPK versions.
Since 2015, Topps has released new yearly themed products regularly. In 2016, the theme was trashy TV. The following year saw the Battle of the Bands release, which contained variations on well-known music acts and albums.
In 2018, the Garbage Pail Kids paid tribute to their decade of origin with a "We Hate the 80's" annual series. In 2019, Topps released the "Oh the Horror-ible" horror-themed cards. 2020 was a 35th-anniversary series.
Finally, in 2021 the "Food Fight" series came out. This is the product that is now also receiving an NFT release.
Garbage Pail Kids NFT's
Topps began to move into the NFT market in 2020, and the Garbage Pail Kids were among the first products to enjoy a rebirth in this format. Topps partnered with the Worldwide Asset Exchange (WAX) company, a full-service blockchain company utilizing an EOS.IO protocol.
In May 2020, the two companies released the first NFT series, and it sold out in 28 hours. They included four varieties of virtual cards: base, prism, sketch, and the super rare collector's edition cards.
The value of these original NFT cards has gone up somewhat due to the recent craze, but it has yet to explode. Therefore, they may be an investment option worth exploring.
The NFT series is also tied into the cardboard card sets. Boxes purchased at Walmart or Target may include a digital code redeemable for specific NFT Garbage Pail Kids collectibles in the Food Fight series.
The virtual cards have been updated to contain recent pop-culture references. For example, a subset called "GPK Goes Exotic" features variations on the Tiger King Netflix documentary series.
Are Garbage Pail Kids Cards a Worthwhile Investment?
The rare and early edition cards are worth a good deal of money. While the most valuable ones are no match for the most highly sought-out sportscards, they are still a reasonably good investment.
For example, a Gem Mint Nasty Nick is worth $7,500 because that card was usually printed off-center. However, few of them are worth more than $1,000 on the market.
Like any other collection, most of the cards are common ones and are not worth much. They are essentially worthless if not in near mint condition and usually fetch less than $10 even when in gem mint condition. For more information on evaluating GPK cards, check out this guide.
Some of the Garbage Pail Kids releases have done very well in recent years. Particularly notable is the Sapphire series. A box initially went for $50, and now you are lucky if you can get it for under $500 on eBay.
Are the Garbage Pail Kids NFT's a Good Investment?
NFT's have since become significantly more popular and have become the latest investment "craze." Therefore, it will surprise no one that the first wave of release has also sold out immediately.
The packs went for $5 each, and some contain rare cards worth well more than that. NFT collectible appears to be here to stay, and the GPK series has done well to get in on the ground floor and carve out a niche for itself in Blockchain-based investing.
The rare GPK Goes Exotic cards appear to be the best investments in this set. In particular, the Collectors Edition Exotic cards, with animated animal effects.
How Can You Buy Packs and Singles of GPK NFT
Since the packs sell out rather quickly, you have to keep up to date with the latest releases to purchase them quickly. Standard Packs containing five cards go for $4.99, while Mega Packs of 25 cards sell for $19.99.
If you missed out on the release or want to purchase specific cards, you have a few options. They are listed on the Topps Atomic Assets marketplace. You can trade or buy available single cards. You can also post a wishlist that other collectors view and receive offers of the cards you need.
Another great place to buy is the GPK market hosted on Myth Market. They sell singles as well as unopened packs
As always, the cards are also available on eBay, including some unopened packs.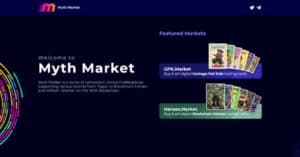 What Else Should I Know?
Garbage Pail Kids cards, both NFT, and cardboard are a fairly solid investment history. They have had a steady market for over three decades and have not lost value.
However, the products tend to have a ceiling and it remains to be seen if the Blockchain will change that.