Investing In Sports Cards: Card Quest 2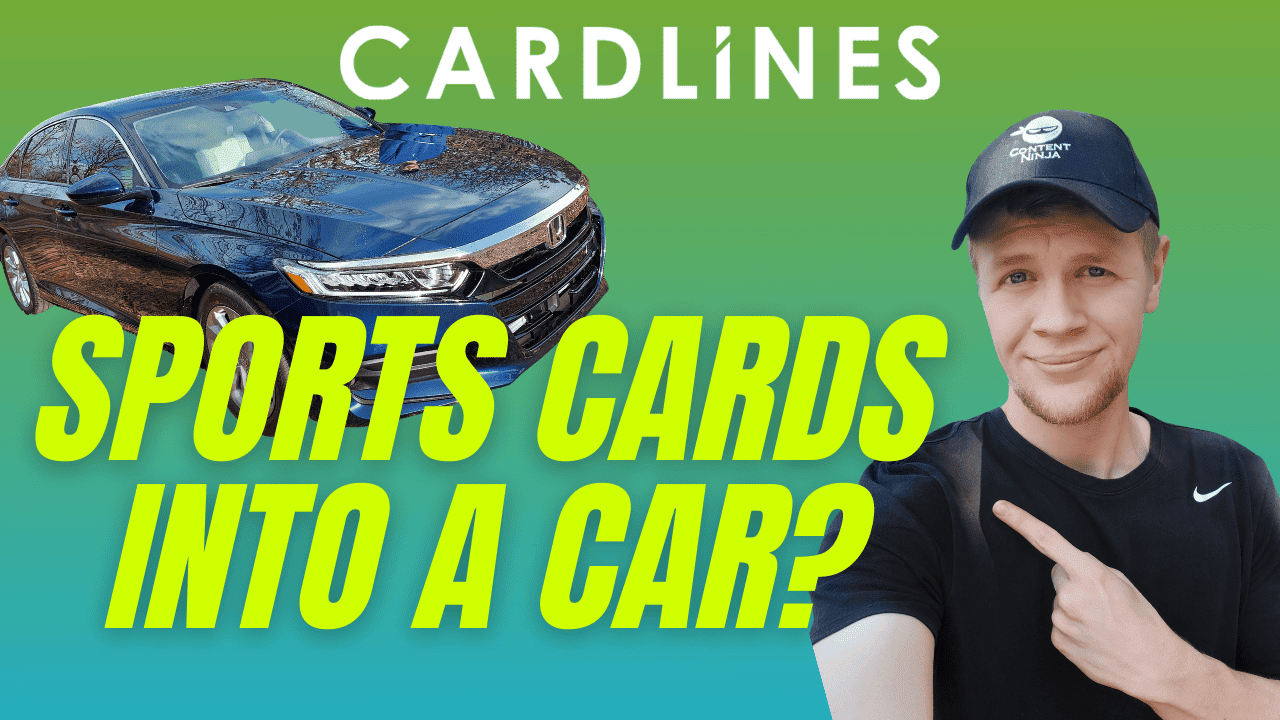 We're back with the second week of my investing in sports cards project, and as a friendly reminder, here's how it works.
Every week, I'll be spending about $100 on cards. Then, I'll report back to you. I'll tell you what I purchased, why I bought it, what strategies I used, and how you can apply them to your collecting.
Investing In Sports Cards With Jesse: Rules of the Game
We're tracking progress, too. Every week I'll share:
My total amount spend
My total amount sold (once I start selling some)
Total value (the comp price of my cards + total amount sold).
From there, we'll be able to calculate my gains.
I challenge you to take on this initiative, too. Invest more or less than me–totally up to you–but track your progress. Together, let's show the world the power of card investing.
Week 2 Of Investing In Sports Cards With Jesse Purchases
If I were guessing, I'd say 75% of my eBay purchases are auctions, but this week I bought two buy-it-nows.
They also had something else in common…They were both misspelled.
You may remember my Cardlines story about misspelled listings. I showed that listings that fail to spell the player's name correctly typically sell for around 40% less than those that spell it correctly. That usually works in auctions, but this case was a BIN.
I also share plenty of strategies in that story for finding these listings for yourself, so check it out as soon as you can. It is basically free money. Just put in a little effort.
Now, here are the purchases.
I posted the exact title of the listing, and you can tell why it didn't sell well. Not only did the seller misspell "Christian," but he also misspelled "McCaffrey." He also failed to include the brand, year, or "RC."
I'll give the listing a 1/10, but it also means good returns.
However, what the seller did is post individual pictures of both the front and back of the card. The corners looked great, and so does the centering. It looks just as good in person as I hoped, and I suspect this card will grade a 10 if I still have it when PSA opens the doors again to the standard grading.
The card was listed for $40, but he accepted my offer of $32. So the order came out to $36.30 with shipping.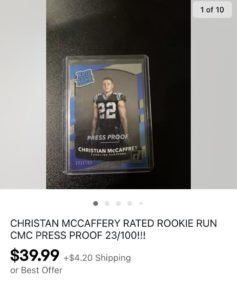 Yikes, another bad listing.
The seller omitted "Gilgeous" as part of SGA's last name, so anybody searching him by name (or even as "SGA") didn't see this listing. To make matters worse, it wasn't listed as a rookie or RC lot, either.
The cards are all rookies, and the lot includes 1 Optic Holo, 2 Optic base, 1 Prizm, a dual jersey, 3 status, a couple of Prizm inserts, and a Contenders insert. All that came for the price of $75, including shipping, which is what I offered on the $90 BIN.
I intended to sell all these raw, but the Holo looks like it could also grade a 10, so I'll wait on PSA to decide what I want to do.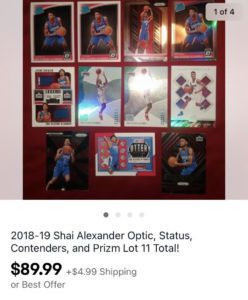 Investing In Sports Cards With Jesse: Progress
Total Spent: $212.
Two weeks in, I've spent $212. What's the value of that investment?
Working off recent comps, here's how all my purchases break down:
Tannehill Triple Threads Auto /25
Bought $83; Comp $90
Tannehill Rookie Card Lot
Bought $17; Comp $50
McCaffrey Rookie /100
Bought $36; Comp $45.
 SGA Rookie Lot
Bought $75, Comp $119
The McCaffrey is the hardest to comp because there isn't an exact comp. Still, I just used an average of other numbered CMC Rated Rookies and factored in a bit of inflation (following the sales price of the Optic base RC) since football season is approaching. If anything, I think my comp of $45 is a bit conservative (on the bright side, the Mahomes of this card sells for $1,500).
The rest of the comps are straight up, and the Tannehill's are already beginning to climb a tiny bit as football season draws near.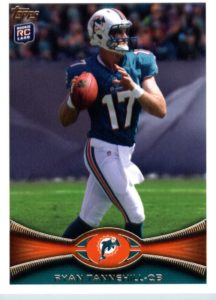 Total Spent: $111
Total Value: $304
Net movement: 43% Increase
Thus far, I've spent money on lots that could be flips instead of long-term holds, but we'll see how the net increase holds up as I begin to buy more holds moving forward.
What will I be buying next week? Then, come back next week for the next update on the best ways to go about investing in sports cards.
Are you taking on this project yourself? Tweet me @realjessehaynes or email Cardlines to tell us about it!