Investing In Sports Cards: Card Quest 4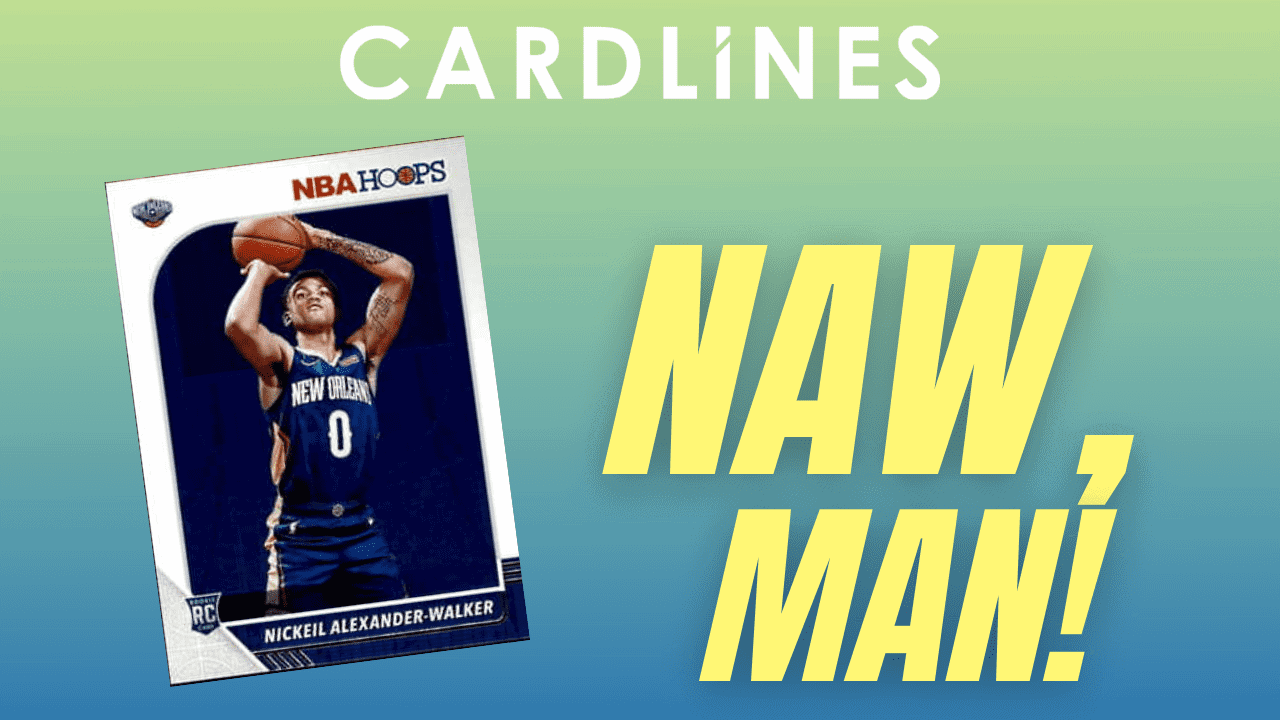 Week four of our series on investing in sports cards is here, and it was a good one!
Investing In Sports Cards With Jesse: The Rules Of The Game
As a reminder, here are the rules. Every week, I'll be spending about $100 on cards and telling you what I purchased, why I bought them, what strategies I used, and how you can apply them to your collecting.
We're tracking progress, too. Every week I'll share:
My total amount spent
My total amount sold (once I start selling some)
Total value (the comp price of my cards + total amount sold).
From there, we'll be able to calculate my gains.
I challenge you to take on this initiative, too. Invest more or less than me–totally up to you–but track your progress. Together, let's show the world the power of card investing.
Week 4 Of Investing In Sports Cards With Jesse Purchases
Remember when I wrote the article for Cardlines about how sports card lots can make you some BIG bucks? If not, you should check it out because I'm about to discuss that theory for the test.
Instead of one large purchase like my SGA rookie autograph, this time, I spent $75 on a handful of smaller lots with quite a few cards. I bought 112 rookie cards of one player. So in whom am I investing heavily? None other than Nickeil Alexander-Walker of the New Orlean Pelicans, but we're going to call him NAW for short.
NAW was drafted in 2019-20 out of Virginia Tech. However, he didn't see too much of the floor in his first couple of seasons. Then, late last year, when Lonzo Ball went out with an injury, he started for 14 games. He didn't waste the opportunity. As a starter, he averaged 20 points, 4 rebounds, and 3 assists while scoring thirty points–twice.
And guess what? Lonzo and Eric Bledsoe are now out of the picture, and NAW has a positive net rating while playing with Zion. The rating indicates NAW is about to get a lot of minutes next year.  If his 14 games as a starter show what the young man is capable of, he could have a breakout year.
That said, here are my purchases.
Purchase 1: 96 NAW Hoops Rookies
You read that right. 96 Hoops rookie cards. Technically I bought several smaller lots from the same seller (around 30 in size), but he agreed to ship them all together for free.
The total cost, taxes included: $40.01.
To me, that was a crazy-low number. Recent comps have these cards selling for about $3 to $4 each. That said, I also understand that it is based on shipping a single card for about $0.60, and I have no intentions of selling all 96 individually. When I start selling these, I'm going to sell them in lots of 5-10. So, I factored this into my comp for them, and I am pricing them at just $1.50 each. In other words, I think I could easily sell a lot of 10 of them today for $15+ shipping.
Hopefully, that number goes up even more when the season starts, but for now, I think this lot comps at about $144 dollars just by buying bulk and splitting it up.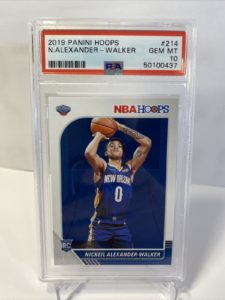 Purchase 2: 5 NAW Optic Silver Waves
This purchase came from Facebook, where you're much more likely to strike deals because people don't want to mess with eBay fees.
I posted a request to see NAW rookies in one of my card groups and landed 5 NAW Silver Waves for $25, shipped. These cards are selling for $8 each right now, but this also could be worth more in the future if NAW has the year I'm expecting.
This lot was a complete bargain at $10.87, shipped.
It was a very poor eBay listing that failed to mention one of the cards was an Optic purple velocity rookie, which sells for over $30 on its own. In addition to the purple, this lot contained 8 base Optic rookies and 2 base Mosaic rookies.
When I sell, I'll probably sell the Mosaics as a lot and everything else as singles. The extra profit will be worth a slight bit of extra work.
Investing In Sports Cards With Jesse: Progress
This week was excellent in terms of comps, and I'm trying to be as fair as possible for comping the large lots I bought, but as I explained above, they're worth a lot more than I paid for them–even if I wanted to sell today.
Working off recent comps, here's how all my purchases break down:
Tannehill Triple Threads Auto /25
Bought $83; Comp $90
Tannehill Rookie Card Lot
Bought $17; Comp $50
McCaffrey Rookie /100
Bought $36; Comp $50
SGA Rookie Lot
Bought $75, Comp $11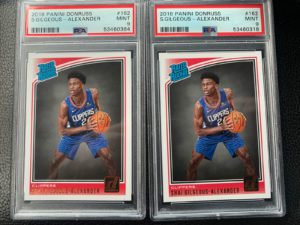 SGA Prizm Rookie
Bought $121, Comp: $158
NAW lot of 96 Hoops Rookies
Bought $40, Comp for $144
NAW lot of 5 Optic Silver Wave
Bought $25, Comp for $40
NAW lot of 11 Rookies
Bought $10.81, Comp for $74
Of the changes, I increased the McCaffrey /100 comp to $50 (from $45) because I still don't have a comp for it but have noticed about a 10% increase for CMC rookie prices across the board since I first comped it.
Investing In Sports Cards With Jesse: The Numbers
Adding in the bazillion NAWs from this week, we have the following numbers:
Total Spent: $408.78
Total Value: $725
Net: 77% increase
Breaking down large lots isn't always a way to make a lot of money, but for the purchases this week, it played well to what I'm trying to accomplish. I think NAW is underrated enough right now that the people who are taking note of his potential don't want to go all-in, so I'm probably the only one crazy enough to buy 100+ of his rookies in one week.
What will I be buying next week? Then, come back next week for the next update.
Are you taking on this project yourself? Tweet me @realjessehaynes or email Cardlines to tell us about it!