Investing In Sports Cards: Card Quest 12
It's Week 12 of the CardQuest, where I'm on a quest to show how viable sports card investing can be as a form of investing, and the NBA season starts this week! So let's see how our investing in sports cards project is progressing.
Since the season started, I've managed to sell many of my football purchases for the Card Quest, so now it's time to start moving the basketball cards I've been saving up.
Investing In Sports Cards With Jesse: The Rules Of The Game
But first, as always, here are the rules. Every week, I'll be spending about $100 on cards and telling you what I purchased, why I bought them, what strategies I used, and how you can apply them to your collecting.
We're tracking progress, too. Every week I'll share:
My total amount spent
My total amount sold (once I start selling some)
Total value (the comp price of my cards + total amount sold).
From there, we'll be able to calculate my gains.
I challenge you to take on this initiative, too. Invest more or less than me–totally up to you–but track your progress.
Together, let's show the world the power of card investing.
Week 12 Of Investing In Sports Cards With Jesse Purchases
This week was a bit lighter spending–I only spent $68 including taxes and shipping–but it followed two weeks where I spent more than $100, so the average fell back down to right at $100/week.
I made three purchases this week, all of which were focused on the upcoming NBA season and players I think can see significant statistically improvements.
And, true to form, two of the three were misspelled. Don't forget, my misspelled listing tips and tricks can be found right here.
Here's a look at the cards I bought.
Purchase One: Jaren Jackson Jr. Prizm Rookie Lot x3
After posting, I bought this in a Facebook card group, "Anybody trying to sell 3 JJJ rookies for $30?"
Somebody was. The guy sent me pictures of the three rookie cards, I paid him, and now I have three Jaren Jackson Jr. Prizm rookies.
Jackson has looked great while on the floor, but he's been injury-prone thus far in his career. Hopefully, this is the first year he stays healthy!
I bought it for $30, and recent comps are $42
Purchase Two: Tyler Herro Prizm and Hoops Premium Purple Disco Rookie Lot
This listing was… subpar.
The name was spelled "Tyler Hero," the auction didn't mention anything about "rookie" or "RC," and the tie-dye background on the picture was not exactly a visual masterpiece.
I might be a homer as the biggest Heat fan you know, but Herro led all pre-season in scoring and looked like he could play well in a 6th man role for a face-lifted Miami team, so this was a good buy at $15.55 (a $10.50 best offer, plus shipping). Sells comp at $22 currently for these two cards.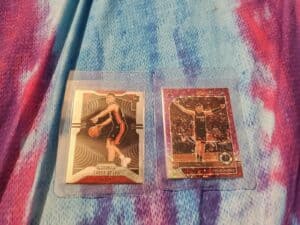 Purchase Three: Desmond Bane Absolute Auto /49
I'm high on Bane. But I'm high on most Grizzle starters that aren't named "Ja." I think the team will be good, and the cards are underpriced relative to the potential statistical performance of the players.
This year, Desmond Bane sound be a starter, and he's been red-hot from downtown in the pre-season. If he can continue playing off Ja and sniping, he could have a great year.
This particular purchase was listed as "Desmond Bayne" with a BIN of $17.99 with $4 shipping. So in total, I bought it for $23.02, and the last comp was $35.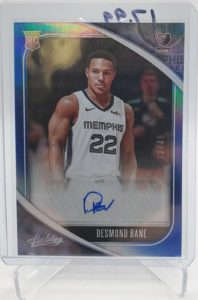 Investing In Sports Cards With Jesse: A Big Sale
The most notable event of the week was me selling my Aaron Rodgers Bowman Silver /200 SGC 8 rookie card.
Rodgers had a 3 TD day against the Bears, and somebody pounced on the card. I bought it for $80.46 a few weeks ago, and it sold for $335. So in other words, it went up over 300% in 6 weeks.
Nice to move that card for big profits after only about six weeks. (As a reminder, I bought it as "Aaron Rogers.")
With that transaction in the books, here's where we stand:
Investing In Sports Cards With Jesse: Cards Held
Gilgeous-Alexander Rookie Lot: Bought $75, Comp $130
SGA Prizm Rookie: Bought $121, Comp: $185
Tannehill Triple Threads Auto /25: Bought $83; Comp $90
Tannehill Rookie Card Lot: Bought $17; Comp $50
Alexander-Walker lot of 96 Hoops Rookies: Bought $40, Comp for $144
NAW lot of 5 Optic Silver Wave: Bought $25, Comp for $55
NAW lot of 11 Rookies: Bought $10.81, Comp for $74
Minshew Prizm Lot: Bought $50, comp $75
20 Card Football Lot: Bought $31.77, Comp: $100
Ryan Tannehill Rookie Lot: Bought $60, Comp $90
Trey Sermon Certified RPA: Bought $41, Comp $41
Trey Sermon Certified RPA: Bought, $39, Comp $39
Nickeil Alexander-Walker  Donruss Auto /35: Bought, $51, Comp $100
NAW Mosaic Auto Fusion Red: Bought, $47, Comp $70
NAW Optic Red Choice /88: Bought $29, Comp $55
Jaren Jackson Jr. Prizm Lot of 3: Bought $30, Comp $42
Tyler Herro Prizm and Purple Scope Rookie: Bought, $15.55, Comp $22
Desmond Bane Absolute Auto: Bought, $23.02, Comp $35
Investing In Sports Cards With Jesse: Cards Sold
McCaffrey Rookie /100: Bought $36, Sold $80
Heinicke Contenders Auto: Bought $37, Sold $125
Heinicke Rookies and Stars Auto /50: Bought $19, Sold $100
John Wall Rated Rookie /25: Bought $14.58, Sold $100
Tylan Wallace 3 Card Lot: Bought $50.80, Comp $100
Matthew Stafford Contenders Rookie /99: Bought $43.06, Sold for $100
Aaron Rodgers Bowman Rookie /200 SGC 8: Bought  $80.46, Sold $335
Investing In Sports Cards With Jesse: The Totals
Spent: $1,219
Held (Comps): $1,595
Sold: $943
Value: $2,538
Profit: $1,318
Net: 208% increase.
Twelve weeks in, and all my profit has come off football cards. So now it's time to see how the NBA season pans out and if some of my hoops investments can work well, too.
What will I be buying next week? Then, come back next week for the next update.