MLB Candy Marketplace Review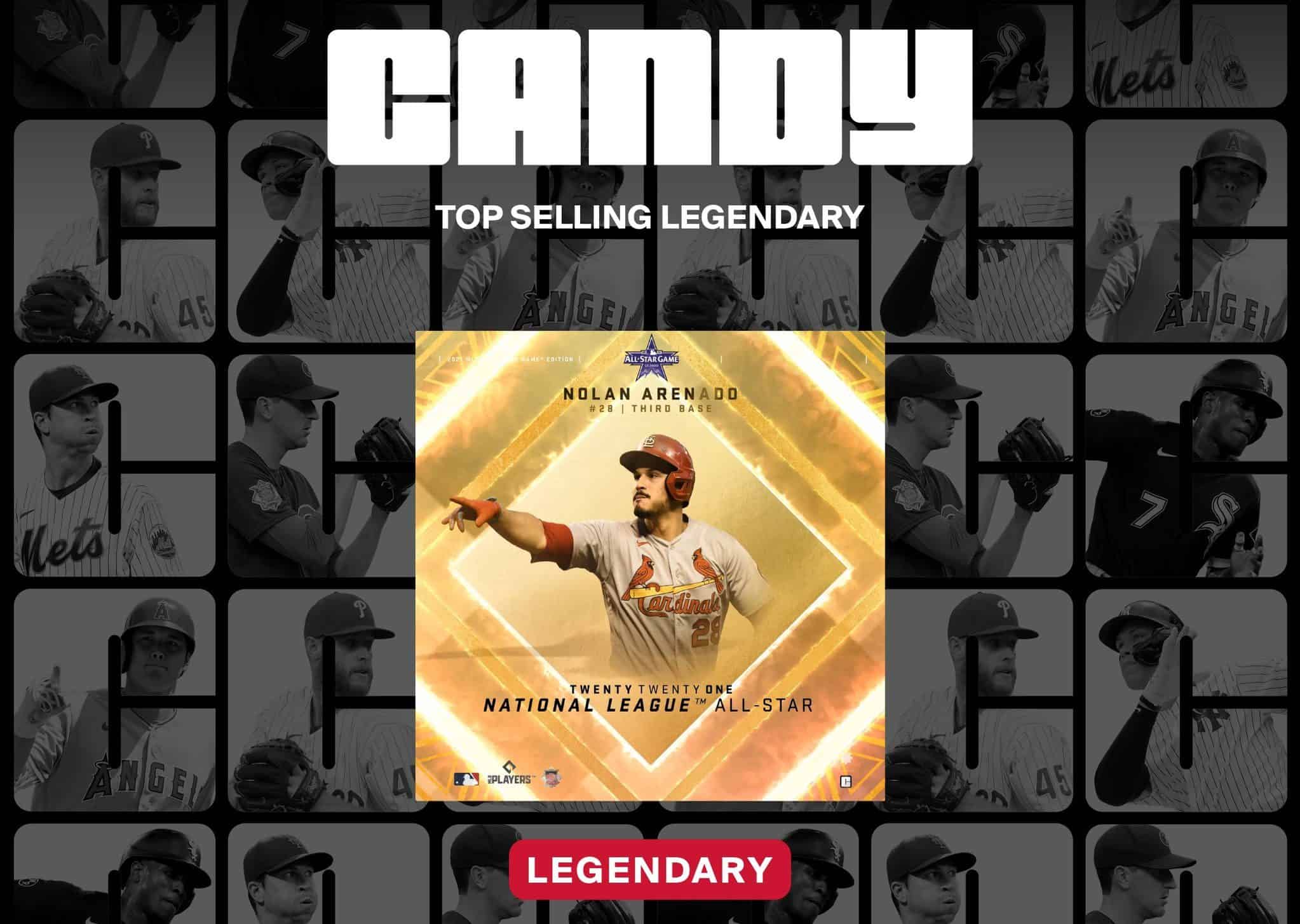 Candy is positioning itself as the premier NFT in the baseball space. The Top Shot of baseball, if you will. So, it is working? Read our MLB Candy Marketplace Review to find out.
You have been able to buy NFTs on the Candy marketplace for some time now. However, unlike rivals NBA Top Shot, the platform did not allow secondary sales. That is until the Marketplace was opened on January 15th.
What Is Candy Digital
Candy Digital is the brainchild of Michael Rubin, the vaunted CEO of Fanatics, Mike Novogratz, the CEO of Galaxy Digital, and noted entrepreneur Gary Vaynerchuk, serial entrepreneur and investor. The promising company is valued at around $1.5 billion.
The company describes itself in the following manner:
"Candy is a next-generation digital collectible company offering digital assets for fans and collectors.
Candy is Major League Baseball's official NFT ecosystem where fans and collectors will be able to purchase, trade, and share officially licensed NFTs to deepen their love of the sport. In addition, our team of world-class digital artists, designers, and technologists are developing a broad range of digital collectibles, beginning with sports content and expanding into art, entertainment, music, and more."
Why This Matters
The opening should do a lot to increase Candy NFTs desirability by allowing collectors to purchase more quickly. In addition, the company is targeting baseball fans and card collectors without heavy NFT experience. Therefore, streamlining the experience is imperative for the Candy business plan.
Scott Lawin, CEO of Candy Digital, explained, "we're obviously very excited about utilizing all the opportunities that exist in the NFT space, in terms of being able to mint and own a digital asset. But we realize that the existing on ramps or setting up a digital wallet, funding a crypto purchase, and then buying an NFT for the first time can be confusing and daunting for a lot of folks."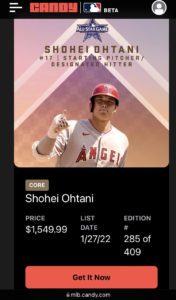 MLB Candy Marketplace Review Of Cryptocurrency Compatability
The world of cryptocurrency and NFTs are intimately linked. However, the Candy NFTs marketplace is designed to appeal to your average sports fan. So, how integrated into the market are the various crypto formats?
So far, not really.
A statement by Candy revealed plans to change that. "Over the course of the next few months on our roadmap, all the crypto functionality around being able to connect to wallet, pay with crypto, ultimately bridge your asset onto Ethereum and other chains are all things that we will continue to roll out."
Another way that Candy seems behind the times is the lack of an app. They really should solve that along with the crypto problem as soon as possible.
MLB Candy Marketplace Review Of NFT Offerings
The Marketplace is made exclusively of licensed MLB NFTs. They highlight the following NFT products:
MLB 2021 ICON NFTs: ICONs are sold in packs containing 3 dynamic ICON NFTs. This collection offers MLB fans the opportunity to build their collections with their favorite MLB stars.
"Play of the Day" NFTs. The Play of the Day is a limited-edition Candy NFT collectible that features the best play out of all games that take place on a given day, as determined by MLB.
The "MLB Stadium Series." This collection featured NFTs for each of MLB's 30 teams. In addition, the NFTs featured images of every iconic MLB Stadium created by renowned digital artist S. Preston. For collectors that purchased and collected all 30 MLB stadiums, a reward was given in the form of an NFT & S. Preston physical print of all 30 stadiums.
World Series NFTs in partnership with the defending champion, Los Angeles Dodgers. The project raised nearly $130,000 for the Los Angeles Dodgers Foundation.
Lou Gehrig "Luckiest Man" NFT. The NFT featured a digital bust of the New York Yankees Hall of Famer with Gehrig's Luckiest Man speech playing in the background. The auction raised more than $70,000 for ALS charities.
"Sweet Futures": The only non-baseball offering on the Marketplace so far. The first NFT Collection features top college athletes, including D.J. Uiagalelei, Sam Howell, JT Daniels, and Desmond Ridder.
How Has Candy Fared So Far?
The growth of Candy so far can be described as slow and steady. Reportedly, they have sold 42,000 sports-related NFTs so far. However, they have not made anything like the splash that Dapper Labs made with Top Shot.
Historic day for our Candy Fam and we're only just getting started! pic.twitter.com/nxuB0Ym0OM

— Candy (@CandyDigital) January 16, 2022
Using The Candy Marketplace
Here at Cardlines we believe in a hands-on approach to our reviews. So, I signed up for the MLB Candy Marketplace to give you my first-hand and unbiased opinion. Here goes.
The MLB Candy Marketplace Review Of Buying NFTs
The upside of the Candy NFT marketplace's relatively low technology is that getting things done is pretty simple. Here is what the Candy NFT has to about buying on their platform:
"Buying a Candy NFT is as simple as buying anything online. Go to www.candy.com/mlb and create an account.  Find a product you like and add it to your cart.  Pay with a credit/debit card, and that's it! You'll see your purchase in your personal Candy Collection for yourself and others to view. Payment with cryptocurrency will be offered at a later point."
But I don't get paid the big reviewer bucks to take their word for it.
Buying Candy NFTs On The MLB Candy Marketplace In Practice
One of the main problems I had with buying on the Marketplace was how often they had unavailable items listed for sale.
However, once you locate an NFT for sale at the price you want, it is reasonably easy to purchase it.
The MLB Candy Marketplace Review Of Payment Options
You can currently use both debit and credit cards to purchase the NFTs. As long as they are from the following two companies:
We were surprised to see that American Express is not included in the approved forms of payment.
The MLB Candy Marketplace Review Of Buying And Selling Fees
The Candy website explains: "We charge a CC Fee for making purchases using credit/debit cards. This fee is a standard processing fee that is viewable upon checkout and is always charged in USD."
What is that fee? Elsewhere on the website, Candy explains that: "A 5% fee will apply to all sales and purchases made in the Marketplace. When purchasing from the Marketplace, a processing fee will also apply. In addition, your bank may charge an additional fee. All earned fees will be in a pending state for 7 days. After the pending state is complete, users may withdraw their funds or apply them to future Candy purchases."
What Is Candy Cash And How Do You Use It?
Instead of buying NFTs directly, you can use your credit or debit card to purchase Candy Cash. That is a balance in your favor which you can then use to purchase NFTs on the platform. The advantage to using Candy Cash is that you do not have to pay the extra CC fee.
Can you cash out Candy Cash? Yes. But not unconditionally. To do so, you must have:
A balance of over $75
Made a sale on the Candy marketplace
And that is not all. The Candy FAQ notes, "A bank fee of $25 will apply for all transfers and can take up to 30 days to process. Additional service fees may be charged by your bank. Please reach out to them when requesting a wire transfer to ensure your information matches what the bank has on file. A $50 failed wire transfer fee will apply in case of errors.
All earned fees will be in a pending state for 7 days. After the pending state is complete, users may withdraw their funds or apply them to future Candy purchases. Only one withdrawal request may be made at a time – Once initiated, users will need to wait for their funds to process before submitting another request."
So, decide for yourself if putting the money in is worth the saved CC fee.
What Is Burning A Candy NFT And How Can You Do It?
Burning an NFT is how one irreversibly removes it from the Blockchain.
Why would you do that? Well, Candy and other marketplaces offer to replace burned NFTs. As the FAQ puts it, "As an example if you own a 2021 Team Candy Jersey NFT, you will be able to burn this NFT for a different Candy x MLB NFT in the future. In less technical terms, this means you will be able to swap your 2021 Team Candy Jersey for a different Candy NFT in the future if you choose to do so."
Candy will provide designated "Burn Windows," where you can decide to remove one of your NFTs from the Blockchain. However, outside of the established "burn windows," you will not be able to burn any of your Candy NFTs.
How Do I Know What Candy NFT You Will Receive For Burning Yours
Candy will make clear in every "Burn Window" what you stand to receive in return for burning an NFT in your collection. The company vows, "you will never be put in a position to choose to burn a Candy NFT without knowing what you will receive in return."
The MLB Candy Marketplace Review Of Selling NFTs
If you read my previous article on Candy Icons packs, you may remember I bought an NFT related to the Astros return to the World Series. I'm only kidding; I barely remembered it myself. Would it be hard to list my NFT?
Candy explains the process in the following manner:
"Once logged into your account, you can list your NFTs in the Marketplace directly from your Collection. Additionally, users will have the ability to list items for a set price (auction and trade are not available at this time) and can edit listings as needed."
So, what would it take for me to sell this sucker?
Go into your NFT
Press View Details
You will be forwarded to a screen that says Identity Verification Required
After you verify your identity, you will be approved to sell. This process was not as straightforward as it could be. More on that later.
Set a price for your NFT on the Marketplace.
You will receive email updates when your NFT has been listed and when it has been sold.
The MLB Candy Marketplace Review Of Identity Verification
Candy will need to verify you before selling NFTs on their platform, as I mentioned above. Here is what the Candy FAQ section has to say about the process:
To transact on the Marketplace, all sellers and collectors will be required to verify their identity through an automated system. It is necessary for regulatory compliance and to help protect purchases.
At the launch of our Marketplace, if required to pass through identity verification, you will need to provide several pieces of information. This includes a legal name and date of birth, as well as a photo of your government-issued I.D. that is not expired, includes your residence or nationality, and bears a photograph. As well, U.S. residents may use a Social Security Number.
To successfully verify your identity, you will need to ensure the following:
The name that you are entering during the verification process matches the name associated with your Candy profile exactly
Your birthdate is entered in the correct format: 4 digit year, 2 digit month, 2 digit date
Your selfie is taken in good lighting
How Does Verification Work In Practice?
The theory is all well and good. But how easy is it to enlist in reality? Well, first, make sure that your pop-up blocker is disabled or that you whitelist the Candy site. Otherwise, you will not get the verification prompts.
The process was hardly smooth. First, you will be asked to scan your I.D.'s front and then back in two separate scans. Then you will be asked to take a selfie. It is best to do all this with your phone. They have a process for your laptop, but it is more cumbersome.
The Problems I Had With Verification
It is impossible to navigate back to the menu after you send in the scans and selfies they ask for. So I had to go out of the system and then back again. Great!
Once you have scanned your I.D. and taken the selfie, it takes a few minutes for Candy to process and verify your identity. Then I received an email from Candy saying they had failed to verify me. I have no idea why. So, I tried it again. It failed again.
Meanwhile, my Candy account kept logging out. So I emailed their customer service people and awaited a reply. Needless to say, I was not super impressed with the Marketplace so far.
I am not too proud to say that I pulled a "Karen" and emailed the help desk while telling them I was writing a review of the platform. This worked wonders, and I was soon verified.
What Happened Once I Was Registered
Was it smooth sailing from then on? Not exactly. I tried to list my NFT, and my entire Safari web browser froze. So, I reloaded and tried again.
This time it worked. I listed my Houston Astros NFT for $20 to see what would happen. To my surprise, it sold within precisely seven minutes. Of course, that probably means the price was too reasonable. But it also shows that the Marketplace is highly active, and people are waiting to swoop in. That is an excellent sign for the platform.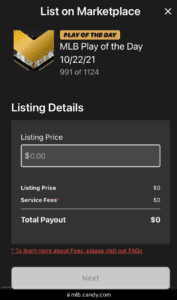 The Bottomline Of The MLB Candy Marketplace Review
The MLB Candy Marketplace has plenty of kinks to work out. In particular, I found the authentication process to be annoying and dysfunctional. Another problem is that the selection of NFTs available on the platform is limited and uninspiring.
Nonetheless, my ultimate view of the enterprise is positive. The Candy NFTs are attractive and different from their Top Shot and Topps NFT equivalents. And the users seem to agree. The Marketplace is buzzing, and NFTs are snapped up as soon as they are placed for sale.
The lack of variety in the offering is understandable since the platform is relatively new, and we are currently off-season. However, with Candy's money and talented team behind them and the weight of backing from the MLB itself, I firmly believe that the company has a bright future in the NFT baseball space.