2021 National Sports Collectors Convention Guide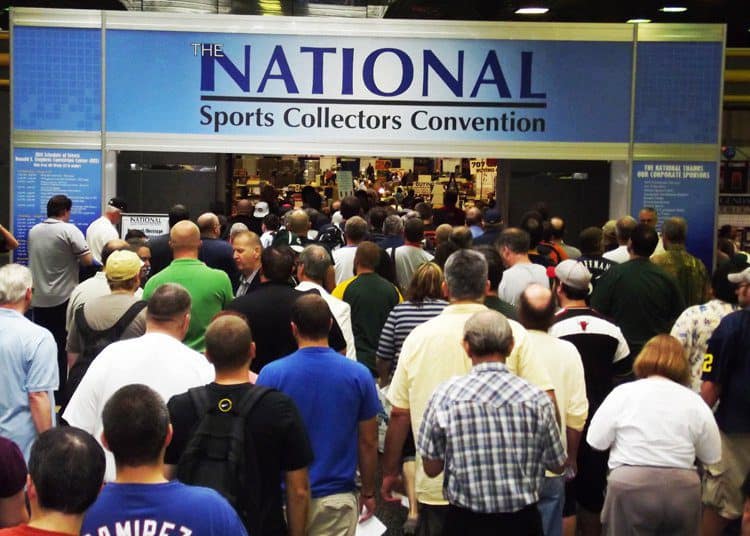 The 41st National Sports Collectors Convention is just around the corner. From July 28-August 1, some of the most passionate sports card fans and collectors from around the world will meet in Chicago to buy, sell and trade pieces of their collection. So here it is, the Cardlines National Sports Collectors Convention Guide.
Background On The National Sports Collectors Convention
The first-ever NSCC was held in 1980 by a group of collectors who gathered in a small hotel ballroom at the Los Angeles International Airport Marriott. Since then, it has met annually and has become known as the premier showcase of the collectibles industry. The convention moves around the country so that everyone can contribute. Not only will sports fans find sports cards, but they'll also find autographs and other related memorabilia up for sale.
Is The National Sports Collectors Convention Worth Attending
Yes, it's worth attending on a variety of different levels.
But first, I'll say this: if your only concern is making money off cards, then no. Don't go. Stay home and continue to look for cards on eBay using some of the strategies we've written about before. You might get some good deals from the NSCC, but you're still paying for admission, travel, lodging, and other traveling expenses.
But the NSCC isn't only about making money—not to the people there. It's experiential. While the collectors are always looking to haggle and make deals, the charm of the convention is the way you get to connect with other collectors across the country as you move cards or build out your collection.
For that reason alone, every passionate collector should attend at least once.
The National Sports Collectors Convention Guide: Indispensable Advice
If you are planning to attend, you will need some practical advice. Here is your one-stop guide.
How To Attend
To attend, you'll need a ticket.
There are three types of tickets: general admission, VIP, and Super VIP, but only general admission tickets are still available. They cost $19 if you order online and $22 on-site, and general admission tickets are good for one day only, but any day of the week. You can order yours here. And don't forget, children under 12 get in free.
The other travel recommendation to know is hotel rooms can be acquired at a discounted rate through Conference Housing, the Official Housing Bureau of The National Sports Collectors Convention. Learn more about contacting them here.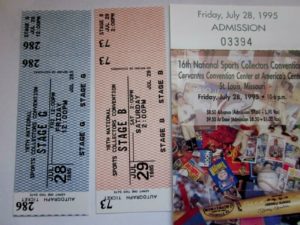 How To Sell Cards
Selling cards at the NSCC is challenging because it means getting a booth, and those are in hot demand. According to the website, "The National has sold out of booth space for the last several years. The 2020 National (which was later moved to 2021) was completely sold out before we left Chicago in 2019."
But there's hope if you want to sell cards at the next national. It just takes a little luck.
As the website goes on to explain, "Booths for the next National are selected at the Booth Selection Lottery held Friday-Sunday during each National. Dealers who have registered and exhibited at a receive a Priority Point for every National they have done. At the Lottery, the first group to select are those who have exhibited at the most previous Nationals and therefore have the highest priority…The selection process continues moving down in priority until all Priorities have selected space or until all booth space has been selected.  If space is still available, dealers with no previous Priority are permitted to select booths. You will then have to deposit 50% of the cost of the space selected must be paid before a space is selected."
In other words, it's a luck-based lottery selection process where people who have been at it the longest have the best chances of getting the space. Sadly, no tanking is allowed. Perhaps they'll consider a play-in tournament in the future.
If you're interested in looking at a list of 2021 dealers or the 2021 floorplan or reading more about the 2022 Notice of Intent to Exhibit, here's the place to look.
How To Buy Cards
Buying cards is easy. Most booths will let you pay with a credit card or PayPal, but cash is still king of the convention.
It's also often possible to trade for cards, but that's strictly up to the dealer. However, it never hurts to ask.
Be prepared to make lots of offers. At a convention like the NSCC, price tags are more like… suggestions. A few dealers might be strict about the price tag, but you'll find many more that would instead work with you on price.
And here's a good tip to keep in mind: real collectors are passionate sports fans. It's a different scene than the typical retail kiosk. So if you can chat, shake hands, swap stories, and bond, not only might the prices come down a bit, but you might also make a friend in the hobby.
Tips For The National Sports Collectors Convention
If this is your first convention, here are some tips to keep in mind to make sure it goes flawlessly.
Dress Comfortably
Whether you're going for five days or just one, remember that this will be a busy convention where you'll be on your feet for long periods. Dress appropriately. This isn't a corporate conference—it's a room of collectors! Rock your favorite team's jersey if that's your thing. That might even get you some better prices at some booths (and hurt you at others.)
Bring Cash
As mentioned earlier, PayPal and credit cards are often excepted, but cash is the preferred means of a transaction at the NSCC. So bring as much cash as you are comfortable carrying.
Make Sure You Have Tme
There is a lot to see and do at the convention. From autograph signings featuring some legendary sports icons to interesting booths and activities, it's too much to experience in one day. If you can only make it for one day, don't let that stop you, but go in with a plan so you can see as much as possible.
Bring A List
If you have anything you're particularly looking for, it's a good idea to list what those items are so you don't get distracted by everything else. Have you ever gone into Walmart for avocados, forgot to write it down, then left with everything but avocados? No? That's just me? Well, either way, know what you're looking for so you can ensure you leave with your high-priority items or players.
Bring A Backpack
Once you buy cards, you need a place to put them. A backpack is a good approach—particularly one that includes an 800-count bock and some penny sleeves for any loose cards you buy. Also, as expected for a convention full of people walking around with wads of cash, the food is expensive, so it's not a bad idea to bring a few snacks and water.
Find The Promos
Card manufacturers love to get involved with the NSCC. Therefore, they run promos throughout the show. So be on the lookout for some cool prizes such as rare cards. These can range from scavenger hunts to anything else Panini or Topps dreams up, and while there's no early information about what it might look like this year, go prepared for something.
Bottomline Of The National Sports Collectors Convention Guide
A trip to the NSCC is well worth the price of admission for any collector who's looking for a fantastic experience. So stick to the pointers in this guide, and you'll be well on your way to an awesome weekend.