Notable May Sports Card Releases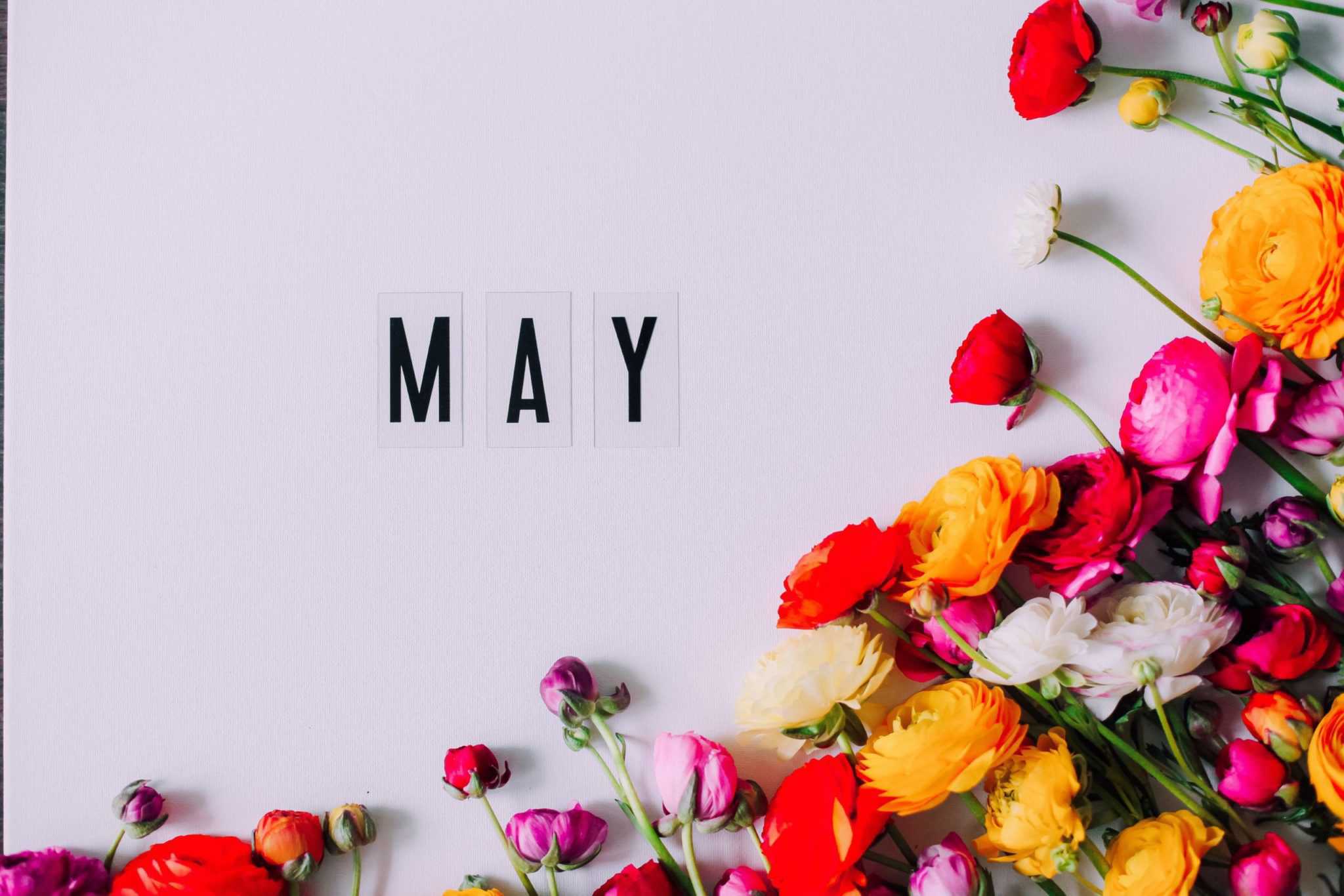 The NFL Draft is officially in the rearview mirror. Still, before we start welcoming the next generation of NFL players into collecting, we have some football releases featuring last year's rookie class. Additionally, basketball cards continue to release as the NBA Finals approach. Meanwhile, a few baseball releases of note are dropping in May, too. Here are the Cardlines May sports card releases picks. But please note: that the release schedules are fluid and move frequently. Therefore, the dates are not guaranteed.
Noteworthy Sports Card Releases For May
2021/22 Panini Court Kings Basketball (05/06)
Court Kings is a fun product. Its artistic, portrait-like cards and tiered rookie cards are always as eye-catching. At around $400/box, it's a reasonable price for some big-hit potential. This year's package comes with 1 autograph, 1 memorabilia card, 1 rookie card, 1 parallel, 2 inserts, and 4 base. However, you're not guaranteed a rookie autograph, so be prepared for potential disappointment.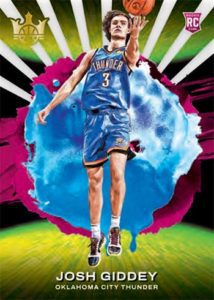 Look for Josh Giddey rookie cards on eBay.
2021/22 Panini Crown Royale Basketball (05/11)
What are boxes of Crown Royale going for on eBay?
Crown Royale has been around for over a decade now. The cards still look like they're suited for royalty – complete with a holofoil crown. This box is another 1 pack. The box contains 8 cards, and you can expect to pull 1 autograph, 1 memorabilia, and 2 inserts or parallels. Many of these cards are die-cut, so they can certainly look great but bear in mind that they can be brutal to grade. Also, you're not guaranteed an RC auto.
While Crown Royale and Court Kings are similar in structure, preferences vary. However, we recommend Court Kings as a more high-ceiling product.
2021 Panini Select Football (05/11)
Looking for 2021 Panini Select? Check out boxes on eBay.
Select is always an opti-chrome heavy-hitter, and this year will be no expectation. Instead, you can expect 12 packs of 5 cards per box. In addition, look for a whole rainbow (and then some) of colored parallels to chase. This year brings back the classic inserts and introduces Artistic Selections, PFirestorm, Future Franchise, and Color Wheel. Also, remember, the Select cards have three different "tiers," so be sure to pay close attention to the rarity of your cards.
The 2021 version brings back the XRC mystery RCs. However, the players will be drafted by the time you'll have a chance to pull the card. So much for "mystery."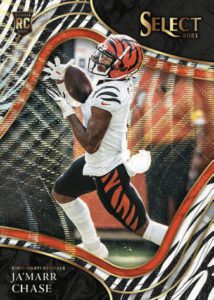 Like this Ja'marr Chase rookie? See what others are up on eBay.
2022 Topps Tribute Baseball (05/11)
Topps Tribute Baseball is an exceptional product on this list. Why? Because it's released on time. Okay, joking aside, Topps is closer to the traditional release schedule. The Tribute release includes 6 packs of 3 cards with a "top-end offering of high-class hits featuring stars, rookies, and legends of the game. You can also expect a mixture of 3 autographs and 3 relic cards per box." I'm not sure what "mixture" means in this context. But you do seem to enjoy 6 hits from the $430 product. Order now to pull rookies and cheer for them before their rookie year is over.
2022 Topps Sterling Baseball (05/18)
Topps Sterling is a long-running high-end baseball brand that shows no sign of slowing down in 2022. It has two packs per box with 1 card per pack – that's right, you can expect 2 total cards in this $950 box. Of the "mini-boxes" inside, they're themed and come "containing an autographed relic card numbered to 25 or less, OR a 1-of-1 relic or autographed relic card (2 per case)." Again, this is a bit confusing. Topps might need to invest in a good copywriter for product release notes (P.S. call me). Either way, excellent product with massive potential but also considerable risk.
See what other awesome Shohei Ohtani rookies are available on eBay.
2021 Panini Flawless Football (05/18)
Want a box of 2021 Flawless Football? eBay has them for you.
How do you know when you're opening a high-end football product? It comes in a briefcase. If you've never watched a Flawless break, check one out. Each box is actually a briefcase. You can carry it to your next card show for ultimate collector clout.
The product is like last year: it contains 1 pack of 10 cards. Meanwhile, all cards are numbered 25 or less, and the autos are on-card. Of the 10 cards, expect 6 autographs, 1 or 2 gem cards, and 2 or 3 memorabilia cards per box (erm, briefcase). There are also on-card booklet autographs featuring rookie booklets, veteran booklets, Signature Gems, Flawless Duals, and Super Bowl Gems. This product doesn't have a price tag yet but expect one in the five figures.
2021/22 Panini Mosaic Premier League Soccer (5/25)
Mosaic has been well-received since it was released as a basketball product in 2019-20. Since then, it has insistently spread to every major sport. With 2021/22 Premier League Soccer, it brings the dazzling mosaic design to the most popular global sport. There's a 200-card base set featuring players from all 20 Premier League clubs. Hobby boxes contain 10 packs of 15 cards. Each box has 1 auto, 5 silvers, 15 mosaics, and 20 inserts/insert parallels. Additionally, Stained Glass and Overdrive return as case hits.
Believe in Marc Guehi? Look for his RCs on eBay.
2021 Panini Obsidian Football (5/25)
Nothing says end of May '22 like a 2021 football release. So, Obsidian brings back a $500 box that contains 1 pack of 7 cards. You'll get 4 autographs or memorabilia cards, 2 parallels, and 1 base in each hobby box. And we have to say; Obsidian makes truly great-looking cards. They're electric etched (not sure what that means, but it looks cool) on opti-chrome cardstock, incorporating a lot of black and color contrast. Autographs include Matrix Material Autos, Lightning Strike, and Aurora Autos.
2021/22 Panini Impeccable Basketball (5/25)
May must be the month for high-end products because this is yet another to add to your calendar. Impeccable is a one-pack, 9 card box that contains 5 autographs, 3 base or parallels, and 1 silver insert, gold insert, or stainless stars non-auto. The Stainless stars are some of my personal favorite card designs every year. While they're not as much of a chase as some opti-chrome cards, they're eye-catching. Unfortunately, this product doesn't have a price yet, so monitor it as it gets closer to release. Previous years cost about $3,000, so tread lightly.
Bottomline On May Sports Card Releases
While Topps remains more or less on schedule for its May sports card releases, Panini continues to release highly delayed products. But don't let that stop you from investing in the right product. A couple of years later, no one will remember that Prizm was released several months late. What will matter is only the quality of the rookie class.
Other recent releases