Notable June Sports Card Releases
June will be a BIG month for collectors – particularly basketball and football collectors. Not only do we have three major Prizm releases on the schedule for June, but Panini is finishing up the 2021 Football run and kicking off the 2022 season to look ahead at the hot new rookies. Meanwhile, baseball is releasing Series 2, a sign the season is truly hitting its stride. What else ranks among the most notable June sports card releases?
Here are the Cardlines picks for releases to watch in June. But please note: the release schedules are very fluid and move frequently. Therefore, these dates are not guaranteed.
Noteworthy Sports Card Releases for June
2021/22 Bowman University Basketball  (06/01)
Bowman University was released in 2022 as a football product, and it provides an exciting value prop. Now that college players can be paid thanks to NIL, Topps is trying to become relevant in basketball and football by taking top college players and making them their first (unlicensed) card. The basketball product will cost just $190 and deliver 24 packs of 4 cards. There's a 100-card base set to look chase, including players who just finished their NCAA season and are preparing for the draft. In addition, this is the first chance to pull autographs of Chet Holmgren, Paulo Blanchero, Jabari Smith Jr, Jaden Ivey, and more. The classic Bowman refractors are back for this product, and you can expect two autographs per box.
2021 Panini Prizm Football (06/03)
Finally, it's time for Prizm. It is the brand that some collectors will trade their firstborn to get their hands on. So you can reasonably expect to see tents pitched in the Walmart or Target card aisle as collectors await the shelf-stockers. But there's a reason for the excitement: Prizm delivers one of the most big-money potential lineups of cards on that market with a rainbow of colorful prizms and rookie autographs that can turn into big money if you get lucky. Between new prizms and the return of the Color Blast, there will be several five-figure cards coming out of a product like this. Each box has 2 autos, 10 numbered Prizms, 4 silver prizms, 24 rookies, and 5 inserts, and it will cost $1,599.
2021/22 Panini Noir Basketball (6/08)
What is a box going for on eBay?
Noir is a high-end product that nobody asked for. Visually, it's based on crime dramas from the 1920s. (I've always wondered what Panini product specialist said, "Hey, you know what would be a great idea for a product design…" and then suggested this), and while that might seem a bit unusual, it has some lovely cards. Each box will probably cost 4-figures and will contain 3 base or parallel cards, 3 memorabilia cards, and 4 autos. It's a lot of hits, but Noir has never been a product that feels like it will age tremendously well. It's too "themed." But, hey, if it's your thing, go for it!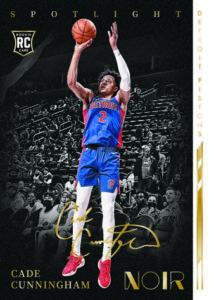 2022 Topps Series 2 Baseball (06/08)
Look for a box of the flagship release on eBay. 
Series 2 of the iconic flagship release will drop this month, not long before the All-Star break. There is a good deal of speculation about which rookies will be included, and we have our thoughts on the matter. Topps Series 2 Hobby Boxes are made for collectors who enjoy ripping packs of cards at volume without shelling out the big bucks. 2022 Topps Series 2 baseball hobby boxes come at just $130 and include 24 packs of 14 cards per back. In addition, each hobby box contains an autograph or relic, while there's the HTA Jumbo box that gives you more cards, including an autograph and 2 relics.
2021/22 Panini Obsidian Soccer (6/10)
What is the lowest ask on StockX?
True to its name, Obsidian has a lineup of dark cards that truly feel artistic. The glossy opti-chrome cards sport unique designs and "taking inspiration from naturally occurring volcanic glass; all cards feature black as the primary color." In addition, the product contains 4 autographs or memorabilia cards in the 1 pack, 7 card box. As a soccer product, Panini notes, "Obsidian features the best Clubs and National Teams in the world! Collect teams such as Real Madrid CF, Chelsea FC, Borussia Dortmund, France, Belgium, Italy, the United States, and many more. Also, look for players from all 20 Premier League Teams, including Manchester United, Arsenal, West Ham United, and Brighton & Hove Albion." One of the most popular inserts, the Color Blast, will be gracing Obsidian Soccer this season.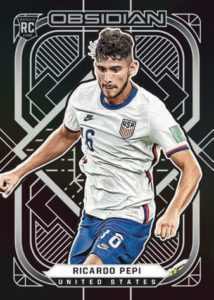 Panini Obsidian Football (06/10)
Obsidian collectors have a big day, with two obsidian drops in on May 10th. Obsidian brings back a $500 box that contains 1 pack of 7 cards for football. In addition, you'll get 4 autographs or memorabilia cards, 2 parallels, and 1 base of these cards. Obsidian does make great-looking cards. They are electrically etched (not sure what that means, but it looks cool) on opti-chrome cardstock, incorporating a lot of black and color contrast. Autographs include Matrix Material Autos, Lightning Strike, and Aurora Autos.
2021 Panini Flawless Football (06/15)
How do you know when you're opening a high-end football product? It comes in a briefcase. Seriously, if you've never watched a Flawless break, check one out. Each box comes in a fully functional briefcase. So, you can carry it to your next card show for ultimate collector clout.
The product is like last year: 1 pack of 10 cards and all cards are numbered to 25 or less and on-card or cut autographs. Of the 10 cards, expect 6 on-card autographs, 1 or 2 gem cards, and 2 or 3 memorabilia cards per box (erm, briefcase). There are also on-card booklet autographs featuring rookie booklets, veteran booklets, Signature Gems, Flawless Duals, and Super Bowl Gems. This product doesn't have a price tag yet, but you can expect it to be in the five figures.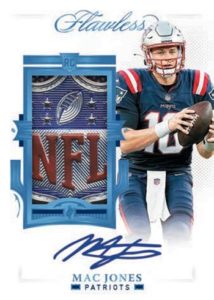 2022 Panini Draft Picks Football (06/15)
More Prizm! If the schedule holds, 2021 Prizm football and 2022 Prizm Draft Picks football will be launching a week apart. If I worked for Panini, I'd call it "cannibalized sales," but I call it "luck as a collector." This product's $240 hobby boxes contain 4 packs of 10 cards per pack, and each pack contains an autograph. In total, you can look for 4 autos, 4 silver prizms, and 8 other prizms. There will also be color blast cards in the Draft Picks boxes. I ripped some last year, this is a fun product, but it has a shelf-life. Since the players are in their college uniforms, it's not nearly as sexy as actual Prizm, but it's also the chance to pull the first licensed autos of many NFL stars.
2021 Contenders Optic Football (06/22)
Contenders Optic is the opti-chrome version of Contenders, but Panini leans in on this product's big-risk, big-reward mindset. Each box has 1 pack of 6 cards, and you can expect to pull 2 autographs, 2 base, 1 insert, and 1 parallel. Panini notes you can "chase on-card autographs from all of the top rookies you know and love, including Trevor Lawrence, Zach Wilson, Trey Lance, Ja'Marr Chase, and many more. However, it's also not a product that is viewed as significantly more valuable than Panini Contenders. Since the non-optic version has been around for a while, it's iconic. Unfortunately, making something shiny doesn't always make it better.
2021/22 Panini Prizm Basketball (06/22)
The same thing I said about Prizm football applies to Prizm basketball. For most collectors, the Prizm release is Christmas for sports cards and the most notable among the June sports card releases. Therefore, we all look forward to the big "mark your calendars" day. Prizm Basketball is coming in hot with a pre-order price of $1899, and each box will include 2 autographs ranging from Sensational Signatures, Flashback Signatures, and Hobby-exclusive Rookie Signatures. You'll also expect to find 22 prizms per hobby box in addition to 10 inserts. There will be a lot of new inserts this year, too. Look for Prizmatic, Fireworks, Widescreen, Mindset, Fearless, and two new inserts celebrating the 75th season of the NBA in NBA 75th Logo Hobby and 75 Years of the NBA.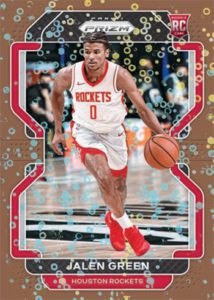 Bottomline On June Sports Card Releases 
June has some landmark releases, most notably the two big Prizm releases. So, many new shiny things are competing for your attention. Before you splurge, sit back and get your priorities straight. Ask yourselves what the most important releases for your personal collection are and what will age well. This month is going to be awesome.
Other recent releases