Panini Obsidian Football 2022 Review: Is It Worth The Investment? [Checklist Updated]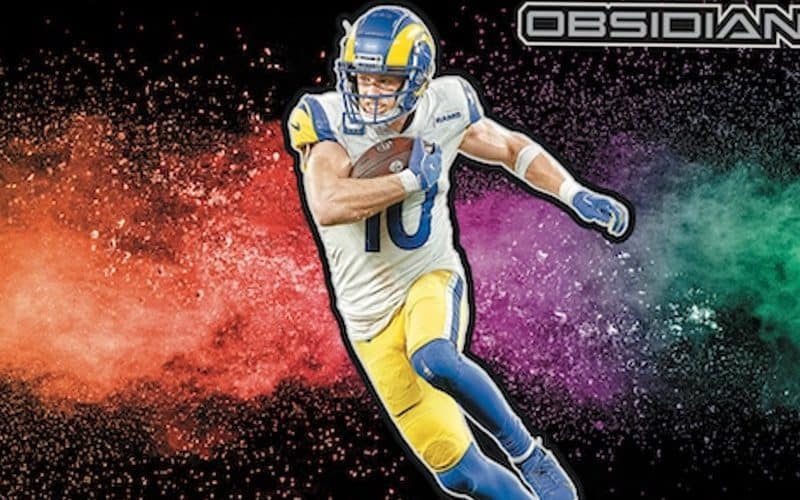 With a release date of March 24th, 2023, Obsidian Football is back for another year and ready to black out our take on football cards.
The seven card boxes carry risk at $500 per box, but in this article, we'll break down the product, what you can pull from it, and most importantly, decide the best way to approach Obsidian as investors.
Shop for 2022 Panini Obsidian Football boxes on eBay
2022 Panini Obsidian Football product Introduction
Panini Obsidian Football, named after the volcanic glass, is known for its sleek, black design and unique cardstock.
Obsidian Football was first released in 2018 and has since become a popular choice among collectors. While it's not one of the most popular brands, per se, it can be one of the most valuable. The cards look great and the right low-numbered pull can easily be a 4-figure card.
Each box typically contains 4 autographs or memorabilia card, and 1 base cards and 2 electric etch parallels. Some boxes may also include additional inserts or autographs.
Shop for 2022 Panini Obsidian Football boxes on eBay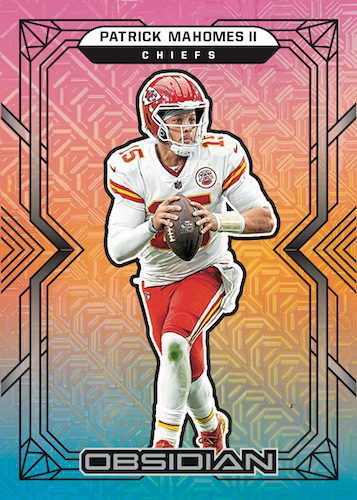 What's new in Panini 2022 Obsidian Football?
Going into its fifth release, Obsidian has done a good job innovating the design and offering to demand popularity. It's a tough sell at $500/box, which is what the 2022 cards are releasing for, but the brand has done its best to make that kind of price at least feel reasonable.
This year continues the same trend of innovation.
The Electric Etch Parallels are some of the nicest-looking football cards to hit that market every year, and they return as the parallels to chase in Obsidian.
There's also an Obsidian version of the Color Blast SSP called "Color Blast Black," which darkens the color blast card but still demands a big resell price. Also returning are Tunnel Vision, Super Nova, and Vitreous inserts.
Shop for 2022 Panini Obsidian Football boxes on eBay
So what's new in 2022? This year introduces the Electric Etch Neon Mojo Parallel, which will be /5, and new sets include Magmatic Signatures, Orbital, and Galaxy Ink
As far as the autographs go, here's the lineup and who you can expect to pull:
Rookie Jersey Autos: No need to explain this one. The name's as on-the-nose as possible.
Rookie Jersey Ink: Another version of an RPA. These appear to be vertical while the Rookie Jersey Autos are horizontal cards.
Aurora Autogs, Lighting Strix, Matrix Material Autos: Different sets that highlight past and present stars. Veterans and retired players.
Galaxy Inx and Magmatic Signatures: Galaxy Ink appears to be more retired players, based on the checklist, while Magmatic Signatures is more active vets, except for Zach Wilson, who might be retired soon.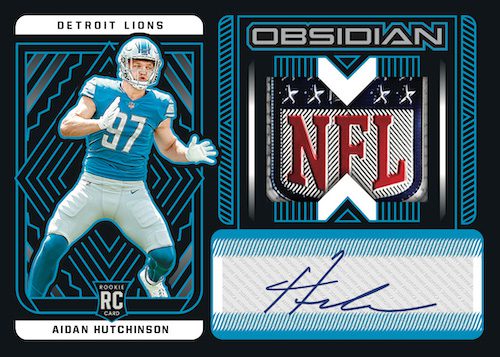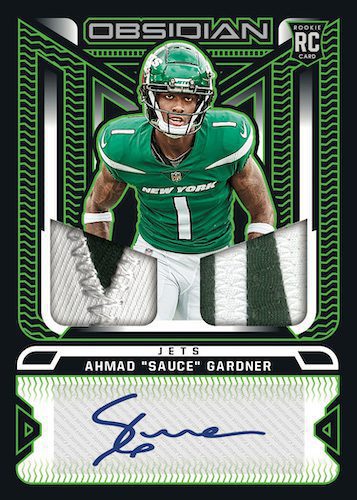 The 2022 Obsidian Football formats
Obsidian will be released in two formats. Here's a breakdown of everything we can expect.
2022 Obsidian Football Hobby Box
4 autographs or memorabilia
2 parallels or inserts
1 base card
Shop for 2022 Panini Obsidian Football boxes on eBay
2022 Obsidian Football FOTL bobby box
1 Rookie Jersey Auto Purple Flood (#/35) or White Mojo (#/10)
3 Additional Autographs or Relics
1 Purple Flood Parallel (#/16)
1 Additional Parallel or Insert
1 Base
Shop for 2022 Obsidian Football FOTL hobby boxes on eBay
2022 Obsidian Football checklist
One thing that's notable about Obsidian cards is that they're progressively getting less… Obsidian. The dark-background cards have more color introduced every year, from parallels to the Electrc Etch cards.
Here's a look at this year's hobby colors:
Electric Etch Contra
Electric Etch Purple – #/100
Electric Etch Orange – #/75
Electric Etch Green – #/50
Electric Etch Red Flood – #/29
Electric Etch Yellow – #/25
Electric Etch Purple Flood – #/16
Electric Etch Gold Flood – #/10
Electric Etch Red – #/10
Electric Neon Mojo – #/5
Electric Etch Blue Finite – 1/1
Panini 2022 Obsidian Football value
If you're hoping to invest in Obsidian 2022, the first question to answer is if you should buy singles or wax.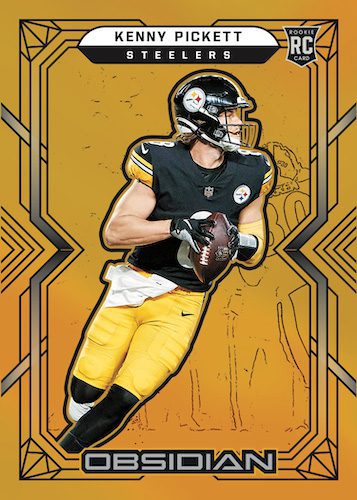 Wax value
Let's look at the two most popular formats of Obsidian.
Hobby Boxes
This year's Obsidian boxes are selling for $500 pre-order. Let's look at the last few years of Obsidian and recent sales (as of 3/23/23):
| Release | Value |
| --- | --- |
| 2018 Obsidian Football | $775 |
| 2019 Obsidian Football | $350 |
| 2020 Obsidian Football | $1050 |
| 2021 Obsidian Football | $530 |
Shop for your own Obsidian football hobby boxes right here.
The assessment here is going to be a lot like the other value analyst I've offered for 2022 brands: the pitfall of the value in this class with be the rookies.
As you can see above, the rookies included make a huge difference. 2019 is the weakest rookie class on this list, while 2020 (with Burrow, Herbert, Jefferson and more) is by far the best. The difference is reflected in the price.
That said, age and print runs should both be considered. The older the product is, the more valuable it should become since it's harder to find sealed. And recent releases (2020 and later, I'd say), have a higher print run when Panini really kicked it into overdrive. This lowers value. We can't see for certain, but I'd bet 2018 Obsidian has half the print run of 2022 (or even less).
There's no secret that the 2022 class isn't exciting. The best player is Sauce Garner, and defensive cards never hold value long-term. With this in mind, consider 2019 a better recent comp than any of the other draft classes listed above. And, if that's the case, don't buy into Obsidian 2022 at the release price. It will drop, and if it hits around $300 or $350, that's the time to get some exposure to it.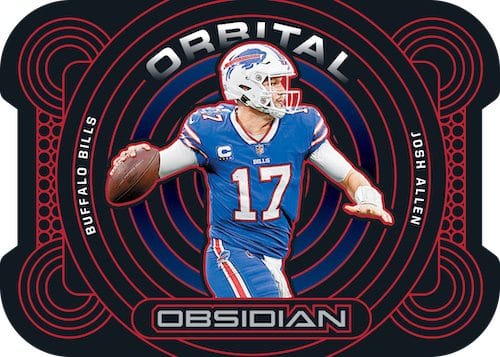 Obsidian Football 2022 singles value
Thanks to the low print run, Obsidian Singles is an attractive investment. It's a brand that is pretty mainstream as far as 7-card boxes go, so having the right RPA from Obsidian could translate to big bucks down the road.
But caution: don't buy the first Obsidian cards that appear on eBay for this year. The price will inevitably drop as the supply meets the demand.
Bottomline of the 2022 Obsidian Football review
While the Obsidian 2022 release might be coming significantly later than we'd hope and most collectors are already eyeing 2023, it still provides some beautiful cards that can demand a pretty penny if you have the right pulls.
2022 Obsidian Football is not a must-buy by any means. I'll almost certainly stay away. It's not a great rip, either—probably better to hold sealed or buy singles.
What do you plan on doing with 2022 Obsidian? Let us know on Twitter @card_lines, and be sure to sign up for our free newsletter, delivering hobby news into your inbox twice a week.
Shop for 2022 Obsidian Football hobby boxes on eBay
Full 2022 Obsidian Football checklist
| wdt_ID | Set | Player | Team | Position | Card number | Number of cards |
| --- | --- | --- | --- | --- | --- | --- |
| 1 | Atomic Material | Dalvin Cook | Minnesota Vikings | RB | 1 | 125 |
| 2 | Atomic Material | Joe Mixon | Cincinnati Bengals | RB | 2 | 125 |
| 3 | Atomic Material | AJ Dillon | Green Bay Packers | RB | 3 | 125 |
| 4 | Atomic Material | Travis Etienne Jr. | Jacksonville Jaguars | RB | 4 | 125 |
| 5 | Atomic Material | Derrick Henry | Tennessee Titans | RB | 5 | 125 |
| 6 | Atomic Material | Ezekiel Elliott | Dallas Cowboys | RB | 6 | 125 |
| 7 | Atomic Material | David Montgomery | Chicago Bears | RB | 7 | 125 |
| 8 | Atomic Material | Eli Mitchell | San Francisco 49ers | RB | 8 | 125 |
| 9 | Atomic Material | Clyde Edwards-Helaire | Kansas City Chiefs | RB | 9 | 125 |
| 10 | Atomic Material | Tee Higgins | Cincinnati Bengals | WR | 10 | 125 |
| 11 | Atomic Material | Davante Adams | Las Vegas Raiders | WR | 11 | 125 |
| 12 | Atomic Material | James Robinson | New York Jets | RB | 12 | 125 |
| 13 | Atomic Material | Deebo Samuel | San Francisco 49ers | WR | 13 | 125 |
| 14 | Atomic Material | Tyreek Hill | Miami Dolphins | WR | 14 | 125 |
| 15 | Atomic Material | Chris Godwin | Tampa Bay Buccaneers | WR | 15 | 125 |
| 16 | Atomic Material | Rashod Bateman | Baltimore Ravens | WR | 16 | 125 |
| 17 | Atomic Material | Courtland Sutton | Denver Broncos | WR | 17 | 125 |
| 18 | Atomic Material | Elijah Moore | New York Jets | WR | 18 | 125 |
| 19 | Atomic Material | DeVonta Smith | Philadelphia Eagles | WR | 19 | 125 |
| 20 | Atomic Material | Amon-Ra St. Brown | Detroit Lions | WR | 20 | 125 |
| 21 | Atomic Material | Justin Herbert | Los Angeles Chargers | QB | 21 | 125 |
| 22 | Atomic Material | Aaron Rodgers | Green Bay Packers | QB | 22 | 125 |
| 23 | Atomic Material | Derek Carr | Las Vegas Raiders | QB | 23 | 125 |
| 24 | Atomic Material | Tua Tagovailoa | Miami Dolphins | QB | 24 | 125 |
| 25 | Atomic Material | Davis Mills | Houston Texans | QB | 25 | 125 |
| 26 | Atomic Material | Matthew Stafford | Los Angeles Rams | QB | 26 | 125 |
| 27 | Atomic Material | Dallas Goedert | Philadelphia Eagles | TE | 27 | 125 |
| 28 | Atomic Material | Nick Chubb | Cleveland Browns | RB | 28 | 125 |
| 29 | Atomic Material Electric Etch Blue Finite | Dalvin Cook | Minnesota Vikings | RB | 1 | 1 |
| 30 | Atomic Material Electric Etch Blue Finite | Joe Mixon | Cincinnati Bengals | RB | 2 | 1 |
| 31 | Atomic Material Electric Etch Blue Finite | AJ Dillon | Green Bay Packers | RB | 3 | 1 |
| 32 | Atomic Material Electric Etch Blue Finite | Travis Etienne Jr. | Jacksonville Jaguars | RB | 4 | 1 |
| 33 | Atomic Material Electric Etch Blue Finite | Derrick Henry | Tennessee Titans | RB | 5 | 1 |
| 34 | Atomic Material Electric Etch Blue Finite | Ezekiel Elliott | Dallas Cowboys | RB | 6 | 1 |
| 35 | Atomic Material Electric Etch Blue Finite | David Montgomery | Chicago Bears | RB | 7 | 1 |
| 36 | Atomic Material Electric Etch Blue Finite | Eli Mitchell | San Francisco 49ers | RB | 8 | 1 |
| 37 | Atomic Material Electric Etch Blue Finite | Clyde Edwards-Helaire | Kansas City Chiefs | RB | 9 | 1 |
| 38 | Atomic Material Electric Etch Blue Finite | Tee Higgins | Cincinnati Bengals | WR | 10 | 1 |
| 39 | Atomic Material Electric Etch Blue Finite | Davante Adams | Las Vegas Raiders | WR | 11 | 1 |
| 40 | Atomic Material Electric Etch Blue Finite | James Robinson | New York Jets | RB | 12 | 1 |
| 41 | Atomic Material Electric Etch Blue Finite | Deebo Samuel | San Francisco 49ers | WR | 13 | 1 |
| 42 | Atomic Material Electric Etch Blue Finite | Tyreek Hill | Miami Dolphins | WR | 14 | 1 |
| 43 | Atomic Material Electric Etch Blue Finite | Chris Godwin | Tampa Bay Buccaneers | WR | 15 | 1 |
| 44 | Atomic Material Electric Etch Blue Finite | Rashod Bateman | Baltimore Ravens | WR | 16 | 1 |
| 45 | Atomic Material Electric Etch Blue Finite | Courtland Sutton | Denver Broncos | WR | 17 | 1 |
| 46 | Atomic Material Electric Etch Blue Finite | Elijah Moore | New York Jets | WR | 18 | 1 |
| 47 | Atomic Material Electric Etch Blue Finite | DeVonta Smith | Philadelphia Eagles | WR | 19 | 1 |
| 48 | Atomic Material Electric Etch Blue Finite | Amon-Ra St. Brown | Detroit Lions | WR | 20 | 1 |
| 49 | Atomic Material Electric Etch Blue Finite | Justin Herbert | Los Angeles Chargers | QB | 21 | 1 |
| 50 | Atomic Material Electric Etch Blue Finite | Aaron Rodgers | Green Bay Packers | QB | 22 | 1 |
| 51 | Atomic Material Electric Etch Blue Finite | Derek Carr | Las Vegas Raiders | QB | 23 | 1 |
| 52 | Atomic Material Electric Etch Blue Finite | Tua Tagovailoa | Miami Dolphins | QB | 24 | 1 |
| 53 | Atomic Material Electric Etch Blue Finite | Davis Mills | Houston Texans | QB | 25 | 1 |
| 54 | Atomic Material Electric Etch Blue Finite | Matthew Stafford | Los Angeles Rams | QB | 26 | 1 |
| 55 | Atomic Material Electric Etch Blue Finite | Dallas Goedert | Philadelphia Eagles | TE | 27 | 1 |
| 56 | Atomic Material Electric Etch Blue Finite | Nick Chubb | Cleveland Browns | RB | 28 | 1 |
| 57 | Atomic Material Electric Etch Green | Dalvin Cook | Minnesota Vikings | RB | 1 | 50 |
| 58 | Atomic Material Electric Etch Green | Joe Mixon | Cincinnati Bengals | RB | 2 | 50 |
| 59 | Atomic Material Electric Etch Green | AJ Dillon | Green Bay Packers | RB | 3 | 50 |
| 60 | Atomic Material Electric Etch Green | Travis Etienne Jr. | Jacksonville Jaguars | RB | 4 | 50 |
| 61 | Atomic Material Electric Etch Green | Derrick Henry | Tennessee Titans | RB | 5 | 50 |
| 62 | Atomic Material Electric Etch Green | Ezekiel Elliott | Dallas Cowboys | RB | 6 | 50 |
| 63 | Atomic Material Electric Etch Green | David Montgomery | Chicago Bears | RB | 7 | 50 |
| 64 | Atomic Material Electric Etch Green | Eli Mitchell | San Francisco 49ers | RB | 8 | 50 |
| 65 | Atomic Material Electric Etch Green | Clyde Edwards-Helaire | Kansas City Chiefs | RB | 9 | 50 |
| 66 | Atomic Material Electric Etch Green | Tee Higgins | Cincinnati Bengals | WR | 10 | 50 |
| 67 | Atomic Material Electric Etch Green | Davante Adams | Las Vegas Raiders | WR | 11 | 50 |
| 68 | Atomic Material Electric Etch Green | James Robinson | New York Jets | RB | 12 | 50 |
| 69 | Atomic Material Electric Etch Green | Deebo Samuel | San Francisco 49ers | WR | 13 | 50 |
| 70 | Atomic Material Electric Etch Green | Tyreek Hill | Miami Dolphins | WR | 14 | 50 |
| 71 | Atomic Material Electric Etch Green | Chris Godwin | Tampa Bay Buccaneers | WR | 15 | 50 |
| 72 | Atomic Material Electric Etch Green | Rashod Bateman | Baltimore Ravens | WR | 16 | 50 |
| 73 | Atomic Material Electric Etch Green | Courtland Sutton | Denver Broncos | WR | 17 | 50 |
| 74 | Atomic Material Electric Etch Green | Elijah Moore | New York Jets | WR | 18 | 50 |
| 75 | Atomic Material Electric Etch Green | DeVonta Smith | Philadelphia Eagles | WR | 19 | 50 |
| 76 | Atomic Material Electric Etch Green | Amon-Ra St. Brown | Detroit Lions | WR | 20 | 50 |
| 77 | Atomic Material Electric Etch Green | Justin Herbert | Los Angeles Chargers | QB | 21 | 50 |
| 78 | Atomic Material Electric Etch Green | Aaron Rodgers | Green Bay Packers | QB | 22 | 50 |
| 79 | Atomic Material Electric Etch Green | Derek Carr | Las Vegas Raiders | QB | 23 | 50 |
| 80 | Atomic Material Electric Etch Green | Tua Tagovailoa | Miami Dolphins | QB | 24 | 50 |
| 81 | Atomic Material Electric Etch Green | Davis Mills | Houston Texans | QB | 25 | 50 |
| 82 | Atomic Material Electric Etch Green | Matthew Stafford | Los Angeles Rams | QB | 26 | 50 |
| 83 | Atomic Material Electric Etch Green | Dallas Goedert | Philadelphia Eagles | TE | 27 | 50 |
| 84 | Atomic Material Electric Etch Green | Nick Chubb | Cleveland Browns | RB | 28 | 50 |
| 85 | Atomic Material Electric Etch Orange | Dalvin Cook | Minnesota Vikings | RB | 1 | 75 |
| 86 | Atomic Material Electric Etch Orange | Joe Mixon | Cincinnati Bengals | RB | 2 | 75 |
| 87 | Atomic Material Electric Etch Orange | AJ Dillon | Green Bay Packers | RB | 3 | 75 |
| 88 | Atomic Material Electric Etch Orange | Travis Etienne Jr. | Jacksonville Jaguars | RB | 4 | 75 |
| 89 | Atomic Material Electric Etch Orange | Derrick Henry | Tennessee Titans | RB | 5 | 75 |
| 90 | Atomic Material Electric Etch Orange | Ezekiel Elliott | Dallas Cowboys | RB | 6 | 75 |
| 91 | Atomic Material Electric Etch Orange | David Montgomery | Chicago Bears | RB | 7 | 75 |
| 92 | Atomic Material Electric Etch Orange | Eli Mitchell | San Francisco 49ers | RB | 8 | 75 |
| 93 | Atomic Material Electric Etch Orange | Clyde Edwards-Helaire | Kansas City Chiefs | RB | 9 | 75 |
| 94 | Atomic Material Electric Etch Orange | Tee Higgins | Cincinnati Bengals | WR | 10 | 75 |
| 95 | Atomic Material Electric Etch Orange | Davante Adams | Las Vegas Raiders | WR | 11 | 75 |
| 96 | Atomic Material Electric Etch Orange | James Robinson | New York Jets | RB | 12 | 75 |
| 97 | Atomic Material Electric Etch Orange | Deebo Samuel | San Francisco 49ers | WR | 13 | 75 |
| 98 | Atomic Material Electric Etch Orange | Tyreek Hill | Miami Dolphins | WR | 14 | 75 |
| 99 | Atomic Material Electric Etch Orange | Chris Godwin | Tampa Bay Buccaneers | WR | 15 | 75 |
| 100 | Atomic Material Electric Etch Orange | Rashod Bateman | Baltimore Ravens | WR | 16 | 75 |
| | Set | Player | Team | Position | Card number | Number of cards |