PSA Resumes Regular Grading: Your Full Guide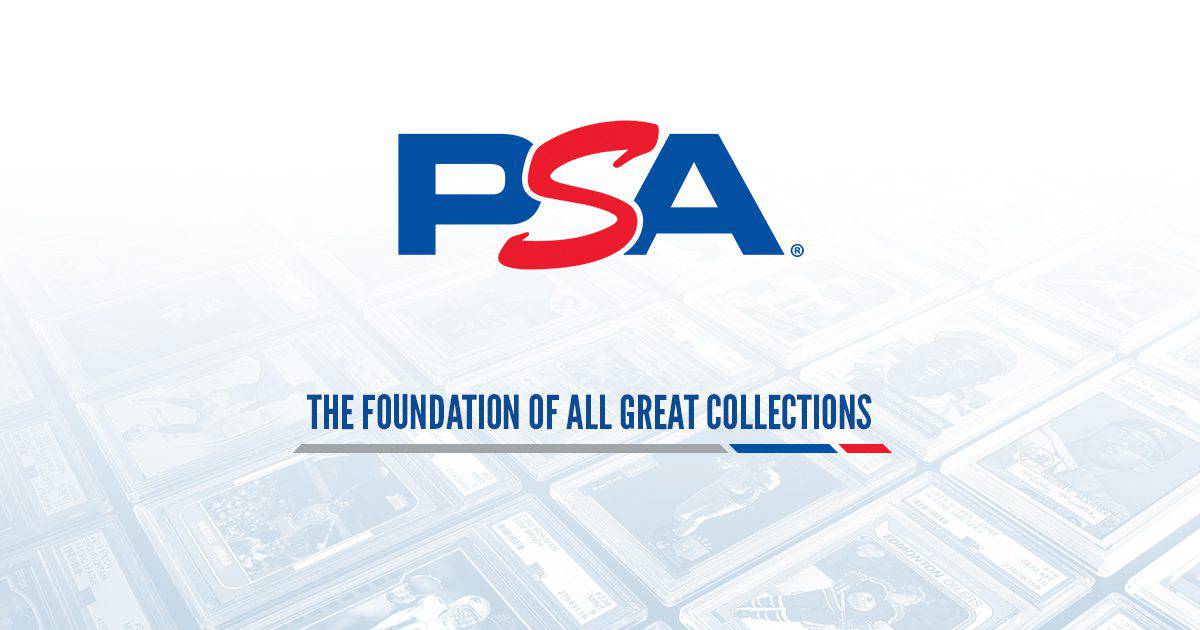 The hobby is abuzz with the news. PSA resumes Regular grading! Sort of. We have the full story on this development and its meaning for you.
On November 14th, Nat Turner, the CEO of Collectors Universe, posted on his Instagram: "Regular returns in two weeks." Collectors Universe is the parent company of PSA. Therefore, the hobby began to prepare for the restoration of service.
Then on December 10th, PSA made it official.
PSA Resumes Regular Grading: The Announcement 
The Statement from PSA read as follows:
"We are pleased to confirm that PSA Regular service will reopen this month. With the return of Regular, we are introducing a new submission management process that will allow us to monitor demand. We are testing this process with Regular in preparation for the eventual return of Value and other lower-priced service levels in 2022.
Specifically, this first phase will involve virtual queueing events. Regular submissions will be priced at $100 per card, with a limited number of allocations awarded in each event. As we advance the submission allocation system, we will continue to fine-tune pricing options and allocation levels.
To take part in these events, you will need to have an active account at PSAcard.com. Please visit the site and register now if you do not have a PSA account."
PSA has promised that the reopening will not hinder its efforts to clear up the backlog of grading submissions. They remain committed "to allocating over 80% of our grading resources to processing orders in the backlog. The re-introduction of Regular will not slow the processing of the backlog of Value orders."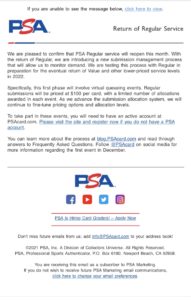 Recap Of PSA Suspending Services
Back in April, PSA announced that it was suspending Regular grading services. In addition, they paused the Value and Express service levels.
That came soon after the grading company had significantly raised its rates in March. If you recall, that month, they raised the price for a Regular submission to $100 ($999 maximum card value). That was a doubling of the cost from October 2020. Until that point, the fee stood at merely $20. Ah, the good old days.
PSA wrote to their customers:
"The sheer volume of orders that PSA received in early March has fundamentally changed our ability to service the hobby. The reality is that we recently received more cards in three days than we did during the previous three months. Even after the surge, submissions continue at never-before-seen levels.
Given our growing backlog, it would be disingenuous for us to continue to accept submissions for cards that we will be unable to process in the foreseeable future. It's an unpleasant conclusion, especially after the March 1st price increase, but it is necessary to serve the customers who have already submitted to PSA properly."
At the time, PSA hoped to renew Regular services by July 2021. But, as we know, that did not happen.
Partial Reopening In July
In July, the company reopened some of its services. Most notably, express grading returned that month. However, the company admitted at the time that they were behind schedule. A press release explained:
"After customer surveying, data analysis, and much consideration, we are going to be even more conservative than we anticipated in March. Today, Express is back at $200 and available on the PSA Online Submission Center. Our objective with introducing Express at this new price is to manage demand while continuing to allocate the lion's share of our capacity to the existing backlog.
Let's look at this in a little more detail. During the past three months, we devoted 98% of our available capacity to the backlog. This demand-management, coupled with a 64% increase in capacity since the beginning of the year, is a good illustration of the approach we are taking to reduce the backlog. Even with the reintroduction of Express, 90% of our available capacity will be applied to the backlog."
PSA Resumes Regular Grading: Increasing PSA Grading Capacity
PSA also was very public about its continued efforts to hire more graders and lease increased office space. As Steve Sloan, the President of PSA, said at the time: "This change will help get your cards back faster while maintaining the quality and accuracy you expect from PSA. We are working around the clock for you, and we appreciate your support as we grow our capacity."
Since then, rumors have abounded that PSA was on the verge of restoring its Regular service. The rumors intensified in September when the company announced that it had gotten rid of its normal service backlog:
"All orders submitted under the 'Regular' service level have now been processed and shipped back to customers. There are no Regular orders remaining in the backlog."
What Are PSA Grading Events?
As of now, Regular grading will only take place in virtual queueing events. The idea is similar to how Top Shot sells its packs. Why this sort of method? PSA is concerned about being inundated with submissions. As they explain, "the queuing system ensures that submission volume does not outpace our capacity, as it did in March 2021."
The PSA FAQ explains that: "Prior to a submission event opening, an email will be sent to all customers who qualify for participation in the event."
This is not a temporary measure. PSA intends to hold events for high-demand services to prevent a significant backlog from accruing. Nonetheless, if PSA capacity increases, the Regular stream could be entirely open for customers.
How do Will PSA Grading Allocations Work?
Some of the details are still unclear. However, these are the general points:
You will not be charged to participate in an event or when you win an allocation. You will only pay when submitting to PSA.
The allocations will be allocated with a time limit. Unfortunately, PSA has not published the exact limit. Therefore, they suggest "it's a good idea to create and submit your cards promptly."
If you do not use your allocation, it will be forfeited.
The number of allocations available in each event will be fluid. It will depend on the capacity of the company.
Since the number of allocations is fluid, you may enter an event without receiving any allocations. However, PSA promises that "Allocation events will be common, and you will have many opportunities to participate and receive an allocation."
Some events will be open to collectors and others to dealers.
The timing and frequency of events have yet to be determined. However, alerts will be sent promptly to registered emails.
Eligibility for the events is generally restricted to active PSA customers. However, the company "may run allocation events based on specific customer criteria that could limit which customers can participate in specific events."
Once you win an allocation, you can submit it by going to the PSA Online Submission Center. At this time, you will pay for the submission.
You cannot enter another event until you have used up all of your allocations.
PSA Resumes Regular Grading: What This Means
While the new prices should see an increase in submissions to PSA, the overall calculus of collectors will not change by much. Express is currently $150 per card. Both a $100 and $150 price point mean that few base cards will be PSA graded.
Cards that may or may not turn a profit with a 9 grade will ultimately not be sent in. So it is pretty risky to spend money and time grading a card that will only net a profit if it receives a 10. As one Blowout forum user put it:
"I think we would have to see a big bump in the market to get people subbing like they were at $20-50/value card. The reason things happened the way they did because it was worth sending in most cards—they were selling. People would pay $500 to grade base cards if they were selling for $1,000. Obviously using those numbers to make a point. If they want to come in at $20-50 for Value—that might first take an upswing to the economy/market to keep that train rolling past the initial surge.
Then you have to look at the cards—what cards does this model have to work for? Ultra-modern: superstar/rookie parallels/color chrome to start. Take a 2021 Silver Prizm Luka. Raw is at $15-20. I would think a 9 would bring around $40-50 now. That doesn't leave a ton of room to sub at a small profit. So you'd have to sub at $15 or less to get people to sub superstar Prizm color/chrome refractors or you're going to lose a huge chunk of cards that many people have and would otherwise sub under the old system."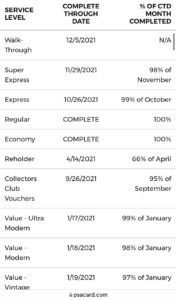 PSA Resumes Regular Grading: The Bottomline
The gamechanger will come when the Economy submission is reopened. Assuming it remains at $50 a card, as before the suspension, the cost will allow for some base and less valuable inserts to be graded in large numbers. The company seems aware of that and is comfortable, encouraging grading for mid to high-end cards only.
The gradual return of Regular PSA service is good news for the hobby. We may have had doubts at first, but PSA's measures to decrease submissions while increasing grading capacity have borne fruit. As a result, the company has gotten through a significant portion of its backlog and is progressing towards normalcy.
However, the scope and price of the reopening are disappointing. With the card market softening significantly, there are fewer cards worth grading at 100$ per card. Therefore, this is not the return to normal that we were waiting for.