The Ultimate Guide To The Best Ronaldo Soccer Cards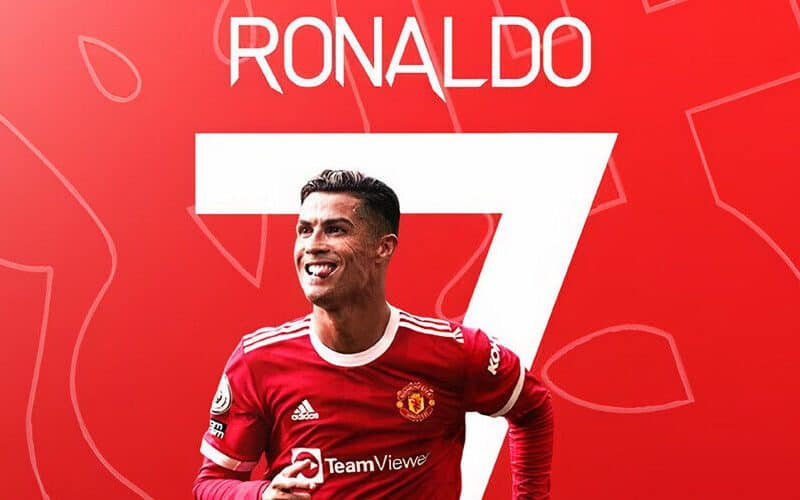 Even if you have been living under a rock for the past two decades, there is no chance that you won't have heard about Cristiano Ronaldo. The Portuguese forward is a strong presence in the conversation over the 'GOAT' mantle, the debate over the greatest footballer of all time.
One of his main rivals is his contemporary, Lionel Messi. Both will be on display at the World Cup, trying to cement their greatness by bringing home a World Cup trophy in Qatar. Therefore, this is the perfect time for a guide Guide To The Best Ronaldo Soccer Cards.
Shop for Ronaldo soccer cards on eBay
Who is Cristiano Ronaldo?
Ronaldo is a sporting legend. But not everyone knows the details about his fascinating life. He was born on the Portuguese island of Madeira in 1985; the youngster grew up in a disadvantaged family. However, he was always close to the sport.
His father worked for CF Andorinha, a local soccer team. Later on, he joined Sporting CP's youth academy at the age of 12. When he was 14, he believed he could play professionally, and his mother agreed to let him pursue football while keeping his education on the back burner.
By 2003, Ronaldo was playing for the first team and had already caught the attention of the scouts of Premier League clubs Arsenal, Liverpool, and Manchester United. However, United boss Alex Ferguson managed to snag him away at the right time.
Though consistently rated a prodigious talent, the Portuguese player initially had trouble scoring goals. I know that seems surprising, considering his subsequent development. But while he could dribble past anyone seemingly at will, goals were hard to come by.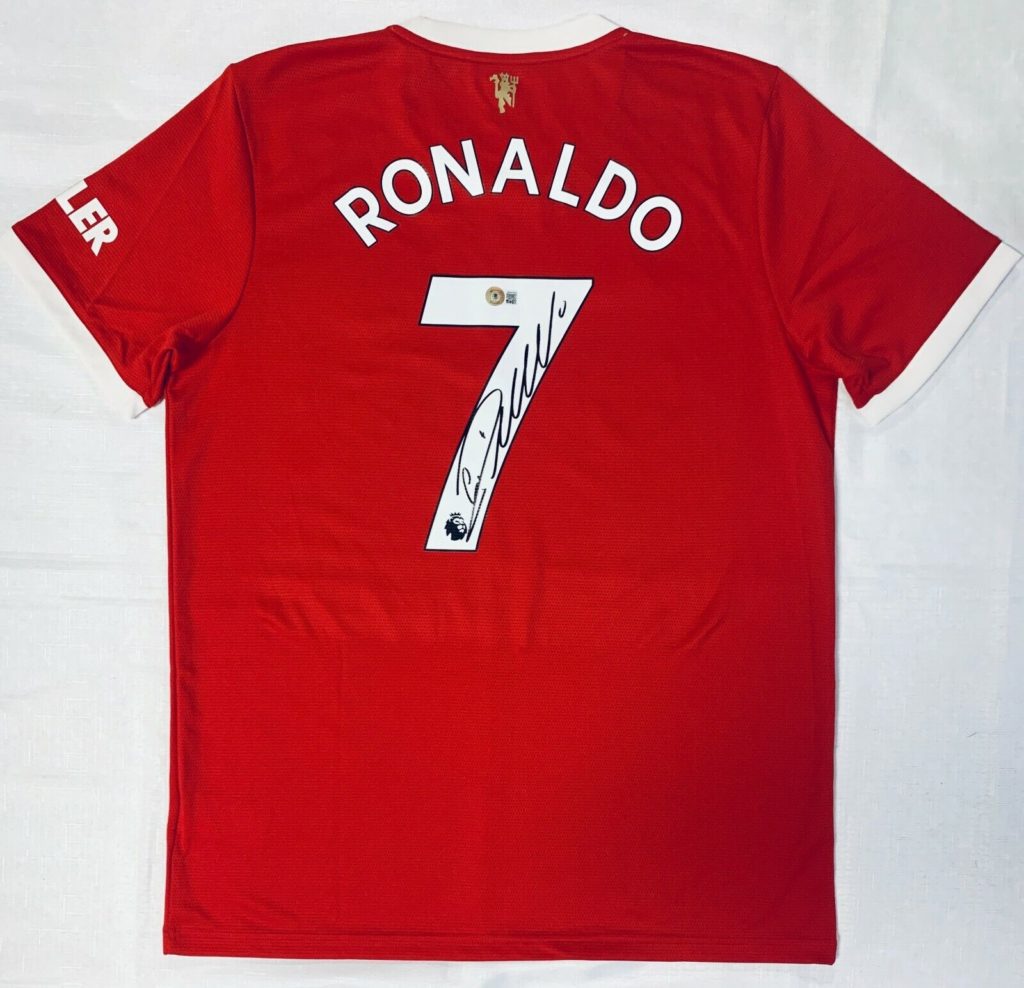 Starting out with Sporting Lisbon, Cristiano was sold to Manchester United in 2003-04. But he did not have his first genuinely outstanding goalscoring year until 2007-08, when he scored 31 in 34 Premier League appearances.
Shop for Ronaldo soccer cards on eBay
The goals come and never stop coming
In just a few years, he scored goals and won trophies left, right, and center. Then, in 2009, he was on the radar of one of the world's biggest clubs, Real Madrid, who decided to recruit him for a world-record transfer fee and a lofty contract that would secure him at the club for many years.
He developed a long and friendly rivalry in La Liga with Barcelona FC star Lionel Messi. The two competed each year for the title, top scorer awards, and general supremacy.
2018 was the end of the road for Ronaldo and Real Madrid, following which he joined Serie A side Juventus for a whopping €100 million. By the time he ended his stint at the Italian club, he had won two Serie A titles and scored more than 100 goals for the club.
So, Ronaldo has been around. But once he got over his scoring problem, the goals came wherever the Portuguese forward went. Indeed, Ronaldo's scoring record is unparalleled. The 37-year-old scored over 800 career goals in over 1,100 professional career appearances.
And he isn't just a goalscorer but a well-rounded player who can pass, dribble and move deftly without the ball. So naturally, therefore, he has won the Ballon d'Or five times. What is that? Think the MVP, but for all soccer players in the world.
Ronaldo's Current Form
He led Portugal to a Euro Championship in Euro 2016 and was the second top scorer in the competition. But he has yet to win the most tremendous honor of all, the World Cup trophy. At age 37, Qatar is probably Ronaldo's last chance to cement the coveted GOAT status.
In 2021, Ronaldo returned to Manchester United, the team that had made him a global superstar. The soccer world went into a frenzy when he returned to Old Trafford and put on the red shirt again. He even scored his 100th Premier League goal in his second spell for the club.
But the player is not in his best form. While he can still score, modern soccer requires the ability to excel on both sides of the pitch. But Ronaldo no longer has the speed and endurance to get back and help the midfield. Some fans suspect that he is simply too much of a diva to do hard work and is only at Manchester United to round out his already legendary numbers.
The Portuguese star wanted to leave Old Trafford over the off-season. But no one was willing to pay his exorbitant salary fees. So, the team and players were stuck with each other. Then things got terrible. In late October, Manchester United left Ronaldo on the bench for the entire game.
The superstar was not remotely amused. He left the stadium early and went home. An incredibly unprofessional moment but not unprecedented. Ronaldo had pulled a similar stunt while playing for Juventus. But now, matched with a general sense that his skills are declining, it seems like a more ominous sign than in the past.
Shop for Ronaldo soccer cards on eBay
Ronaldo and the World Cup
Therefore, expectations from Ronaldo are uncharacteristically low. Perhaps too low. Sure, he isn't in his absolute prime. But we are talking about the player with the highest number of international goals in history. No less than 117 goals scored in 191 games. And Portugal isn't Manchester United.
The international team is built around Ronaldo and will be willing to compensate for his tactical limitations while feeding him the ball near the goal.
Portugal has a pretty good team aside from Ronaldo. Bruno Fernandes is one of the best midfielders in the world, and Bernardo Silva is an integral part of the all-conquering Manchester City team of recent years. The group they drew will also help. South Korea, Uruguay, and Ghana should not pose particular problems for the Seleção.
According to most sportsbook sites, they are rated the sixth most likely team to take home the Jules Rimet trophy. But remember, they haven't even reached the quarterfinals since 2006. Just as importantly, Ronaldo has never scored in the knockout stages of the World Cup.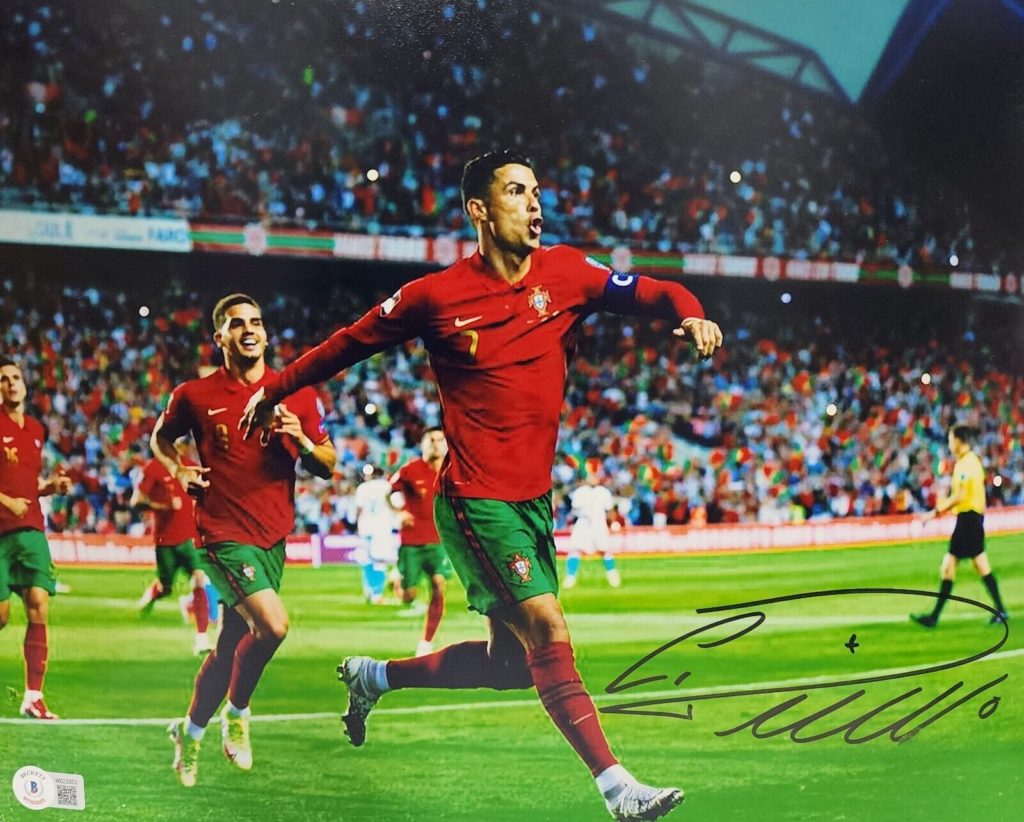 More Than A Soccer Star
Cristiano Ronaldo is one of the best players ever to play the game. But let's also be blunt, Cristiano is a very good-looking guy and a snappy dresser. He likes to date supermodels and drives Porsches. Now he has a kid who looks like him, plays like him, and may even be a better natural scorer. Those are good genes to have.
So, Ronaldo has emerged as a top-of-the-line celebrity, with paparazzi following his every move. The more glamorous stars like Cristiano and David Beckham have a certain cache. That generates a collectability that cards of their more workmanlike players do not enjoy.
With all this glamor and excellence in mind, it's no surprise that Ronaldo's cards have a uniquely high place in the soccer card world. Yet, his early cards are less common than expected from such a massive global superstar for several reasons.
Cristiano was a rookie in Portugal and had a somewhat flawed game at the time. In addition, this was long before soccer cards were even remotely popular in the United States.
Therefore, many of his early cards are not true rookies. But some are still worth a good deal in the card market. After all, they don't make stars like Cristiano Ronaldo anymore.
This article covers the top 10 cards that are highly sought after, as well as a bit of information about CR7.
READ: What rookies are in 2022 World Cup releases?
The best Cristiano Ronaldo rookie and soccer cards
Let's have a look at the top ten Ronaldo soccer cards that fans are crazy over.
2002-03 Panini Mega Craques Cristiano Ronaldo #137
If you are a recent Ronaldo fan, then you may not know much about his days at Sporting CP, where he made a mark for himself. This leads us to add the 2002-03 Panini Mega Craques Cristiano Ronaldo #137, which is valued at four and five figures, even for a PSA 7 or 8 card in immaculate condition. Plus, if you are looking to buy a PSA 9 or 9.5 card, you might even have to pay up to $150,000!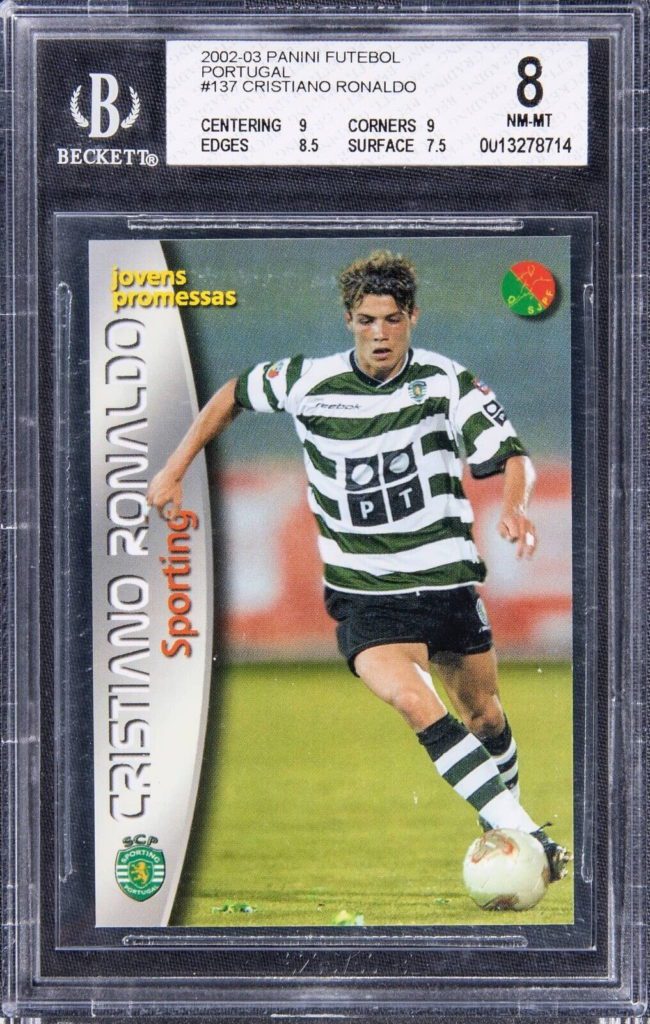 2002-03 Panini Stickers Cristiano Ronaldo #306
Another hot pick is this Ronaldo rookie card, which has gained popularity among card collectors, particularly in recent years. Although there are very few highly graded and immaculate cards for the Portuguese striker, you can get a PSA 9 or 10 card for as high as $15,000.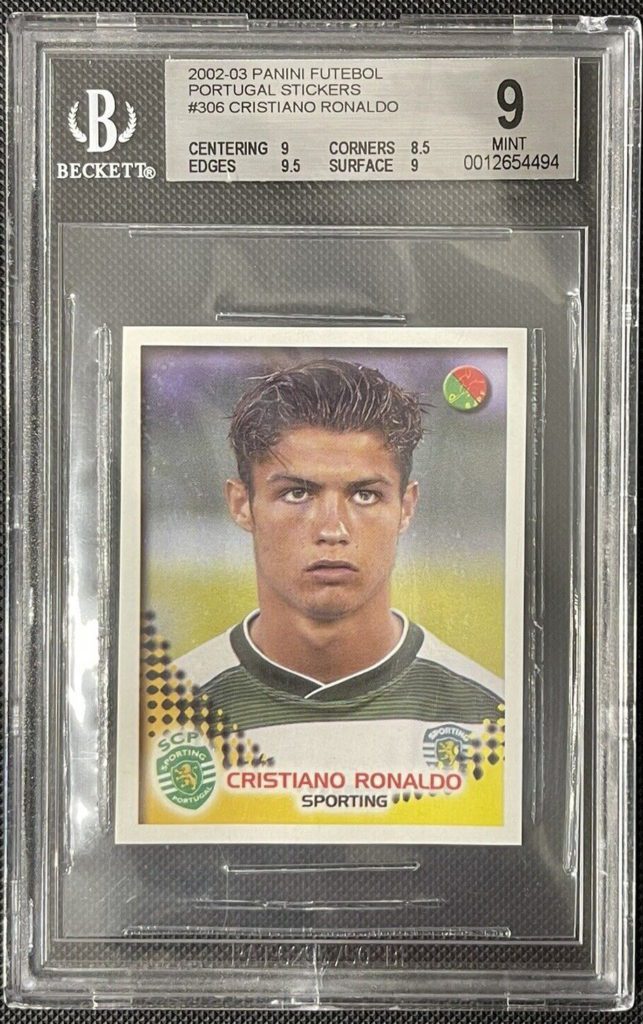 2003-04 Upper Deck Manchester United Cristiano Ronaldo #13, 14, 15
Cristiano's move to Man United put him on the pedestal to success and glory, and these were his very first cards after he joined the club. Each of these cards is highly graded and rare to find. Even if you do get your hands on one of them, expect to pay anywhere between $15,000 and $20,000.
2003-04 Upper Deck Manchester United ManUscripts Red Cristiano Ronaldo #39
Autographed cards for Cristiano Ronaldo are highly valuable, such as this one. It is also the star's first-ever autographed card, thus making it highly valuable. This is truly a rare find and even if a diehard Manchester United fan has it, they won't be willing to sell it, unless they get a five-figure amount for it.
Nevertheless, a card like this can normally fetch around $8,000 to $10,000.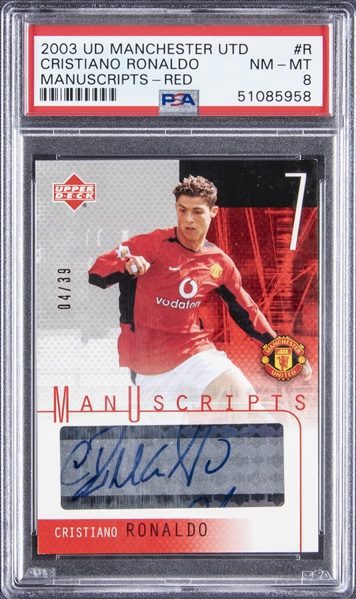 2004-05 SP Authentic Manchester United Sign of the Times Cristiano Ronaldo #173
Another autographed entry by the Man U star is the one made by SP Authentic in 2004. It features an action photograph of the striker, along with his highly valuable autograph. A highly graded card from this series would fetch around $4,000 to $8,000.
2013 Sportkings Autographs Silver Cristiano Ronaldo /15
These CR7 autographed cards were released by Sportskings in 2013, and it features the five-time Ballon d'Or winner in five different versions. It also shows gold parallels, along with each card having a population of only five. This means you can get a graded PSA card for as high as $4,500 to $5,000.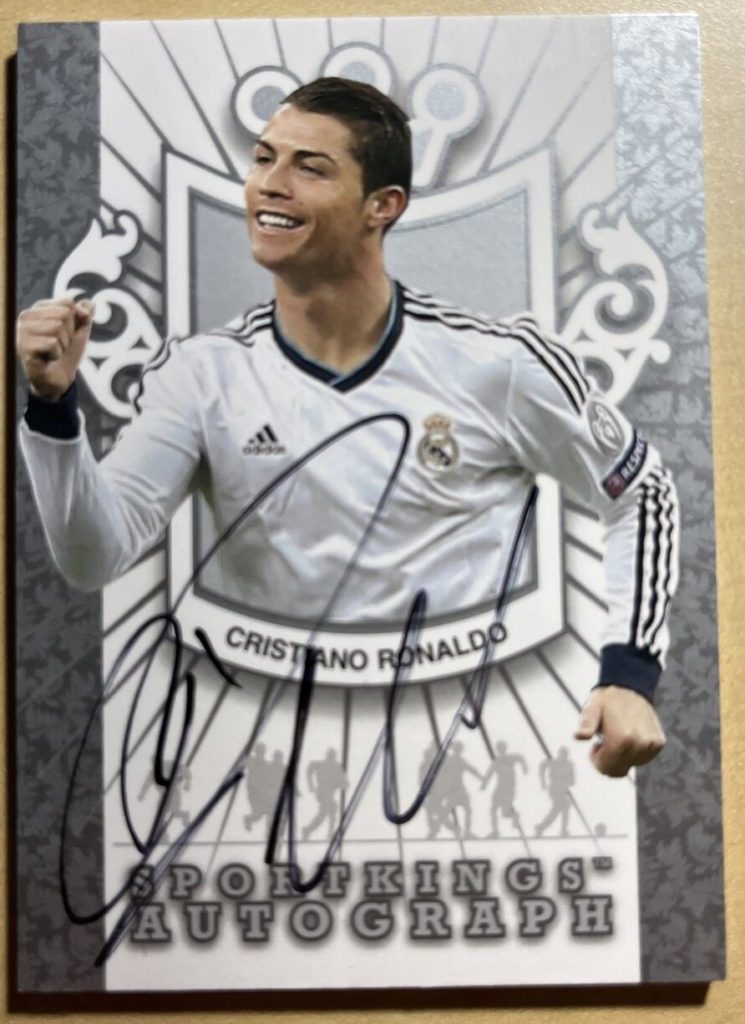 2013-14 Topps Premier Gold International Icons Autographs Cristiano Ronaldo #SP-CR
Next up, we have the 2013-14 Topps Premier Gold International Icons Autographs, which included Cristiano Ronaldo as a Manchester United player, even though he left the club 4-5 years before that. It is still the most sought-after card of the collection, and its PSA 9 or 10 card is easily worth more than $10,000 to $15,000.
2014 Panini Prizm World Cup Signatures Cristiano Ronaldo #S-CR
Another high-value collection is the 2014 Panini Prizm World Cup Signatures Collections, and this card reflects Ronaldo's World Cup journey. It has a lower population report, and a PSA 9 to 10 card can fetch anywhere between $10,000 and $25,000.
2014-15 Panini Immaculate Sports Variations Autographs #SVA-CR /25
Last but not least, this card is part of a rare and valuable collection that offered collectors the chance to own a top-quality card. If you find a graded card in immaculate condition, you would have to pay up to $20,000 for it.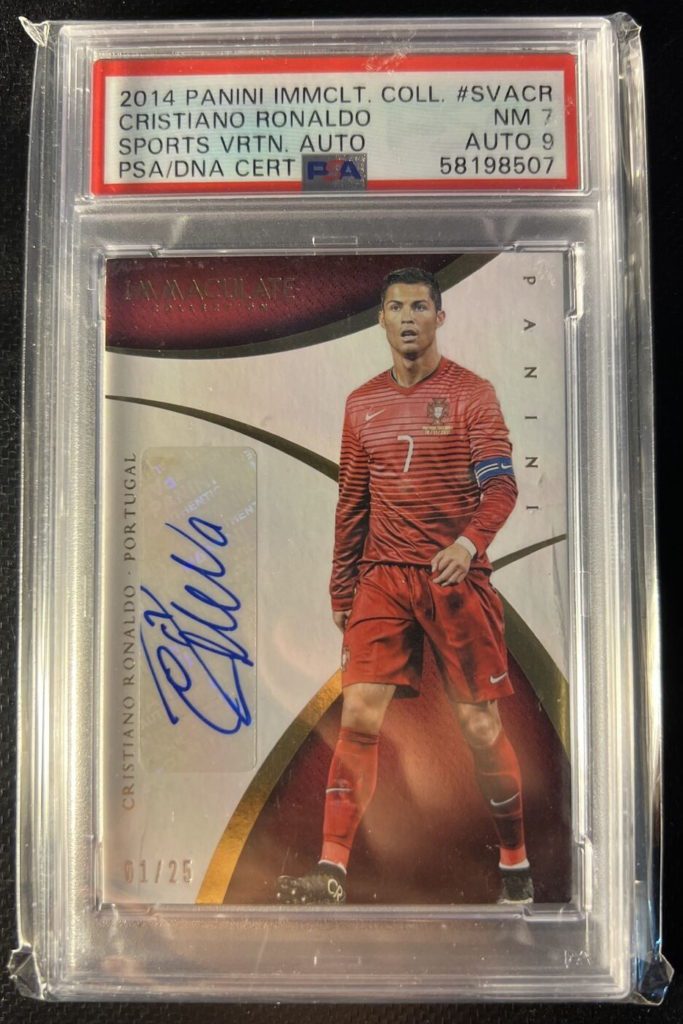 Our pick for the best Cristiano Ronaldo soccer card
Ronaldo has played his greatest football after joining Manchester United. Correspondingly, our favorite pick is the 2003-04 Upper Deck Manchester United ManUscripts Red Cristiano Ronaldo #39, one of the star's best autographed and graded cards. It is also a collector's dream, especially for those who are diehard CR7 fans.
Shop for Ronaldo soccer cards on eBay
Final word of the best Ronaldo soccer cards
Is this a good time to Invest in Cristiano Ronaldo Cards? It really depends on his performance in the World Cup. If Ronaldo wins, the value should go up.
Not only that, but the tournament is of such overwhelming importance that a win would help keep the value up for decades. If not, you have to wonder if the high prices of Ronaldo cards will be maintained as he goes into decline.
My feeling is the value may well hold. But without a World Cup trophy, the cards are unlikely to increase from this point. Ronaldo's cards will have great value as long as he holds on to those scoring records. And honestly, I don't see anyone breaking them in the next couple of decades. But buy after the World Cup excitement has dimmed, rather than now.
Shop for Ronaldo soccer cards on eBay