The 2021 NFL Rookie Class As Investments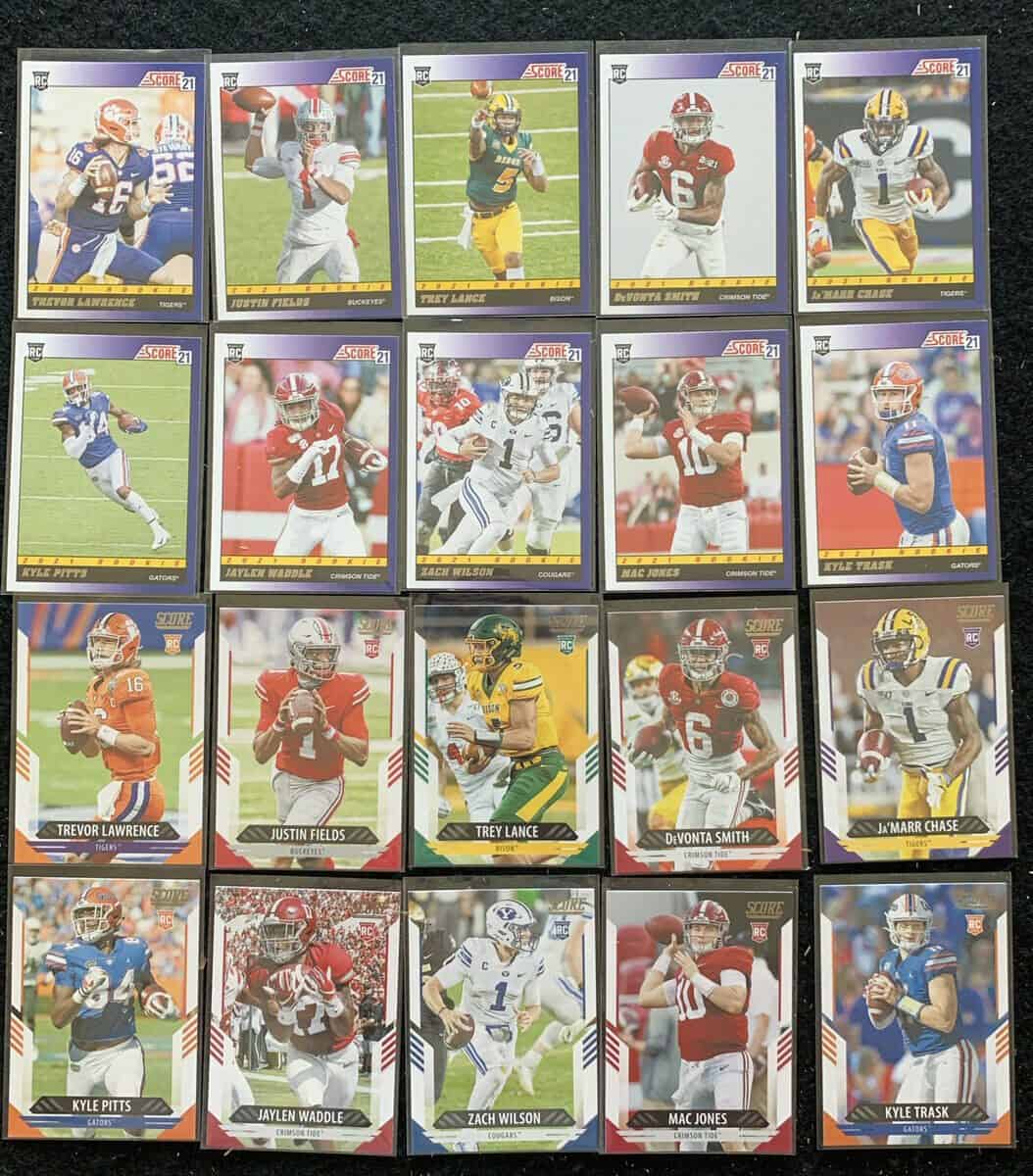 Everyone is looking at the 2021 NFL Rookie Class As Investments. With the high-profile names involved, it is no surprise that collectors are trying to figure out who will have a breakout year and who will end up on the bench.
The dust has settled from the 2021 NFL draft. While the season won't start until September, it's not too early to consider investing in the young rookie class. Indeed, with their first cards in professional uniforms forthcoming, there is no better time to analyze their prospects for success. So here's our analysis and predictions for the upcoming season.
How Good Is This Draft Class?
It is hard to evaluate this class. The last NCAA football season was the most unusual in recent memory due to the pandemic. Due to the unfortunate circumstances, most teams didn't play full schedules. Therefore, we have not seen these prospects in action as much as we would like, and there are more unknowns than usual.
That said, there's a good deal of future star power in this class. In the last four years, it has become a consensus opinion that Trevor Lawrence is a generational talent. Therefore, the ceiling is quite high.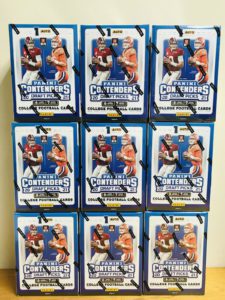 A Word On Best Players Vs. Best Investments
Remember, there's a big difference between best players and best investments. Penei Sewell might very well be the prospect with the brightest future and best odds of ending up in the Hall of Fame. However, as an offensive lineman, his cards will not hold massive value.
The best investments will be a mix of best players at important positions. In other words, quarterbacks and more quarterbacks.
Rating The 2021 NFL Rookie Class As Investments :
1.    Trevor Lawrence
Lawrence has the most likely odds of being the quarterback with the brightest career in this class. He's been such a highly-touted prospect for so long that he already has respect and will be put in positions that allow him to gain valuable early experience.  Plus, on top of that, he's got loads of talent—that's why he's such a standout prospect. Quarterback is the most challenging position to pick booms from busts, but Lawrence is as sure-fire bet as you can make.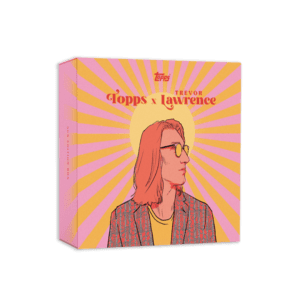 2.    Mac Jones
While Mac Jones slipped down the draft board, there's a lot to like about him—especially playing in New England. They say in racing, at least 70% of who wins the race depends on who's driving the best car.
Looking at the quarterback class of 2021, Mac Jones landed in the best car – Bill Belichick's offense.  New England doesn't have great receivers, but the Patriots can now move to land new receivers or draft more talent in that position down the road with Jones in place.  Cam Newton is still the starter now, but the first time he one-hops a slant route this season, Patriots fans will be begging to see Jones.
3.    Trey Lance
Lance doesn't have much experience, but his football intelligence and raw talent gave the 49ers a good reason to draft him. Jimmy Garopolo has already expressed willingness to mentor Lance, and coach Kyle Shanahan will do anything he can to help his young quarterback thrive. Lance might have some rocky moments in the early going, but his career could be long and bright.
4.    Justin Fields
Fields has something to prove, and he wants to validate the Chicago Bears for trading up to take him at number 11. Many scouts moved away from the Ohio State product in the last weeks leading up to the draft. However, his athletic ability and passing skills could very well make him a Kyler Murray/Lamar Jackson-style quarterback. And, if nothing else, he'll be the most exciting signal-caller Chicago fans have seen in a long time.
5.    Kyle Pitts
If you had to guess which NFL rookie will have the most significant impact on his team in week one, Pitts is the guy. As an explosive athlete and dynamic route-runner, the talented tight end will pair well with a veteran quarterback like Matt Ryan. Pitts might even be in the running for ROY when all is said and done. However, the award hasn't been won by a tight end since 1961 (Mike Ditka).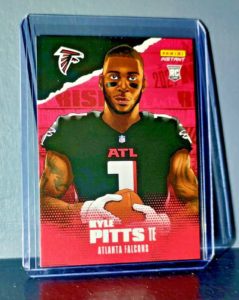 6.    Zach Wilson
Zach Wilson looks like a Disney actor hired to play a quarterback. But boyish good looks aside, the number one cause for concern with Wilson is where he ended up. The Jets don't have the best track record of pumping out hall-of-fame quarterbacks (or Pro Bowl quarterbacks, even). Wilson will have to reverse years of misfortune to succeed, but the #2 pick has the talent to do it.
7.    Ja'Marr Chase
The fact that the Bengals picked Chase instead of Penei Sewell with the number five pick suggests Joe Burrow wanted to reunite with his college receiver. If that's the case, Chase could be in a position to have a great season. Burrow will throw lots of passes his way so that Chase could put up a fantastic rookie stat line.
8.    DeVonta Smith
A good part of the success of a rookie receiver depends on the offense and quarterback in place. Therefore, Smith's success will largely hinge on the success of Jalen Hurts. If Hurts looks comfortable in the offense and the Eagles can move the ball, DeVonta Smith could have a brilliant season. If not, then it might be a poor start to his career. It is hard to predict which way this experiment will go.
2021 NFL Rookie Class Investments Least Likely To Pay Off
We could be wrong. But, here are three players we believe are likely to be bust despite the attention they're receiving from collectors.
1.    Najee Harris
Harris is as talented as a running back as you'll ever see. He runs hard, strong, and fast, and his explosiveness is off-the-charts. That said, the Steelers is not the best place he could have landed. The team ranked 31st in run blocking in 2020. If the Steelers don't get offensive line issues resolved, Harris will suffer.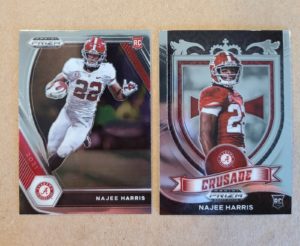 2.    Jaylen Waddle
Waddle is another receiver reconnected with a former college quarterback. However, given Tua's struggles in his rookie season, Waddle is not nearly as great of a place as Ja'Marr Chase. That isn't to say Tua can't right the ship and have an incredible sophomore season, but it will probably not happen. Because of this, Waddle could struggle.
3.    Kadarious Toney
Toney, Florida's explosive receiver, was already one of the biggest toss-ups going into the draft before the Giants picked him at #20 overall. Still, perhaps the biggest problem is that the Giants selected him at #20 overall. In his first two seasons, Daniel Jones has looked far from impressive under center, and New York hasn't been able to move the ball. Toney's ceiling might be a Tyreek Hill kind of playmaker, but he very well could be a bust, too.
Tips On Which Type Of Rookie Cards To Look For
If you're looking for long-term investment potential, there are a few things to keep in mind while building out your collection. Here are a few tips.
Don't put all your eggs in one basket. No matter how strongly you feel about one prospect, something as unforeseen as an injury could derail a career.
Avoid college uniform cards. Most collectors want the prospects in their NFL jersey. So if you're going to open some cards before the season starts, go for it, but don't expect much long-term ROI.
A few brands are safe bets compared to the rest: Prizm, Optic, and Select are the ones to check out.
Print runs are up, so buying numbered or autographed cards is the best way to ensure your investment retains value. There might be 500,000+ Justin Herbert Prizm Rookies, but Panini will only print 199 cards numbered to 199.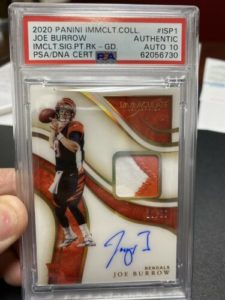 The Bottom Line On The 2021 NFL Rookie Class As Investments
Keep in mind that this article is simply speculation. Every player on the bust list might end up in Canton, and maybe none of the "top investments" even make it five years as a starter. But, while viewing the current prospects through a reflective historical lens, these are our best guesses of the career trajectory of each project.