The 5 Coolest Cards On eBay Right Now (May 2-May 10)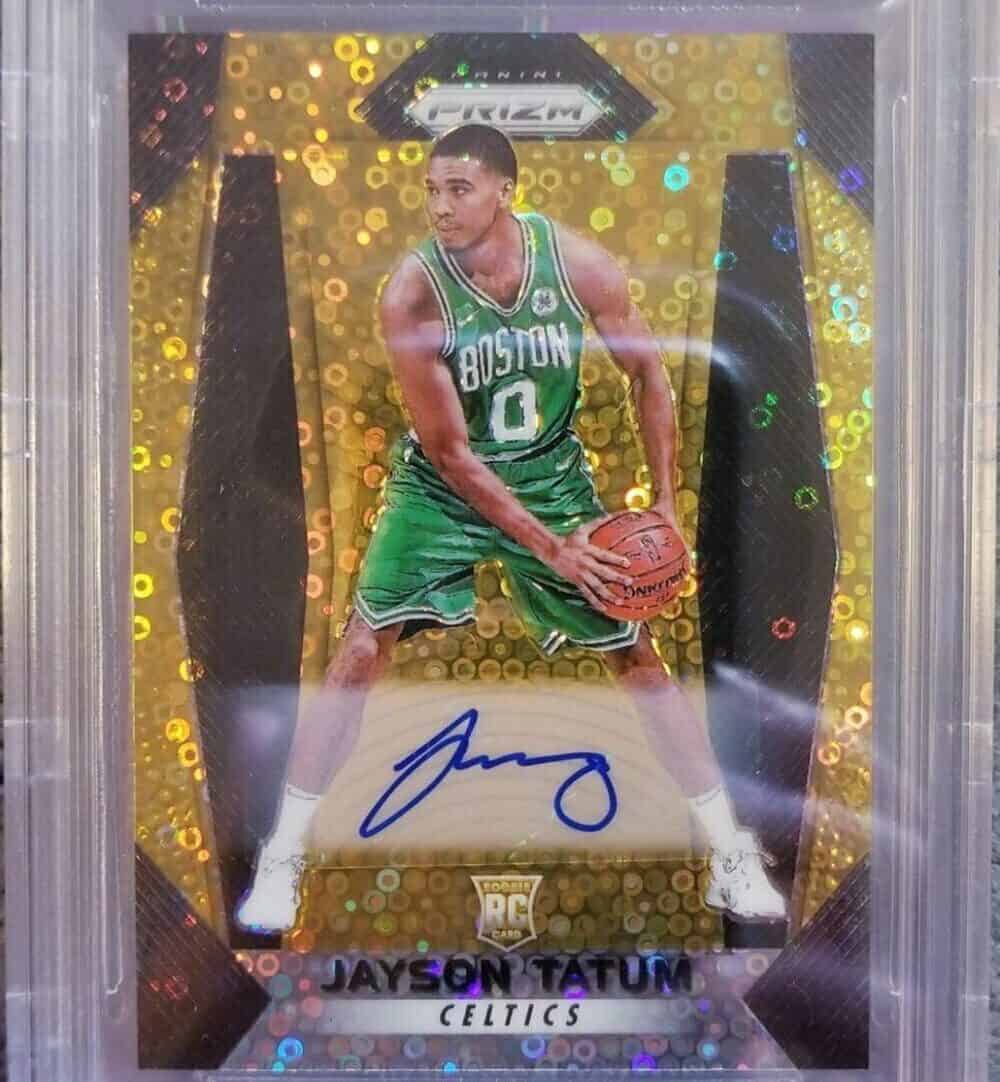 With millions of listing on eBay every month, it's understandable that a few gems might slip past you. So to help make sure you stay tuned in to some of the best auctions on eBay, Cardlines will be featuring some of the best listings of the week every week. Here is the second installment of the 5 Coolest Cards On eBay Right Now.
Add them to your watch list and bid if you're interested!
The 5 Coolest Cards On eBay Right Now
Note: in most cases, we'll be picking auctions that align with current events in sports. With the second round of the NBA playoffs in full swing, many of this week's features will be NBA-focused.
Wow, Giannis is the man.
That's all I could think after watching him dominate the Celtics in game one despite being without Khris Middleton. Yes, Jrue Holiday stepped up and was the second-best player on the floor, and yes, the Celtics could bounce back. But it was an awe-inspiring road performance for Giannis and the Bucks.
With this card, you're getting a rookie auto/jersey graded a 9.5 with SGC, a notoriously tough crowd to please, and the third (and final) grading company I'd consider reputable. The card is sharp with a nice autograph from his rookie year (back when Giannis put in as much effort while signing as he does on the hardwood), and the /299 rookie would be a great addition to your collection.
The auction ends Saturday, May 7.
Woo, controversy! Adding Grayson Allen to this list is something I would never have imagined myself doing. And I'm a Duke fan who's followed him closely throughout his trip(s) through the NBA.
Allen has been on fire since Middleton went out with an injury. In that time, he's provided a big spark for Milwaukee by helping substitute the shot-making. Unfortunately, he is not producing at the same level as the injured All-Star. But Allen's cards are priced accordingly. Plus, this is his first chance to shine in a national spotlight, which could lead to big things. There's a world where he turns into the next JJ Redick.
This Red Choice rookie auto is a rare Prizm card from the Choice boxes. While it's only a PSA 9, it will sell for a reasonable price and could be a high ceiling moving forward.
The auction ends May 10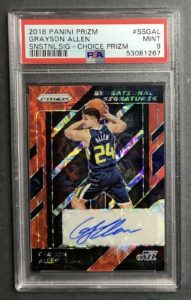 Devin Booker looked like a shell of himself during his game 6 return to action in the first-round series. However, that shouldn't scare away collectors interested in taking a shot at a leader in bets for Finals MVP. Booker and Chris Paul have been a dynamic duo all year long. If they can continue without any significant injuries, there's an excellent chance Booker could win his first Finals – and maybe even Finals MVP. Likewise, if the Suns are healthy, the semi-predictable Mavs offense will probably not become too much of a roadblock.
This Prizm silver is a PSA 10, and as good as it gets for a non-numbered Booker rookie card. If you'd instead roll the dice and grade one yourself after buying it for less, look for non-graded cards like this one. The most significant returns will come from buying raw and grading. However, don't expect a quick turnaround (nor should you consider this an endorsement of any particular raw card.)
Auction ends on May 9.
Bad listing alert!
This lot of two Kobe Bryant rookie cards that commit a criminal offense. The listing fails to mention they're rookie cards. Anybody who searches "Kobe rookie" or "Kobe RC" will not find these cards. I found them by searching "basketball cards."
These cards do not have a bid at $79 with free shipping as of writing this. That will change, but the going price for these graded 8.5 rookies is about $120/each, and I doubt this lot gets to $200. If it does, there's more good news – this (Top Rated) seller has several other lots of graded Kobe rookies for sale that aren't listed as rookies, so you can look through the listings and find one you like.
Auction ends May 8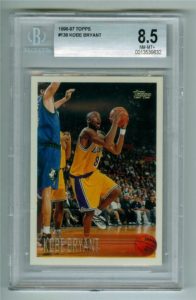 This card couldn't be more of a long-shot, speculative buy… but that's what makes it fun!
For one, I'm writing this after Sam Howell plummeted to the fifth round before eventually being scooped up by the Washington Football Team Commanders. It's also Bowman University, an experimental new release from Topps that we recently reviewed on Cardlines.com.
So here's the best-case scenario for this card, which is at only 0.99 cents upon me writing this. The current Washington starter, Carson Wentz, has only played 16 games once in his career since his rookie season. If you ask me, Howell is just as likely to get some starts this season as any rookie quarterback – and for a team that has had a year of practice hiding below-average quarterback play. So let's say he gets a few starts, has some glimmers of decent play, and Bowman University becomes a popular NIL product. If that's the case, this card could be a surprise gem in the future.
…Or it could be $50 or whatever you spend to buy it thrown down the drain.
Auction ends May 6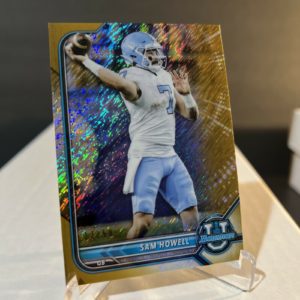 Will You Buy Any Of The 5 Coolest Cards On eBay?
While these are unique cards, understand that the decision to buy them falls on you and you alone. In no way are we endorsing the sellers or guaranteeing a satisfying transaction. Additionally, as we've written about before, the playoffs are not always ideal for investing.