The Drake Fleer 1986 Break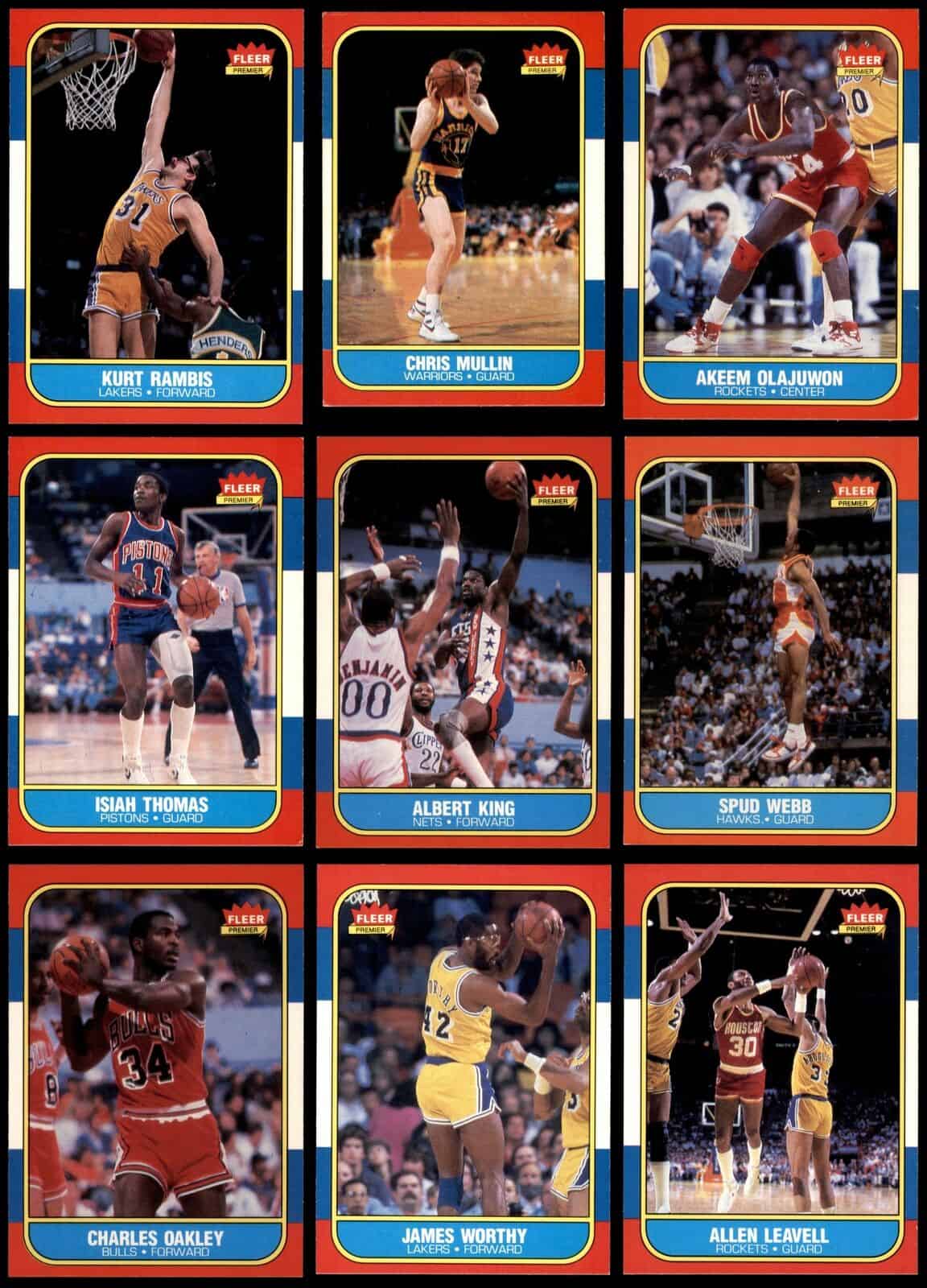 Drake's first heavily covered foray into the hobby did not go particularly well for the rapper. So, we were pretty surprised to see him dive back in with a vengeance. Ken Goldin flew to Toronto to meet with Drake in an event sponsored by Dave & Adams, who sent two breakers to the Great White North to participate in this intriguing event. The result, was an epic Drake Fleer 1986 break.
If last time Drake merely floated in and out of the chat during the break, this time, he was front and center for the event. He was hanging out with hobby icon Ken Goldin, and the two discussed the same topic as everyone on earth on March 27, 2022: Will Smith slapping the bejesus out of Chris Rock in front of a disbelieving worldwide audience.
.@Drake and I are on IG Live NOW ripping 10 cases of Flawless Basketball, some 1986 Fleer and 2003 Topps Chrome 🏀

Join us as we hunt for the triple Logoman, Jordan & Lebron rookies 🙏🏼 pic.twitter.com/6fFU7IZ27O

— Ken Goldin (@KenGoldin) March 28, 2022
How Did Drake Get Into The Hobby?
We have all wondered how a big star like Drake suddenly showed up in the hobby. During the break, one viewer asked how it happened. The Canadian rapper explained that one night he was bored and on TikTok and ended up on Goldin's page. And it made him take notice due to his love of basketball, which Drake says, "I play every day." Drake also has a considerable collection of jerseys and has bought a significant amount of memorabilia from Goldin in the past.
We also learned that Drake is close with Knicks legend Charles Oakley, who supported him throughout his career and has given him helpful advice. In addition, YoutTube celebrity Logan Paul jumped in on video at one point. It was a star-studded affair. Paul said, "BBCE got that box right. Must be nice." That is, of course, a reference to the unfortunate affair when Paul bought a BBCE authenticated box of 1st edition Pokémon cards that turned out to be fake.
Info On The Drake Fleer 1986 Break
The Fleer 1986 set is an absolutely legendary one, the jewel in the crown for vintage basketball collectors. A box is worth around $200,000 if you can get one. However, I wouldn't sell it. They aren't making any more, and considering the caliber of rookies in it, the value will likely increase. Considerably.
If you follow Goldin, he often talks about the Fleer box on a shelf above his desk. Well, he finally decided to open it to celebrate the occasion of his meetup with Drake in Toronto.
One of the more amusing parts of opening older packs like 1986 Fleer is the presence of gum in the packs. Often it will cling to the cards, potentially destroying thousands of dollars worth of pulls.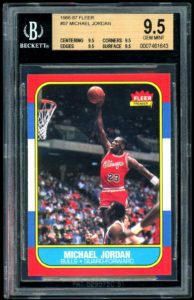 The chase in Fleer 1986 are the Jordan rookies. See what they go for on eBay. 
However, the box turned out to be quite sensational. We couldn't help but agree with Ken when he said, "this is the best box of 1986 Fleer ever."
The Rest Of The Drake Fleer 1986 Break
Drake honestly seems like a really nice guy. He said and seemed to mean it: "it's an honor to be accepted into the scene. The last three weeks have been a slow transition to acceptance into the hobby, and now I'm sitting with Don Corleone."
The interactions between Drake and Goldin were amusing. The rapper said that if they don't hit the Lebron triple logo, he will take the card mogul to his barber to get a crazy fade.
asked some interesting questions like, "why do you break the inner case on Flawless?" And he made some amusing mistakes like confusing a patch auto with a diamond card. We also got a taste of what Drake likes to collect. He loves Luka Doncic, and said "I am more Luka than Luka." He also noted the seemingly endless supply of Tyrese Haliburton cards in Flawless.
This was a far classier event than most breaks. You could see a full bar to Drake and Ken Goldin's left and a professional waitress serving fancy-looking drinks. He also invited the incredibly overachieving Canadian men's national soccer team members that recently qualified for the World Cup. Drake explained that they "had to get rowdy because they made it to the World Cup."
It's good to be Drake!
Drake Finally Hits A Logoman
In his first massive Flawless buy, Drake did not hit a single logoman. So he certainly didn't get the Lebron triple that everyone is after.
But this time, the hip-hop legend had better luck. Drake got the Anfernee "Penny" Hardaway 1/1 autographed logoman. There are no direct comps, but looking at some similar cards, it is probably worth around $7,000.
🚨 Logoman alert! 🚨 @Drake pulls a 1/1 Penny Hardaway Logoman auto ✍️ pic.twitter.com/zPeEoggMMg

— Goldin (@GoldinCo) March 28, 2022
Bottomline On The Drake Fleer 1986 Break 
Anything Drake touches brings a good deal of attention to the hobby. For example, 18,303 people viewed the Immaculate part of the rip, with over 30,000 viewing the Fleer portion. By comparison, 3,000 was the highest number of viewers for the big Immaculate break held in Vegas.
Love them or hate them, celebrities have massive influence, and they bring a tremendous amount of attention to the hobby. However, the involvement of someone of Drake's caliber shows that the growth of interest in the industry hasn't peaked.
We also learned that despite all the hype surrounding Immaculate, it continues to disappoint in terms of return on investment. In comparison, the Fleer 1986 box was an absolute treasure trove of value. It is overflowing with essential rookies and low-count PSA 10s that people seek out to complete their sets. What can I say? You can't beat the classics.
Cards Pulled In The Drake Fleer 1986 Break 
2 Charles Barkley rookie.
4 Hakeem Olajuwon rookie
3 Michael Jordan rookie
4 Patrick Ewing rookie
3 Clyde Drexler rookie
2 Dominique Wilkins rookie
4 Isiah Thomas rookie
3 Karl Malone rookie
2 Chris Mullin rookie (one was sadly stuck to a piece of gum)
3 Julius Erving
2 Larry Bird
1 James Worthy
3 Kareem Abdul-Jabar
3 Magic Johnson
Stickers
3 Michael Jordan rookie
2 Dominique Wilkins rookie
1 Patrick Ewing rookie
1 Hakeem Olajuwon rookie
2 Magic Johnson
2 Kareem Abdul-Jabar
After opening the 1986 Fleer, they moved on to Flawless.
Here are some of Drake's biggest hits from the night:
Penny Hardaway logoman 1/1
Kevin Durant patch auto /15
Tyrese Haliburton rookie auto 1/10
Luka Doncic patch auto /15
Allen Iverson jersey number 3/3
LaMelo Ball rookie auto /5