Major Topps Industry Conference News: The Good, The Bad, And The Weird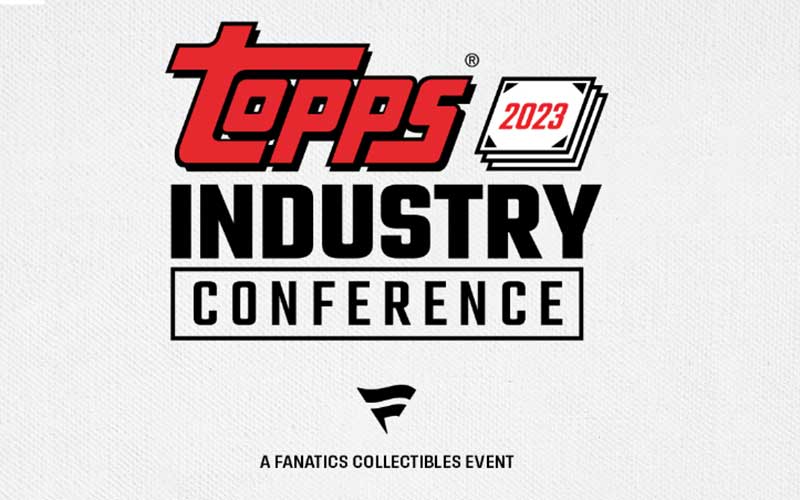 Topps/Fanatics held its 2023 Topps Industry Conference at Chase Field in Arizona on February 26th-28th. A number of interesting announcements came out of the event. Let's dive in!
Fewer (or NO) Redemption Cards
The first bit of news is undeniably good news. Fanatics/Topps is pledging to do "everything we can to reduce and hopefully eliminate redemptions".
Few things are more frustrating to a collector than pulling a redemption for a big hit, instead of the hit itself. The waiting. The chance that you don't ever get your card is real. And breaking a box a few years old? Bad news…that redemption card is expired.
So hopefully they can make good on this pledge and include hits in the actual products and redemptions become an unpleasant memory of the past. We hope this does not mean we see a lot more sticker autographs, but even they would be better than redemption cards.
One thing that would help keeping packs sticker and redemption free would be…
Fewer products
When Topps was given exclusive rights to produce licensed MLB cards in 2009, one of the reasons was reportedly to reduce the number of products released each year. In that way, exclusive rights has been an utter failure. Topps releases a staggering number of products per year, a total that clocks in around 70 per year.
Some of these products are classics that are either universally popular (Topps Flagship, Chrome) or serve a popular niche (Heritage, A&G, Pro Debut). But some of the products never really were very popular, or were too similar to other products. They simply muddied the waters and diluted the entire product line.
A few of the products that will be eliminated include:
Archives Snapshots
Bowman Heritage
Clearly Authentic
Bowman Chrome X
Gallery
Fire
Gold Label
Opening Day
1st Edition
Bowman Transcendent
In general, I applaud the move to release fewer products. I think they'd do well to reduce the total number even more than what has so far been announced. There's just too many products for everything to gain traction.
It's a bit interesting to see Gold Label and Gallery, two long-standing products on the list. Although other than the fact that they've been around awhile, I don't have a strong argument for their continued existence.
The only consideration is that several of the sets, including Opening Day, are entry level products, the kind that younger collectors can easily afford and buy at retail. I hope that Fanatics/Topps does not miscalculate the need to help grow the next generation of collectors.
It sounds like Topps Big League is returning, as a low-cost, kid-friendly product, which is good news.
Bowman Chrome Draft Tom Brady 1st Bowman Chrome
In 2023 Bowman Chrome Draft, Fanatics/Topps will produce a 1st Bowman Chrome card of retired quarterback Tom Brady. Brady was famously drafted by the Montreal Expos but did not sign. Sticking to football seemed to be the right choice for him. There will be autographed versions included in the product as well.
That being said, this card is sure to be a nice hit and something a lot of fans across sports will chase.
Frozen Fractors: Welcome to fuzzy math
The "manufactured scarcity" of 1/1's is a big part of the modern card experience. Frozen Fractors attempt to take things to their illogical, ridiculous end. The idea is that these are 0/0 cards. Which of course is silly, since there is one, since the card exists. Even weirder? There are multiple copies of each, numbered in negative numbers. Think -5/0.
To me, this feels campy and somewhat misguided. But hey, maybe they prove popular and add an extra dimension to breaking packs. But I'm honestly not optimistic.
Retrofractors: Correcting past misses
Lots of players didn't get 1st Bowman cards, on account of playing well before 1st Bowman cards were a thing. That inconvenient wrinkle of the historical timeline will be corrected going forward, with the introduction of Retrofactors. These will eventually hit many players who didn't get 1st Bowman cards (Babe Ruth, for example) in short print cards that are sure to be a popular chase.
A Few More Announcements
A few more items from the Topps Industry Conference:
Topps will release a number of products around the World Baseball Classic, including Topps Now cards and a higher-end Chrome offering.
The company is working on a biodegradable card wrapper. This is exciting news. In addition to being a baseball card nut, I'm a sustainability nut, and I have to admit the non-recyclable, non- biodegradable wrappers cards come in were making me a bit crazy. This is a very welcome development!
Final thoughts on Topps Industry Conference announcements
So, we titled this article "the good, the bad, and the weird". Depending on how you feel about Frozen Fractor 0/0's with negative numbers, maybe it's the good and the bad/weird. Because the other news all is mostly good. Maybe it doesn't bode well for the future of finding cards in retail, but generally good.
The Frozen Fractors, though…those are either weird or bad in my mind. What do think of negative number cards, and the other announcements from Fanatics/Topps? Let us know on Twitter @card_lines.