Are Topps Now Cards Worth It?
Topps is very proud of its Topps Now series and promotes it constantly. However, not everyone understands the product and its market value. This article will help you decide: are Topps Now cards worth it?
Topps Now is a very divisive topic in the collector community. The series is a different concept from classic wax ripping, and as such, some people view them as a second-rate product. Meanwhile, there is a tribe of enthusiastic collectors who swear by Topps Now.
Check out current Topps Now cards available on Topps.com
What are Topps Now cards?
In 2016 Topps pioneered a new line of cards. They would make cards commemorating the events of the previous day. However, to create manufactured scarcity, the cards would be available for 24 hours only. Panini has answered with a similar line called "Panini Instant" cards.
Once the allotted time is up, Topps will not print the card again. This simple idea inverts the traditional concept of ripping wax. Instead of hoping for a specific card, you can get anything. And instead of being able to rip when you want, you have to pull the trigger within a limited amount of time.
Topps has maintained one element from ripping. The company sends out rare parallels at random with orders. We will discuss those in a bit more detail below.
Shop for Topps Now cards on eBay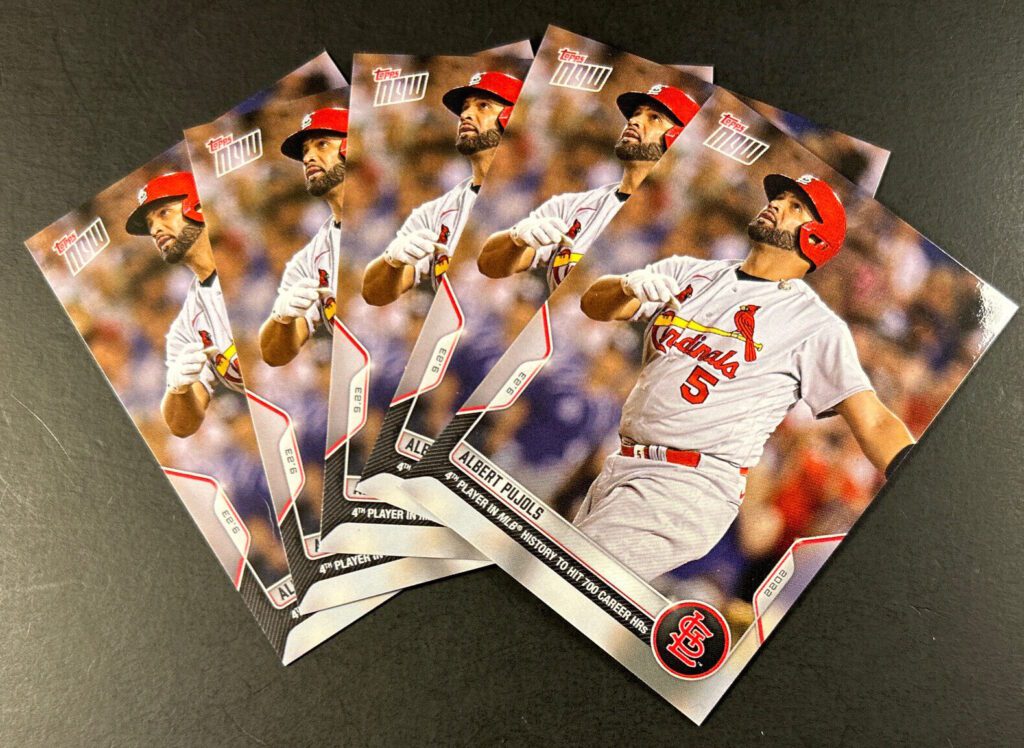 What sports do Topps Now cards cover?
The vast majority of their cards are baseball-related. After all, this is Topps.
However, they produce cards for the other sports they license as well. So you can get UEFA Champions League, Major League Soccer, and Bundesliga soccer cards. They also have WWE and, of course, Mandalorian: Star Wars Topps Now cards as well.
While it is tempting to focus on baseball, the soccer and wrestling cards are sometimes more valuable. Because they are less popular (at least on Topps Now), they have lower print counts.
Topps sometimes covers non-sporting events in its cards. Their series on the 2020 elections has proved immensely popular.
Check out current Topps Now cards available on Topps.com
Topps Now 2023 Road to Opening Day
Topps NOW is back for the 2023 season, with a "Road to Opening Day" collection set to be released before April. As in year's past, the sets will feature exclusive spring training photography.
How to order Topps Now cards
A base Topps Now card costs $10.
You can get auto versions of some of the Topps Now cards. However, they cost more. An auto will set you back $79.99. Meanwhile, a combination relic auto can cost $250.
However, there is a pretty good hack. You can check eBay and often buy Topps Now cards from sellers ordering in bulk. They often charge $5-$6 for the base cards.
Check out current Topps Now cards available on Topps.com
These cards are high-risk for a high-reward proposition. As we will see below, you can make quite the windfall if you get the right one. However, it isn't easy to pull the trigger on the right card.
If you are into Topps Now cards, you should take advantage of the Topps Loyalty Program. With enough points, you can get a 'card of the month' membership and order one free card for every month of the season.
Keep in mind that you can score a parallel version of your Topps Now base card. They come in the following variations:
Blue #/49
Purple #/25
Red #/10
Orange #/5
Gold #/1
Since Topps sends these numbered cards at random, you will never know if you hit a parallel until your order arrives.
Shop for Topps Now parallels on eBay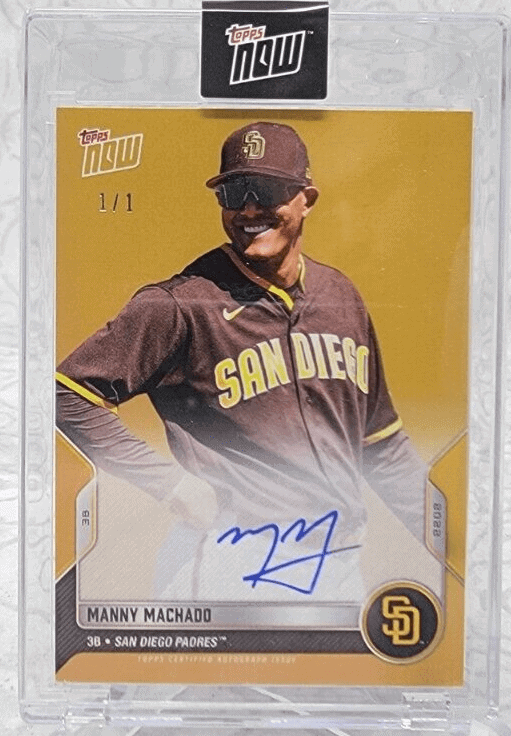 The population calculation of Topps Now cards
The population of Topps Now cards varies more wildly than regular cards. Remember, the more people order a card on the day it is available, the further oversupply will water down the value.
Your first instinct will be to order cards from the most significant and most outstanding moments. For example, when a pitcher hurls a perfect game. However, everyone else will be thinking the same thing.
You want a card that marks an event of sufficient importance that will seem important to collectors years down the line. But does so without attracting too much attention and driving up the print run.
Therefore, getting a good Topps Now card requires prescience verging on clairvoyance.
Shop for Topps Now cards on eBay
Non-baseball Topps Now cards – Bowman Now U
With Topps gradual expansion outside of baseball, collectors can also find Topps Now cards of a variety of other sports. For example, Topps has recently introduced the Topps Bowman Now U program line with frequent updates of new cards college football and basketball cards.
Go here to view the latest sales on Topps Bowman Now U cards on Topps.com, available for $8.99
Topps NOW MLB Debut Cards
One of the most popular issues of Topps Now is call-up or debut cards. In a hobby that essentially worships the rookie card, getting a card marking a strong prospect's debut seems like a no-brainer.
Take, for example, the most popular card of all time in that series. Vlad Guerrero Jr. was one of the most highly touted prospects in recent memory. As we can now clearly see, the hype was more than justified.
When he hit a walk-off homer to beat the A's on his MLB debut, some people thought the moment was big enough to warrant buying a Topps Now card. 19,396 people, to be precise.
The result is that, as of right now, it is a $10 card. Not the greatest investment. Although obviously, a good graded version goes for significantly more.
And that is a relatively good debut card. I won't even get into the sob stories about the people who sprung for those signed Jarred Kelenic debut cards.
Shop for Topps Now Debut cards on eBay
If you go for a Topps Now debut card, you should consider going the soccer route. The highest-selling Topps Now debut card on eBay is Phil Fodden of Manchester City. It went for about $2000 more than a Ronald Acuna Jr., the highest-priced baseball debut.
The most valuable Topps Now cards
One card that has really taken off in popularity is the Aaron Judge card commemorating breaking Joe DiMaggio's rookie home run record. The signed #/10 version of the card is so valuable that they make up the two highest-selling Topps Now cards on eBay.
Do you want to know how much they sold for? So do we. Sadly both were "highest offer" for cards priced at $45,000. So, we are not exactly sure. But you know, a lot.
Shop for Aaron Judge Topps Now cards of Judge breaking DiMaggio's home run record.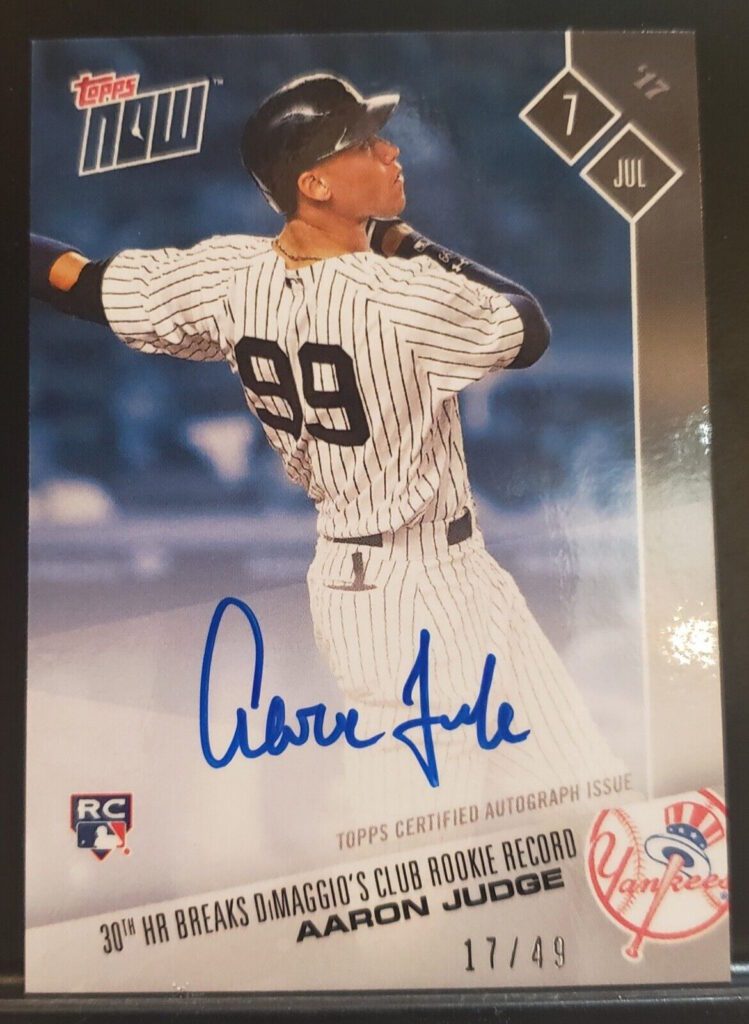 Keep in mind that the Judge card is a massive outlier. Nothing else even comes close. But I tried to figure out what makes it so unique. Here is what I came up with:
Joe DiMaggio is an icon, so vintage baseball icon. So breaking his record adds to the "historical" feel. Meanwhile, the record has stood for decades, so it doesn't seem like something that people will forget any time soon. Finally, it contains some of that Yankees mystique and is a genuinely beautiful-looking card.
Some of the other highly popular Topps Now cards are a bit stranger. A 1/1 card of Dr. Anthony Fauci (yup, the COVID-19 guy) throwing out the opening pitch of the 2020 season went for $10,000.
So why is this card so attractive to collectors? Here is my theory on that one: the card captures a historical moment perfectly. It is also a never-to-be-repeated moment and a genuinely funny card.
Shop for Anthony Fauci Topps Now cards on eBay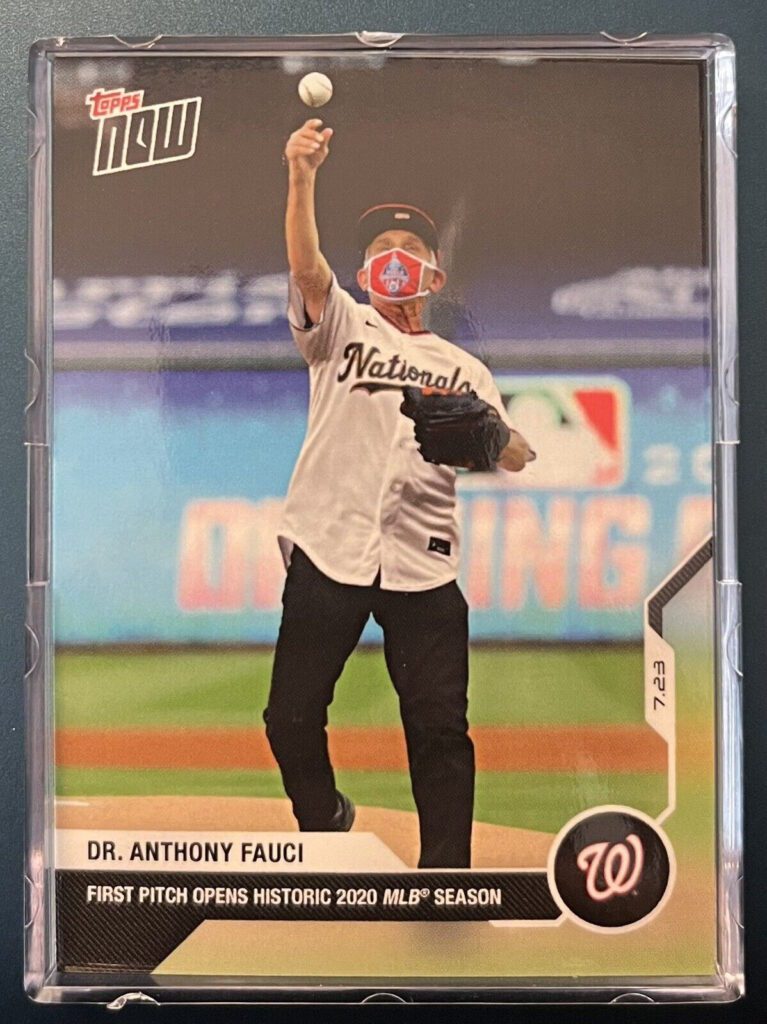 What makes a Topps Now card valuable?
At first glance, the Fauci and Judge cards have nothing in common. One features a big bruising and muscular slugger, while the other portrays an 80-year-old 5" 7 immunologist.
However, both cards feature a moment that is unlikely to be repeated. Most cards feature sporting moments that may happen a few times a season. In the case of the popular debut or call-up cards, they depict moments that occur dozens of times a year.
Therefore, I wouldn't roll the dice on a card depicting a common baseball occurrence. They are unlikely to capture the attention of collectors and command a premium.
Check out current Topps Now cards available on Topps.com
In order to maximize returns look for cards with some, or all, of the following characteristics:
The card captures a moment that is unlikely to be repeated.
It features an iconic individual or someone you believe will become one.
The picture has eye appeal.
It is a humorous card or has novelty value.
You believe other collectors will not appreciate it as much as they should.
If you find a card that meets all these standards, you should consider springing for the auto.
Topps Now cards are not the most valuable cards out there. Many collectors look down on them because they do not believe in a model that cuts out the suspense involved in ripping.
However, this is merely outdated prejudice. Topps Now cards also give you an unparalleled opportunity to own cards with emotional significance to you or a loved one. You can get cards from games you attended or the last game of your favorite player. Not everything has to be about profit.
As we saw, they can also be a rather good financial investment if you know what you are doing. If you buy an auto Topps Now card commemorating an utterly unique occasion, you can make a strong return on investment.
Whether these cards tickle your fancy or not, Topps Now has proven to have a strong following. It is one of several alternatives to traditional collecting and adds another weapon to your arsenal.
Shop for Topps Now cards on eBay