Unvaccinated Kyrie Irving Cards: Buy, Hold or Sell?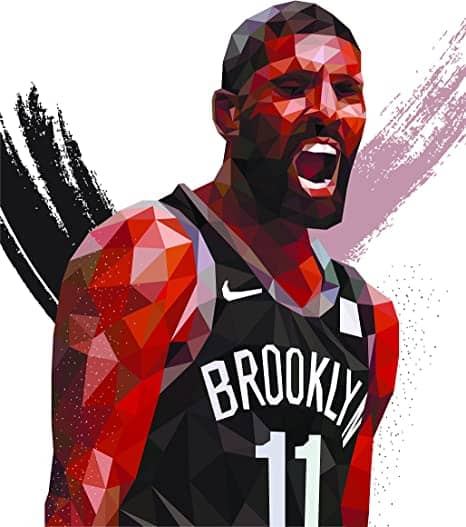 Kyrie Irving's cards have always been as volatile as they are valuable. The polarizing star has dazzled fans with his offensive prowess and won an NBA title alongside LeBron. But his legacy is complicated. In this article we answer the burning question: should you buy any unvaccinated Kyrie Irving cards?
Kyrie has never been one to shy away from controversy. Yet, he has yet to play a game this season. In addition, Irving refuses to get vaccinated and conforms to New York law. And now, amid his most significant controversy ever, many collectors are left wondering about the long-term value of Kyrie's cards.
Who is Kyrie Irving?
Kyrie Irving has rarely been out of the spotlight since he was picked first in the 2011 draft.
On the court, he is a ball-handling savant, whose trademark quickness has led to the nightly embarrassment of the league's best defenders. Recently, NBA veteran Andre Iguodala — who's been on the wrong side of his fair share of Kyrie crossovers — called Kyrie a top 20 player all-time.
Much of Kyrie's reputation, however, has been built off the court. He charmed fans with his "Uncle Drew skits," in which he dressed up as an old man before lighting up unsuspecting schoolyard hoopers. He has also been a prominent philanthropist.  Irving is known for donating hundreds of thousands of dollars to feed the homeless and paying off HBCU student loan debt.
Despite that, Kyrie remains a polarizing figure in the league. Some have labeled him as a "locker room cancer," has been consistently non-compliant with NBA COVID protocols (leading to multiple stretches of missed games last season), and has been linked to some questionable conspiracy theories.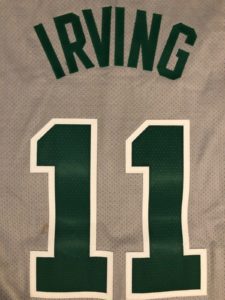 Kyrie and the Vaccine
Recently Kyrie has made headlines for his most controversial stand yet — refusing to get the COVID-19 vaccine. While he isn't technically in any violation of NBA rules, his decision flies in the face of the city of New York's vaccine mandate.
Without the vaccine, Irving can't even enter the Nets' home arena. Initially, the Nets seemed okay with allowing Kyrie to be a part-time player. He could practice on his own, play in road games, and the Nets could buy more time for Kyrie to come around on getting the shot.
However, the organization decided his lack of reliability just wasn't worth it. In addition, the thought of a playoff series in which Kyrie could help win a game 6 on the road, only to be barred from even entering his home arena for the series finale, wasn't appealing to Nets' management.
So, on October 12th, the Nets announced that Kyrie had been suspended from the team until he received the vaccine and was cleared to rejoin them full-time.
Why This Matters
Irving isn't the only player to refuse the vaccine; Washington's Bradley Beal and Denver's Michael Porter Jr are among other notable holdouts. However, no other player's situation impacts their team as much as Kyrie's.
After acquiring James Harden last season, the Nets assembled one of the most ambitious stars in league history. The trio of Harden, Durant and Irving share 27 all-star selections and immediately became favorites to win the championship.
Injuries, however, derailed the Nets' title ambitions last year. Kyrie's absence was particularly impactful, as the Nets lost a series to the Bucks that they had led 2-0 after Kyrie was sidelined.
This year, a sluggish start for Brooklyn's juggernaut has led to some internal worries about Irving's absence. As a result, the spotlight on Kyrie is now brighter than ever. Although it is unknown when, or even if, Kyrie will return to basketball, fans and collectors are left wondering about the value of his cards.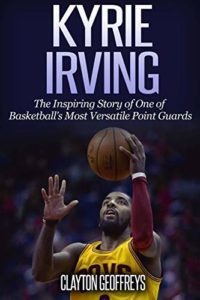 Unvaccinated Kyrie Irving Cards Are Plummeting
As you might have expected, Kyrie's absence from basketball has not helped the value of his cards. A PSA 9 of his Panini Hoops (#223) rookie card peaked at over $100 just this summer and was still selling as high as $66 in early September. However, it is now going only around $40.
The same card as a PSA 10 sold for $170 in August and is now drawing an abysmal $66. His autographed cards have fared better. Nonetheless, they are still selling between 10-20% lower than pre-controversy.
But Some Of His Cards Are Gaining
On the flip side, some of Kyrie's most valuable cards have increased in price since he was removed from the team. For example, October saw a 180% increase over September in Kyrie PSA 10 card sales.
Some of that bump is tied to the start of the NBA season. However, the attention Kyrie is getting is having unpredictable effects on value.
Top 5 All-Time Kyrie Cards
Panini released all Kyrie's rookie cards, which were delayed to the 2012 release due to the 2011 lockout season.
Any Kyrie rookie is going to have some value. However, here are 5 of our all-time favorites.
Panini Timeless Treasures "Time to Shine" RC (#/ 99)
Kyrie's timeless treasure card is an excellent find for those who appreciate a sleeker look. With a darker background that looks like it could be a movie poster, this card captures young Kyrie's star potential.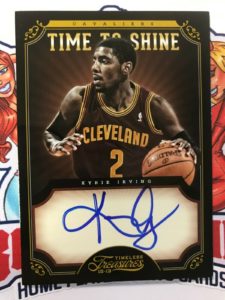 Panini Contenders RC (#250)
It's easy to see why the Contenders #250 is one of Kyrie's highest valued rookies. His face bears an intensity that borders on violence, and he is engulfed in a Cavalier-red smoke.
His name is featured laterally on the left side of the card, with a hard-to-see, white-on-white "Irving." Underneath, his full name is spelled out in a clearer red print. This stylish card is a must-have for the true Kyrie fan.
Panini Gold Standard Rookie (#227)
As a holographic card with a golden glimmer, it is the card for those who love the flash. While some might see Panini's annual gold series as over the top, it can serve as a vital centerpiece in a Kyrie collection.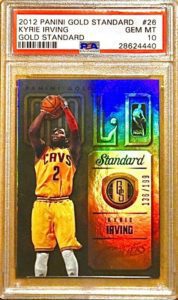 Panini Prizm RC (#201)
If you're looking for a classy card, the prizm fits the bill. However, with a dazzling diamond border and a unique photo shape, it lacks nothing in terms of aesthetic appeal.
The prizm series is a staple for Panini. The 2012 set includes 300 cards, the first 200 standard NBA cards, and the last 100 rookies. With Kyrie as the headlining rookie from his class, he's the first rookie in the set (hence the number 201). This particular card has an epic photo of Kyrie taking the ball to the rim. His facial expression captures the trademark Irving angst.
Panini National Treasures RC (#/ 199)
Without question, this is the premier Kyrie rookie card. A PSA 9.5 can fetch upwards of $20,000. The RPA is a strong investment.
And bonus value for cards with a jersey patch that includes all 3 of the Cav's colors!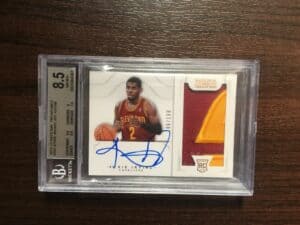 Bottom Line On Unvaccinated Kyrie Irving Cards
So, should an intelligent investor buy low or stay away?
Every year we see controversies affect a player's card price. However, Kyrie's situation is without precedent. We have a general understanding of how legal troubles or trade demands can impact a player's value.
But we've never seen a player removed from their team for refusing a vaccine amongst a global pandemic. We don't know how much permanent reputational damage Kyrie will take on, and there is the risk that he could retire from basketball entirely. Unfortunately, such a scenario would irrevocably mar Kyrie's legacy.
The Best Equivalent For Kyrie Is Kyrie
The best model for how Kyrie's value projects are, ironically enough, Kyrie himself.
Kyrie's value first dipped in 2017, when he threatened knee surgery if he wasn't traded from the Cavaliers. It declined again when he forced his way off the Celtics in 2019. Then again, amidst his unexplained disappearance in January 2021.
Each time, Kyrie's strength as a player won out. Eventually, his value returned to reflect what you would expect from a 7x all-star with an NBA championship on his resume. It's unlikely that Kyrie's playing days are over, and when he returns, he rejoins a Nets squad with dynastic potential.
Therefore, collectors can expect his value to rebound, as it has in the past. So, our official advice? Buy cheap Kyrie cards now and enjoy your riches when the tide turns.
Unvaccinated Kyrie Irving Cards: Buy Now, Thank Us Later
Sure, there is still plenty that could go wrong in the Kyrie saga. For example, he could stay out of basketball indefinitely. Or Irving could walk off the edge of Earth he alleges is flat.
But Kyrie's staggering loss in card value is most likely an overreaction from the market. In the blink of an eye, we could see Irving back on the court, striking fear into every perimeter defender in the NBA. We may even see him hoisting the Larry O'Brien trophy with Durant and Harden. So, invest in Kyrie cards while they're cheap. You can thank us later.