2020-21 Topps Merlin Chrome Review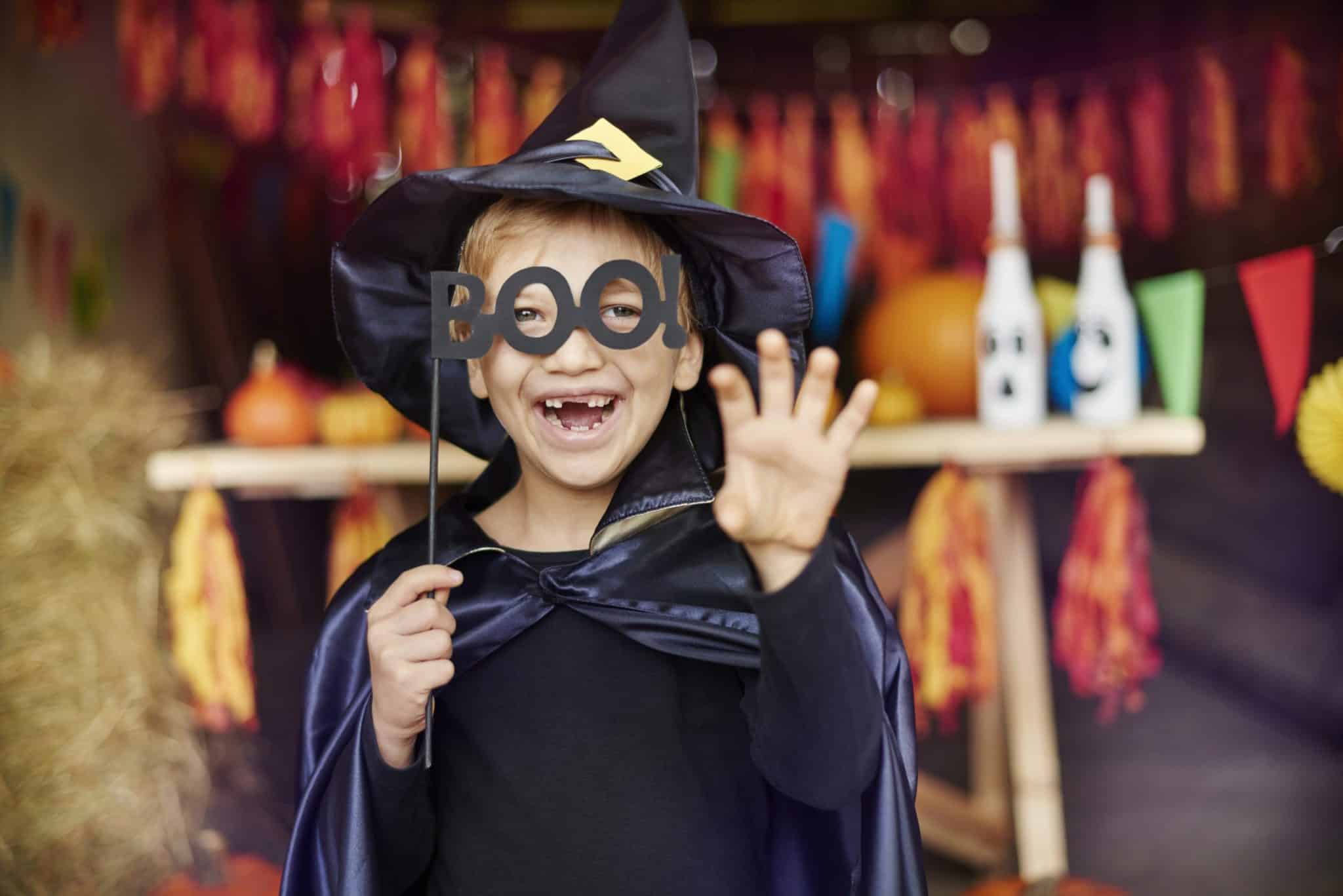 As you know, soccer cards have never been more popular. Therefore, the big card companies are pumping out more cards than ever before. But what is worth getting? We provide you with the 2020-21 Topps Merlin Chrome review, to help you decide.
After a long absence, 2021 Topps Merlin returns the classic Merlin look with a unique chromium finish. It is a licensed product with the Champions League and Europa League, as their deal with Topps continues, and the Merlins set released July 21st.
Release Formats
Merlin was released on July 21st. It draws heavy inspiration from the Merlin stickers that Topps released in 1996. This set is magical-themed, with inserts like Wizards of the Pitch and Ageless Alchemy making appearances.
Blaster Box
-7 Packs of 4 Cards, 1 Pack of 3 Aqua Prism Refractor Cards
-Only release with guaranteed Aqua Prism cards
-40 Blaster Boxes come in a case
You can get them for around $55 on eBay.
Hobby Box
-18 Packs of 4 Cards
-12 Hobby Boxes come in a case
-Speckle, Green, Green Mojo, Gold Atomic, and Red Refractors are only available through Hobby Boxes
They are available on eBay for $275 or so.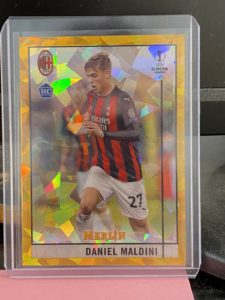 2020-21 Topps Merlin Chrome Review: Checklist
Within this set, you will find players from all over the Champions and Europa leagues. Legendary players Lionel Messi and Christiano Ronaldo are included, and upstart rookies Billy Gilmour and Pedri.
The base set is a relatively small one, featuring only 100 cards. Fifty-six of these are rookie cards, with the remaining 44 being veterans. The rookie-heavy approach may sound appealing, but it can also water down their value.
Outside of base and autographed cards, there are three inserts in Topps Merlin. Ageless Alchemy has a mix of stars from different eras of the game. As you can expect, U-23 Stars focuses on young talent while Wizards of the Pitch emphasizes veteran stars.
Some of the critical Wizards of the Pitch cards include Neymar Jr. and Christiano Ronaldo. From the U-23 Stars insert, Alexander Isak and Bukayo Saka are the headlining cards. Ageless Alchemy is the smallest insert with only 10 cards, including a Lionel Messi insert.
Parallels:
Refractor
Aqua Prism Refractor
Purple Refractor – /299
Atomic Refractor – /250
Aqua Refractor – /199
Speckle Refractor – /150
Green Refractor – /99
Green Mojo Refractor – /99
Blue Refractor – /75
Blue Shimmer Refractor – /75
Gold Refractor – /50
Gold Atomic Refractor – /50
Orange Refractor – /25
Black Refractor – /15
Red Refractor – /10
Red Wave Refractor – /5
Superfractor – 1/1
2020-21 Topps Merlin Chrome Review Of Key Players
Many of the rookies in this release already have other earlier and often more desirable cards. For that reason, we did not include Jude Bellingham, who has a far more valuable Topps Chrome rookie.
However, there are some exceptions. Here are some players worth looking for in this release. But all of these prospects have their downsides.
Eduardo Camavinga
Camavinga is the latest French wonderkid. Several of the biggest clubs in Europe have been interested, and price tags north of $120 million have been bandied about as actual possibilities. But Eduardo's form has dipped recently, and the midfielder has found himself on the bench at Rennes. The current situation raises concerns as to Eduardo's mental toughness.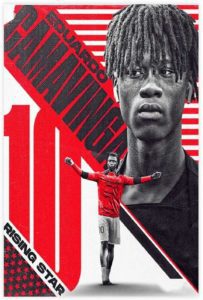 Daniel Maldini
Maldini is blue-blooded and a blue-chip prospect. His father, Paolo, was arguably the most outstanding left-back in the history of the game. The younger Maldini is a free-roaming attacking midfielder with immense potential. The Merlin RC is one of the few Maldini cards available thus far, rendering it a robust potential investment.
Pedri
If anyone doubted that Pedri was world-class, he put those concerns to rest with his fabulous performance at Euro 2020. However, keep one thing in mind before you invest heavily in Pedri. The young Spaniard is a central midfielder. That means he will not score a ton of goals. Of course, some central midfielders have good card value, like Xavi, who is often compared to Pedri. But usually, the high-value cards belong to forwards and attacking midfielders.
The 2020-21 Topps Merlin Chrome Review: Pros And Cons
2020-21 Topps Merlin Chrome is an unusual product. As such, it has some strong selling points and a few significant disadvantages.
Pros
The autograph list is easily the main advantage. Again, Topps outdid themselves with the list, including a great mix of promising players and absolute legends. The Billy Gilmour rookie auto stands out among the prospects because it is his only auto out there so far. But the Ansu Fati, Alphonso Davies, and Giovanni Reyna really stand out as well.
Amongst the legends, Gareth Bale, Cristiano Ronaldo, and Messi are great chases.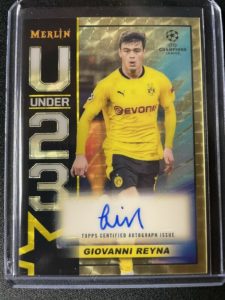 Cons
The main problem is that this release is very similar to the 2020-21 Topps Chrome UEFA Champions League. Of course, the inserts and parallels are different and more numerous. But the cards are similar, and so is the checklist.
The set is released at an awkward time. First, it came out after the season ended. Therefore the claims to rookie card status are questionable. And because the soccer season break is short, the new season is already upon us not long after the release.
Merlin is a very popular release right now. However, we don't know if it will last. If this release is short-lived, the rookie cards may be less desirable in the long term.
The Bottomline Of The 2020-21 Topps Merlin Chrome Review 
Topps Merlin brings a whimsical design to one of the most popular sports leagues in the world. With unique inserts and a vast slew of parallels, this set has plenty to offer to a wide range of collectors. However, it is unclear if this release will become a long-term hobby mainstay.