A Review Of 2021-22 Panini Contenders Optic Basketball And Why Buying Singles Is The Smart Choice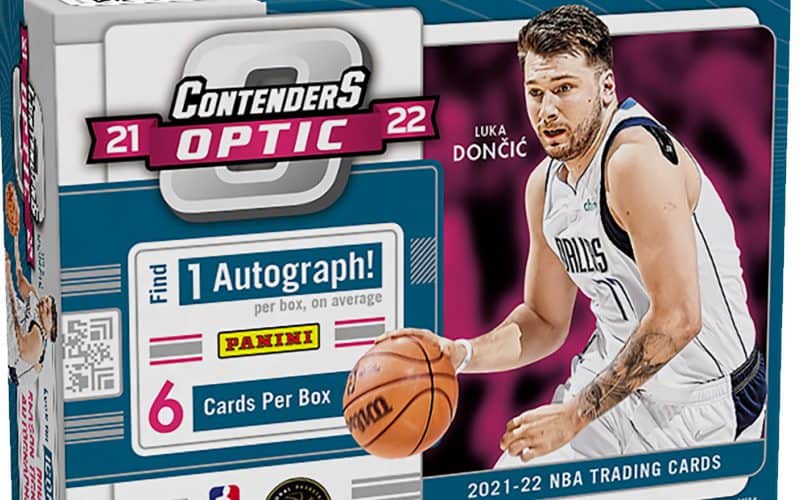 The Panini Contenders Optic Basketball series is unique. The cards in it are manufactured with opti-chrome technology. These cards are a variation of the popular Contenders Optic series. However, they bring a shinier chromatic finish, making the iconic ticket cards more striking.
So, if you like your auto rookie tickets looking nice, colorful, and VERY shiny, this is your product and the 2021-22 Panini Contenders Optic Basketball review is here to guide you.
Panini first tried this format out with its football cards in 2016. But it took, and in 2018, the first basketball cards dropped. Since then, it has been a fixture in the annual card schedule, holding the ground somewhere between the high-end cards and the low-end retail releases.
Shop for hobby boxes of 2021-22 Panini Contenders Optic on eBay
2021-22 Panini Contenders Optic Basketball Review Of The Release Date
The 2021-22 Panini Contenders Optic Basketball hobby boxes are set to release in December. Keep in mind that release dates are always subject to change. As always, this is a hobby box release.
READ: 2022-23 Contenders Optic releases in September, 2023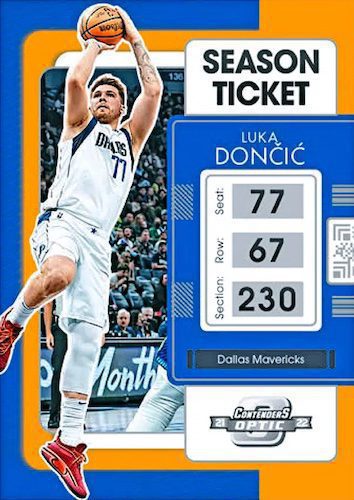 2021-22 Panini Contenders Optic Basketball Review Of Release Formats
The Panini Contenders Optic Basketball aims to be an exclusive release. So, there are no retail products associated with it.But, unfortunately, that means you can only get it in hobby box format.
Hobby Box
6 cards per pack
1 pack per box
Look for 1 autograph, 2 inserts, 2 parallels, and 1 base Season Ticket per box on average
Shop for hobby boxes of 2021-22 Panini Contenders Optic on eBay
Panini Contenders Optic 2021-22 Basketball Pros
Everyone in the hobby agrees that the best cards in Contenders are fantastic. The rookie tickets are superb, and the design really works. But there are some issues with that release.
For one, there are far too many base cards. On a related note, many non-ticket cards aren't that exciting. Panini seems to save its best designs for Prizm and Optic, leaving many of the other products looking tired and generally uninspired.
Despite having a lot of base cards and undesirable inserts, regular Contenders boxes are pretty expensive. Hobby boxes go for around $500. So, it's understandable that many collectors just want to cut to the chase and get the tickets. That is where this release comes in handy.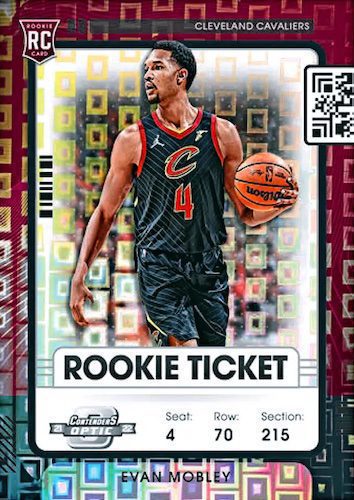 Shop for hobby boxes of 2021-22 Panini Contenders Optic on eBay
2021-22 Panini Contenders Optic Basketball cons
For many collectors, the problem with this product is simple. It doesn't really pop out as having any particular identity. It takes the design from Contenders, which everyone likes. The finish is very much Prizm but less identifiably unique.
And it tries to have that kind of low-card exclusiveness of the Flawless release. But it somehow doesn't look all that exclusive. They look like Prizm or Optic inserts rather than anything desirable.
With so many basketball products on the Panini release schedule, this one does not have a unique identity. And this may be my opinion, but the colorful optichrome version of the tickets is less attractive than their equivalents.
The ticket design is quite busy with a lot going on. Not too much, in my opinion, but getting there. The flashy color takes it over the edge from my perspective and turns it from a classy card into a borderline eyesore.
And this year, Panini really isn't helping matters by putting a QR code on the front of the card. Now granted, the codes are only on the front of the tickets. But for most collectors, those are the only cards they actually care about.
Maybe younger collectors will like it, but I can't be sure. But most likely, all my fellow old fogies will dislike this touch that takes away from the classic ticket design.
2021-22 Panini Contenders Optic Basketball checklist
The base set for 2021-22 Panini Contenders Optic Basketball is all tickets, as all of the Contenders' products are. The base set is divided into veteran tickets, which are the base cards no one wants, and the far more desirable Rookie Ticket Autograph cards.
We don't have the 2021-22 checklist data yet. But it will probably be pretty similar to last year's release. So, for example, in 2020-21, Panini put 100 cards in the veteran base checklist and 30 in the auto rookie list.
The most valuable non-auto ticket is the super short print Black Pandora ticket. They will likely have substantial value on the resale market.
2021-22 Panini Contenders Optic Basketball Review Of Inserts And Parallels
The cards in 2021-22 Panini Contenders Optic Basketball come in a wide variety of parallel versions:
Silver
Red
75th Anniversary
Blue (#'d/99)
Orange (#'d/49)
Green Pulsar (#'d/25)
Black Pandora
Gold (#'d/10)
1/1 Gold Vinyl
Red Cracked Ice
Blue Cracked Ice
SSP Black Pandora Parallels
Inserts
2021-22 Panini Contenders Optic Basketball brings back some beloved inserts. But as mentioned, most of them are not particularly inspiring. Other Panini products do far better in this regard.
Hoop Dream
Not to sound negative or anything, but Hoop Dream is not a well-designed insert. Is there a net in the background to symbolize the hoop? I don't know. It doesn't look good, and a net and a hoop are not the same thing.
All-Star Aspirations
The insert is called All-Star Aspirations, which makes it sound like it focuses on aspiring All-Stars. But instead, it documents spectacular All-Star performances. Since it, by definition, features veterans, this is one of those throwaway inserts.
Playing the Numbers Game
This insert features heavily in all Contenders products. The front shows a remarkable stat from one of the players' best games of the year. Meanwhile, the back gives more details about the achievement, the score, and the like. A nice little insert.
Legendary Tandems
Panini hasn't made the design available yet. But of course, it will feature duos of players with outstanding mutual achievements.
Lottery Ticket
The lottery ticket insert uses the general aesthetics of the Contenders ticket format. But instead of the usual look, it gives it an excellent lottery ticket design. A good aesthetic.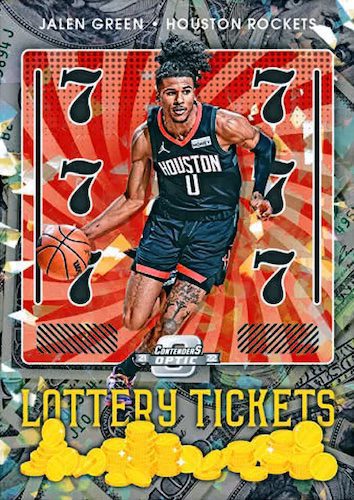 Uniformity
This insert places the player inside a larger version of their uniform. Not a fan of either the pun (bad even by sports card standards) or the lackluster design.
Pick N Roll
These cards highlight successful partnerships between players. Although one example has Kyrie Irving and Kevin Durant, what success means is open to interpretation. Pictures of the two players feature on the front, with a description of their accomplishments on the back of the cards.
Superstars
This die-cut insert is one of the most successful non-ticket cards in 2021-22 Panini Contenders Optic Basketball. The cuts follow the diamond format on the top, leading to a reasonably original design concept.
Suite Shots
The pun seems to refer to suites at the arena. So, it's shots of the action from that level. But this insert would probably work better if you could see it was taken from inside a suite. Or maybe I am overthinking?
Panini Contenders Optic 2021-22 Basketball value
Panini Contenders Optic Basketball is packaged as a high-end product. So, the best test for it is in terms of value. We will look at how the wax boxes hold up value and break down a couple of rips to see if the set makes up value when opened.
Shop for hobby boxes of 2021-22 Panini Contenders Optic on eBay
Wax
Since this release hasn't been around for too long, we can measure how all the releases have fared.
All basketball products in 2018-19 got a nice boost from the presence of Luka Doncic. But the last two years have barely held value. And since there is no Luka in the crop for 2021-22, or even anyone close, we can expect the box to perform similarly to the last two years.
In other words, this release is not much of a hold.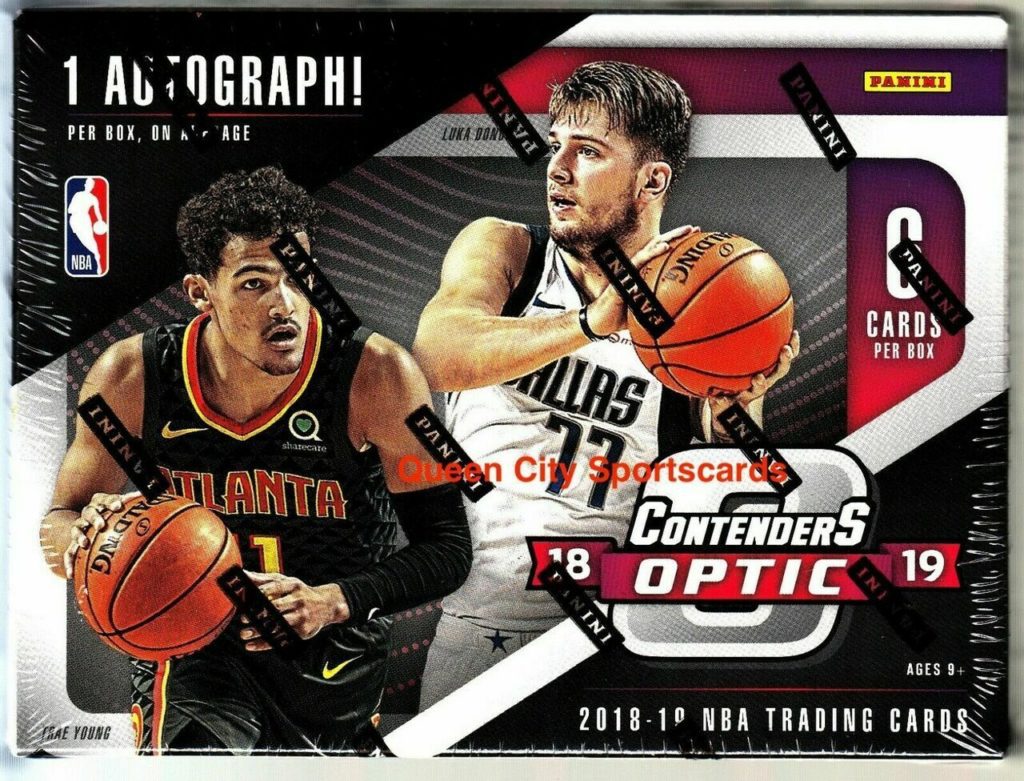 2021-22 Panini Contenders Optic Basketball box break analysis
Usually, sitting through a break and trying to figure out the value of individual cards is a nightmare. Some boxes have over a hundred cards, and who has the time or energy? But these more minor releases provide an excellent opportunity to do that.
I took two 2020-21 Panini Contenders Optic Basketball breaks to see how they did. The boys at Layton Breaks did a 10-box rip about ten months before I wrote this. That gave me a great opportunity for analysis. You can see the other 7 breaks here:
Box 1
Box 2
| | |
| --- | --- |
| Bam Adebayo Blue | $4.00 |
| Derrick Rose Red | $2.00 |
| Julius Randle Silver | $1.00 |
| Isiah Stewart Rookie Auto Ticket Silver | $100 |
| Dirk Nowitzki All-Star | $5.00 |
| Jae'Sean Tate Uniformity | $13.50 |
| | $125.50 |
Box 3
| | |
| --- | --- |
| Den Murray Silver | $2.00 |
| D'Angelo Russell Silver | $7.00 |
| Patrick Beverly Red | $1.00 |
| Immanuel Quickley Rookie Ticket Auto /149 | $41.00 |
| Haliburton/Fox Tandem | $18.00 |
| Joel Embiid Suite Shots | $7.50 |
| | $76.50 |
None of the boxes come close to returning the investment, even when there is a reasonably good rookie ticket involved. Although, as a Knicks fan, I may overestimate the appeal of an Immanuel Quickley rookie ticket.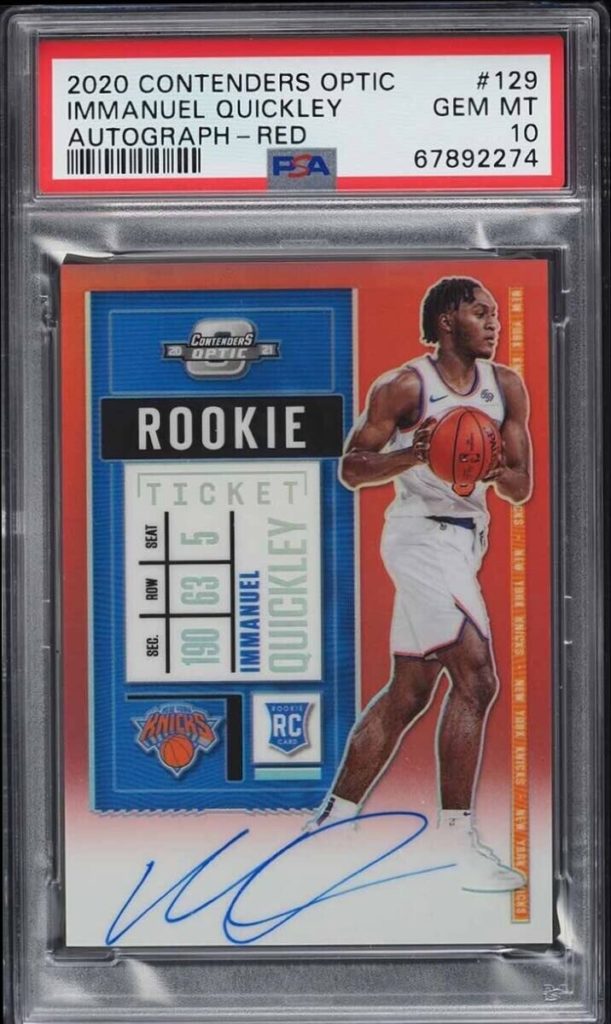 Singles
We have concluded that Panini Contenders Optic Basketball boxes are not the way to go. What about picking up the singles of rookies you believe in? Let's examine how some of the best rookie cards from this release have been performing. All cards are raw.
| | |
| --- | --- |
| 2020-21 LaMelo Ball Rookie Ticket Auto 10/10 | $7,600 |
| 2019-20 Ja Morant Rookie Ticket Auto /25 | $4,900 |
| 2019-20 Zion Williamson Rookie Ticket Auto /49 | $3,250 |
| 2020-21 Anthony Edwards Rookie Ticket Auto /49 | $2,550 |
| 2018-19 Trae Young Rookie Ticket Auto /149 | $2,400 |
| 2020-21 Tyrese Maxey Rookie Ticket Gold Auto /10 | $1,045 |
Keep in mind these cards are all raw. So, plenty of money can be made in Panini Contenders Optic Basketball rookie tickets. Before the rookies are established, they aren't costly because this release isn't the most prestigious. So, there is an excellent opportunity here to buy rookie tickets.
Final word on the 2021-22 Panini Contenders Optic Basketball release
The Panini Contenders Optic Basketball release has never found its niche. It isn't a retail release. It's not priced or treated like a high-end release. As a result, no one knows what to make of it, and with Panini about to lose its NBA license, it will probably be forgotten.
In addition, the boxes are definitely not suitable investments, as you are unlikely to recoup more than 20-25% of what you put down.
Does that mean you should ignore this release? Not at all. The great thing about Panini Contenders Optic Basketball is that it has a nice variety of rookie ticket autos. Even though this specific release isn't the greatest, rookie ticket cards have iconic status in the hobby.
So, buying a couple of players, you believe in is a good idea. In addition, you can make a very tidy profit if you choose well.
Shop for hobby boxes of 2021-22 Panini Contenders Optic on eBay