What Are The Most Expensive Stephen Curry Rookie Cards?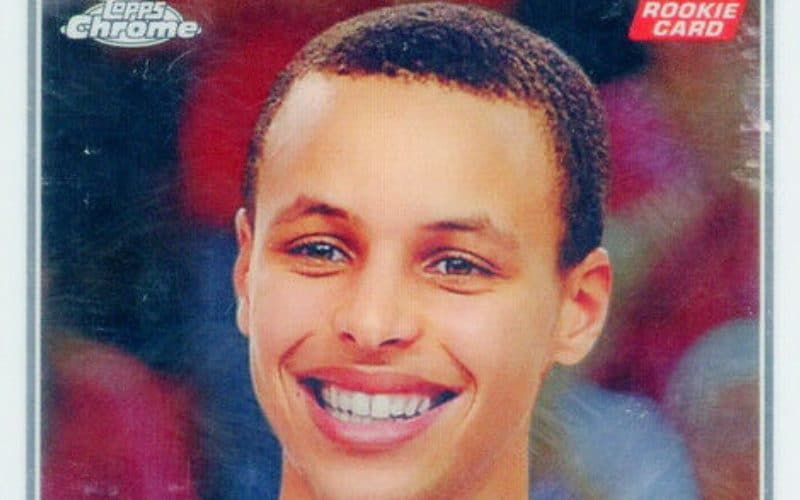 The NBA has always had amazing shooters. But, every now and then, there is a player that can shoot the lights out the gym every single night.
They are the type of scorers that you need to start guarding as soon as they step on the court. They are so good at shooting, calling them elite shooters seems to be an understatement.
The list of elite shooters is not very long because it is one of those skills that is tough to maintain for an entire career. But these guys found a way to program themselves on the perfect mechanics of shooting and use it to turn them into legends.
| Player | FTM | FT% | FGM | FG% | 3PM | 3P% | Points |
| --- | --- | --- | --- | --- | --- | --- | --- |
| Stephen Curry | 2,990 | 90.8% | 6,469 | 47.6% | 2,908 | 43.2% | 24.3 |
| Larry Bird | 3,960 | 88.6% | 8,591 | 49.6% | 649 | 37.6% | 24.3 |
| Reggie Miller | 6,237 | 88.8% | 8,241 | 47.1% | 2,560 | 39.5% | 18.2 |
| Ray Allen | 4,398 | 89.4% | 8,567 | 45.2% | 2,973 | 40.0% | 18.9 |
| Peja Stojakovic | 2,237 | 89.5% | 4,825 | 45.0% | 1,760 | 40.1% | 17.0 |
| Mark Price | 2,135 | 90.4% | 3,939 | 47.2% | 976 | 40.2% | 15.2 |
| Drazen Petrovic | 796 | 84.1% | 1,705 | 50.6% | 255 | 43.7% | 15.4 |
| Kyle Korver | 1,297 | 87.7% | 4,103 | 44.2% | 2,450 | 42.9% | 9.7 |
| Steve Kerr | 627 | 86.4% | 4,263 | 47.9% | 726 | 45.4% | 6.0 |
As you can see from the list, the list of elite shooters in NBA history is impressive until you compare all of them to Steph Curry. The game of basketball, at all levels, has changed because of how great Steph Curry shoots the ball.
Coaches have had to find new ways to defend a player who can score, almost at will, from anywhere on the court. Even kids are throwing up three-pointers at a very young age because they want to be like Steph Curry.
But regardless of how accurate he is as a shooter, Steph Curry has become more than just a sidekick, he is a leader and a future first ballot Hall of Famer.
Shop for Stephen Curry rookie cards on eBay
Who is Steph Curry?
Until 2008, the only thing people knew about Steph Curry was that his father was Dell Curry, a former NBA player who spent 16 seasons in the league. Dell Curry was known for his ability to score and finished his career as the Charlotte Hornets All-Time leader in points (9,839) and three-point field goals made (929).
In college, Dell Curry was a star baseball player at Virginia Tech and nearly went into MLB after being drafted in the 14th round of the 1985 MLB Draft. He considered it but ultimately decided to play basketball and became the 15th overall pick of the 1986 NBA Draft. He was always dangerous with the ball in his hands because of how quickly he released his shot.
Knowing that Dell Curry was a well-respected NBA veteran, Stephen Curry knew he would have to work twice as hard if he wanted to make a name for himself. After he signed with Davidson College, people started to pay attention to him after he finished his Freshman season averaging 21.5 points per game with a 46.3% field-goal shooting percentage.
During his Sophomore season, Steph Curry finally reached the national spotlight and started to get noticed. He averaged 25.5 points per game and added 4.7 rebounds and 2.8 assists per game. Not only was he one of the nation's top scorers, but he was also able to lead Davidson to a 26-6 regular season record, which includes a perfect 20-0 Southern Conference record.
Davidson would reach their third straight NCAA tournament and it would not take very long for Steph Curry to show off his amazing scoring abilities. As the 10th seed in the Midwest Regional, Davidson was put up against the 7th seeded Gonzaga Bulldogs.
While many fans knew what Steph Curry could do, many of them had not seen it live. Steph took over the game when his team needed him the most and he finished with 40 points, including making eight of ten triples. That upset was nice but the next one was even better.
The upset sent them to the second round where they had to face the region's 2nd-seeded Georgetown Hoyas. The Hoyas were also ranked 8th nationally and were one of the favorites to return to the Final Four.
By the half, it seemed as if Georgetown was heading for an easy win. They led by 11 at the half and held Steph Curry to just five points. Steph Curry would go on to score 25 points in the second half and once again led Davidson to an upset.
They would go on to beat 3rd seeded Wisconsin before falling to top-seeded Kansas in the Elite Eight. The Jayhawks would go on to win the National Championship but it was Steph Curry who really stole the show.
The secret was out. Davidson's point guard was one of the most dangerous shooters in college basketball history. After he finished his Junior season averaging 28.6 points per game, Steph Curry was now being considered a lottery pick in the 2009 NBA Draft.
He left school early, got drafted 7th overall by the Golden State Warriors, and became the same dangerous scorer he was at Davidson but better.
Shop for Stephen Curry rookie cards on eBay
How the scouts rated Curry as a prospect?
Stephen Curry had one issue that was stopping him from becoming the next LeBron James prospect, his size. He was just 6 ft 2 in and was more of a shooting guard than a point guard. His position also became an issue because he was built to be a point guard yet he scored like the best shooting guards in the NBA.
NBA scouts were also worried about his shot selection and his lack of toughness when driving to the basket. They became obsessed with his size and created this prospect who could score 50 points any night but was going to become a liability if he has a bad shooting game. They would also give him low ratings in explosiveness and athleticism.
Hearing this today makes you wonder if any of those scouts are still employed in the NBA because they focused on the wrong details and allowed it to change how they looked at his future.
What made matters worse was the other players he was up against at the draft. The 2009 NBA Draft featured Blake Griffin (1st overall), James Harden (3rd overall), Tyreke Evans (4th overall), Ricky Rubio (5th overall), DeMar DeRozan (9th overall), and Jrue Holiday (17th overall).
Even with all those other athletes, the Golden State Warriors decided they wanted to give him a chance, mainly because of his shooting ability.
That year, Stephen Curry was drafted, with the 7th overall pick, by the Golden State Warriors.
What makes his NBA career so remarkable?
When the Golden State Warriors drafted Stephen Curry, they never imagined he would turn into a two-time NBA MVP, three-time NBA World Champion, seven-time All-NBA selection, seven-time All-Star, two-time league scoring champ, or the greatest three-point shooter in league history.
During his rookie season, he started 77 games and averaged 17.5 points, 5.9 assists, 4.5 rebounds, and 1.9 steals per game while finishing second in the rookie of the year voting. He also displayed his outside scoring ability, breaking the record for most three-pointers made by a rookie with 166. That record has been broken six times since and proves even more just how much he has changed the game.
Since his rookie season, Steph Curry has shown everyone that not only can he drain triples like layups, but he can do it from almost anywhere on his half of the court. His range makes him even harder to defend against. Teams give him so much respect that they are forced to play him once he crosses the half-court line.
His range and his accuracy from outside the perimeter allow him to use the pump fake better than just about anyone else ever has. He keeps defenders confused about what he will do with the ball since he can also shoot his jump shot at an incredible rate.
His offensive abilities are one thing but his defense is the biggest part of his game that goes underrated. He is always moving around the court and is able to make big defensive stops on one side of the court before transitioning to offense and nailing the three to the roar of the crowd.
He has mastered the art of shooting and it has put him at the top of the list of future Hall of Famers in the NBA.
Shop for Stephen Curry rookie cards on eBay
How he has been playing this season?
In case you live under a rock, Steph Curry is playing the best basketball he has played in several years. What has made his performance this season so amazing is that he has done it without Klay Thompson, who is set to return from missing the last two season due to injuries.
Knowing Klay Thompson is on the way back to the starting lineup, and seeing just how good the Golden State Warriors are playing right now, it is scary to think about how much better Steph Curry is going to be in a couple of months.
Steph Curry might be leading the league in scoring, but it is his defense that has helped carried the Warriors to the NBA's best record this season. He is hitting the boards harder than ever before and averaging a career high 6.1 rebounds per game. He is also rocking a 29.0 PER, the second highest of his career.
But no one should really be surprised. Steph Curry struggled during the COVID shortened season in 2020 but bounced back last year to average 32.0 points per game, the best of his career. He had no choice last year because the Warriors had 12 players with of less than four years experience including two rookies.
They were young and needed Steph Curry to lead them. He did the best he could but during that season, he helped them come together to form a very dangerous and very deep roster.
All of this and Klay Thompson is still waiting in the wings. He is a Top-5 player and will only help the team get stronger, and that is scary.
Steph Curry has the experience and knows what he has to do if he wants to return to the NBA Finals this year and he is doing just that. Every single game he breaks another record and grows the hype that once carried him to two MVP awards.
His cards are going to be right there for the ride. If he can win a third MVP this year, and maybe a fourth title, you are going to wish you had one of his rookie cards.
Shop for Stephen Curry rookie cards on eBay
What does the rest of his career look like?
As long as he can stay healthy, he has a chance to retire in a Golden State Warriors uniform while owning just about every NBA scoring record you can imagine. He is only 33 years old and plays a position that is not as tough on his body as a player that lives in the paint.
What hurts is that he has already accomplished so much in his career including making a huge amount of cash. That can make it easier for players to call it quits sooner rather than later.
But the real reason Steph Curry is going to remain relevant for the rest of his career is that he has the support of the front office behind him. They never failed to keep him happy and are constantly working towards giving him all the weapons he needs to win another title. They even signed him through 2026 with a 4-year contract extension worth over $215 million in October.
Even if Steph Curry retires after the 2025-26 NBA season, at the age of 37 years old, he has earned himself a spot in the Basketball Hall of Fame. If you assume he maintains his career averages, seeing a mild drop each of his final four seasons, he would still finish 2nd in career points, 6th in career assists, and 3rd in career steals.
The Top 10 Steph Curry Cards
10. 2009-10 Panini Rookies & Stars Longevity Ruby Patch Auto RC, 24/49 (PSA 10)
Although Panini Rookies & Stars was never considered to be an elite product, it was still pretty good at finding ways to feature the leagues rookies by changing up the way the cards look.
This is such a collectible because it features the old Warriors logo patch with Steph Curry's autograph on the same patch. It sold in August on eBay for $12,850 and reminded us all just how collectible Stephen Curry still is today.
Check prices for the 2009-10 Panini Rookie and Stars Stephen Curry on eBay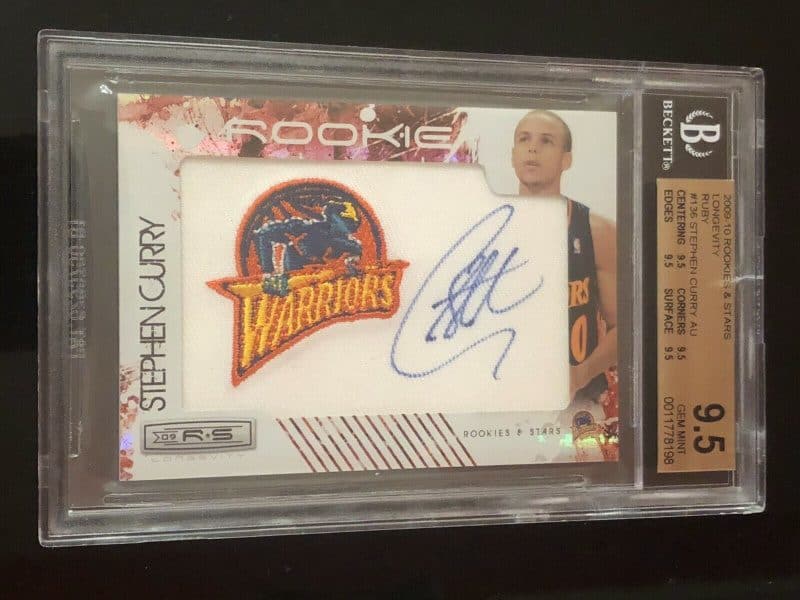 9. 2009-10 Panini Playoff Contenders Auto RC (PSA 10)
Not very many rookie cards are horizontal instead of the traditional vertical spotting. But the 2009 Panini Playoff Contenders rookie card sold in a BGS 8.5 for $5,000 and remains one of the most underrated rookie cards of his entire collection.
Check out prices of the 2009-10 Panini Playoff Contenders Steph Curry rookie card on ebay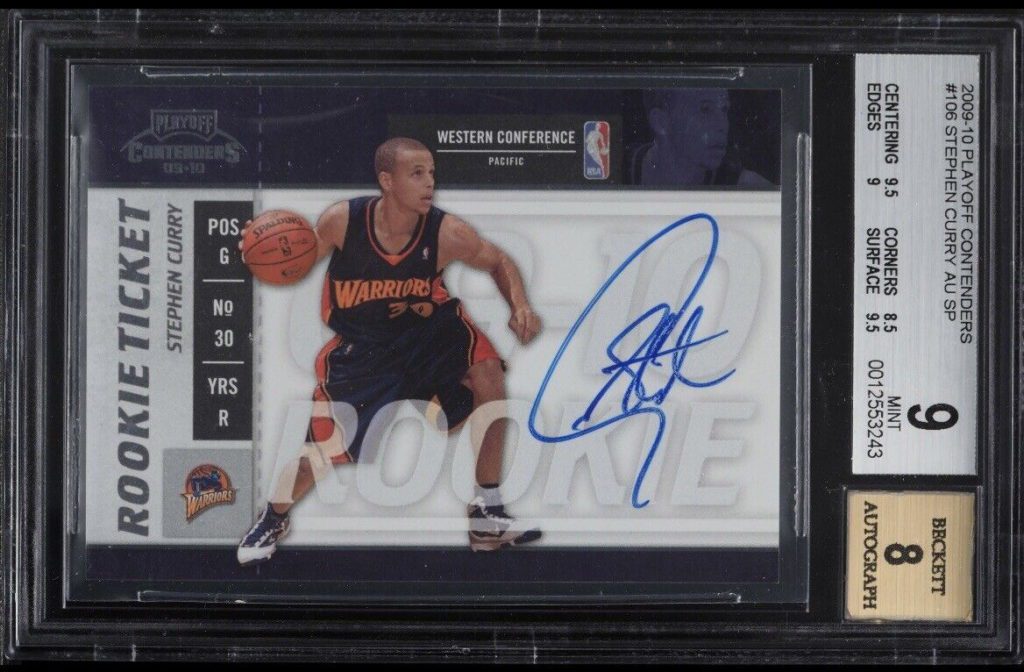 8. 2009-10 Panini Crown Royale Auto RC, #/399 (PSA 10)
There is nothing worse than opening a pack of 2009-10 Panini Crown Royale and finding a Stephen Curry autographed rookie card on one of their die-cut cards. The real problem comes next because those die-cuts gave collectors, and still do, all kinds of problems when it comes to the corners of the cards.
It is very rare that a Crown Royale card like this would get the PSA 10 rating but this one did and sold for $21,130.
Shop for the 2009-10 Panini Crown Royale Auto Steph Curry rookie card on eBay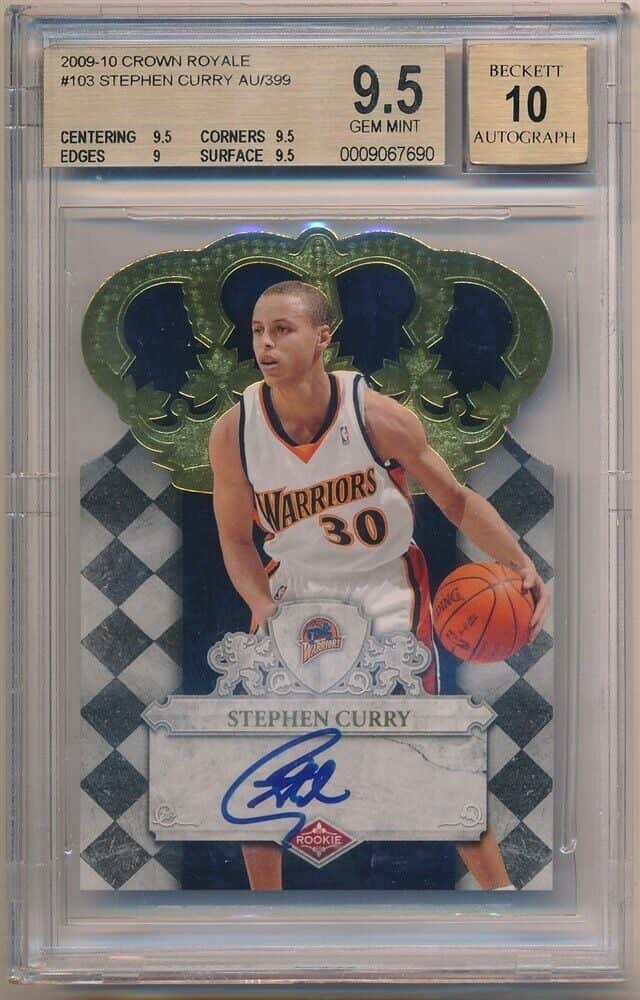 7. 2009 UD Exquisite Collection Auto RC, 221/225
Any veteran sports card collector can tell you that the UD Exquisite Collection series was so elite, you could almost guarantee you would make your money back every time you bought a box.
There was so many valuable cards in the series that even Stephen Curry had two of them on this list. The one actually sold for $51,148 at an auction.
Shop for 2009 UD Exquisite Collection Stephen Curry rookie cards on eBay
6. 2009-10 Topps Chrome RC, #/999 (PSA 10)
When you look at all of Stephen Curry's rookie cards, most of the more valuable ones feature an autograph, a patch, or are a parallel.
His Topps Chrome rookie card was a base card numbered to 999 and has become an amazing find by any collector. This one actually sold for $65,900 to some lucky person on eBay.
Shop for 2009-10 Topps Chrome Stephen Curry rookie cards on eBay
5. 2009 UD Exquisite Collection RPA, 19/30 (PSA 10)
It is hard to imagine that the 2009 UD Exquisite Collection only sold for $825 per box. In each box there was a single pack featuring five cards, all of them numbered and most of them are still valuable today including Stephen Curry's RPA numbered 19/30. This card was so valuable it had to be sold at an auction for $87,330.
Shop for 2009 UD Exquisite Collection Stephen Curry cards on eBay
4. 2009-10 Topps Chrome Gold Refractor, 26/50
Even though there are a few other Stephen Curry rookie cards that sold for more than his 2009-10 Topps Chrome Gold Refractor (With a BGS 9.5 and numbered 26/50), this was the card everyone wanted to own and someone paid $168,000 for it.
Mainly because the odds were easier to obtain his rookie card in Topps Chrome than it would be for something like National Treasures or Flawless.
Shop for 2009-10 Topps Chrome Gold Refractor Stephen Curry rookie cards on eBay
3. 2009 Playoff National Treasures RPA, 60/99 (PSA 9)
First off, if a card sells for $420,000, it turns the entire game into a sweepstakes. Collectors rush to find boxes and packs just hoping to be the lottery winner to land the next big hit. If you think this card is great, imagine if it was numbered to 25.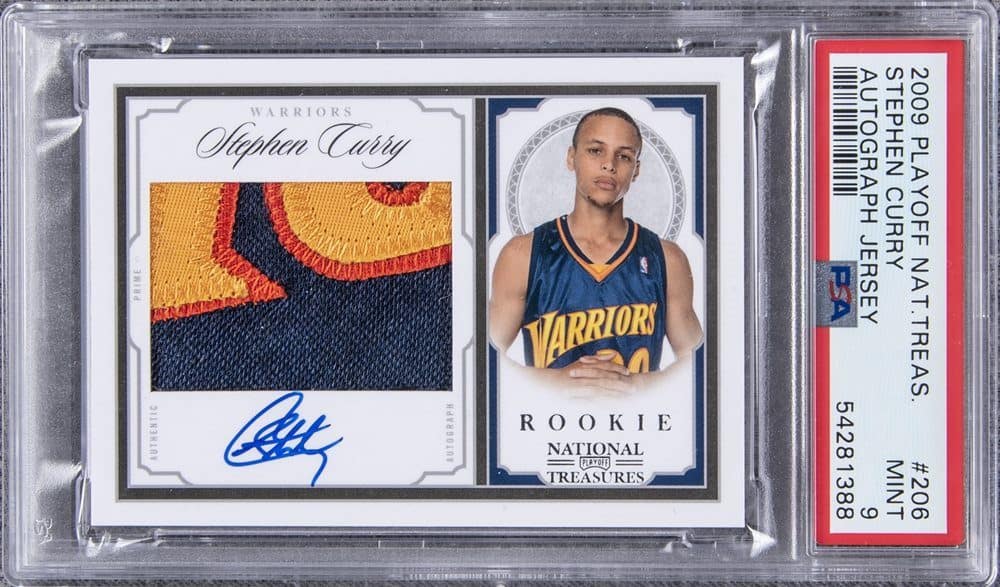 2. 2009 National Treasures Century Gold RPA, 10/25 (BGS 9.5)
The entire 2009 National Treasures basketball set was something worth investing in, not just the Stephen Curry cards. The series was much simpler than the ones that followed it which only made collecting their Century Gold autograph cards even more difficult. But this one ended up with a BGS 9.5 rating and was purchased at an auction for $601,200.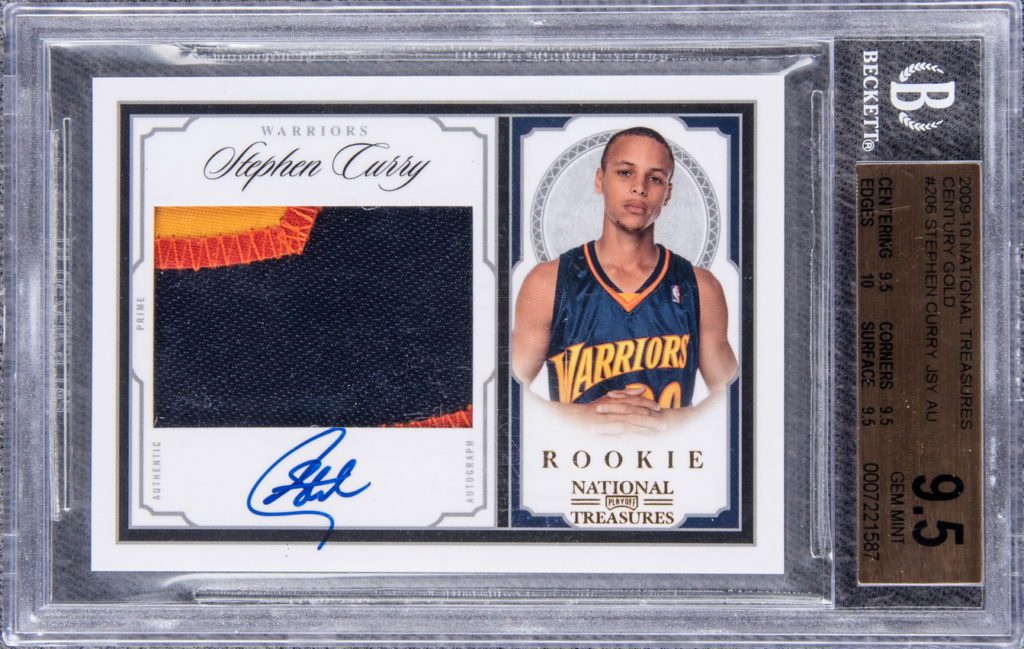 1. 2009 Playoff National Treasures Logoman Auto RC, 1 of 1 (PSA 8)
Let's start off by telling you that you are looking at the most expensive basketball card ever sold. Steph Curry's perfectly created Logoman rookie card sold for $5.9 million dollars this past summer. It shows us that the card industry has yet to reach its' peak and continues to break sales records.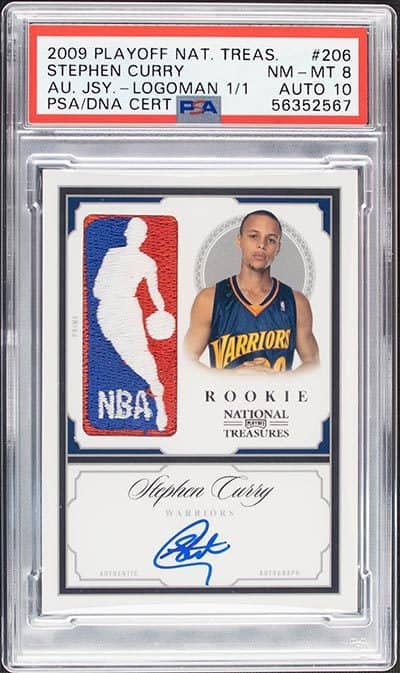 Population report of the top Steph Curry rookie cards
Knowing how many cards are graded is something some collectors do not take very serious. However, by seeing just how many of Stephen Curry's top cards have been graded over the years gives you a chance to see just how many of his cards remain out there today.
For all we know, there can be tons of them locked up in a warehouse somewhere.
Numbers are accurate as of November 2022.
| Year | Card | 8.0 | 9.0 | 10 | Total |
| --- | --- | --- | --- | --- | --- |
| 2009 | Rookies & Stars Ruby Patch Auto | 1 | 12 | 17 | 33 |
| 2009 | Panini Playoff Contenders Auto RC | 27 | 22 | 81 | 148 |
| 2009 | Panini Crown Royale Auto | 9 | 7 | 12 | 29 |
| 2009 | UD Exquisite Collection Auto RC | 3 | 18 | 11 | 38 |
| 2009 | Topps Chrome RC | 30 | 92 | 61 | 203 |
| 2009 | UD Exquisite Collection Parallel | 2 | 0 | 0 | 3 |
| 2009 | Topps Chrome Gold Refractor | 2 | 4 | 2 | 8 |
| 2009 | Playoff National Treasures | 1 | 3 | 5 | 10 |
Should you invest in a Stephen Curry rookie right now?
Well, if you have the money to spend, Stephen Curry is worth the investment but only in the short term. After his National Treasures Logoman sold this past summer for a record-breaking $5.9 million dollars, one has to wonder how much higher his cards can truly go in the next five or six years.
But Stephen Curry is a special type of player. He has a realistic chance to break all kinds of NBA records, win a few more titles, and maybe even get a MVP or two. Only eight players in NBA history have won three or more MVP awards and none of them could shoot like Steph Curry does.
So, in a time when sports cards are increasing in value every day, there is a solid chance Steph Curry is going to win more MVP awards, which could put increased upward movement on his cards.
Final thoughts on Stephen Curry rookie cards
Not everyone can claim to own any of Stephen Curry's rookie cards so as long as that is true Steph Curry cards are going to remain a hot commodity for those looking to snag a card of one of basketball's greatest.
Although Steph Curry did not win the MVP award last season, hes always a candidate for another one or two, not to mention a NBA championship. The long term for Stephen Curry rookie cards looks really good.