2021-22 Prizm Basketball Review And Checklist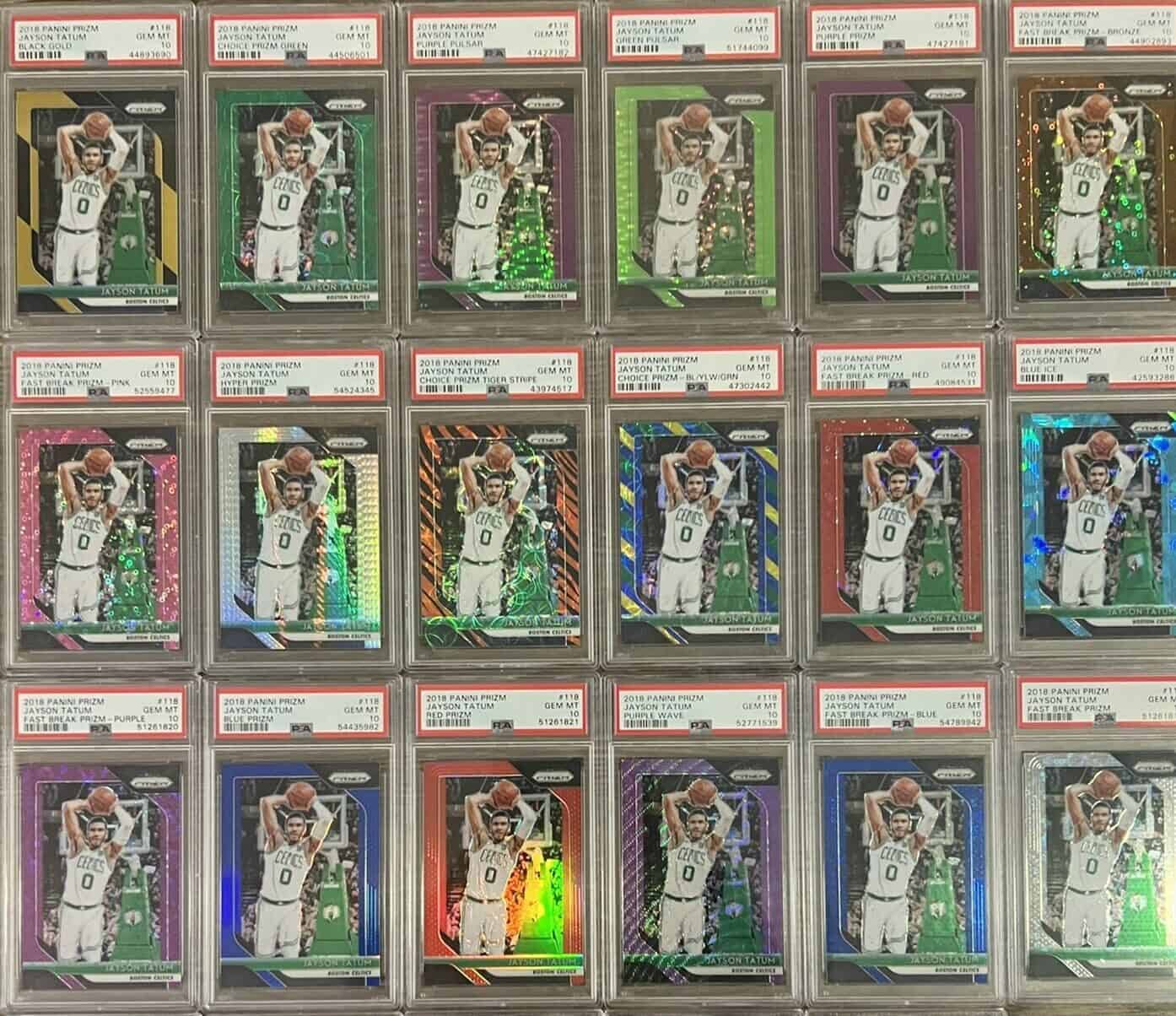 With 2021-22 Prizm set to release on May 25, 2022, this typically mid-year product will be dropping as the playoffs wind down. Still, the late release won't slow down the hype for Prizm. At least much.
Cardlines is here to look to give you all the insight you need on basketball's most significant release of the year with our 2021-22 Prizm Basketball preview.
Introduction To The 2021-22 Prizm Basketball Review
Get a 2021-22 Prizm Basketball hobby box on eBay.
What are the prices on StockX?
Prizm is not a product that needs much introduction. First, however, here's a quick background.
Prizm is the most popular sports card product for both basketball and basketball cards. More than any other product, it combines mass appeal with a reasonable price point for the number of cards per box (144). While we don't know what this year's box will officially release at, we can estimate it to cost about $1,000.
Additionally, Prizm maintains its popularity by reaching the mass market. You can find blaster, hanger, and mega boxes at your local Walmart or Target. This allows collectors to get a taste of Prizm without paying four figures can go that route. That is one of the main reasons it's so popular.
A History Of Prizm Basketball
More interested in a blaster? Take a look at the stock on eBay.
StockX has very good prices on blasters as well.
Prizm was released in 2012 as part of Panini's promise to provide innovative improvements to the sports card hobby. As Panini put it, the hobby was long overdue for an upgrade, and Prizm could be the answer.
Turns out it was. The opti-chrome set introduced the "prizm" card – the answer to Topps' trademarked "refractor." In the early years, the prizm cards came in simple color varieties: mainly silver, green, red, and aqua. Since then, Panini's added a few new color options. It now has an extensive rainbow, although most are available only in hobby boxes.
The silver prizm cards are in all Prizm products and have since become any modern player's single-most iconic rookie card. A PSA 10 silver prizm is as good as it gets for a long-term investment of a non-numbered card. And that anybody can go pick up a box of Prizm at Walmart and potentially pull a silver prizm of their favorite star rookie bolsters the product's popularity.
Prizm has been in print for an entire decade. However, many offshoots from Panini include "prizm" cards: Select, Optic, Mosaic, and many more. In this way, Prizm is the grandfather of modern opti-chrome cards.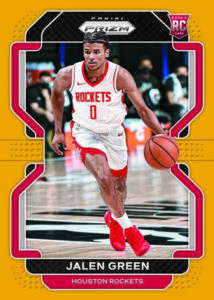 See what Jalen Green rookies are up on eBay.
What to Expect From 2021-22 Prizm Basketball
Every box of 2021/22 Panini Prizm Basketball is loaded with potential. While there are two autographs per box, most of the magic lies in the potential for prizm parallels of various colors. As a result, you can expect to find 22 prizm per box (including silver).
When it comes to rookies, look out for Scottie Barnes, Cade Cunningham, Jalen Green, Evan Mobley, and more.
This year's product introduces a few new inserts: Mindset and Prizmatic are making their debut, while there's also a 75 Years of the NBA insert to commemorate the anniversary season.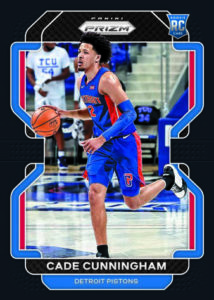 Is Cade your rookie of choice? Look for his cards on eBay.
2021-22 Prizm Basketball Review Of Formats
Prizm will be released in several formats. Here's a breakdown of everything we can expect based on what we saw last year.
Hobby Box
12 cards per pack.
12 packs per box.
2 Autographs
22 prizms
10 Inserts
Fast Break Hobby Box
9 cards per pack.
10 packs per box.
1 autograph, 12 Prizms, 6 inserts, and 1 rookie variation per box on average.
Hanger Box
20 cards per box
4 cracked ice inserts
Blaster Box
4 cards per pack
6 packs per box
1 blaster exclusive rookie memorabilia card*
Mega Box
4 cards per pack
10 Packs Per Box
1 autograph, on average
TMall Box
6 cards per box
1 exclusive base or rookie prizm red and yellow numbered to 49 or less*
2021-22 Prizm Basketball Review Of The Checklist
While we don't have an official list of all the colors yet this year, we do know that Panini's notes say, "Look for the popular Hobby Exclusive Black, Black Gold, Gold, and Mojo prizms! Find the top players around the league, including the new 2021-22 Draft Class!"
The black, gold and black/gold cards are some of the most iconic rookies in basketball history, so it's great to see them returning.
The delivery, for the most part, will resemble last year's save the addition of 2 new inserts.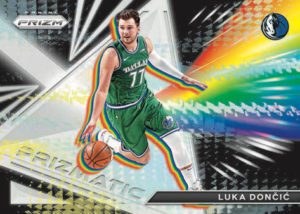 Do you like the new Prizmatic inserts? Look for them on eBay.
2021-22 Prizm Basketball Review Of Value
If you're hoping to invest in Prizm 2020-21, the first question to answer is if you should buy singles or wax.
Wax
Last year's Prizm hobby boxes are already selling at $1,30, while the 2019-20 boxes sell for closer to $2,000. While we don't have a pre-order price for this year's edition, my guess is that it will not be much more than $1,000. That suggests there's room for profit as a long-term investment.
As I've said before, how much the 2021-22 boxes ultimately sell for depends on how well the 2021 rookie class performs, but if you're a believer in the incoming rooks, buying these boxes could be an excellent long-term hold. This class has looked impressively deep thus.
The blasters will presumably sell for around $30-40, and last year's boxes are reselling for about $110. Based on how many they're printing, they'd probably be a better short-term than long-term hold, but either way, it's a win if you can buy them at retail. I would note, however, that blasters will be a lot safer flip than rip – mainly based on the absence of numbered cards or autographs inside them.

The 2018-19 hobby box holds high value. Get one on eBay.
Singles
Prizm rookie cards are the blue-chip investment of modern Panini rookies. So, if you're going to invest in just one card of anybody, Prizm is the way to go.
The silver rookies are actually slightly overvalued, considering they're the most common Prizm insert. That said, your best bet of making a guaranteed profit is finding a few silver rookies of players you believe in, buying them raw (after asking for more pictures), then getting them graded.
If you can scoop up silvers of the rookies you like and grade, you'll be set for a long-term hold. Collectors go nuts for a silver PSA 10.
But caution: don't buy the first Prizm cards that appear on eBay for this year. The price will inevitably drop as the supply meets the demand.
Bottomline Of The 2021-22 Prizm Basketball Review
With 2021-22 Prizm Basketball, there's no way I can call it a pass. The brand is the poster child of basketball cards, so of course, you want to get in on the action in some form.
As for the rest of my options – rip, flip or hold – the answer is: all three. There's not a wrong answer with Prizm.
Ripping is by far the riskiest option. However, there's a chance for a great payoff. Of course, there's also a chance you're left with a "what did I just do?" feeling. But hey, that's part of the game.
Flipping is a sure-fire profit if you find boxes at retail in the wild. Holding, whether long-term or short-term, for both retail and hobby, is a safe bet, too.
Ultimately, do what makes the most sense for you and your budget. This is a "hobby," and while you can profit from it, hobbies are also about having fun.