2021 Panini Mosaic Football Review
Mosaic football is preparing to launch again following a successful inaugural 2021 release. There are more mosaics than ever before, and the 2021 version hopes to build on the 2020 set. So without further ado, let's get down to the 2021 Panini Mosaic Football Review.
2021 Panini Mosaic Football Release Date
The exciting new product tentatively drops on December 22 and will provide one of the first opti-chrome cards for the 2021 rookie class.
With another solid addition of Mosaic, the "Big 3" of opti-chrome cards (Prizm, Optic, and Select) might become a Big 4 by the end of the year.
Let's take a look.
Find 2021 Mosaic sealed boxes on eBay
Mosaic Football Product Introduction
Mosaic Football was released for the first time as a standalone product in 2020 as Panini rode high on the explosion of the sports card market. The first Mosaic product to hit shelves was basketball, but the football followed during its season to give Burrow, Herbert, Tua, and others their due.
Unlike a few of the other "debut" releases for 2020, Mosaic was a solid opti-chrome product with a lot of thought put into it.
Hopefully, it still it.
This year's rainbow of Mosaic colors grows even deeper, with the following hobby-exclusive parallels:
Purple (/#49)
White (#/25)
Gold (#/10)
Black (1/1)
FOTL Pink Swirls (#/11)
Green Swirls (#/10)
The cards mirror the 2020-21 basketball design. Many collectors believe this represents a visual improvement.
A Short History of Mosaic
The origins of the first "Mosaic" cards run back to 2015 when the 2015-16 "Prizm Mosaic" basketball boxes were released. Those cards used the now-familiar reflective, boxy design, sold under the Prizm umbrella.
Those boxes contained 3 packs of ten cards and didn't guarantee an autograph. However, they offered big-pull potential through several Mosaic inserts. These releases ran from 2015-16 through 2018-2019.
In 2019-20, Mosaic was given new life as a standalone basketball product with its own cool logo. The football release followed soon after that.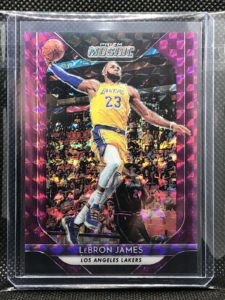 2021 Panini Mosaic Football Review Of Release Formats
Mosaic will be released in several formats. Here's a breakdown of everything we can expect.
15 cards per pack.
10 packs per box.
12 boxes per case
1 Autograph (note: a few sites are saying 2 autographs)
5 Silvers and 15 total Mosaics Parallels
20 Inserts
Preselling for $799
8 cards per pack. 18 packs per box. 20 boxes per case.
1 Autograph
10 Fast Break Parallels
1 Silver Prizm or Silver Mosaic Parallel
1 Rookie Variation
5 Inserts
Preselling for $450
15 cards per pack.
10 packs per box.
1 Autograph
2 FOTL Parallels: 1 Pink Swirl (#/11) and 1 Green Swirl (#/10)
5 Silvers and 15 Mosaics Parallels
20 Inserts
8 cards per pack. 1 pack per box.
20 boxes per case
1 Autograph
3 Exclusive Mosaic Parallels and 2 Choice Red/Green Rookies
1 Silver and 1 Mosaic Parallel
Preselling for $500
4 cards per pack
8 packs per box
4 exclusive mosaic inserts
8 cards per pack
10 packs per box
10 exclusive mosaic per box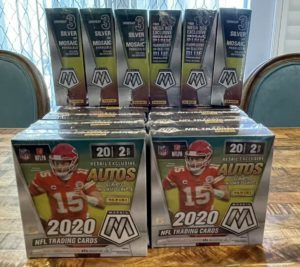 2021 Checklist Information
Mosaic isn't a brand that focuses on tons of inserts. Instead, it delivers a simple checklist of clean cards with lots of colored parallels. There are 5 hobby-only inserts, including Stare Masters, Center Stage, and Straight Fire (am I the only one who thinks the Stare Masters is hilarious? It's pictures of players staring.)
The inserts have numbered parallels from /99 all the way down to /1.
This year's version also features case hits – an excellent idea! The new case hits include die-cut Busted, a Hall of Fame bust, plus Glass Mosaic, Masquerade Ballers, and Storm Chasers.
The autographs are as simple as it comes, featured in two sets: Autographs and Rookie Autographs. These come in gold /10 and black /1 parallels.
2021 Panini Mosaic Football Review Of Value
Looking to invest in 2021 Mosaic football? To start, let's decide if you should buy singles or wax.
Wax
Last year's Mosaic dropped with an $800 price tag. Those boxes now sell for right around $1,000, so they've seen a 20% increase in just over a year. That's not a bad return, really, but one concern is the 2020 draft class (mainly Burrow and Herbert) is looking a lot better than anybody coming out of 2021 thus far—at least at the quarterback position.
As the boxes age, it's a safe guess that their value will climb if the 2020 QBs ascend into superstardom.  Therefore, you have to ask yourself two questions: 1) how promising are the 2021 rookies? 2) What is the release price?
If it releases from $600 – $800, these boxes could be a solid long-term hold. However, they'll likely never be as popular as Prizm, Optic, or Select. Therefore, there will always be a ceiling on how high the prices can rise, dictated by their "bigger brother" brands.
Singles
To get a feel for the long-term value of singles, let's look at some PSA 10's of some different Justin Herbert rookies from last year's set.
| | |
| --- | --- |
| Card | Value |
| Herbert Rookie | $130 |
| Herbert Mosaic | $375 |
| Herbert Silver | $640 |
| Herbert Pink Camo Mosaic | $280 |
| Herbert Green Mosaic | $160 |
| Herbert NFL Debut | $80 |
| Herbert NFL Debut Silver | $250 |
If you're looking to buy and grade, then NFL debuts might be sneaky-good investments. Most collectors view these cards as the stepbrother of the "true" rookie cards; nonetheless, they can get an excellent price if they grade gem.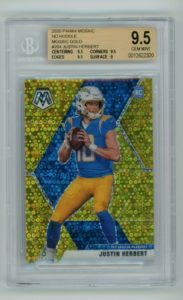 After all, the common Herbert Debut sells about $10, and the Silver sells for $35 or so. Therefore, buying raw and grading could net a strong return (if you wait on PSA).
Bottomline Of The 2021 Panini Mosaic Football Review
Mosaic is a great product, and at the right price, it can be a good rip or hold.
The ultimate decision point here comes down to price, which Panini has yet to release. If the price is reasonable and a bit less than last year's, then the product shades toward a hold, but if it's $800+ at release, it's a bit riskier. So I won't be buying any at that price.