The Top 2022-23 Upper Deck Series 2 Young Guns Ranked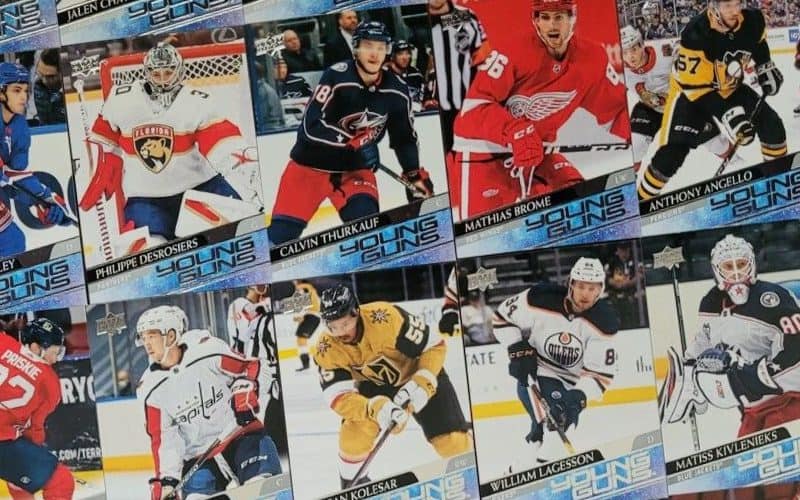 The highlight for any Upper Deck hockey release is the Young Guns cards. They are a unique proposition in the modern hobby. Standard rookie cards with actual market value.
Therefore, hockey fans eagerly await the list of the included players. And the Series 2 has a tremendous traditional advantage over the Series 1 cards. It includes players selected in the most recent draft.
The 2022-23 Upper Deck Series 2 release is no exception. So, who is worth a vital investment, and which belongs firmly in the commons bin? We have you covered in our 2022-23 Upper Deck Series 2 Young Guns ranked feature.
Wonder why Young Guns is such a unique and beloved insert? We have all the answers in our Young Guns guide. And if you are curious about the best players in 2022-23 Upper Deck Series 1, we also have answers for that. So here are the 2022-23 Upper Deck Series 2 Young Guns ranked.
Shop for 2022-23 Upper Deck Series 2 boxes on eBay
2022-23 Upper Deck Series 2 Young Guns Ranked — Tier 1
Let's get real. There are plenty of Young Guns cards with value, but they are all for big stars and heavy contributors. The group in Tier 1 is the one most likely to reach that level of excellence. The floor for the players in this tier may vary quite a bit. But they all have a ceiling of superstardom.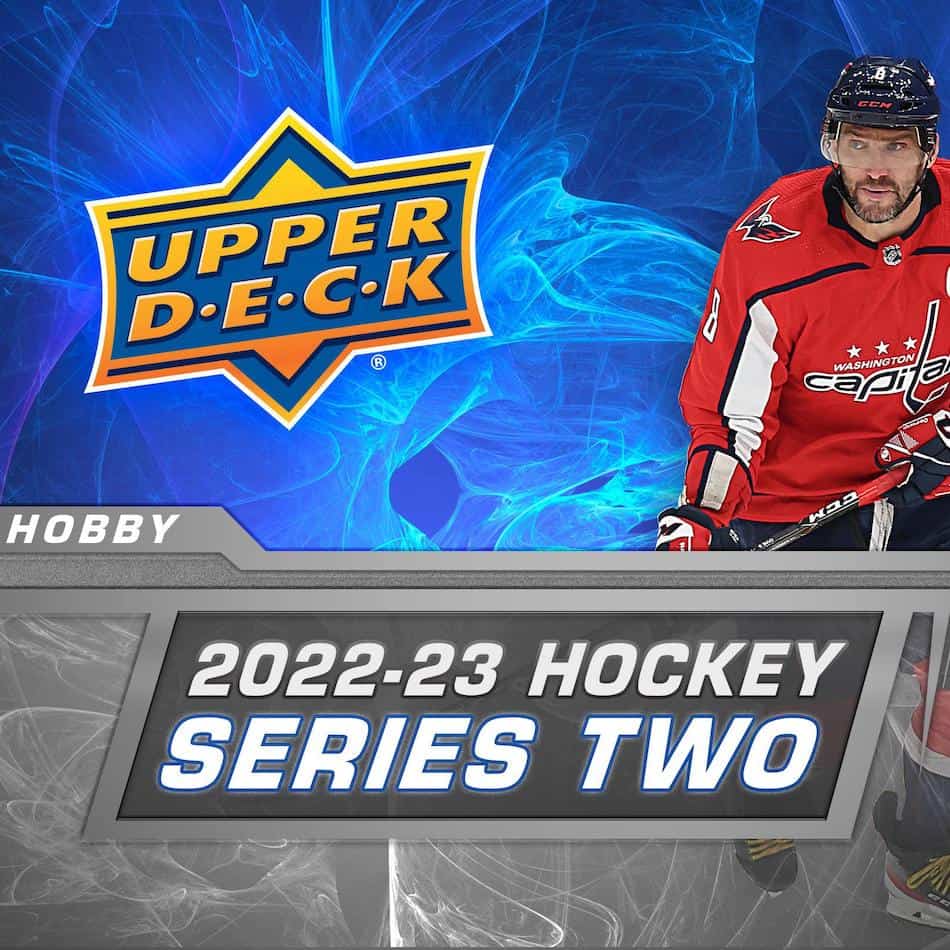 Juraj Slafkovsky – Left Wing – Montreal Canadiens
Juraj was the no. 1 pick in the 2022 NHL Draft and is just 18 years old. At age 17, he was selected by Slovenia for their Olympic Team.
Meanwhile, in 2022, the Slovak Ice Hockey Federation gave Slafkovský its Player of the Year award. He was the youngest recipient ever. That basically tells you all you need to know. But if you insist, we will notify you more. What scouts love most about Slafkovsky is his raw dynamism.
It seems like brute force at worst, but this Slovenian dynamo's power often translates into end-to-end scoring opportunities. And even at his young age, Juraj has already shown a willingness to make that last pass to a linemate. The unique and explosive skill set that the wing brings to the ice makes him a potential superstar.
Samuel Poulin – Forward – Pittsburgh Penguins
Sam comes from a proud hockey family. His father, Patrick Poulin, had an 11-year career in the NHL. The son may be even better. The Penguins selected 21st in the 2019 draft, and it's easy to see why they believe in him.
He's the kind of creative player with high-end offensive upside that comes with the equal ability to distribute the ball or bury it in the net. Poulin recently announced a hiatus due to mental health issues. The forward announced, "I decided to take a break from hockey and return home to take care of myself and my mental health.
After seeking the help I needed, I am now ready to return to Wilkes-Barre to rejoin my team." At Cardlines, we are big supporters of mental health awareness, and we think this shows great maturity on his part.
Wyatt Johnston – Center – Dallas Stars
Johnston was picked 23rd in the 2021 NHL Draft and has a lot of upside.
Elite Prospects says: "Johnston runs the right routes in the offensive zone, supporting teammates by occupying pockets of space and by arriving in scoring spots and the net at the right time to bang in rebounds.
He slides passes through defensive layers, holds onto the puck to wait for lanes to open, or creatively aim shots on the goalie's pads to have them pinball into the open slot for trailing attackers."
So, potentially he is the full offensive package. And we have seen him act on those skills for club and country. In 2021 Wyatt helped the Canadian U18s to the world title, and he accrued 124 points in 64 games at the Ontario Hockey League in 2021-22. And this kid is just 19. Watch out.
Dylan Holloway – Center – Edmonton Oilers
Selected 14th overall in the 2020 NHL Draft, this Calgarian center has much to recommend him. Holloway excels in defense. He is adept at applying pressure on the backcheck and disrupts attacks with confidence and ease.
And he brings the puck out into offense exceptionally well. Indeed, his excellent numbers at the University of Wisconsin showed that Dylan could play attacking hockey at the highest level.
Jake Sanderson – Defense – Ottawa Senators
Jake is an almost flawless defensive prospect. So no one was surprised he went fifth in the draft in 2020. His timing in boxing out rival wingers is absolutely impeccable. And he inhibits the passing game for rivals skilfully and definitely.
According to Elite Prospects: "there just isn't much that he can't do in the defensive zone at an exceptionally high level." And we have also seen more offense from the University of North Dakota winger than expected.
Brandt Clarke – Defense – Los Angeles Kings
The 8th overall pick in the 2021 NHL Draft is already vying for a starting berth for the Kings. And the talent of his caliber is hard to ignore. Clarke was the key player in Canada's victorious 2021 U18 campaign and their gold performance at the 2023 World Juniors Championship.
He also had a smashing season at the OHL level, with 59 points in 55 games in 2021-22. Elite Prospects says: "He wants to make something happen every time the puck is on his stick, and he's not afraid to push the play himself to see it through. Clarke's brain and ability to process the movement of others on the ice to make his reads is elite.
He sees things that others do not, is patient with the puck, and allows the play to develop before he makes his decision." And this dude is only 20. Brandt has stars written all over him.
David Jiricek – Defence – Columbus Blue Jackets
This is what you want your prospects to look like. High draft picks, 19 years old, and with limitless potential. While absolutely top-notch, from a collector's perspective, he is a bit too defensive-minded.
Here is David's Elite Prospects scouting report: "Jiricek worked mainly defensively, had no problem clearing the defensive zone, and under pressure from forecheckers, he was able to bring calm even in a very difficult situation. He used his range again in battles for loose pucks or battles along the boards.
His constant scanning minimized the danger in the defensive zone, which was his biggest strength in this game." But if you saw him play for the Czech Republic at the 2023 World Juniors Championship, you know there is a good deal of offensive upside there too.
Shane Wright – Center – Seattle Kraken
Shane was initially projected to go first in the 2022 NHL Draft. And it's easy to see why. The player has a ton going for him.
Wright is very athletic, with a vast body and shoulders that allow him to stay over pucks and play through checks. But he is about more than just the physical tools. Wright has a deadly shot that he can get off from several stances and seemingly from anywhere on the ice.
And if that wasn't enough, Shane has the power and control to get across the ice and protect the puck as he goes. NHL Rumors summed up his skills: "His hockey sense and read and react are the best in class. His competitive level is very high.
Shane's skating is strong in balance, strength, first-step acceleration, and edge work. His shot is quick, accurate, and the release is very sneaky."
But he ended up going fourth overall. The consensus was that the center had a fairly mediocre 2021-22 and therefore fell further down in the draft. But honestly, the numbers don't show a natural decline. Wright is still very much on track to superstardom.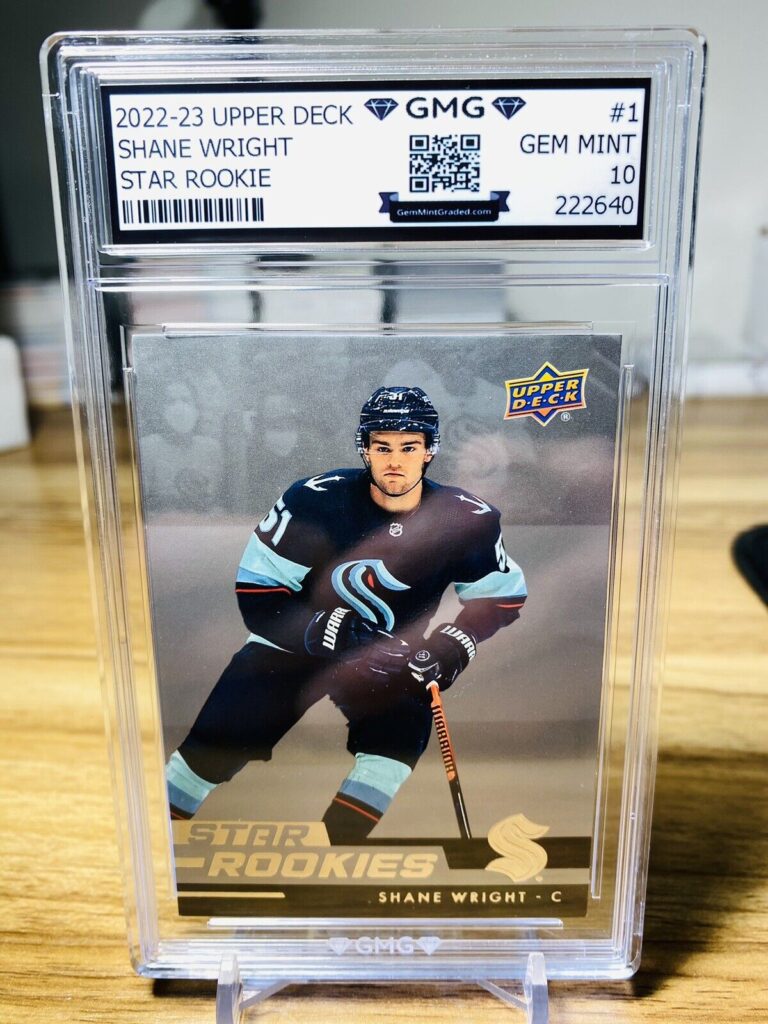 Dylan Guenther – Right wing – Arizona Coyotes
The 19-year-old Guenther was the 9th overall pick in the 2021 NHL draft. What really sets this kid apart is his insane speed.
There isn't a quicker young player that I am aware of. But the kicker is that he tops off the speed with a well-above-average shot, which is effective from just about anywhere. Therefore, Dylan has the potential to be one of the premier scorers in the game.
And for those who doubted him, the right winger had a sharp answer at the 2023 World Juniors. He scored 7 goals in as many games and added three assists for an ungodly haul of 10 points in 7 games as Canada won the championship.
Admittedly, he isn't quite as highly rated as Shane Wright and Juraj Slafkovsky by most. But I think that is a mistake.
Buoy the Mascot – Mascot – Seattle Kraken
Finally, a rookie with real promise. Buoy is the mascot for the new Seattle hockey team, the Kraken. He's a sea troll with true potential and a taste for Shark with Maple Leaf seasoning.
The best thing about him, without a doubt, is his hair. And listen, I can almost guarantee he will have a longer career than most other prospects.
2022-23 Upper Deck Series 2 Young Guns Ranked — Tier 2
The tier two players are the types with a ceiling a notch below superstardom. But these are guys with the ability to become stars if their development goes right. Several top-value Young Guns guys started out as somewhere below blue-chip prospects.
In other cases, they could be players with tremendous upside in bad markets or with less flashy playing styles.
Shop for 2022-23 Upper Deck Series 2 boxes on eBay
Pavol Regenda – Winger – Anaheim Ducks
The 23-year-old Slovakian may have gone undrafted, but he is not lacking in the upside. His performances for the national team at the 2022 Winter Olympics were highly impressive.
Regenda had 4 points in 7 games and looked great on the ice, winning the Bronze Medal in the process. We also liked what we saw from the winger for the AHL San Diego Gulls, where he notched 24 points in 43 appearances.
Nikita Okhotiuk – Defense – New Jersey Devils
Nikita has played for his country at every level and helped the U17s to a World Championship bronze. If anyone had doubts that Nikita could cut it in the US, his stunning 2021-22 AHL campaign for the Utica Commets should put that to rest.
Scouts believe his physical style will translate to the NHL and make him a valuable player. But he may not fill the scoreboard as he did in the AHL. But if he does, all bets are off.
Jakub Lauko – Center/ Left wing – Boston Bruins
This versatile Czech player was the 77th overall pick in the 2018 NHL Draft. He has capably represented his country with 20 points in 29 appearances at all levels. His road to the pros looked set and smooth, but 2021-22 was tough for Jakub.
In 54 games for the Providence Bruins, he had only three goals and 16 points. It wasn't just the offense, but the defense was terrible too.
Lauko ended up with a minus-28 balance. We are talking about a player who was a guaranteed plus in previous years.
Jakub admits he hit a "hockey rock-bottom." But he is only 22 and has a tremendous amount of talent. He can play quickly and skillfully apply pressure on opponents. In previous seasons we saw he could rack up points too.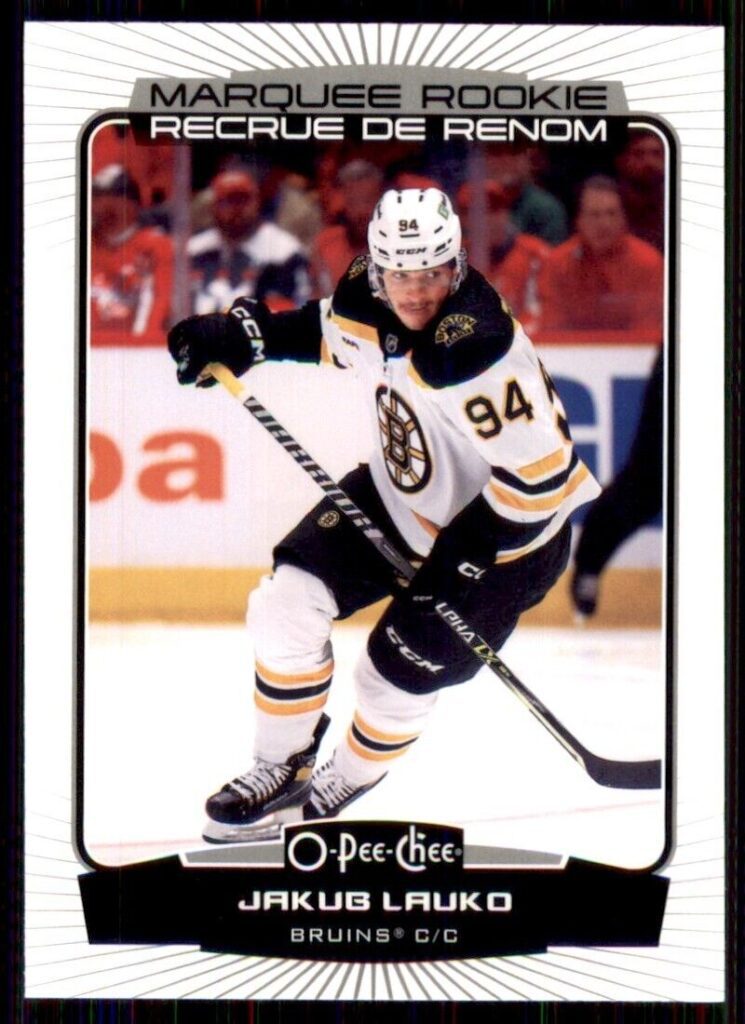 Viktor Lodin – Center / Left wing – Ottawa Senators
Viktor was picked up 9th in the 2019 NHL Draft. But some felt that was low at the time. They may be right. He is a tricky forward with outstanding puck skills and high creativity.
Still, we haven't seen Lodin put it all together. Now 23 years old, he has not long enough to put it into a star-worthy package. But when he is on, Lodin is spectacular. He creates chances through outstanding puck-handling ability and agility.
He keeps that puck stuck onto his stick and has a superb backhand finish. My guess is he will put it all together and have a substantial career.
Hunter Drew – Right wing / defense – Anaheim Ducks
The 178 pick in the 2018 NHL Draft hails from Kingston, Ontario. The 24-year-old has a chip on his shoulder and feels he is underrated.
Is he correct? Drew has some top-notch capabilities and is known for "puck carrying and puck protection along with his ability to make a good first pass when exiting the defensive zone," according to scouting reports.
But this is all on paper until he can put together substantial numbers at the pro level.
Nick Perbix – Defense – Tampa Bay Lightning
Perbix has a great smile and an even greater mustache. But does he have what it takes? Nick has that beautiful knack for overperforming at every level, which is a good sign.
After doing well at St. Cloud State, he moved to the Syracuse Crunch in the AHL. He posted 18 points (2 goals, 6 assists) in a 12-game stint and secured the top-four role. And his success, despite limited tools, is a product of a high hockey IQ. But he doesn't quite have the upside you want from a star.
Kaiden Guhle – Defense – Montreal Canadiens
Kaiden is a regular for Canada at various levels and was a top 20 draft pick in 2020. So, his credentials are solid. But as always for these defense guys, the question is what kind of offensive production we can expect. There is no consensus on that point.
The Hockey Writers say: "Guhle, who is listed at 6-foot-3, 187 pounds, is an imposing figure with the skating and defensive ability to warrant his. He is a textbook shutdown defenseman, and his size allows him to play that game successfully. He has issues with his offensive game but showed off a promising shot while recording 40 points this season in Prince Albert."
But NHL.Com argues, "Guhle's skating allows him to excel in any kind of game, from up-tempo and attacking to grinding and physical. He's strong enough to use his body (6-2, 186) to punish opposing forwards." Either way, Guhle has a lot to prove on offense.
Reilly Walsh – Defense – New Jersey Devils
Drafted 81st overall in 2017, Reilly was seen as a strong two-way player. He remains tenacious and quick. Just the kind of player you want on the blue line. He's still just 23, and we saw some tremendous flashes from Walsh in the AHL in 2022-23. Worth keeping an eye on.
Declan Chisholm – Defense – Winnipeg Jets
Declan has a handy set of skills. The defenseman combines shutdown defense with skating ability and above-average puck-moving skills. That was enough for powerful production in the OHL. We are also seeing him grow at the AHL level. So, there is hope for Chisholm to be an impactful two-way player shortly.
Elmer Soderblom – Left Wing – Detroit Red Wings
The first thing anyone notices about Elmer is his towering height. Standing at 6″ 8, he could easily play power forward in the NBA. But does he have more to offer the Red Wings? He does have a very particular skill set. Soderblom can operate well as a winger at the net.
He's also very good at setting screens for more deft offensive players. But closing down lanes remains his best talent. Of course, you want more from a star player, but Elmer can develop. His shot is pretty good and relatively quick; if he can get more mileage out of that, the left-wing is worth keeping an eye on.
Arber Xhekaj – Defense – Montreal Canadiens
Arber went undrafted but has not given up and fought his way onto the Canadiens roster. The defensive chops this youngster showed for the Kitchener Rangers and the Hamilton Bulldogs on the OHL level were truly impressive.
But what really bowled Montreal over was Xhekaj's consistent offensive production. He seems to produce assists while covering his primary duties very well and effortlessly.
So Montreal threw him in the deep end, and he has rewarded them with solid performances, especially for an undrafted 22-year-old. Considering how tenacious and hardworking he is, it's hard to guess what Xhekaj's ceiling is. We were all wrong about him before.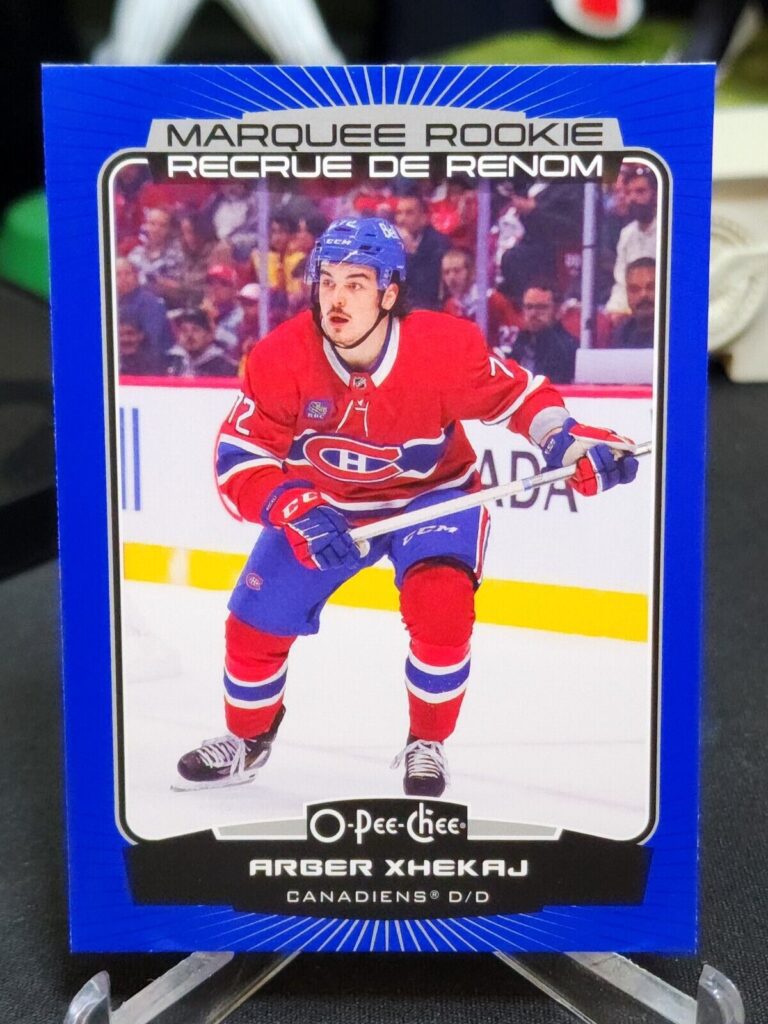 Ronnie Attard – Defense – Philadelphia Flyers
By the end of his tenure at Western Michigan University, Attard was looking incredibly sharp. He had 36 points in 39 games over the 2021-22 season. And Ronnie made All-NCHC First Team two years running.
As soon as he graduated, Ronnie joined the Flyers for the season's end and saw some action four days later. Philadelphia was a hot mess, limping (literally, since half the team was injured) toward the end of the season.
But Attard still looked pretty sharp for a rookie. Ronnie is the type of player who takes a lot of risks, and coaches don't always like that. But more often than not, the defenseman gets the job done, only occasionally falling flat on his face.
2022-23 Upper Deck Series 2 Young Guns Ranked — Tier 3
The tier 3 players have a ceiling as valuable starting players. But if I put them in here, it would surprise me, though it isn't impossible, if their cards will have substantial value.
But it's nothing against the player who could have a meaningful career. It's just that value is generated by big markets, flashy play, and star quality.
Shop for 2022-23 Upper Deck Series 2 boxes on eBay
Nils Aman – Center – Vancouver Canucks
Nils is a proper old-school center with a great hockey mind and two-way abilities. Though drafted only 167th in 2020, that may prove to have been relatively low for a player with his all-around talent.
My guess is the Colorado Avalanche will regret allowing Vancouver to snatch him up. But Aman is a hardworking and capable player but doesn't have the production you expect from a star.
Jayden Halbgewachs – Left wing – San Jose Sharks
Jayden finally made his NHL debut in the 2021-22 season. But at 26, we can definitely put him in the late developer category. And it doesn't help that not long after that, he was cut. Jayden is currently playing for the Växjö Lakers in Sweden.
So, I assume that means he switched to basketball? Still, his AHL stats were good enough that I would keep an eye on Halbgewachs. Just to be safe.
Michael Eyssimont – Center/ Left wing – Winnipeg Jets
The bad news is that Eyssimont only broke into the NHL at a pretty advanced age. Well, for a prospect. But the good news is that he has looked excellent for the Sharks so far after moving from the Jets (yes, Upper Deck is out of date).
And considering his recent AHL record, I think Michael will have a promising career. But it's likely too late to see any real value from his cards.
Cole Reinhardt – Left wing – Ottawa Senators
Cole wasn't a hugely valued prospect, drafted way down in the 6th round. But he is a spirited player and has generally overperformed at every level. So, last season debuted for the Senators. However, he hasn't seen the ice in the NHL since Reinhardt was back. However, his performances in the AHL have been consistent.
Filip Roos – Defense – Chicago Blackhawks
Roos wasn't a massive star in Sweden. He never represented the country in international tournaments and mostly played at the lower levels. But while not super polished, Filip has the raw potential scouts always seek.
As a 6″ 4 individual with high-end skating ability, the Blackhawks were more than happy to take him. He seems to have what it takes to be a reliable defenseman in the NHL. But hard to believe he will have massive offensive production.
Olle Lycksell – Right wing – Philadelphia Flyers
Olle has spent his entire career in Sweden so far. There is promise there and a potential NHL role down the line.
Flyers assistant general manager Brent Flahr says, "He is a skilled player with good speed. He can make good plays with the puck and has some finish, too. The biggest challenge he's faced has been to add strength and muscle to his frame." 
We will see him play in the top six at some point and make some solid peripheral contributions. But stardom will likely elude the Swede.
Filip Hallander – Center – Pittsburgh Penguins
Hallander may have initially been considered a high-impact player, but his ceiling seems to have shifted downward since being picked 58th in the 2018 NHL Draft. The Penguins consider him a future fourth-liner or maybe a third-liner. So, expect to see him play a role for the Penguins, but not the type of role you want for collecting purposes.
Linus Hogberg – Defense – Philadelphia Flyers
Linus was drafted 139th way back in the 2016 NHL Draft, and we would expect him to be further along in the development pipeline by now. And even at his best, we haven't seen enough offensive production from Hogberg to inspire confidence.
Lucas Johansen – Defense – Washington Capitals
Lucas was the 28th pick in 2016, but much time has passed since then. His upside is his excellent skating and foresight, which made him a potentially outstanding three-zone player.
And he tops that off with a strong shot and his ability to make clean plays in the tightest spaces. But his defense hasn't been as strong as expected, and the offensive production hasn't exactly set the AHL on fire.
So there is no reason to expect things will be better in the AHL. But Lucas has enough talent to warrant holding his cards.
Cole Koepke – Left wing – Tampa Bay Lightning
Cole is an old-school player who is excellent at forechecks and whacking opponents along the boards. He fights for his teammates and tussles with anyone who dares get in the way.
That is perfect for how Tampa plays and will help Koepke get his share of minutes. But I am not convinced by his shooting; therefore, Cole's offensive ceiling is not high.
Dmitri Samorukov – Defense – Edmonton Oilers
The 84th pick in the 2017 Draft hasn't developed into a potential star. Instead, scouts see him as a likely second-pairing defender. That is likely because his offensive production, while solid, hasn't knocked anyone's socks off.
Adam Huska – Goaltender – New York Rangers
Huska has some pedigree to speak of. He has represented Slovakia as the starting goalie at every level, including strong performances at the Ice Hockey World Championships.
Everyone agrees that Adam has a good deal of potential. But the Rangers do not seem to believe he has what it takes and has repeatedly preferred other guys over him. However, Adam did make his NHL debut with New York in December 2021.
They finally released Huska in 2022. The goalie signed with the Russian club Torpedo Nizhny Novgorod of the KHL. The bottom line, this goalie may still put it all together. However, time is running out.
Filip Kral – Defense – Toronto Maple Leafs
Král did well with the Marlies in the AHL. He is a defense-first player but does have a spark of offensive capability that may blossom into more. But perhaps more concerning, there is still room to polish his primary duties before reaching an acceptable NHL level.
In addition, while his mobility is quite good, scouts have raised doubts about his physical prowess on the ice. Sure. Filip is only 23, but there are probably too many glaring holes in his game for him to become a genuinely top-notch player.
2022-23 Upper Deck Series 2 Young Guns Ranked — Tier 4
The tier 4 dudes are, in my judgment, going to struggle to have productive careers. And in all cases, I would be absolutely stunned if they became stars or their cards became desirable. But, instead, the players here are all ones with some issue over their quality or, in some cases, their late development.
Brandon Biro – Left Wing – Buffalo Sabres
Brandon has hung in there, and after years of fighting for his place, the wing finally made his first NHL appearance in February 2022. But we are talking about an undrafted 25-year-old player.
Brandon Baddock – Left wing – Montreal Canadiens
I hate writing these blurbs, knocking players who made it to the NHL against all odds. But while we are all rooting for Brandon, he's 27 and has never put up impressive stats. So, sorry.
Mitchell Chaffee – Right wing – Minnesota Wild
Another undrafted wonder. Mitchell made his NHL debut last year, and at 25, he isn't very old, but not the ideal prospect age. But it's easy to see why Chafee made the pros: he had some great numbers in the AHL in the last couple of seasons.
Bokondji Imama – Forward – Arizona Coyotes
The 26-year-old was drafted 150th back in 2015 and has struggled to realize his potential. Unfortunately, Imama really hasn't shown enough quality at any level for us to take him seriously.
Andrei Kuzmenko – Winger – Vancouver Canucks
A lot of upside for this Russian. Scouts note that he has the ability to skate past anyone, making him a constant offensive threat. Andrei is also top-notch at maneuvering into tight spaces. So, Vancouver will be happy to get the guy. But, unfortunately, he is already 27 and won't be topping anyone's Young Guns wish list.
Ben Jones – Center – Vegas Golden Knights
Ben's defensive credentials are unquestionable and well above the level needed in the NHL. But his offensive production remains a mystery.
The 6-foot, 194-pound center definitely has some offensive chops and a particularly nice-looking shot. But is it a reliable weapon? While at the Niagara Icedogs of the OHL, he made offensive progress and recorded 50, 79, and 102 points over his last three seasons.
But his first stint in the AHL for the Chicago Wolves was unsuccessful. Luckily, he did far better Henderson Silver Knights in 2021-22. But will that translate well to the NHL? Unclear.
Corey Schueneman – Defense – Montreal Canadiens
Called up to the NHL in 2022, Corey has been solid for the Canadiens. But, at the end of the day, Corey is just an undrafted 27-year-old.
Kevin Mandolese – Goaltender – Ottawa Senators
Not too many goaltenders in this crop of Young Guns. Mandolese certainly has some talent. He's a big guy with good reflexes, strong positioning, and above-average reflexes.
However, his main problem is a lack of lateral mobility. We doubt this sixth-rounder is going to turn out as a top-notch goalie. So, even in this light crop, Kevin doesn't particularly stand out.
Grant Hutton – Defense – New York Islanders
Another card. Another undrafted 27-year-old defenseman. Grant has been called up because of his solid skating skills and reasonable blueline control. Hutton is also known for his character and work ethic. But not for any offensive production.
Jon Lizotte – Defense – Minnesota Wild
I'm sure Jon is a wonderful guy and a hoot at parties. But the undrafted 28-year-old isn't much of a collecting prospect.
Michael Carcone – Forward – Arizona Coyotes
Let's start with the wooly mammoth in the room (it's too cold in Michael's native Canada for an elephant). He's an undrafted 26-year-old. So, at best, we are talking about a potential bottom-six contributor.
Ethan Prow – Defense – Buffalo Sabres
Ethan is an inspiring story of a 30-year-old player who never lost faith in his ability to break into the NHL. But, he said, "there's always that thing in your mind that wants to play in the NHL, and today that came true."
And while that will make for a very inspiring Hallmark movie, it won't produce a valuable rookie card.
Jesper Froden – Right winger – Boston Bruins
The Swedish right-winger is a bit long in the tooth. As a 28-year-old rookie, we wish him well. But no one will hold their breath, hoping to pull a Froden Young Gun.
Casey Fitzgerald – Defense – Buffalo Sabres
Casey played for the USA at the U17, U18, and Juniors levels. He helped his country to titles at all three levels as a valuable starter.
His father, Tom Fitzgerald, was an excellent forward for the Florida Panthers, so the pedigree is there in every regard. And there is a good amount of talent there.
Fitzgerald is especially good at moving the puck. However, at age 26, Casey has yet to establish himself in the NHL. There are two significant problems. First, the defenseman is on the smaller side at 5″ 11 and 185 pounds. Second, he tends to get involved in many unnecessary penalties.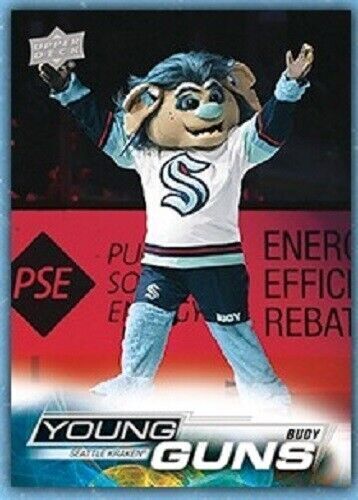 The Bottom Line Of The 2022-23 Upper Deck Series 2 Young Guns Ranked
There aren't quite as many top-tier prospects in this collection of Young Guns as we are used to. But the best talents here are very likely to have strong careers. Shane Wright, Juraj Slafkovsky, and Dylan Guenther really stand out to me.
But Tier 2 has a few potential breakout stars as well. I am thinking of Nikita Okhotiuk in particular. But keep an eye on Buoy the Mascot. He is the best Sea Troll prospect I have seen in decades.
Shop for 2022-23 Upper Deck Series 2 boxes on eBay
451 Juraj Slafkovsky – Montreal Canadiens
452 Pavol Regenda – Anaheim Ducks
453 Samuel Poulin – Pittsburgh Penguins
454 Nils Aman – Vancouver Canucks
455 Brandon Biro – Buffalo Sabres
456 Jayden Halbgewachs – San Jose Sharks
457 Michael Eyssimont – Winnipeg Jets
458 Cole Reinhardt – Ottawa Senators
459 Wyatt Johnston – Dallas Stars
460 Brandon Baddock – Montreal Canadiens
461 Dylan Holloway – Edmonton Oilers
462 Mitchell Chaffee – Minnesota Wild
463 Bokondji Imama – Arizona Coyotes
464 Nikita Okhotiuk – New Jersey Devils
465 Andrei Kuzmenko – Vancouver Canucks
466 Jake Sanderson – Ottawa Senators
467 Ben Jones – Vegas Golden Knights
468 Jakub Lauko – Boston Bruins
469 Filip Roos – Chicago Blackhawks
470 Brandt Clarke – Los Angeles Kings
471 Viktor Lodin – Ottawa Senators
472 David Jiricek – Columbus Blue Jackets
473 Corey Schueneman – Montreal Canadiens
474 Olle Lycksell – Philadelphia Flyers
475 Shane Wright – Seattle Kraken
476 Hunter Drew – Anaheim Ducks
477 Filip Hallander – Pittsburgh Penguins
478 Nick Perbix – Tampa Bay Lightning
479 Linus Hogberg – Philadelphia Flyers
480 Kaiden Guhle – Montreal Canadiens
481 Kevin Mandolese – Ottawa Senators
482 Lucas Johansen – Washington Capitals
483 Reilly Walsh – New Jersey Devils
484 Cole Koepke – Tampa Bay Lightning
485 Grant Hutton – New York Islanders
486 Declan Chisholm – Winnipeg Jets
487 Dmitri Samorukov – Edmonton Oilers
488 Jon Lizotte – Minnesota Wild
489 Elmer Soderblom – Detroit Red Wings
490 Arber Xhekaj – Montreal Canadiens
491 Michael Carcone – Arizona Coyotes
492 Adam Huska – New York Rangers
493 Filip Kral – Toronto Maple Leafs
494 Ethan Prow – Buffalo Sabres
495 Ronnie Attard – Philadelphia Flyers
496 Jesper Froden – Boston Bruins
497 Dylan Guenther – Arizona Coyotes
498 Casey Fitzgerald – Buffalo Sabres
499 Buoy the Mascot – Seattle Kraken
500 Juraj Slafkovsky/Shane Wright CL