2022 Bowman Draft Sapphire: Draft Picks Get The Sapphire Treatment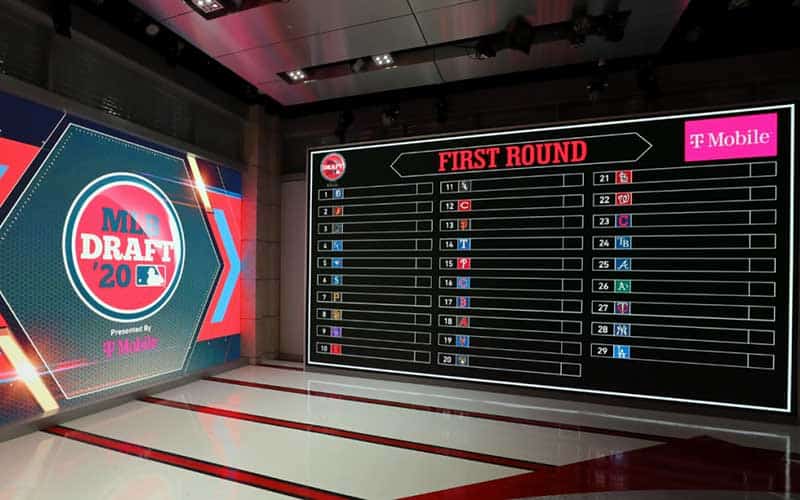 An online exclusive with lots of style but (to date) not a lot of detail, 2022 Bowman Draft Sapphire has a solid checklist and while it lacks autographs and inserts, should offer us a rainbow of parallels to chase.
With a release this week, let's dive in and see what 2022 Bowman Draft Sapphire has to offer.
Bowman Draft Sapphire 2022 release format & release date
2022 Bowman Draft Sapphire is scheduled for release on February 8th, 2023 (subject to change).
The release is an online exclusive on Topps.com. The release price is not yet known. Expect the initial offering to sell off quickly and for secondary sales on eBay at a higher level. For reference, the 2021 Bowman Draft Sapphire dropped to $199.
The exact release format of the product, including cards per pack and packs per box, are unknown at this time.
Also not known at this point is exactly what the parallel offerings look like, including their print runs. Check back for more info as it becomes available.
It is expected that 2022 Bowman Draft Sapphire won't have any autographed cards in the product. It is also likely to be devoid of inserts, meaning that parallels (including perhaps a guaranteed pull per box) are where it's at.
Bowman Draft Sapphire 2022 base set & design
The 2022 Bowman Draft Sapphire checklist mirrors that of the 2022 Bowman Draft set from earlier this year. With a little luck, the release will avoid the production errors that sullied the launch of the base product.
From a design perspective, the design is also very similar to the 2022 Bowman Draft design, except with a chromium finish and blue sapphire flair. This is in line with prior 2022 Sapphire releases, including 2022 Topps Chrome Sapphire and 2022 Topps Chrome Update Sapphire.
The checklist includes 8 of the top 10 2022 draft picks, with the top exception being #2 overall pick Drew Jones. It is expected that Bowman is keeping at least a few draftees to headline the 2023 product. #1 overall pick Jackson Holliday is included on the checklist.
More to come on 2022 Bowman Draft Sapphire
Admittedly, not a lot of details are known at this point about 2022 Bowman Draft Sapphire. That is often the case with online exclusive products, so come back soon and we'll update details as they become available.
What we DO know is that if you enjoy prospect cards, chrome finish, and prior Sapphire products, 2022 Bowman Draft Sapphire is probably something you'll want to check out.
2022 Bowman Draft Sapphire Checklist
BDC-1 Yordany De Los Santos, Pittsburgh Pirates
BDC-2 Yendry Rojas, San Diego Padres
BDC-3 William Kempner, San Francisco Giants
BDC-4 Adam Mazur, San Diego Padres
BDC-5 Jared McKenzie, Washington Nationals
BDC-6 Gavin Cross, Kansas City Royals
BDC-7 Henry Davis, Pittsburgh Pirates
BDC-8 Connor Prielipp, Minnesota Twins
BDC-9 Dominic Keegan, Tampa Bay Rays
BDC-10 Blake Burkhalter, Atlanta Braves
BDC-11 Yasser Mercedes, Minnesota Twins
BDC-12 Cayden Wallace, Kansas City Royals
BDC-13 Justin Boyd, Cincinnati Reds
BDC-14 Carson Williams, Tampa Bay Rays
BDC-15 Jace Jung, Detroit Tigers
BDC-16 Sonny DiChiara, Los Angeles Angels
BDC-17 Bryce Hubbart, Cincinnati Reds
BDC-18 Zach Neto, Los Angeles Angels
BDC-19 Bryan Acuña, Minnesota Twins
BDC-20 Denzer Guzman, Los Angeles Angels
BDC-21 Brandon Barriera, Toronto Blue Jays
BDC-22 Allan Cerda, Cincinnati Reds
BDC-23 Elijah Green, Washington Nationals
BDC-24 Blaze Jordan, Boston Red Sox
BDC-25 Drew Thorpe, New York Yankees
BDC-26 Chandler Simpson, Tampa Bay Rays
BDC-27 Dylan Lesko, San Diego Padres
BDC-28 Tanner Schobel, Minnesota Twins
BDC-29 Ivan Melendez, Arizona Diamondbacks
BDC-30 Jonatan Clase, Seattle Mariners
BDC-31 Carson Palmquist, Colorado Rockies
BDC-32 Zac Veen, Colorado Rockies
BDC-33 Reggie Crawford, San Francisco Giants
BDC-34 Jordan Beck, Colorado Rockies
BDC-35 Kahlil Watson, Miami Marlins
BDC-36 Jordan Walker, St. Louis Cardinals
BDC-37 Thomas Harrington, Pittsburgh Pirates
BDC-38 Curtis Mead, Tampa Bay Rays
BDC-39 Roberto Campos, Detroit Tigers
BDC-40 Willy Vasquez, Tampa Bay Rays
BDC-41 Dustin Harris, Texas Rangers
BDC-42 Mikey Romero, Boston Red Sox
BDC-43 Trystan Vrieling, New York Yankees
BDC-44 Hayden Dunhurst, Kansas City Royals
BDC-45 Josh Kasevich, Toronto Blue Jays
BDC-46 Arol Vera, Los Angeles Angels
BDC-47 Kevin Parada, New York Mets
BDC-48 Eric Brown Jr., Milwaukee Brewers
BDC-49 Chase DeLauter, Cleveland Guardians
BDC-50 Sean McLain, Los Angeles Dodgers
BDC-51 Oscar Colas, Chicago White Sox
BDC-52 Simon Juan, New York Mets
BDC-53 George Valera, Cleveland Guardians
BDC-54 Colson Montgomery, Chicago White Sox
BDC-55 Logan Tanner, Cincinnati Reds
BDC-56 Noah Schultz, Chicago White Sox
BDC-57 Erick Hernandez, Chicago White Sox
BDC-58 Yeison Morrobel, Texas Rangers
BDC-59 Adael Amador, Colorado Rockies
BDC-60 Jhonkensy Noel, Cleveland Guardians
BDC-61 Austin Hendrick, Cincinnati Reds
BDC-62 Eddinson Paulino, Boston Red Sox
BDC-63 Samuel Munoz, Los Angeles Dodgers
BDC-64 Cristhian Vaquero, Washington Nationals
BDC-65 Won-Bin Cho, St. Louis Cardinals
BDC-66 Felix Valerio, Milwaukee Brewers
BDC-67 Joe Lampe, Cleveland Guardians
BDC-68 Anthony Volpe, New York Yankees
BDC-69 Max Muncy, Oakland Athletics
BDC-70 Victor Acosta, Cincinnati Reds
BDC-71 Parker Messick, Cleveland Guardians
BDC-72 Landon Sims, Arizona Diamondbacks
BDC-73 Jakob Marsee, San Diego Padres
BDC-74 Daniel Vazquez, Kansas City Royals
BDC-75 Jasson Dominguez, New York Yankees
BDC-76 Joshua Baez, St. Louis Cardinals
BDC-77 Nazier Mule, Chicago Cubs
BDC-78 Jordan Lawlar, Arizona Diamondbacks
BDC-79 Roderick Arias, New York Yankees
BDC-80 Elly De LA Cruz, Cincinnati Reds
BDC-81 Ryan Cermak, Tampa Bay Rays
BDC-82 Robby Snelling, San Diego Padres
BDC-83 Ezequiel Tovar, Colorado Rockies
BDC-84 Dalton Rushing, Los Angeles Dodgers
BDC-85 Clark Elliott, Oakland Athletics
BDC-86 Kevin Alcantara, Chicago Cubs
BDC-87 Karson Milbrandt, Miami Marlins
BDC-88 William Bergolla, Philadelphia Phillies
BDC-89 Luis Meza, Toronto Blue Jays
BDC-90 Cole Phillips, Atlanta Braves
BDC-91 Leonardo Balcazar, Cincinnati Reds
BDC-92 Chase Meidroth, Boston Red Sox
BDC-93 Emmanuel Rodriguez, Minnesota Twins
BDC-94 Nick Yorke, Boston Red Sox
BDC-95 Cooper Hjerpe, St. Louis Cardinals
BDC-96 Yiddi Cappe, Miami Marlins
BDC-97 Anthony Hall, New York Yankees
BDC-98 Samuel Zavala, San Diego Padres
BDC-99 Jackson Jobe, Detroit Tigers
BDC-100 Matt McLain, Cincinnati Reds
BDC-101 Steven Zobac, Kansas City Royals
BDC-102 Jose Ramos, Los Angeles Dodgers
BDC-103 Hunter Barco, Pittsburgh Pirates
BDC-104 Ceddanne Rafaela, Boston Red Sox
BDC-105 Kyle Manzardo, Tampa Bay Rays
BDC-106 Maikol Hernandez, Baltimore Orioles
BDC-107 Danny De Andrade, Minnesota Twins
BDC-108 Ryan Reckley, San Francisco Giants
BDC-109 Ben Joyce, Los Angeles Angels
BDC-110 Anthony Gutierrez, Texas Rangers
BDC-111 Cristian Hernandez, Chicago Cubs
BDC-112 Cole Young, Seattle Mariners
BDC-113 Justin Campbell, Cleveland Guardians
BDC-114 Jud Fabian, Baltimore Orioles
BDC-115 Jackson Chourio, Milwaukee Brewers
BDC-116 Hendry Mendez, Milwaukee Brewers
BDC-117 Alex McFarlane, Philadelphia Phillies
BDC-118 Troy Melton, Detroit Tigers
BDC-119 Henry Williams, San Diego Padres
BDC-120 Michael Knorr, Houston Astros
BDC-121 Henry Bolte, Oakland Athletics
BDC-122 Sal Stewart, Cincinnati Reds
BDC-123 Marcelo Mayer, Boston Red Sox
BDC-124 Brycen Mautz, St. Louis Cardinals
BDC-125 Ignacio Alvarez, Atlanta Braves
BDC-126 JR Ritchie, Atlanta Braves
BDC-127 Coby Mayo, Baltimore Orioles
BDC-128 Pete Hansen, St. Louis Cardinals
BDC-129 Marco Luciano, San Francisco Giants
BDC-130 Termarr Johnson, Pittsburgh Pirates
BDC-131 Robert Moore, Milwaukee Brewers
BDC-132 Jacob Misiorowski, Milwaukee Brewers
BDC-133 Cesar Prieto, Baltimore Orioles
BDC-134 Angel Martinez, Cleveland Guardians
BDC-135 Jacob Melton, Houston Astros
BDC-136 Ryan Ritter, Colorado Rockies
BDC-137 Harry Ford, Seattle Mariners
BDC-138 Andrew Pintar, Arizona Diamondbacks
BDC-139 Ricardo Cabrera, Cincinnati Reds
BDC-140 Kenya Huggins, Cincinnati Reds
BDC-141 Jake Bennett, Washington Nationals
BDC-142 Gabriel Rincones, Philadelphia Phillies
BDC-143 Lamar King Jr., San Diego Padres
BDC-144 Brady House, Washington Nationals
BDC-145 Owen Murphy, Atlanta Braves
BDC-146 Yanquiel Fernandez, Colorado Rockies
BDC-147 Alex De Jesus, Toronto Blue Jays
BDC-148 Danyer Cueva, Texas Rangers
BDC-149 Colton Cowser, Baltimore Orioles
BDC-150 Eddys Leonard, Los Angeles Dodgers
BDC-151 Gabriel Hughes, Colorado Rockies
BDC-152 Drew Gilbert, Houston Astros
BDC-153 Brooks Lee, Minnesota Twins
BDC-154 Jack Brannigan, Pittsburgh Pirates
BDC-155 Benny Montgomery, Colorado Rockies
BDC-156 Trey Sweeney, New York Yankees
BDC-157 Tres Gonzalez, Pittsburgh Pirates
BDC-158 Dru Baker, Tampa Bay Rays
BDC-159 Luisangel Acuña, Texas Rangers
BDC-160 Dylan Beavers, Baltimore Orioles
BDC-161 Rosman Verdugo, San Diego Padres
BDC-162 Shalin Polanco, Pittsburgh Pirates
BDC-163 Nate Savino, Arizona Diamondbacks
BDC-164 Kumar Rocker, Texas Rangers
BDC-165 Nick Biddison, Los Angeles Dodgers
BDC-166 James Triantos, Chicago Cubs
BDC-167 Wilman Diaz, Los Angeles Dodgers
BDC-168 Jackson Holliday, Baltimore Orioles
BDC-169 Robert Hassell, Washington Nationals
BDC-170 Masyn Winn, St. Louis Cardinals
BDC-171 James Wood, Washington Nationals
BDC-172 Mason Barnett, Kansas City Royals
BDC-173 Alexis Hernandez, Chicago Cubs
BDC-174 Jackson Cox, Colorado Rockies
BDC-175 Jose Salas, Miami Marlins
BDC-176 Michael Kennedy, Pittsburgh Pirates
BDC-177 Peyton Pallette, Chicago White Sox
BDC-178 Jimmy Crooks III, St. Louis Cardinals
BDC-179 Warming Bernabel, Colorado Rockies
BDC-180 Jonathan Cannon, Chicago White Sox
BDC-181 Pedro Pineda, Oakland Athletics
BDC-182 Nate Furman, Cleveland Guardians
BDC-183 Jordan Sprinkle, Chicago White Sox
BDC-184 Trevor Martin, Tampa Bay Rays
BDC-185 Christopher Paciolla, Chicago Cubs
BDC-186 Jonathan Mejia, St. Louis Cardinals
BDC-187 Walter Ford, Seattle Mariners
BDC-188 Rayne Doncon, Los Angeles Dodgers
BDC-189 Jaison Chourio, Cleveland Guardians
BDC-190 Jett Williams, New York Mets
BDC-191 Dylan Ray, Arizona Diamondbacks
BDC-192 Jay Allen, Cincinnati Reds
BDC-193 Cade Horton, Chicago Cubs
BDC-194 Alex Freeland, Los Angeles Dodgers
BDC-195 Jacob Miller, Miami Marlins
BDC-196 Brenner Cox, Washington Nationals
BDC-197 Trey Lipscomb, Washington Nationals
BDC-198 Aeverson Arteaga, San Francisco Giants
BDC-199 Yerlin Confidan, Cincinnati Reds
BDC-200 Cutter Coffey, Boston Red Sox