What's The Big Change In 2022 Encased Football? A Review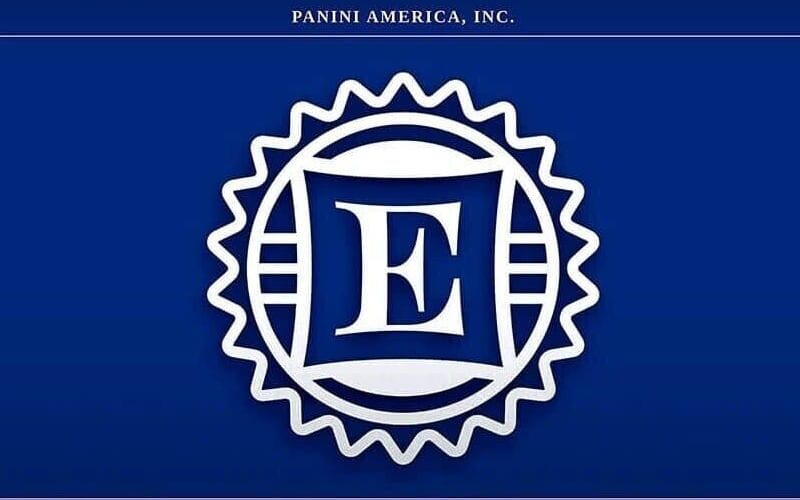 2022 Encased Football is set to return on at the end of August (maybe), and we're breaking down the product, some big changes, and how you should consider investing.
Shop for 2022 Encased football boxes on eBay
2022 Encased Football product introduction
Encased is as painfully on-the-nose as a product could ever be. The selling point of these cards, as the name implies, is that you get one "encased" card per box.
But that brings us to an important change for 2022 — something that is a major pivot for the brand.
Historically, the product has always included one card that comes pre-graded by BGS. This year, however, the encased card comes with a "one-touch holder with security sticker." So, yes, the whole concept of the brand is just built around the idea of getting a special card in a one-tough mag with a Panini security sticker on it.
To be fair, that's not much worse than the BGS-graded cards being the center of the product. While most sets are built on a unique idea or theme, "Encased" has always been the product that the creative team said, "Let's build a whole brand around the idea of selling a BGS graded card in a box of five cards. We won't bother with subscores, even, because who really wants those?"
But, don't worry: if you really wanted to, you could surely BGS grade an Encased card for about $25.
Okay, small rant over. Here's what to expect from 2022 Encased.
Shop for 2022 Encased football boxes on eBay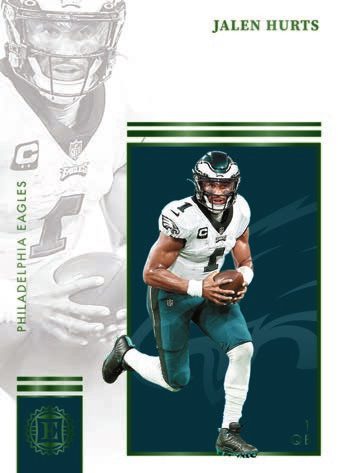 What to expect from 2022 Encased Football
As mentioned above, the biggest change to Encased for 2022 is that the Encased cards are no longer graded by BGS. Hopefully, that's not a make or break for you, though, since you can grade your own using the cost savings with this release.
This year's box is releasing at $550, while last year's boxes are going for around $800. That's a pretty wide gap, considering Panini has been pricing most of the 2022 products very closely to the resell value of the 2021 sealed products at the time of the 2022 release.
So what does that mean? Panini seems to think there's a serious dip in 2022 Encased value compared to just one year prior.
While the 2022 box doesn't include a BGS-graded card, the extra $250 of savings compared to 2021 is more than enough to grade all 5 cards per box.
And speaking of boxes, here's what you can expect out of each one:
1 Encased Autograph
1 Additional Autograph
2 Memorabilia Cards
1 Base Or Parallel
Shop for 2022 Encased football boxes on eBay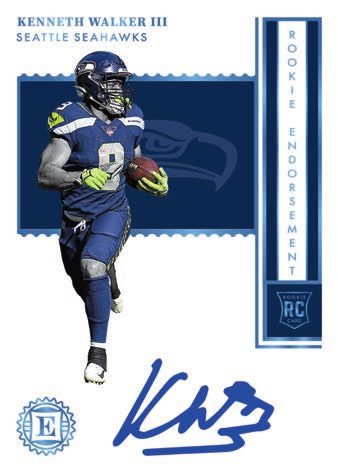 2022 Encased Checklist information
While a lot of wholes can be poked in the branding and overall product, the autograph lineup includes some really nice cards.
Here's a look at the different sets you can hope to pull and their description.
Shop for 2022 Encased football boxes on eBay

Base: Look for a 100-card base set that includes all of the biggest names that the NFL has to offer and be on the lookout for short-print parallels and rare Base Autographs!
Rookie Endorsements: Be on the lookout for on-card autographs in Rookie Endorsements from all of the best young talent that the 2022 NFL Draft Class has to offer!
2022 Encased football autographs
Superscribe Signatures: Look for Superscribe Signatures, which feature on-card signatures from some of the biggest veteran names in the NFL today!
Rookie Notable Signatures: More on-card rookie signatures to hunt, look for Rookie Notable Signatures that will feature autographs from the likes of Kenny Pickett, Aidan Hutchinson, Breece Hall, Chris Olave and many more!
Sapphire Signatures: Sapphire Signatures boasts a bold blue autograph on a crisp black signing area!
Rookie Cap Patch Autographs: Look for Rookie Cap Patch Autographs that showcase on-card autographs from the NFL's top rookies while featuring unique cap memorabilia!
Shop for 2022 Encased football boxes on eBay
2022 Encased football relics
Substantial Rookie Swatches: Find oversized memorabilia cards in Substantial Rookie Swatches that also feature rare prime versions, as well as the ultra-rare 1/1 NFL Shield!
Rookie Quad Memorabilia: Hunt for quad-patch memorabilia cards from some of the biggest names in this year's freshman class!
Choice Materials: New to Encased 2022, Choice Materials features some of the biggest names in football past and present!
Despite my hardened heart for the product, The Rookie Cap Patch Autographs are some of my favorite-looking cards on the market. They're clean and usually have some pretty awesome patches.
That said, I can't miss another opportunity to dog out the rookie class of 2022 and say this: joking aside, your best bet for a big money card from 2022 Encased very well might be pulling a nice veteran auto. 2022 is a very receiver-heavy rookie class, and those cards don't hold great value for long, save maybe the superstars, like Justin Jefferson.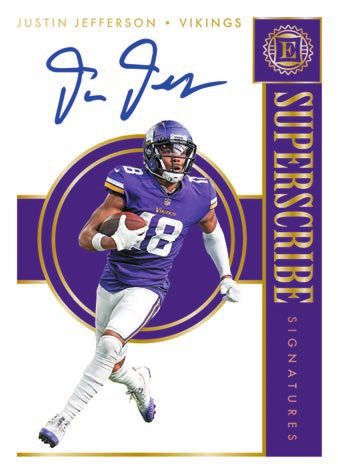 Most of the sets have parallels that break down as follows:
Base – #/50 or less
Sapphire – #/25 or less
Gold – #/10 or less
Emerald – #/5 or less
Diamond – 1/1
Investing in Encased Football
With a pre-order price of $550, buying a box of Encased is not an impulse buy. But don't worry – we've done the work for you.
Encased is a major investment and something you need to think long and hard about before pulling the trigger. Here are a few different ways to think about investing in Encased.
Shop for 2022 Encased football boxes on eBay
Investing in Sealed Boxes of Encased football
If you're investing in sealed boxes with the intent of holding them, here are some numbers to consider (May 10, 2023).
Current resell of 2021 hobby: $800
Current resell of 2020 hobby: $1,175
Current resell of 2019 hobby: $400
What can we learn from this?
2019 was the first year for the product, but that's a very weak rookie class. That said, the Encased card was BGS graded instead of just one-touched.
Still, the value of the product is much more closely tied to the rookie class than the construction of the box contents. You can assume the 2022 draft class will most likely be a lot closer to the 2019 (Kyler Murray and Daniel Jones) than the stronger classes on this list. With that in mind, $550 feels very steep if you're buying 2022 Encased to hold.
The stars of the 2022 class are either defensive players or receivers, largely, and neither of those positions have ever proven lucrative for investing. Maybe Kenny Pickett or Desmond Ridder make it in the league, but the best-case scenario for them seems like Ryan Tannehill upside: steady, but not flashy.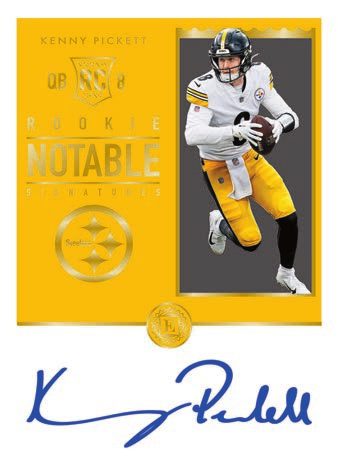 With that in mind, I'd encourage you to stay away from Encased as a sealed investment.
Investing in Encased football rookie
Typically, I say something like this: "Your best bet of making a profit on this product is finding a few low-numbered cards of players you believe in and buying them to hold."
There's a catch here. Encased cards, no matter how low-numbered they are, are never going to be the most desirable cards to buy.
I've never been to a card show where I heard somebody say, "Do you have any Encased cards?" It truly might be one of the most forgettable brands, full of mixed messaging and gimmicky "value-adds."
So, with that in mind, I'd encourage you to take the money you'd put in Encased and go elsewhere with it. I've never liked Illusions, for example, but I'd definitely rather have a nice Illusions rookie than anything from Encased. That set at least has some cohesion and a clear them.
But, if you really want to explore Encased, surely there's money to be made if you get lucky enough or really pick a home run for player investing.
Shop for 2022 Encased football boxes on eBay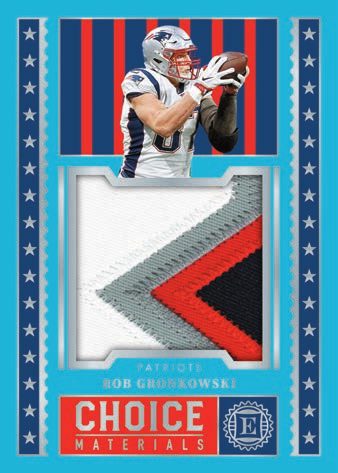 Bottom line: Rip, Hold or Pass?
Encased is one of the least desirable licensed brands from Panini, and the $550 pre-order price is too high for the potential therein.
What do you think of this product? What will it be worth in 5 years? Let us know on Twitter @card_lines and be sure to subscribe to our free newsletter right here.
lllllllllllllll