A Breakdown Of The Best 2022 Topps Chrome Rookies Actually In The Set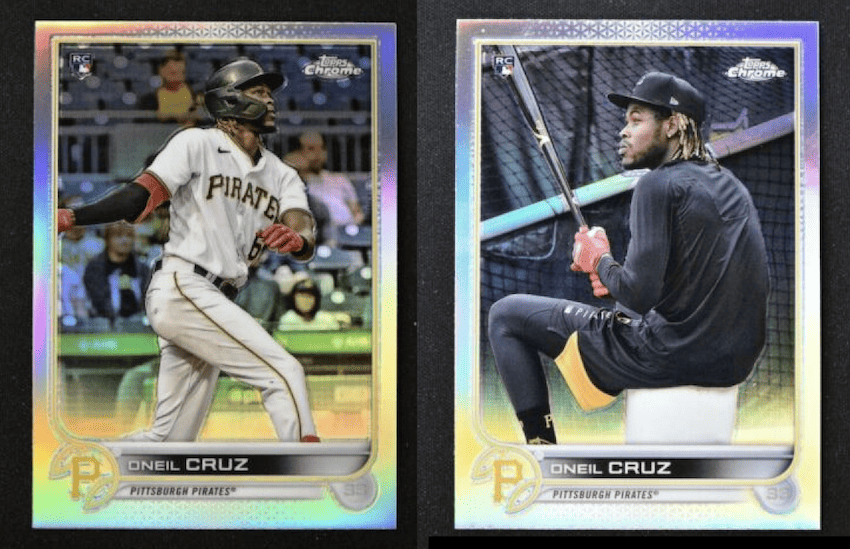 The 2022 Topps Chrome Baseball release features 52 players with the rookie card designation. Some rookies are worth chasing, but most aren't. CardLines is here to breakdown the checklist from an investment standpoint, giving you a guide when you rip your packs.
Like I did for the 2022 Topps Series 1 and 2 releases, Looking for 2023 Topps Chrome rookies? Go here. I'm breaking down all the 2022 Topps Chrome rookies into tiers:
Tier 1: Rookies worth ripping for.
Tier 2: Rookies I'm cautiously optimistic about.
Tier 3: Rookies with a higher risk than the potential reward.
Tier 4: Rookies with little to no value in the hobby.
Check prices for 2022 Topps Chrome rookies on eBay
Before the 2022 Topps Chrome release hit stores last Friday, collectors and investors were already disappointed about Topps' decision to leave the best and most popular rookies off the base set checklist. Bobby Witt Jr., Julio Rodriguez, Spencer Torkelson, Hunter Greene, and CJ Abrams are the five players listed as extended base short prints.
When eager fans started ripping boxes, however, the SP-exclusive rookie cards were nowhere to be found. As of this morning, there are no reports of anyone pulling these cards.
I wasn't planning on including short printed cards in my breakdown, but these five players would've been in my top tier if I did. Now that Witt, Rodriguez, Torkelson, Greene, and Abrams rookie cards seemed to have disappeared into thin air, the 2022 Topps Chrome checklist looks a lot thinner.
Read more about the 2022 Topps Chrome short print controversy here.
Tier 1: Rookies worth ripping for.
Wander Franco, Tampa Bay Rays SS (#35)
| Wander Franco | G | R | 2B | HR | SB | BB% | K% | BA | OBP | SLG | wRC+ | WAR |
| --- | --- | --- | --- | --- | --- | --- | --- | --- | --- | --- | --- | --- |
| 2021 | 70 | 53 | 18 | 7 | 2 | 7.8% | 12.0% | .288 | .347 | .463 | 127 | 2.4 |
| 2022 | 67 | 38 | 14 | 5 | 5 | 6.4% | 10.0% | .262 | .306 | .388 | 101 | 1.2 |
Wander Franco was the biggest chase among collectors coming into the 2022 season. The 21-year-old entered his sophomore season having just signed an 11-year, $182 million contract extension after only 70 big league games.
When the season started, however, Franco's power production took a hit before he spent significant time on the injured list with a strained quad and a broken bone in his wrist that required surgery. Because of this, investors have backed off Franco and his card values have taken a tremendous hit.
Despite this, Franco's skill set and track record make me comfortable placing him in the top tier of this guide. In a world where five tool prospect is the latest buzzword, Franco is one of the few true five tool prospects.
Franco has been the best player his age on the planet since he was 14 years old. He looks like, and has performed like, a generational talent and annual MVP contender.

FanGraphs
Wander Franco 2022 Topps Chrome rookie cards on eBay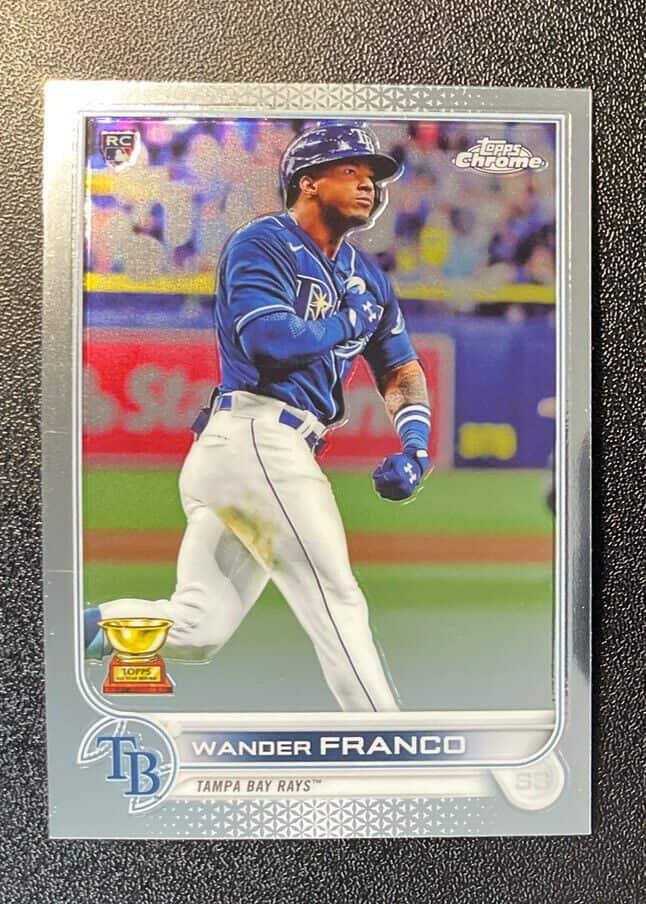 ---
Oneil Cruz, Pittsburgh Pirates SS (#128)
| Oneil Cruz | G | R | 2B | HR | SB | BB% | K% | BA | OBP | SLG | wRC+ | WAR |
| --- | --- | --- | --- | --- | --- | --- | --- | --- | --- | --- | --- | --- |
| 2022 | 72 | 33 | 9 | 16 | 7 | 6.2% | 37.8% | .221 | .268 | .460 | 98 | 1.0 |
A few times a week, an Oneil Cruz highlight makes me stop scrolling because it blows my mind and breaks Statcast records. There's this 122.4 mph single that is the hardest-hit ball ever tracked, or this 97.8 mph throw from shortstop that is the fastest throw by an infielder, or the night he hit three balls with an exit velocity of 113 mph or greater and put himself in elite company.
Cruz is must-see TV every time he steps on the field because he'll probably do something you've never seen before. I can't overstate how talented he is, and how excited you should be if you pull a low-numbered parallel or autographed Oneil Cruz card.
Oneil Cruz 2022 Topps Chrome rookie cards on eBay
Instead of a quote, I urge you to watch his highlights. And I'll leave you with this incredible nugget about Cruz vs. Jacob deGrom:
---
Tier 2: Rookies I'm cautiously optimistic about.
Joe Ryan, Minnesota Twins RHP (#48)
Joe Ryan was one of the Twins' biggest surprises to start the season. He was in the early 2022 AL Rookie of the Year discussions before Julio Rodríguez took off. Ryan currently holds a 3.83 ERA, gets a lot of strikeouts, and induces a lot of soft contact from hitters.
For most of the season, he got more called strikes and whiffs on his four-seam fastball and slider than the average pitcher. He looked legit early on before struggling a bit in the second half. Ryan's last outing, however, was dominant: he pitched seven ho-hit innings for a team making its push for the playoffs.
Ryan has always been a fastball-dominant pitcher. He used that pitch to power through the minors. While evaluators wanted to see him take strides with his secondaries, he continued to pitch overwhelmingly off his fastball (65.8%) with the Twins and continued to find success with it. The pitch has below-average velocity (91.2 mph) and spin, but a low slot and impressive carry up in the zone have allowed it to perplex and stymie hitters, nonetheless.

Baseball America
Joe Ryan 2022 Topps Chrome rookie cards on eBay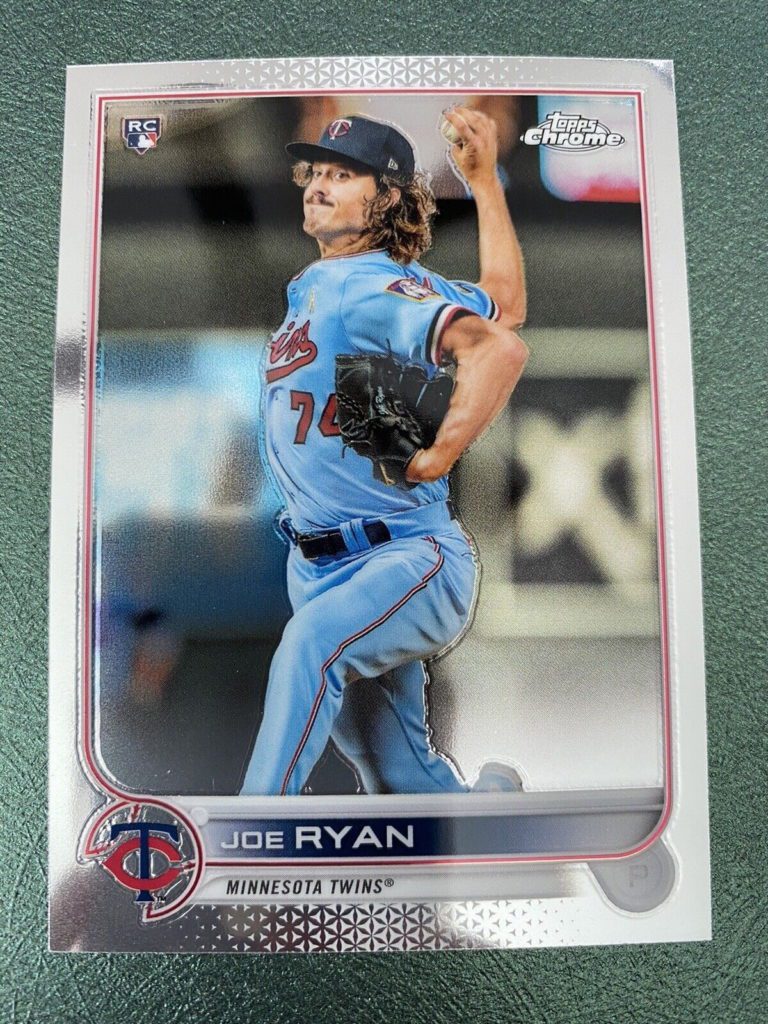 ---
Edward Cabrera, Miami Marlins RHP (#64)
Cabrera works with a plus-plus fastball and mid-90s changeup. There are two question marks for me here: command and health. His second start of the season highlighted Cabrera's difficulty finding the zone or leaving pitches over the heart of the plate. He's also dealt with his fair share of injuries, missing time with his back, shoulder, and biceps injuries.
When he returned from the injured list in August, Cabrera dominated in his first four outings, holding opposing batters scoreless for 22.2 consecutive innings. When he's healthy, he's an electrifying arm that looks worthy of an investment. Unfortunately, staying injury-free hasn't been easy for the right hander.
Cabrera has long been one of the best pitching prospects in the Miami system…With the Marlins, Cabrera's control and command showed they needed a bit more polish, but the pure stuff was encouraging enough to project as a long-term piece of Miami's rotation.

Baseball America
Edward Cabrera 2022 Topps Chrome rookie cards on eBay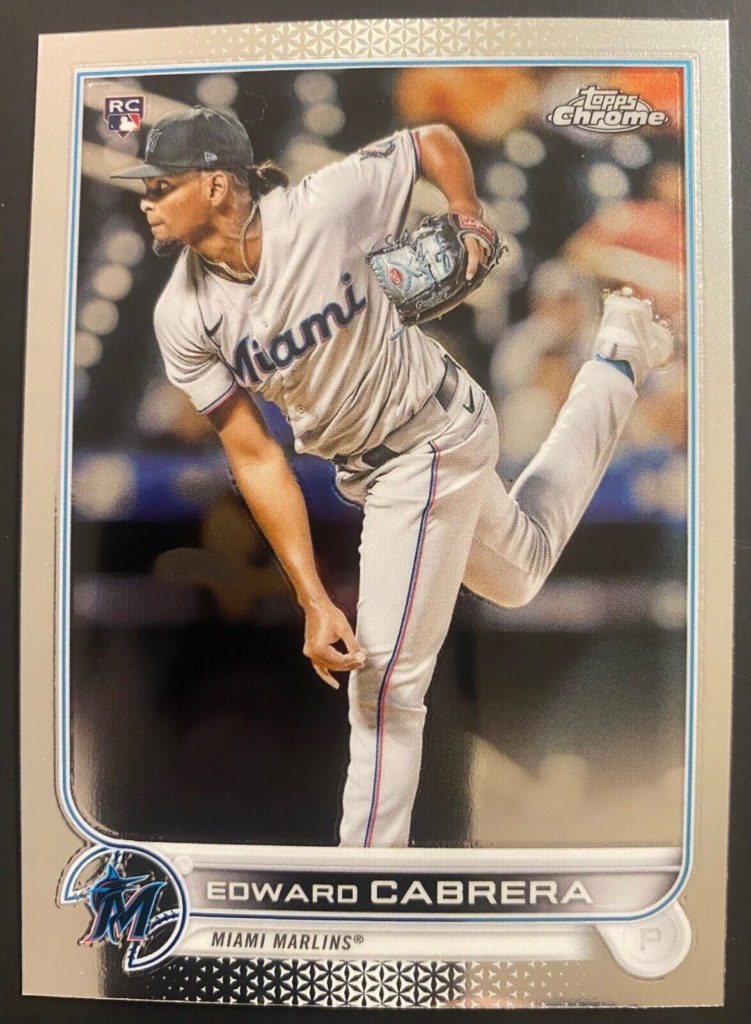 ---
Josh Lowe, Tampa Bay Rays OF (#83)
Lowe, who made his debut in 2021 and played 52 big league games this season, is an outfielder with plus power and plus-plus speed. Lowe took a big step forward offensively in 2021, posting a career-high batting average and walk rate without sacrificing power. He was also perfect on the base paths, stealing 26 bases in 26 tries.
Lowe doesn't have the eye-catching light-tower power that shortstop Oneil Cruz does, but he does have multiple plus-or-better tools that also make him a power/speed threat.
Through 2021, Lowe struck out about a quarter of the time but posted double-digit walk rates. Strikeouts are still an issue for Lowe, who has struck out 33.3% of the time this season.
After failing to get it going, the Rays optioned the outfielder down to Triple-A at the end of July. I still have faith in Lowe, but 2023 will be a critical year to see if he can put it all together.
He still trades some batting average for power, but he has managed to find a balance and now projects as a fringe-average hitter with plus power. Every other aspect of his game is plus or better. He plays a plus center field with long gliding strides. He also has a plus arm and has turned into a threat on the base paths.

Baseball America
Josh Lowe 2022 Topps Chrome rookie cards on eBay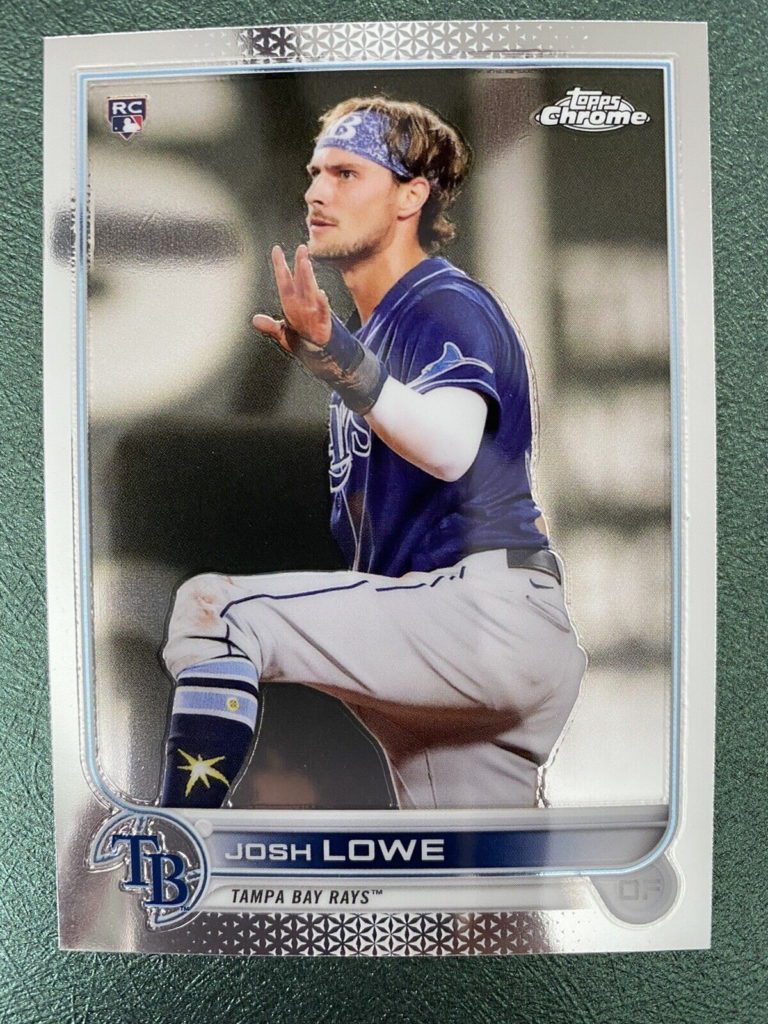 ---
Shane Baz, Tampa Bay Rays RHP (#201)
If you're wondering how the Rays feel about Baz, you need to look no further than how they used him in 2021. After just three big league starts, manager Kevin Cash handed the 22-year-old the ball in the playoffs.
He didn't pitch great in that game, but the team is no less convinced that Baz will hold down a top rotation spot for many years. The right hander started and ended the season on the injured list, making only six stars in 2022.
Looking back to his three regular-season starts last year, Baz's 80-grade fastball was among the best in the game by various advanced metrics. He touched 100 mph with his four seamer and compliments it with a plus slider that induces a ton of whiffs. Baz is currently Baseball America's #14 prospect in MLB and is one pitcher that investors should be excited about.
The Rays consistently are slow to promote their prospects, but after Baz earned a spot in the club's postseason rotation, he should be a key part of Tampa Bay's rotation in 2022 and beyond. He has front-of-the-rotation potential and the highest upside of any Rays starting pitching prospect in years, thanks to his rare combination of premium stuff plus control.

Baseball America
Shane Baz 2022 Topps Chrome rookie cards on eBay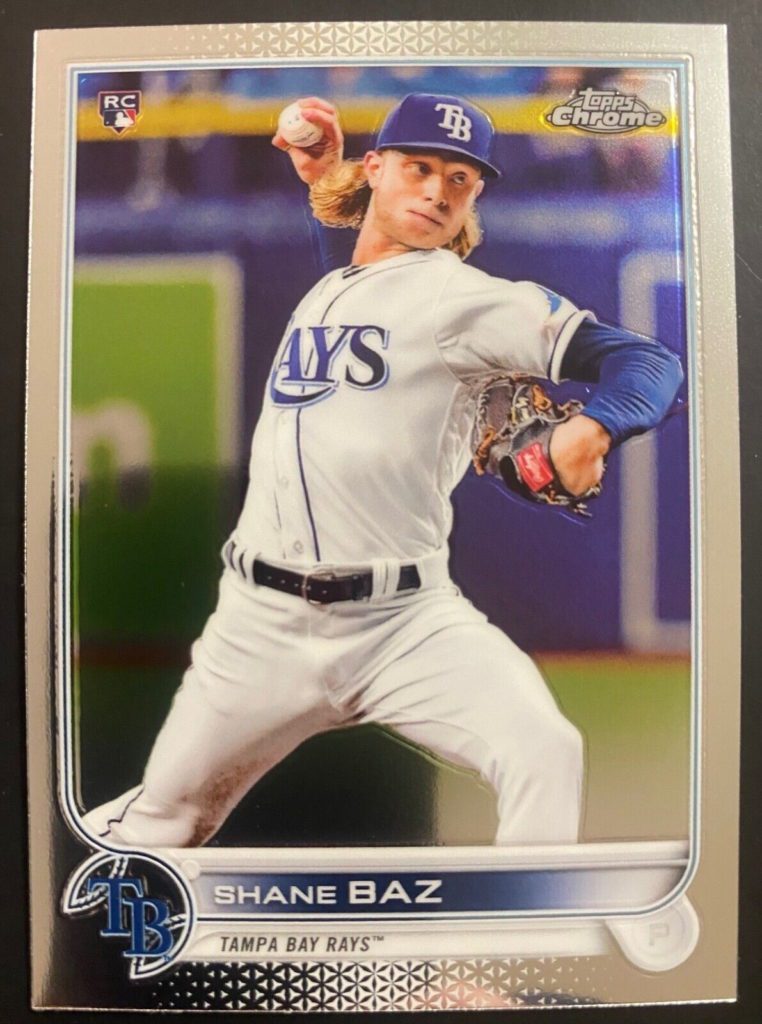 ---
Tier 3: Rookies with a higher risk than potential reward
Check prices for 2022 Topps Chrome rookies on eBay
Rodolfo Castro, Pittsburgh Pirates 2B (#7): Castro has put together a solid season, but there isn't anything about him that jumps off the page from an investment standpoint. The fact that he shares the infield with and is overshadowed by Oneil Cruz doesn't help.
Lars Nootbaar, St. Louis Cardinals OF (#3): Nootbaar is putting together a fantastic year, showing a surprising amount of power and effectively creating runs for the Cardinals. His skill set, however, isn't one that investors usually fawn over.
Roansy Contreras, Pittsburgh Pirates RHP (#53): Contreras has three above-average pitches (fastball, slider, curveball) that have helped him take a step forward in 2022. However, his underlying numbers suggest he's benefited from some good luck. Pitchers are a tough sell in the hobby, and Contreras isn't one I'm interested in chasing.
Reid Detmers, Los Angeles Angels LHP (#79): I went back and forth, sliding Detmers up into the second tier and back down into the third. Baseball America named him the Angels' top prospect coming into 2022.
His breaking pitches are fantastic but his fastball is just average. Ultimately, I want my pitchers in tier two to have ace potential. I don't think Detmers is there yet.
Aaron Ashby, Milwaukee Brewers LHP (#80): Ashby has a nasty sinker/slider combination and the underlying metrics that make stat-heads giddy, but his shaky control might push him to a relief role. That's not what you want to hear if you're considering investing in a pitcher.
Jarren Duran, Boston Red Sox OF (#113): Duran was a top prospect whose calling card was plus-plus speed, mixed with an above-average hit tool and below-average power. His career thus far, however, has been underwhelming and had me questioning if he should slide down into the bottom tier.
Brandon Marsh, Los Angeles Angels OF (#133): Marsh seemed to have benefited from a change of scenery, going from Los Angeles to Philadelphia at the trade deadline and putting up improved numbers at his new home.
Still, his bat is lagging behind his speed and defense which isn't a recipe for success from an investment standpoint.
Check prices for 2022 Topps Chrome rookies on eBay
Vidal Bruján, Tampa Bay Rays 2B/OF (#134): Bruján's struggled in 2022, raising questions about his true ceiling in the big leagues. A few years ago he looked like an above-average hitter with moderate power, but since the pandemic shutdown it looks like Bruján's value is more likely to be in his speed and defensive versatility.
Cal Raleigh, Seattle Mariners C (#149): Raleigh's numbers were dismal in 2021, but he's been surprisingly productive at the plate in 2022. Despite his value to the Mariners, it doesn't wow me enough to seek out his cards especially when there are much better catchers to chase.
Josiah Gray, Washington Nationals RHP (#160): Gray has a high ceiling but his floor is tough to distinguish because he doesn't have a ton of experience on the mound. Going from the big stage of the Los Angeles Dodgers to the rebuilding Washington Nationals didn't help his card value either. There's upside here, but I haven't seen enough to make me comfortable endorsing.
Tylor Megill, New York Mets RHP (#212): Megill was thrust into the Mets' Opening Day starter spot after unfortunate injuries to Jacob deGrom and Max Scherzer. He exceeded all expectations and continued to be the most surprising Mets story in April thanks to increased velocity, insane movement, and a ton of whiffs.
However, things went sideways after he landed on the injured list in mid-June with a shoulder injury. He's due back in the next few days, but I'm hesitant to go all in and push him up a tier not knowing what he'll look like when he returns.
Bryan De La Cruz, Miami Marlins OF (#216): I was hopeful De La Cruz could be a diamond in the rough after his rookie campaign, but 2022 hasn't been kind to the young outfielder. He failed to produce after ample opportunities in the first half, before the Marlins demoted him in August.
Check prices for 2022 Topps Chrome rookies on eBay
---
Tier 4: Rookies with little to no value in the hobby
Jake Burger, Chicago White Sox 2B/3B (#29)
Zach Thompson, Pittsburgh Pirates RHP (#30)
Hoy Park, Pittsburgh Pirates 2B (#32)
Connor Wong, Boston Red Sox C (#39)
Zach Pop, Miami Marlins (now with Toronto) RHP (#41)
Chas McCormick, Houston Astros OF (#43)
Alex Wells, Baltimore Orioles LHP (#49)
Matt Manning, Detroit Tigers RHP (#57)
Sammy Long, San Francisco Giants LHP (#59)
Trey Amburgey, Cincinnati Reds OF (#61)
Eli Morgan, Cleveland Guardians RHP (#62)
Tyler Gilbert, Arizona Diamondbacks LHP (#65)
Curtis Terry, Minnesota Twins 1B (#68)
Kyle Muller, Atlanta Braves LHP (#70)
Drew Ellis, Arizona Diamondbacks (now with Seattle) 2B/3B (#77)
Check prices for 2022 Topps Chrome rookies on eBay
Ryan Vilade, Colorado Rockies OF (#85)
Zack Short, Detroit Tigers SS (#86)
Riley Adams, Washington Nationals C (#103)
Jake Meyers, Houston Astros OF (#114)
Andre Jackson, Los Angeles Dodgers RHP (#121)
Max Kranick, Pittsburgh Pirates RHP (#144)
Ernie Clement, Cleveland Guardians 2B/3B (#145)
Gavin Sheets, Chicago White Sox 1B/OF (#146)
Stuart Fairchild, Arizona Diamondbacks (now with Cincinnati) OF (#156)
Jakson Reetz, Milwaukee Brewers (now with Kansas City) C (#157)
Zac Lowther, Baltimore Orioles LHP (#159)
Emmanuel Rivera, Kansas City Royals (now with Arizona) 3B (#164)
Luke Williams, Philadelphia Phillies (now with Miami) 2B/OF (#170)
Matt Vierling, Philadelphia Phillies 1B/OF (#181)
Jackson Kowar, Kansas City Royals RHP (#188)
Seth Beer, Arizona Diamondbacks DH (#186)
Tony Santillan, Cincinnati Reds RHP (#193)
Luis Gil, New York Yankees RHP (#202)
Jose Siri, Houston Astros (now with Tampa Bay) OF (#204)
Check prices for 2022 Topps Chrome rookies on eBay