What Are The Top 10 Justin Herbert Rookie Cards?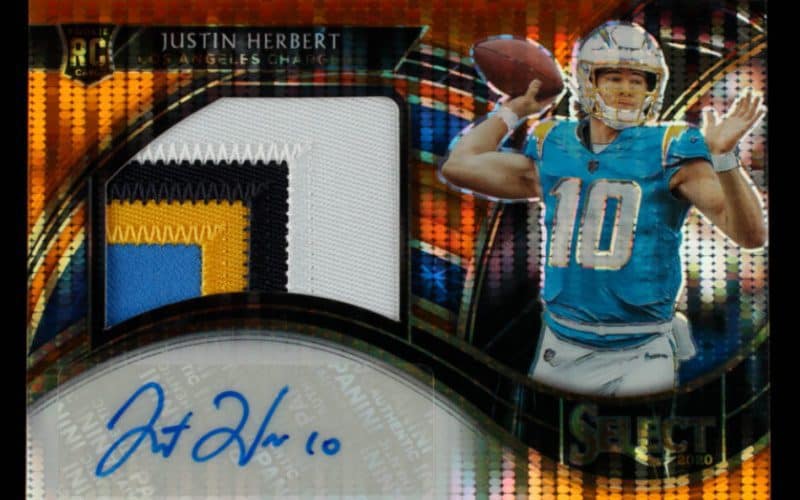 Since entering the league in 2020, Justin Herbert has been a cut above almost every quarterback in the league. He put together a stellar rookie season with 4,336 yards and 31 touchdowns in 15 games and followed that up with 5,016 yards and 38 touchdowns in only his second season in the NFL.
Since coming into the league with Joe Burrow (the first overall pick in 2020) and Tua Tagovailoa (the sixth pick), Herbert has been pitted in conversations with these two constantly, particularly in conversations about who's the best quarterback from that class – him or Burrow?
Check out all the listings of Justin Herbert rookie cards on eBay
At CardLines, we've decided not to engage in that conversation since both players are only in their third year, but instead, look at something else that's just as fun to talk about…
With Herbert a perennial MVP contender, we wanted to identify the top 10 cards to invest in. The list works for raw or ungraded cards (or cards you buy raw and then grade).
Please note: to make for a more "collectible" list, I didn't include short-printed cards. Obviously, a 1-of-1
A Flawless Herbert rookie would be better than an Optic rookie, but I'd rather write about cards that all of us can attain if we wanted. Also note that a rare, numbered parallel of any of the cards on this list would also be considered a better investment. For example, a /199 Optic would be better than an unnumbered Optic holo.
Find Justin Herbert rookie cards on eBay
10) Justin Herbert Rated Rookie from Donruss
The Justin Herbert Donruss Rated Rookie card is one of the most simple but attractive rookies to hit the market every year. Without the optic-chrome finish, this paper card feels a lot more like the timeless rookies of old, and the iconic Rated Rookie emblem only adds to the nostalgia.
These cards are not very expensive and, if you're looking to invest in them, I'd consider either buying a dozen and grading them with an economy service to get some 10s or just buying 10s on your own. If you're looking to invest in something with a lower population, the colored-border parallels of the Rated Rookie demand more of a premium but have a lower supply.
Check prices of the 2020 Donruss Raked Rookie card of Justin Herbert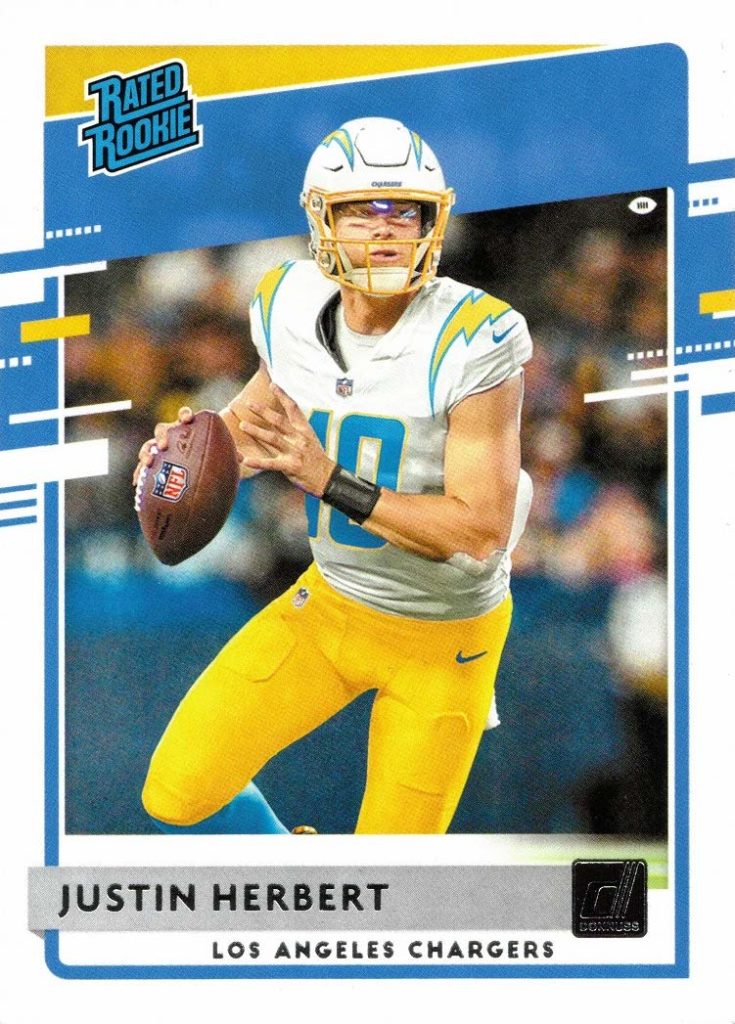 9) Prizm Black – Silver
At some point, I might become known as the #1 Chronicles hater in the world since I constantly complain about the product in my writing.
That said, the 2020 Chronicles product introduced Prizm Black, a dark-background version of Prizm. Was it a bit gimmicky and nothing but a stunt to fuel sales? Absolutely.
But do these cards still have a big following and a decent number of fans? Yes. While the normal Justin Herbert Prizm rookie card in silver will be a better investment 10/10 times, grabbing a silver parallel of the Prizm Black isn't a bad idea either.
Find the Justin Herbert 2020 Prizm Black Silver rookie card on eBay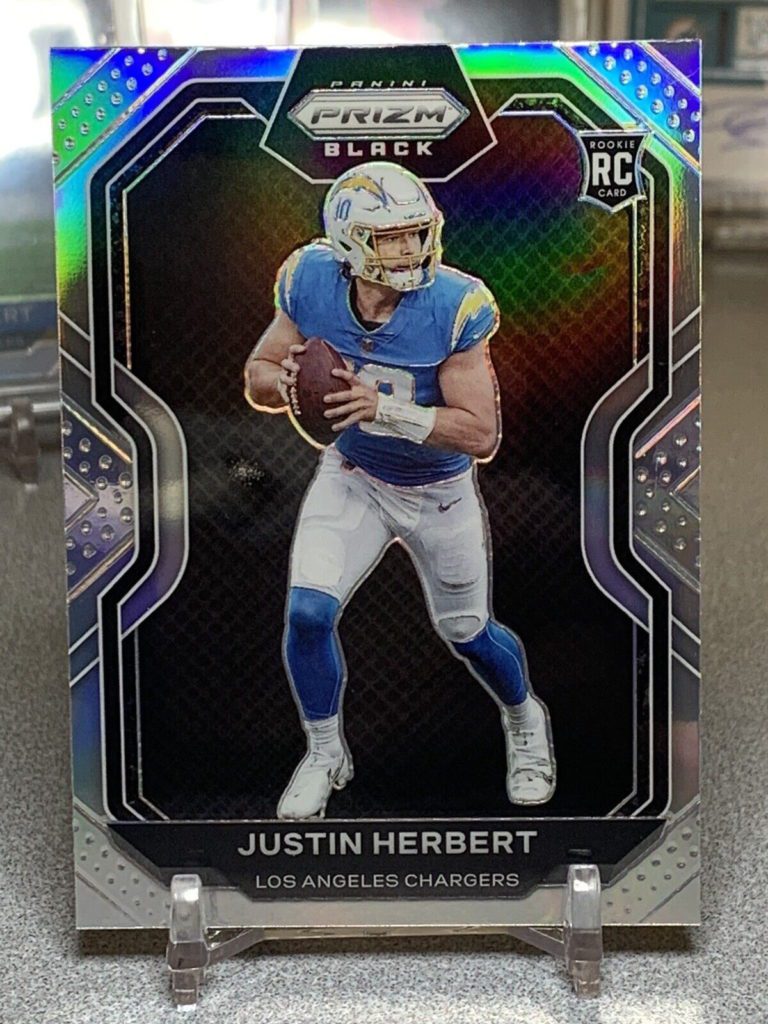 8) Donruss Optic Base-#153
The Donruss Optic Rated Rookie captures the ageless design of the Donruss Rated Rookie and adds opti-chrome. The same concerns for the Donruss Rated Rookie hold true for this card – a large population that's only worth holding with PSA 10s – but that doesn't mean it isn't worth considering as a Top 10 card for this list.
Optic is arguably the second most popular product (at least at the mid-tier), so the Herbert rookies are naturally going to be a popular chase.
Check prices of 2020 Donruss Optic base rookie cards of Justin Herbert on eBay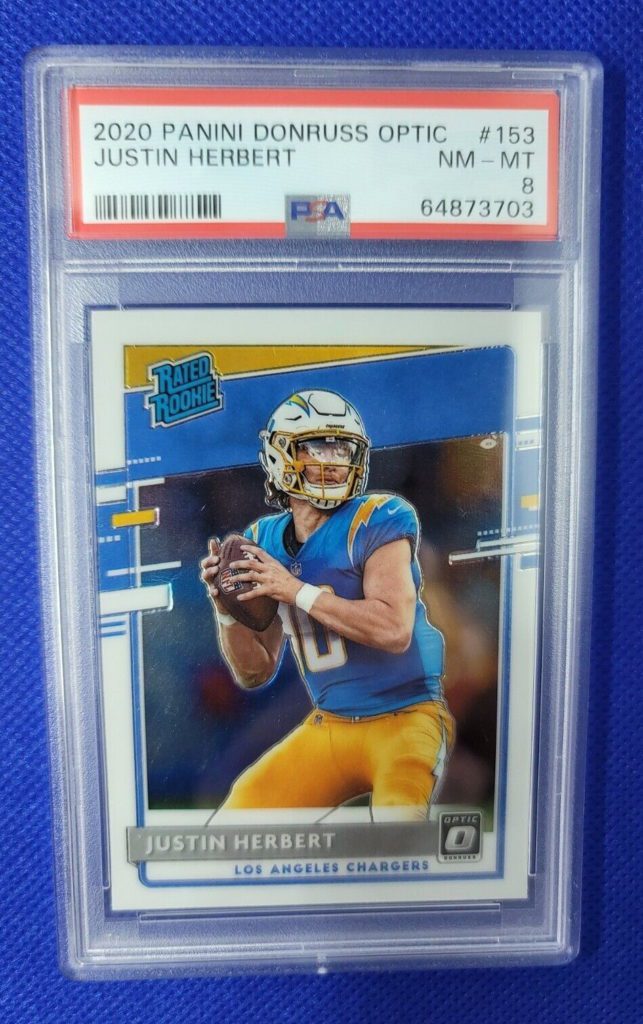 7) Prizm Base
Prizm, in terms of collectability, is as good as it gets. If you're talking graded rookie cards, Prizm has become such an iconic Panini brand that it's almost synonymous with sports card investing.
The problem is there are already over 4,000 of these cards graded a PSA 10 and that number will only continue to climb as PSA opens up to more economic submissions. Because the Justin Herbert Prizm Rooie card is a base card, there are way too many of them in circulation for them to feel "exclusive" in any way. Still, a nice Prizm rookie is as good as it gets.
Justin Herbert 2020 Prizm rookie card is available on eBay
6) Mosaic Silver
Mosaic has a lot of colored variations and any of them would be a nice addition to your collection, but the Silver is the one I'm recommending because there are enough of them for serious collectors to get one (325 graded as PSA 10s at the time of writing), and also attractive enough to catch eyes of the collectors who chase Optic holos and Prizm silvers.
The Justin Herbert Mosaic Silver rookie card is one of the rarest non-numbered rookie cards from Mosaic (not, this is different than the "mosaic" version of this same card). It's a great-looking card and from Mosaics' inaugural season.
Justin Herbert 2020 Mosaic Silver rookie cards on eBay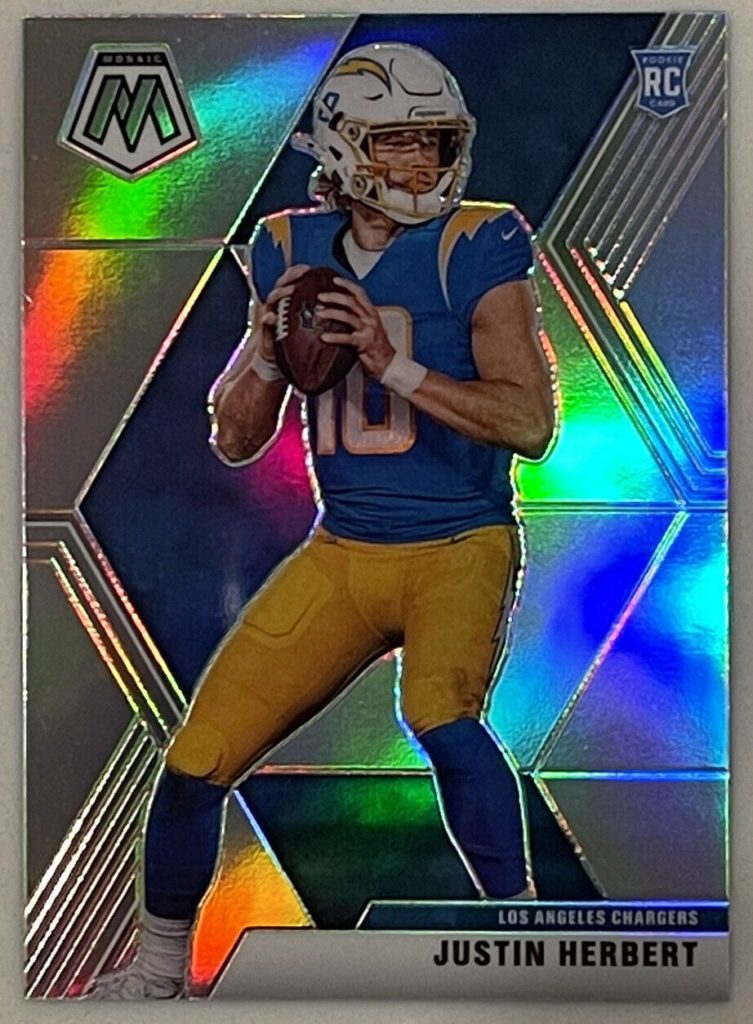 5) Optic Rookie Autograph
The Optic Justin Herbert rookie autograph is an amazing card for a number of reasons. For one, it's an on-card rookie autograph and we all love that. It's also probably the most accessible high-end rookie autograph card for Herbert. The Prizm autograph (which is a sticker auto, at that) is considered an SP and priced very, very high accordingly.
Justin Herbert 2020 Optic rookie autograph card is on eBay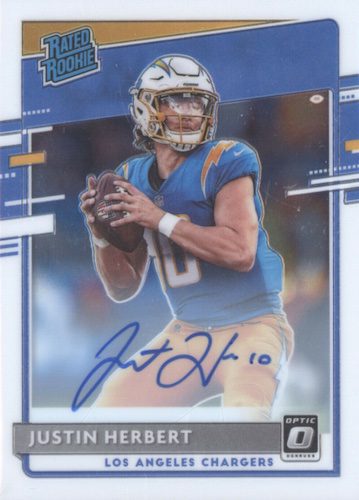 4) Panini Select Field Level #344
Select Football has three tiers: Concourse, Premier, and Field Level. The PSA grading populations of those for Herbert, in order, is 363, 16, and 83, respectively. While none of them have high populations, the Field Level's pop of sub-100 makes it a really attractive investment.
You can go even bigger and better with parallels of this card if your budget allows, or alternatively, you could invest in a more common tier of this card (such as the premier) if it's easier on your budget. Regardless, a Justin Herbert Select rookie card is a solid addition to your collection.
2020 Panini Select Field Level card of Justin Herbert on eBay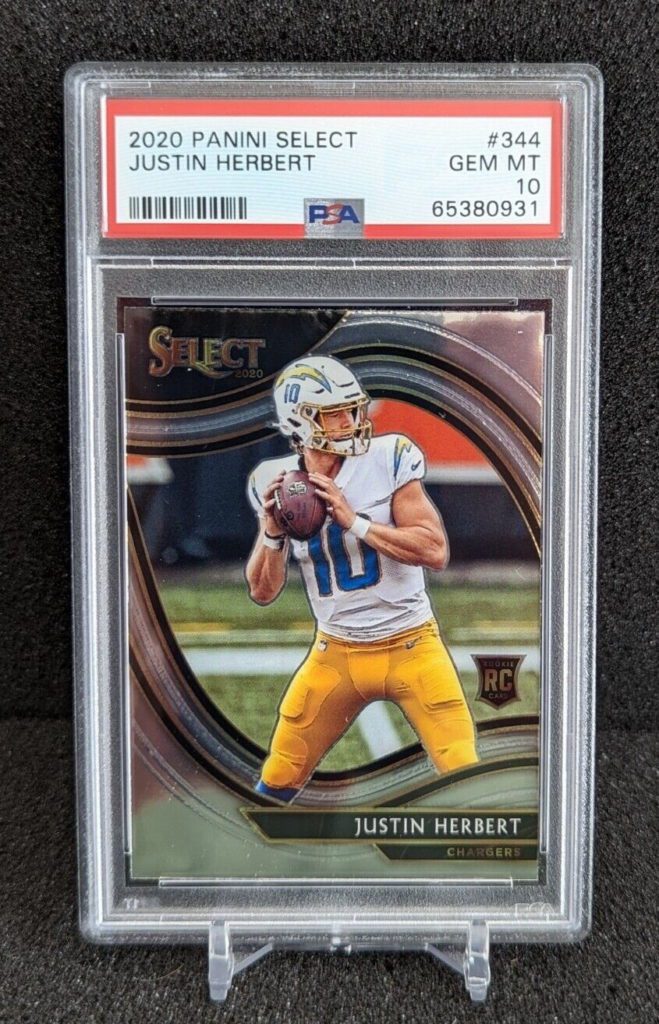 3) Contenders (Optic) Rookie Auto
If you're looking for a Herbert autograph that costs under five figures, these are the cards for you. There's the Contenders base rookie auto and the Contenders Optic rookie auto — I'm counting them both here for the #3 spot.
The Contenders Optic is the rarest card on the list but I still kept it on the list since it isn't numbered. Contenders Optic takes the charm of Contenders and adds chromium technology, and the result is a dazzling autograph that is hard to pull but great to invest in.
There are colored variations of this card – all of which are numbered – so you can invest as your budget allows.
Find a 2020 Justin Herbert Contenders Optic rookie card
2) Optic Holo and Parallels #153
As we discussed in #8, Donruss Optic is nearly as good as it gets when you're looking for a product most collectors like and chase. It combines a high ceiling of potential with decent accessibility, and that's why there was never any doubt it would be in the top 2 on this list.
The Holo is the silver Prizm version of the base rookie that adds an extra layer of rarity. Taking the Optic Rated Rookie design and adding refractive technology makes for a phenomenal card that I encourage anybody to check out (and population reports always reveal a significantly less amount of Optic Holos than Silver Prizms).
I added "parallels" here with the numbered versions in mind. Yes, they'll cost more… but they'll also be even more valuable in the future.
2020 Donruss Optic Justin Herbert rookie cards on eBay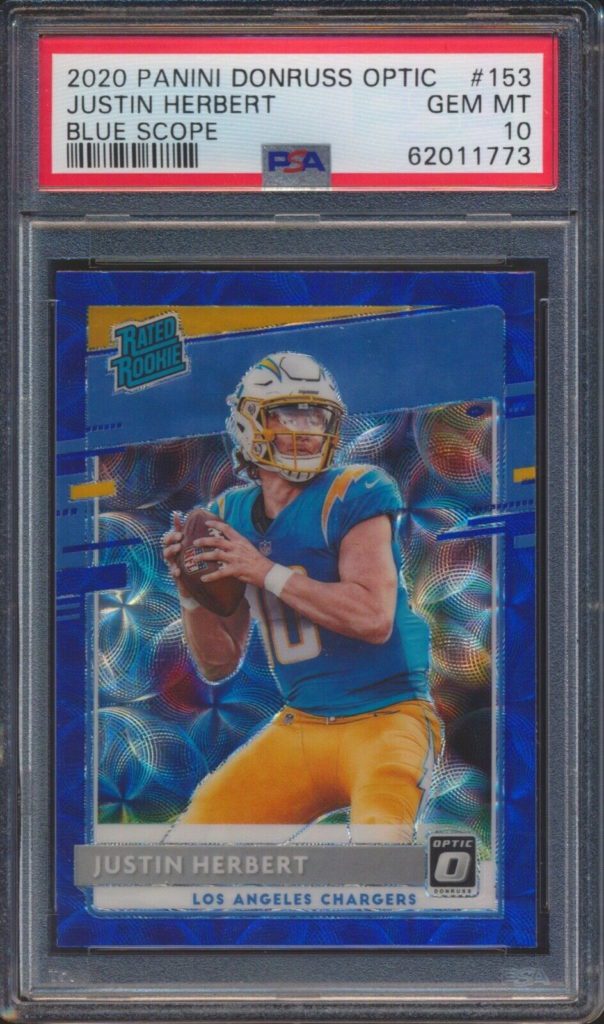 1) Prizm Silver and Parallels #325
There was never any doubt, was there? Silver Prizms are the king of sports card investing, particularly in if they're graded as a gem. They're an exciting card because they can come from hobby boxes or Walmart blasters, but they're also becoming the standard currency of all collectibles. T
The chase for Silver Prizms is infectious and fun, which is what the hobby is all about. The numbered (or even non-numbered) Herbert Prizm parallels will cost even more, but if you have the funds to make this long-term investment in one of the NFL's best young quarterbacks, it could pay off big time down the road.
2020 Panini Silver Prizm Justin Herbert rookie cards on eBay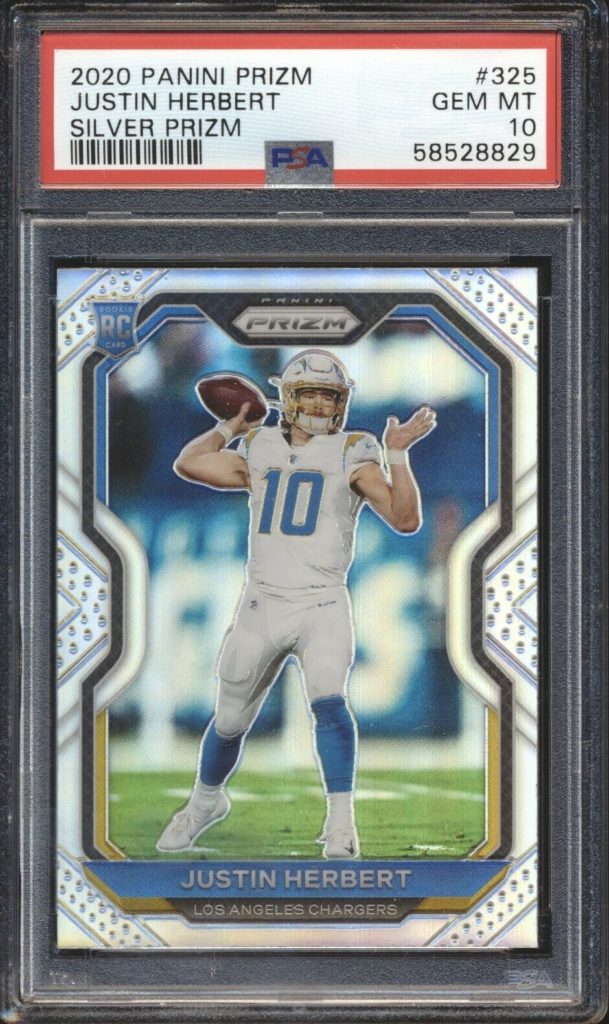 Justin Herbert rookie card value
Below is a sampling of Justin Herbert rookie card value from cards listed in the top 10.
The bottom line on investing in Justin Herbert
Justin Herbert is going to be around for a long time and will be one of the faces of the NFL for a decade or more. He's not only a betting favorite to win MVP, but he also could bring the Chargers a long-chased Super Bowl. While we don't know what Herbert's future looks like for sure, we do know these cards could pay a nice return throughout his career.

What do you think of Justin Herbert? What will his cards be worth in 5 years? Let us know on Twitter @card_lines and be sure to subscribe to our newsletter, which brings investment advice and industry news straight to your inbox twice a week.