2023 Donruss Baseball: Celebrating The Past And The Future
Donruss has been a part of the hobby for more than 40 years. The product has changed a lot in that time, and 2023 is no different.
But what will collectors find in 2023 Donruss Baseball? What are the hits? And is there value to be found in this unlicensed product?
Shop for 2023 Donruss Baseball boxes on eBay
2023 Donruss Baseball release date & release formats
The release date for 2023 Donruss Baseball is scheduled for May 10, 2023 (subject to change).
Hobby packs contain 8 cards per pack. A Hobby box contains 24 packs per box. Hobby cases contain 16 boxes per case.
Hobby boxes contain 3 autographs or relics. Each hobby pack contains one Holo Blue Parallel.
Hobby boxes are pre-selling in the $120-125 range.
Shop for 2023 Donruss Baseball boxes on eBay
Donruss Baseball 2023 base set & design
In a departure from prior years, the 2023 Donruss set will contain no cards of current major league players. In addition to being unlicensed by MLB (so, no team logos/names), Donruss has also lost its license with the Major League Baseball Players Association (MLBPA).
That means the set is made up entirely of former major leaguers and minor league prospects, who are not yet part of the MLBPA.
While the player lineup may be a bit different than in years past, the general feel matches prior year Donruss sets, with lots of hits, bold insert offerings, parallels, and a mix of different card stocks and finishes.
As of this writing, the size of the 2023 Donruss Baseball base set is not yet known. Check back for more details and the set checklist. We do know that Rated Prospects will return with a checklist of 60 top minor league prospects.
Shop for 2023 Donruss Baseball boxes on eBay
2023 Donruss Baseball parallels
While the entirety of the breadth of the parallel offerings in 2023 Donruss Baseball is not yet known, we do know about at least a handful of the parallel offerings.
Hobby-exclusive Holo Blue Parallels come one-per hobby pack. Independence Day Parallels are seeded 4 per hobby box. Liberty Parallel cards come seeded 1:24 packs.
2023 Donruss Baseball inserts
Inserts are a big part of the 2023 Donruss Baseball product. A variety of colorful and interesting insert sets are available for collectors chasing enjoyment.
Shop for 2023 Donruss Baseball boxes on eBay
Bomb Squad
Celebrates top home run hitters with colorful comic-book style backgrounds.
Marvels
Carrying the comic book theme forward, this insert celebrates some of the superheroes of the diamond.
Shop for 2023 Donruss Baseball boxes on eBay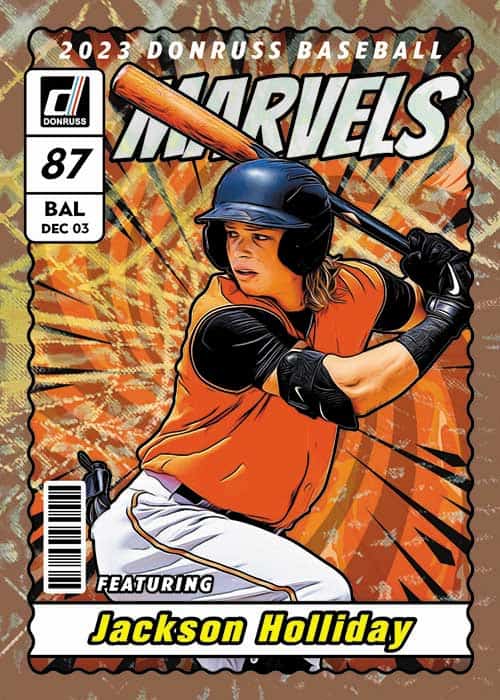 Pennants
Featuring retired players who played on pennant winning teams.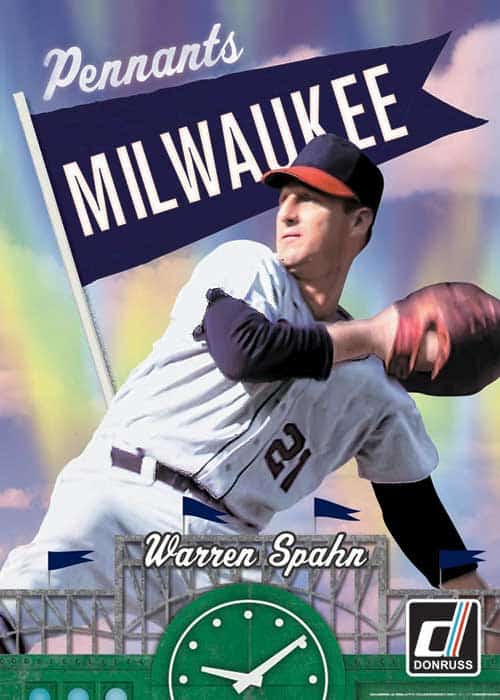 Cooperstown
New for 2023, this insert set features members of Baseball's Hall of Fame.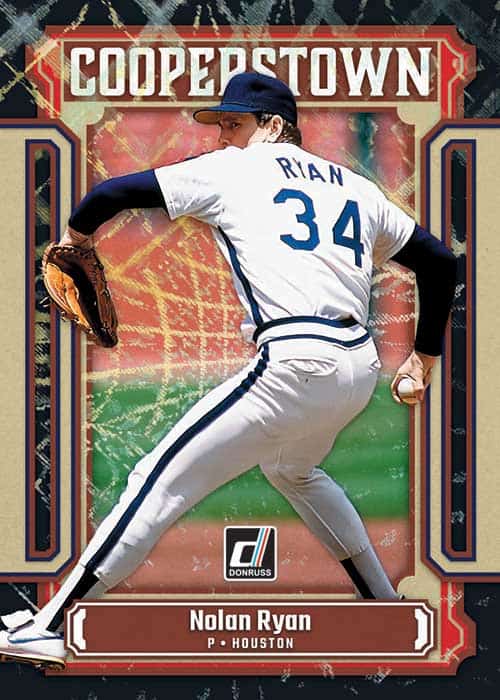 Mr. 3000
Another new for 2023 insert, this one highlights members of the 3,000 hit club.
In addition, ultra-rare inserts are also potential hits, although they are hard to come by. These include Superstar Skylines, The Mick, Naturals, and Whammy.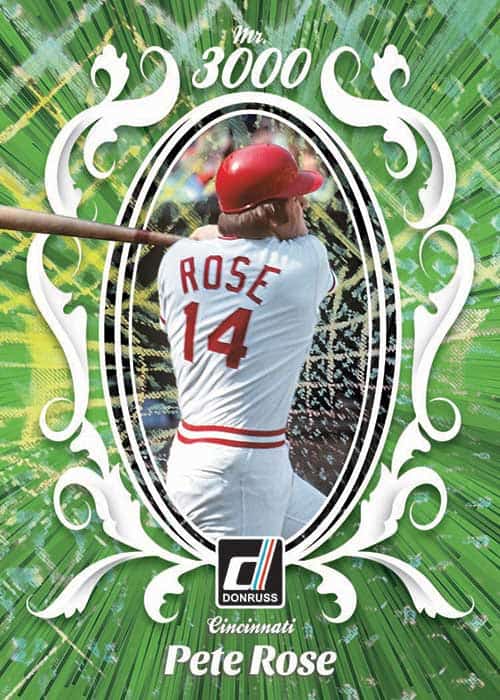 2023 Donruss Baseball relics
Hobby boxes contain three autographs or relics per box. At the moment, no detail is available on exactly what form these take.
2023 Donruss Baseball autographs
Autograph offerings in the 2023 Donruss Baseball include Classics Autographs, Monikers, Retro 1990 Signatures, Signature Series, and Superstar Scribbles.
Shop for 2023 Donruss Baseball boxes on eBay
2023 Donruss Baseball value
With the fact that in 2023 Donruss Baseball is changing significantly with active major leaguers no longer being part of the product, comparing it to prior year's offerings is a bit unwise.
Shop for 2023 Donruss Baseball boxes on eBay
That being said, how do 2023 Donruss Baseball hobby box prices compare to recent sales of recent years?

The prices seem to suggest that Donruss boxes in unopened form hold some of their value, but are unlikely to see significant gains and are therefore not good buy-and-hold candidates.
The singles market isn't much better, with recent sales of 2022 Donruss Baseball cards, even in PSA slabs, barely breaking $100.
The unlicensed nature of the product and a lack of current major leaguers are likely to keep the upside here in check. That being said, there are top prospects and Hall of Famers in the product, and with four hits per box, plus some parallels and inserts to chase, these could be a fun low-cost break.
Final thoughts on 2023 Donruss Baseball
2023 Donruss Baseball is unlicensed. But if you can get past the lack of logos and current players, this has the potential to be an enjoyable, if not particularly lucrative, break.
Excited for 2023 Donruss Baseball? Planning to break a box? Tell us about it at card_lines on Twitter.
Shop for 2023 Donruss Baseball boxes on eBay
Other recent baseball releases
2023 Donruss Baseball Checklist
Coming soon! Please check back.