A List Of The Ultimate 10 Josh Allen Rookie Cards To Add To Your Collection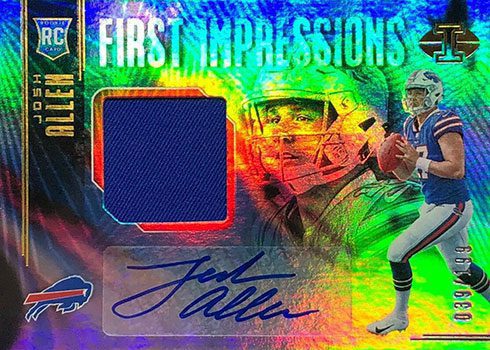 Josh Allen is one of the bright young stars of the league and will be duking it out with Patrick Mahomes in the AFC for the next decade.
Mahomes, after winning the Super Bowl in 2022, surged forward in value compared to Allen, who's Bills stumbled in the playoffs, but Allen is still a great start to collect. 
Shop for Josh Allen rookie cards on eBay
I wrote here that Allen cards are undervalued, and while I don't know that's the case anymore (Mahomes is head and shoulders better – there, I said it), Allen's cards still have room to grow in value.
Much like we recently did with Justin Herbert and Patrick Mahomes, in this article we are ranking the top 10 Josh Allen rookies. Allen was a rookie in 2087, and while there were a lot of cards printed that year, there are still significantly less variations for Allen cards than the 2020 Herbert article.
With Allen a perennial MVP contender, we wanted to identify the top 10 cards to invest in. The list works for raw or ungraded cards (or cards you buy raw and then grade), and it's not a list of simply the most valuable Josh Allen rookies, but rather a blend of value, rarity, and accessibility.
Please note: to make for a more "collectible" list, I didn't include short-printed cards like the Prizm Stained Glass or any low-numbered autographs. Obviously, a 1-of-1 National Treasures rookie would be better than an Optic rookie, but I'd rather write about cards that all of us can attain if we wanted.
Also note that a rare, numbered parallel of any of the cards on this list would also be considered a better investment than the common variation. For example, a Playoff 1st Down Parallel is better than the base.
Shop for Josh Allen rookie cards on eBay
BONUS) Score Rookie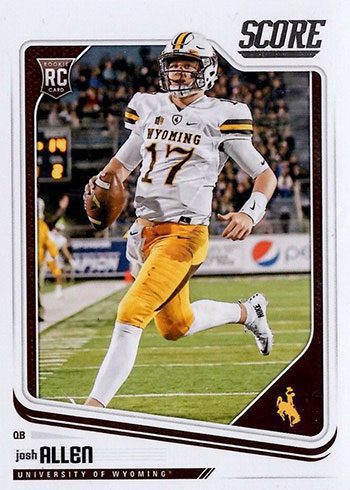 College uniform cards are never too attractive (especially Wyoming's uniform on one, yikes),  but it deserves a spot on this list because it is affordable.
A recent sale (3/23/23) was for $20, and any time you can pick up a Josh Allen rookie base card for $20 makes it a nice card. Does that mean there's a ton of them in circulation?
Absolutely. But is it also a Josh Allen rookie that's affordable enough to start off any young collector? Certainly. So the affordability of the Score Allen rookie secures it a place on this list.
Or, if you want to go for something a bit nicer, the Panini, Prestige and Classics rookies are all about on this level.
Shop for the 2018 Josh Allen Score rookie card on eBay
10) Prizm Inserts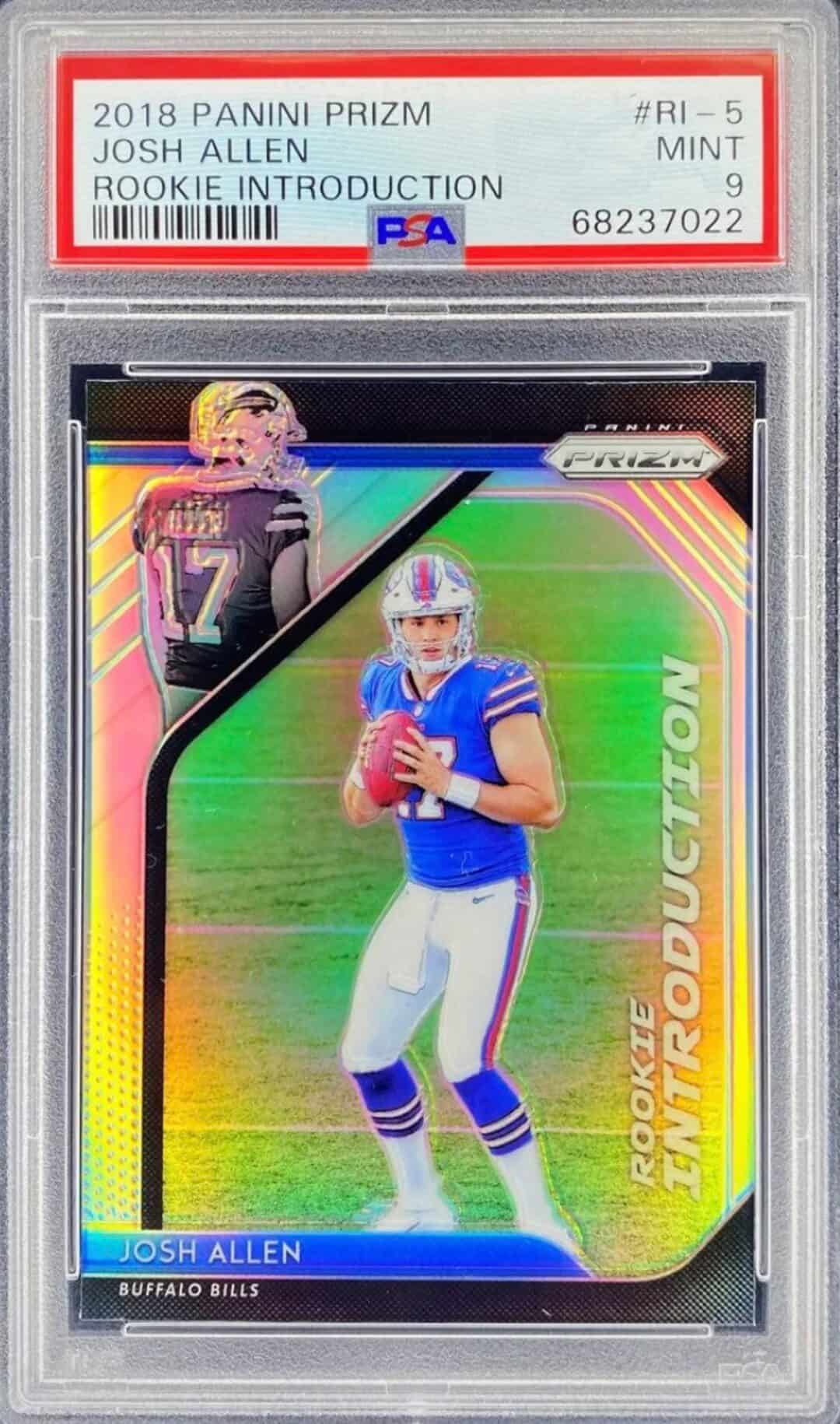 I'm not sure I've ever recommended buying an insert on any of my Top 10 lists, but 2018 was not a year with a lot of amazing cards or sets.
Many of them haven't aged well, and I wouldn't ever recommend a brand that is quickly coming obscure. With that said, Prizm inserts of Allen are better than quite a few.
Prizm has a "Premier Jersey" insert that year that's a memorabilia card, plus a Rookie Introduction card that sales for a fraction of the base rookie. 
Shop for a 2018 Josh Allen Panini Prizm PSA 10 rookie card on eBay
9) Donruss Rated Rookie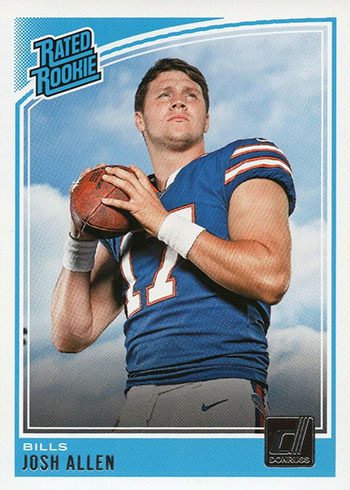 The Donruss Rated Rookie is one of the most simple but attractive rookies to hit the market every year.
Without the opti-chrome finish, this paper card feels a lot more like the timeless rookies of old, and the iconic Rated Rookie emblem only adds to the nostalgia. While the Allen Rated Rookies still demand a pretty penny, this is probably the most valuable non-optichrome Allen rookie on the market.
If you're looking to invest in them, I'd consider buying several raw and grading them with an economy service to get some 10s, or just buying 10s on your own if you're willing to pay more for the guaranteed number.
If you're looking to invest in something with a lower population, the colored-border parallels of the Rated Rookie demands more of a premium but have a lower supply.
8) Donruss Optic Base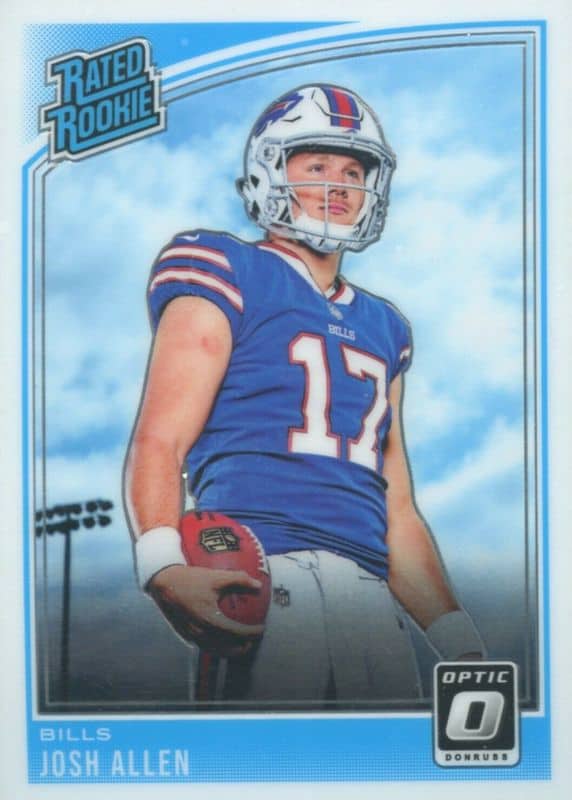 The Donruss Optic Rated Rookie captures the ageless design of the Donruss Rated Rookie and adds opti-chrome. The same concerns for the Donruss Rated Rookie hold true for this card – a large population that's only worth holding with PSA 10s – but that doesn't mean it isn't worth considering as a Top 10 card for this list.
Optic is arguably the second most popular product (at least at the mid-tier), so the Allen rookies are naturally going to be a popular chase. More on these cards later. 
Shop for Josh Alen 2018 Donruss Optic rookie cards on eBay
7) Select Premier Level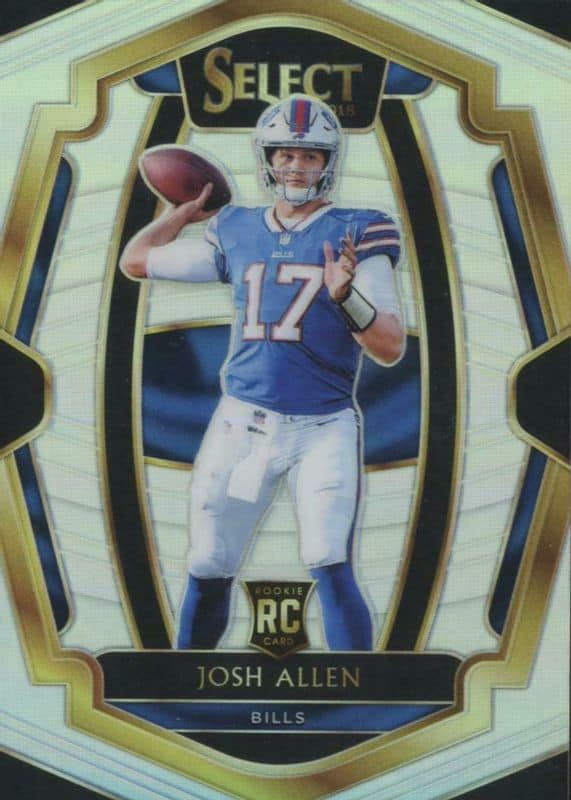 Select Football has three tiers – Concourse, Premier, and Field Level – and things really start to get interesting at the Premier level. While there are 1,200 PSA 10s of the concourse, the premier level only has 531 PSA 10s. That's enough for the card to be "accessible," but also limited enough that it feels scare.
Both concourse and premier have variations that make them rarer so you can adjust according to what you buy. Colors include the iconic Silver prizm, various colored die-cuts, and even copper, but with such a low print run anyway, these cards don't come for cheap.
Shop for a 2018 Select Premier Level Josh Allen rookie card on eBay
6) Panini Select Field Level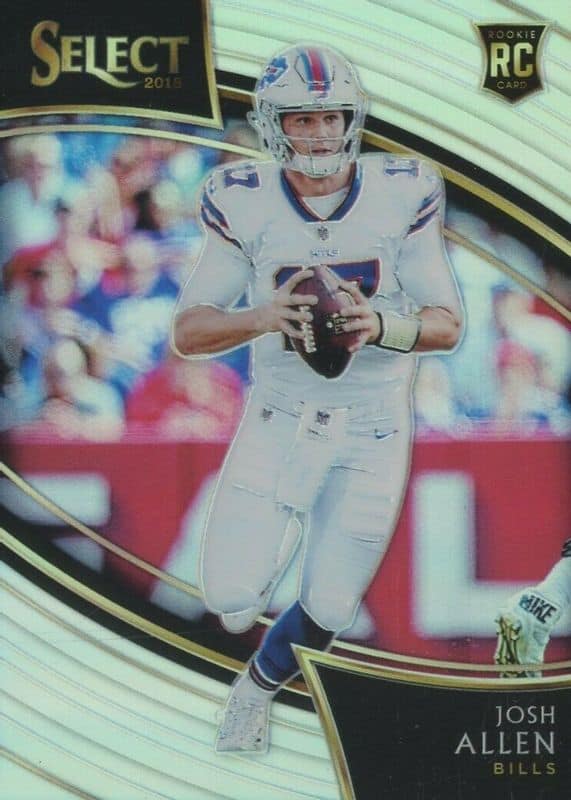 Just a notch about the Premier Level is the rarest tier. With such a low population in the PSA 10 (95 total), the base field level is a very attractive long-term investment.
Select is priced and revered very similar to Optic and Prizm, but the supply of these cards is significantly less than either of the other two flagship opti-chrome brands.
Just like the Field Level, you can go even bigger and better with the parallels of this card if your budget allows, or alternatively, you could invest in a more common tier of this card (such as the premier) if it's easier on your budget. 
Shop for 2018 Panini Select Field Level rookie card of Josh Allen
5) The Rookie Autograph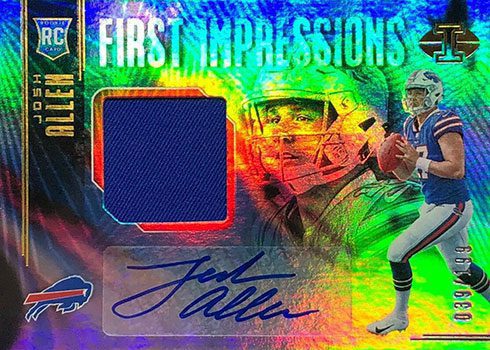 I did this for Mahomes too during my top ten list there, and while it's a bit "unfair," it's also the only way I know to actually be fair about this. There are a lot of different options for a Josh Allen autograph here. So many, even, that I couldn't narrow it down to just one (apart from #3 on my list). 
When we're talking mid-tier autographs, you could go Impeccable, Absolute,  Illusions, Limited, Encased, Certified, Panini One, or several others. I have no interest in duking them out head-to-head to pick on that's better than the rest 
If you're fortunate enough to have one or buy one, it's amazing. But because it's such a grab bag, I'm leaving it here at #5. 
And of course, when you start talking about the numbered Allen rookie autographs, the prices immediately start skyrocketing even higher. Autographs from some brands – namely National Treasures, Prizm, Optic, Select, and a few more – will be tens of thousands of dollars.
With values that high, it's difficult to recommend investing in that, so let's leave it generic: if you can afford a Allen rookie autograph, invest in one that makes the most sense with your personal budget. 
Shop for the 2018 Josh Allen rookie cards on eBay
4) Optic Holo and Parallels
As we discussed in #8, Donruss Optic is nearly as good as it gets when you're looking for a product most collectors like and chase. It combines a high ceiling of potential with decent accessibility, and that's why there was never any doubt it would be in the top 2 on this list.
For this card in particular, there are 1771 base PSA 10s and only 222 PSA 10 holos. The boost in scarcity makes it a monster collection piece. The Holo is the silver prizm version of the base rookie that adds an extra layer of rarity.
Taking the Optic Rated Rookie design and adding refractive technology makes for a phenomenal card that I encourage anybody to check out. I added "parallels" here with the numbered versions in mind. Yes, they'll cost more… but they'll also be even more valuable in the future.

Shop for Josh Alen Optic Holo rookie card on eBay
3) Contenders (Optic) Rookie Auto
This is the only autograph I'm giving unique placement on the list. It's the best autograph from what I'd consider a mid-tier set.  Contenders is probably the most iconic Josh Allen rookie autograph, and this spot is reserved for both the Contenders auto and the Contenders Optic auto.
The base (paper) Contenders product is one of the longest-running autograph sets in football, while Contenders Optic takes the charm of Contenders and adds chromium technology, and the result is a dazzling autograph that is hard to pull but great to invest in.
There are colored variations of this card to – all of which are numbered – so you can invest as your budget allows. 
Shop for Josh Allen Contenders Optic rookie auto on eBay
2) Prizm Base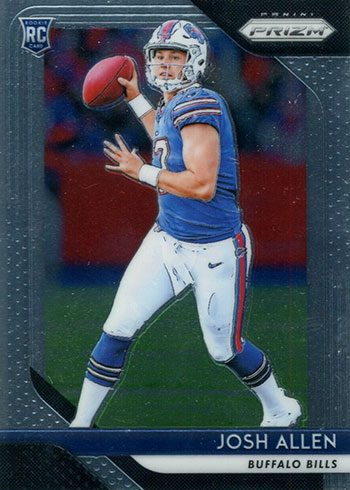 Imagine a world where base Prizms didn't flood the market. That was, believe it or not, too long ago. In 2018, the Prizm print run was small enough that Josh Allen Prizm base rookies should still demand a lot of value.
Prizm is our top-rated football product for investing, and with just 1,860 PSA 10s on the market, this card combines value, price and scarcity better than almost any.
And while that might seem like a lot, there are 5,877 PSA 10s of Joe Burrow from 2020 Prizm, so that's a 3x increase in just 2 years. 
Shop for Josh Allen Prizm Base 2018 rookie cards on eBay
1) Prizm Silver and Parallels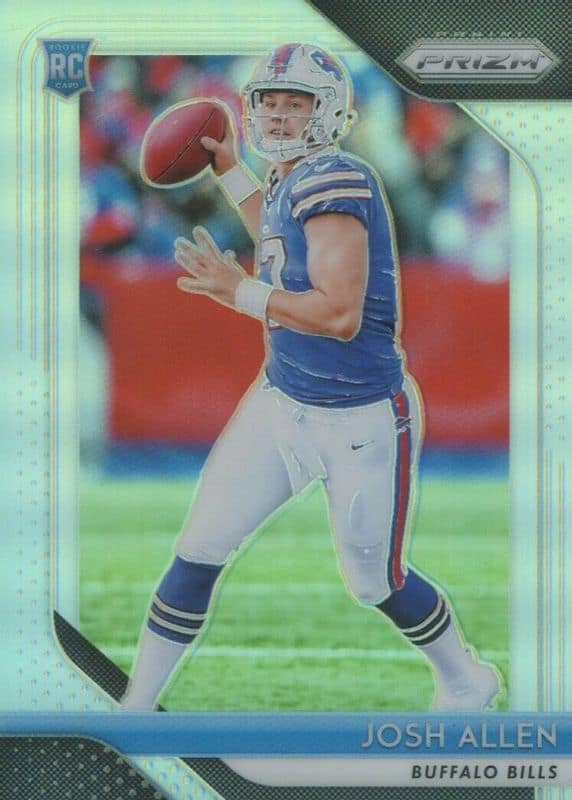 26. That's the number of PSA 10 Prizm Silver Josh Allen rookies from 2018.
Why? Because in 2018, Prizm silvers fell only one per box. That made them an exceptionally tough pull and was perhaps a bit of overcorrection following all the rookies being silver in the two years prior.
Either way, this makes the Prizm Silver the holy grail of mainstream Josh Allen cards. And, ironically, it's more rare than many of the parallels.
So if you are lucky enough to own a silver or any of the other parallels, keep this piece as a crown jewel of your collection.
Shop for 2018 Prizm rookie card parallels of Josh Allen
The bottom line on investing in Josh Allen
Josh Allen will be in the league for a long time and is well on his way to a hall of fame career. While his cards are already expensive, investing in them now could still lead to long-term returns. 
What do you think of Josh Allen? What will his cards be worth in 5 years? Let us know on Twitter @card_lines and be sure to subscribe to our newsletter, which brings investment advice and industry news straight to your inbox twice a week. 
Shop for Josh Allen rookie cards on eBay