An Essential Guide To Buying Target Sports Cards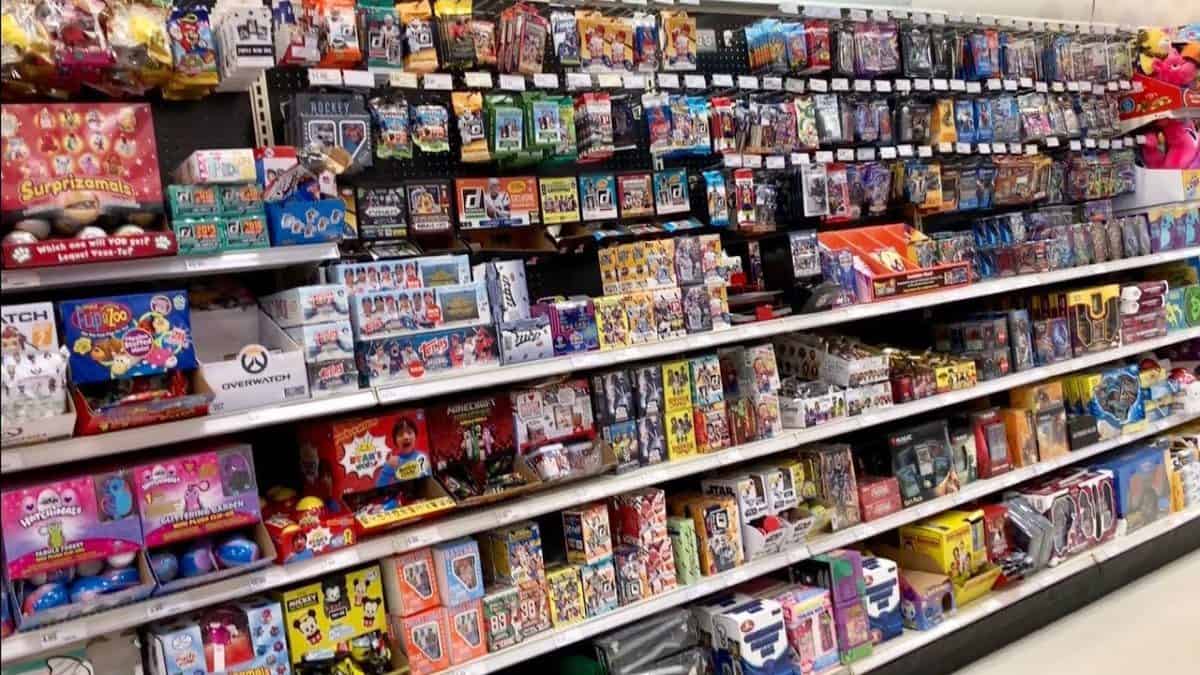 Thankfully, we're past the days when we need to pitch a tent and camp at Target to ensure we get our hands on some sports cards (if you think I'm joking, you clearly weren't trying to get some Prizm 2020 football cards).
That said, there are still many tips and tricks you need to know about getting sports cards at Target to ensure you get the pick of the litter.
In this article, we'll go over everything you need to know about buying Target sports cards, including when to buy, how to get the best deal, and how to buy them online.
What can you expect to find with Sports Cards at Target?
Target has long been the frontrunner in sports card offerings to collectors at retail stores, perhaps matched only by Walmart.
For collectors looking for the best deal on sports cards, Target is often the place to be. In fact, Target is such a powerhouse for selling blasters that Panini often works with Target to make exclusive cards and crossovers. "Target Prizm Mega Boxes," for example, have red cracked ice Prizms while the same boxes at Walmart have pink ice.
Target has a wide selection of TGC cards too, for collectors who are looking for Pokemon, Magic: The Gathering, or other non-sports cards.
Target usually also has a wide variety of repack boxes, like this. These products have a good mix of packs from previous years, but if you've never bought them before, be cautioned and know that about half the packs are typically so old that they're obsolete.
For example, a box that promises 8 packs of sealed football cards might have a couple of modern Leaf packs, a 2022 Donruss pack, a 2019 Absolute pack, and then 4 packs of 1992 Upper Deck with the cards stuck together to form a brick.
How to get the best deals on Target Sports Cards?
In the olden days (pre-2020 sports card boom), you could often wait on the brands you wanted to be discounted before scooping them up.
That's right, friends: sports cards didn't sell. I remember picking up quite a bit of 2018-19 Prizm basketball because it sat on the shelf for long enough that it got a rollback, from $19.99 to $14.99. That was pretty common for all brands.
That's not the case now, although we could be headed back in that direction, especially with some of the less-desirable brands. Panini and Topps ramped up the production, and the result might mean lots of cards sitting on the shelf and going stagnant, only to be eventually discounted or scooped up for repacks like those mentioned above.
But to get the best deals, there's one tool you need to add to your belt…
The Target Red Card and sports cards Target
I've written about the Target RedCard before, and most of the details are about the same: if you sign up for a free Target RedCard, you can get 5% off any sports card purchase at Target. On top of that, the RedCard earns you free shipping on any purchase of $35+ at Target.com
These cards are very easy to sign up for and don't cost you anything, so if you're buying Target sports cards at bulk or with consistency, I'd check it out. Just be smart with any credit or debit card, as always.
One update since I wrote that piece: as far as I can tell, there are no longer RedCard exclusives on Target.com.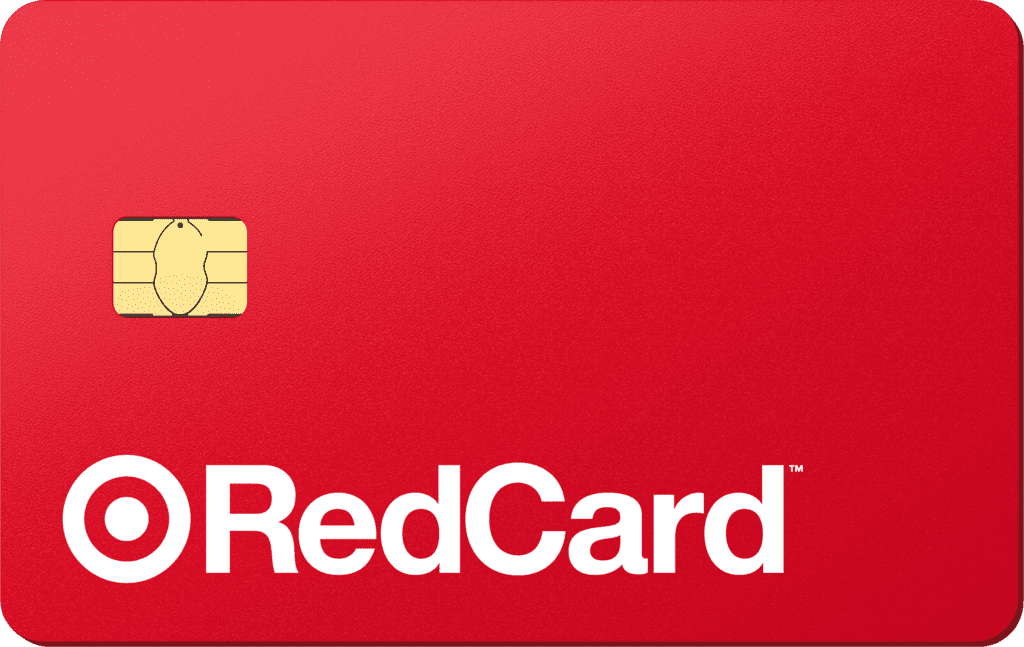 Buying Target Sports Cards online
Target, much like eBay, is dedicated to providing value to sports card collectors. They've gone as far as creating "The Collector's Spot" on the website. Let's face it, that feels a lot better than buying sports cards in the online toy section.
When it comes to Target.com, there's a lot of the shopping experience that could be expected. Free shipping on orders of $35 dollars is nice with a RedCard, along with the 5% savings – all of that works online, too.
But one of the coolest features about Target sports cards online is that you can actually pre-order some products. Particularly featuring brands that are slated to be a big release, Target customers can pre-order and get their cards shipped on release day.
Additionally, there are a few releases you'll find on Target.com that are online exclusive. For example, 2021-22 Mosaic Basketball was a Target.com exclusive release.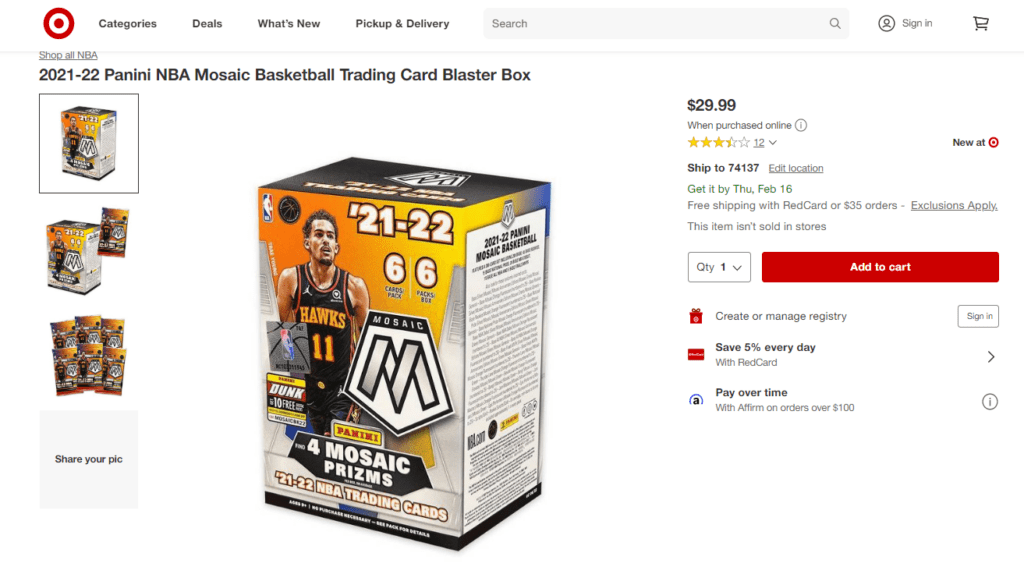 How to determine the restocks of Target Sports Cards?
If you're wondering how to figure out restock days for Target sports cards, you're not alone. Unfortunately, though, there's no one-size-fits-all answer – at least when it comes to knowing the right day and time.
In short, Target cards are restocked at different times and days across the country. For me, I know most Tuesdays at 10 AM is when the vendor brings new cards. But for you? That's probably not the case.
So how do you know? Just ask. Seriously, find a manager and ask them. If you're polite (and don't look like you'll fight a man over a box of Optic), they'll be forthcoming with helpful information.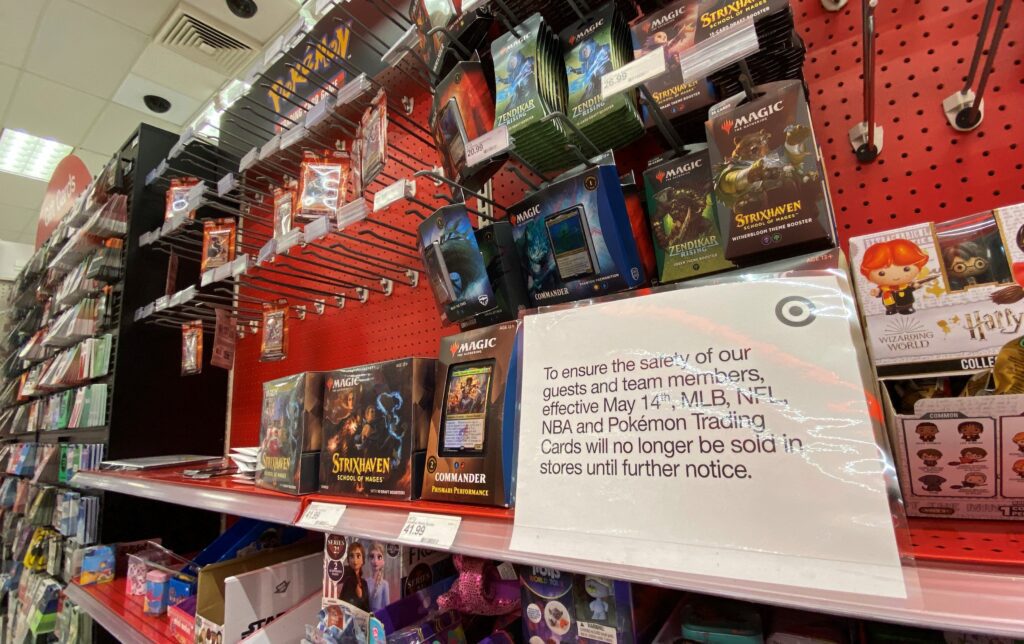 If you want in on a big release, don't be afraid to ask.
Now you have a sports card target for sports cards at Target!
We hope this guide helps you save money on your Target sports cards plus secure some of your favorite releases.
What sports cards are you targeting at Target? Let us know on Twitter @card_lines and be sure to subscribe to our newsletter, which brings investment advice and industry news straight to your inbox twice a week. 
Target sports cards frequently asked questions
When does Target restock sports cards?
Restocking times can vary greatly by the location of your Target. We recommend talking to your local Target manager or visiting frequently to find out when they typically restock.
Does Target sell sports cards?
Yes, Target is one of the best and biggest stores that sells retail sports cards and non-sports cards.
Did Target stop selling sports cards?
Target did stop selling sports cards for a time when demand was far exceeding supply. But now that consumption has died down, cards are now back at Target?
How often does Target restock sports cards?
Target often restocks once a week but will vary based on your location. Be sure to talk to your local Target manager for details.
When does Target restock sports cards online?
Target does not have specifically have times they restock sports cards online.