A Breakdown Of The Best Chipper Jones Rookie Cards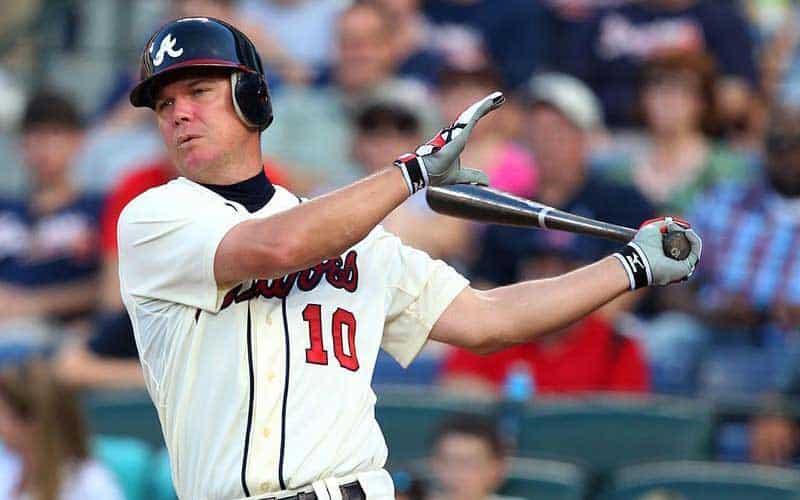 Chipper Jones had an amazing career, leading his team to the playoffs for a decade straight on his way to the Hall of Fame.
But what are Chipper Jones rookie cards? Which one is the best? And what other early career Chipper Jones cards are worth considering?
Shop for Chipper Jones rookie cards on eBay.
Who is Chipper Jones?
When a team gets the #1 pick in the amateur draft, the dream that team dreams incarnate is Chipper Jones. Larry Wayne (Chipper) Jones was drafted by the Atlanta Braves 1st overall in the 1990 draft.
He would become an Atlanta icon, playing 19 seasons for the Braves, playing in the postseason in 12 of those seasons, including 11 straight. He was elected to the Hall of Fame in his first year of eligibility with 97.2% of the vote.
Along the way, Jones won an MVP award, a batting title, two Silver Sluggers, and was an All Star eight times.
He hit .303/.401/.529 during his storied career, good for an OPS of .930 and a 141 OPS+. Jones compiled 468 Home Runs and 2,726 hits in his career, and drove in 1,623 runs.
His 85.3 career WAR ranks him 6th all-time among third basemen.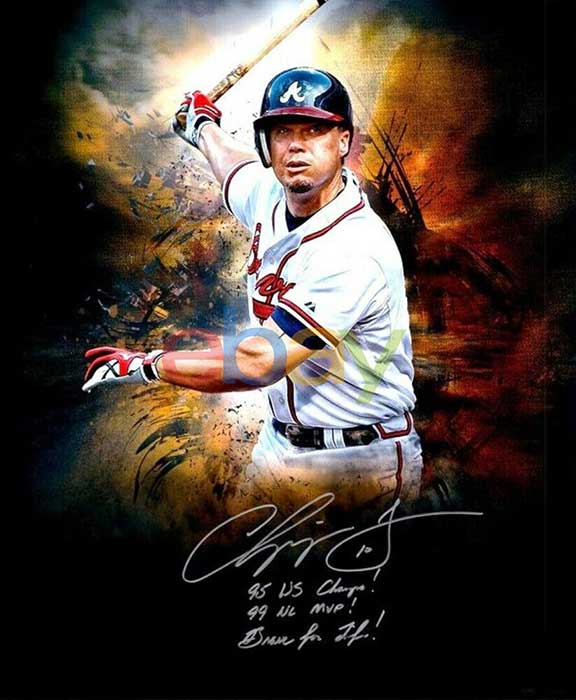 Chipper Jones rookie cards from 1991
The official rookie cards of Chipper Jones appear in 1991 products. This was, of course, during the height of the junk wax era. That means high PSA populations and reasonable prices.
Shop for Chipper Jones rookie cards on eBay
1991 Bowman Chipper Jones #569
The 1991 Bowman Chipper Jones #569 has the fewest PSA 10s of any of Jones' major issue rookie cards. With 1,773 PSA 10s, it not exactly rare, but the 18.1% "10 rate" is the lowest among these cards. Selling in the $90-130 range, this is typically the most "expensive" mainstream Jones rookie in a PSA 10.
Shop for 1991 Bowman Chipper Jones rookie card on eBay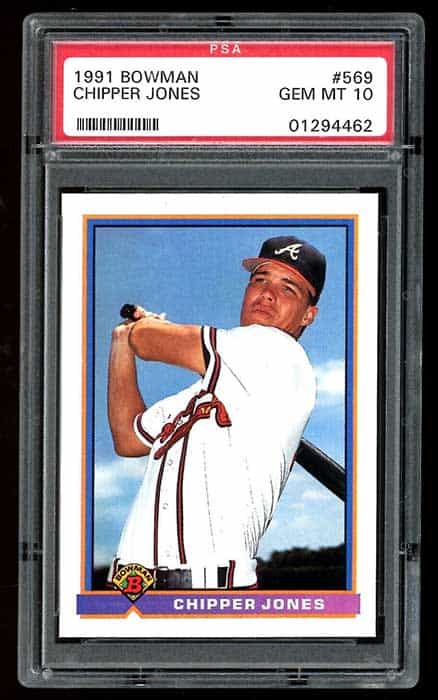 1991 Score Chipper Jones #671
The 1991 Score Chipper Jones rookie card is actually the lowest PSA pop card on the list. With almost 5,200 graded copies, though, it's far from rare. Almost 37% of that total are PSA 10s. It's typically Jones' most affordable mainstream rookie card.
Shop for 1991 Score Chipper Jones rookie cards on eBay
1991 Chipper Jones Topps rookie card #333
The most graded of Jones' rookie cards is the 1991 Topps Chipper Jones, with over 12,600 copies graded by PSA. Of those, a shocking 5,600+ (44.5%) of those PSA 10s. While this is typically the 2nd most expensive Jones rookie, the high pop keeps the price reasonable, with PSA 10s selling for less than $100.
Shop for 1991 Topps Chipper Jones rookie cards on eBay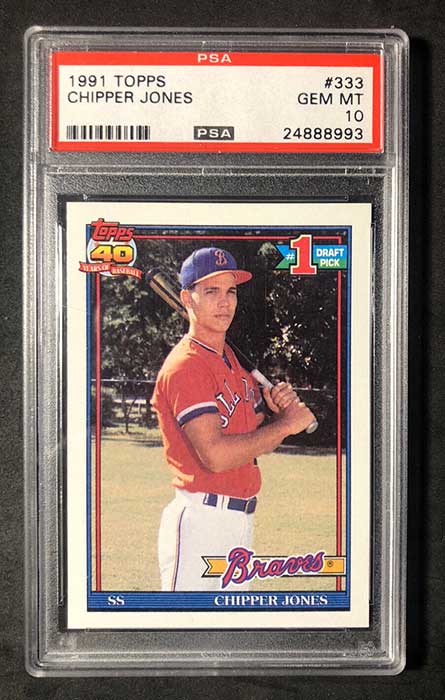 1991 Upper Deck Chipper Jones #55
The 1991 Upper Deck Chipper Jones is Jones' second most graded rookie card by PSA, with the second most PSA 10s. Just over 25% of the total PSA population are PSA 10, which makes this a very reasonably priced card, even in Gem Mint condition.
Find copies of the 1991 Upper Deck Chipper Jones rookie card on eBay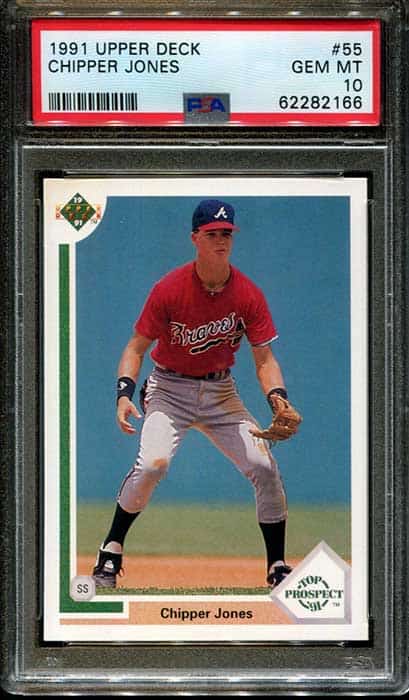 Chipper Jones rookie card value
How much is a Chipper Jones rookie card worth? Check out these recent comps on PSA 10 graded cards:
A word on Tiffany, OPC, and Desert Shield
So, you're sold on Chipper Jones as someone you need in your collection, but the whole junk wax overproduction and over grading thing has you down? There are alternatives worth exploring.
O-Pee-Chee (OPC) produced bilingual cards for Topps in Canada. Typically they feature a smaller set and lower production numbers, although in 1991 both Topps and OPC had the exact same set size and checklist.
PSA has graded only 535 copies, less than 4% of the 1991 Topps. There are 225 PSA 9s and 94 PSA 10s. Recent PSA 9 sales of the OPC have been in a similar range to PSA 10s of the Topps flagship.
Check eBay for prices on the 1991 O-Pee-Chee Chipper Jones rookie.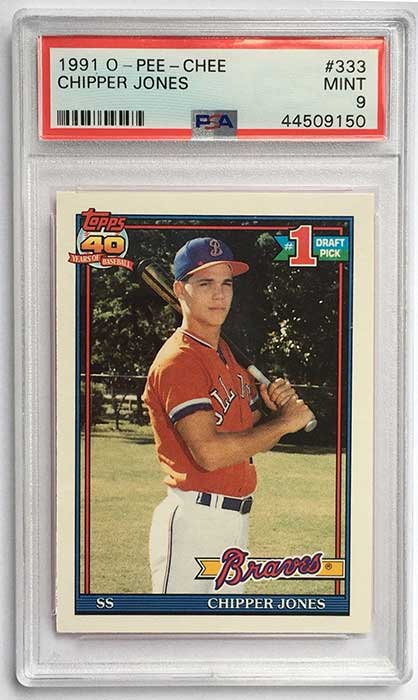 Topps Tiffany was released in complete set form only, and featured higher end stock, more gloss, and a much lower production run than Topps Flagship. The hobby consensus is that only 4,000 1991 Topps Tiffany sets were produced. PSA has graded 784 copies, of which only 41 are PSA 10s. Even PSA 9s sell strongly in the $400-450 range.
Check out prices for the 1991 Topps Tiffany Chipper Jones rookie card on eBay
In 1991, the United States was involved in the first Iraq War, in an operation called Desert Shield. Topps printed a limited number of 1991 Topps cards with a special "Desert Shield" logo that were distributed to troops overseas.
It is estimated that 6,313 sets of 1991 Topps Desert Shield were printed. Of those that survive, PSA has graded 777 copies of the Chipper Jones, with a scant 32 being in PSA 10 condition. Even in PSA 9, the card sells for far more than any other Jones rookie card. A PSA 10 sold for $14,000 this summer.
One note of caution on the 1991 Topps Desert Shield cards: they were counterfeited, and these still come up often. Use special care when purchasing any Desert Shield cards, especially the top rookie cards, and especially raw.
Shop for 1991 Topps Chipper Jones Desert Shield rookie card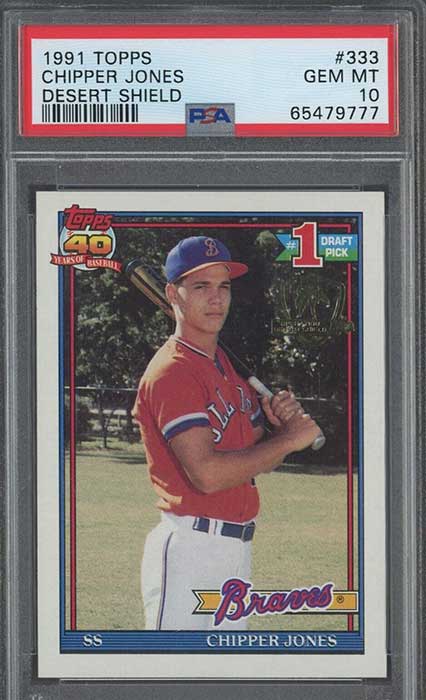 Bowman didn't produce a Bowman Tiffany set in 1991, which robs us of another low pop, high priced Jones to chase.
| Card | PSA Pop | PSA Comp Sub | Recent PSA Comp |
| --- | --- | --- | --- |
| 1991 O-Pee-Chee Chipper Jones #333 | 535 | PSA 9 = 225 | PSA 9 = $80-100 |
| 1991 Topps Tiffany Chipper Jones #333 | 784 | PSA 9 = 281 | PSA 9 = $400-450 |
| 1991 Topps Desert Shield Chipper Jones #333 | 777 | PSA 9 = 161 | PSA 9 = $2,200 |
Chipper Jones Pre-rookies & minor league card
The junk wax era overproduction did not just take the form of lots of each set being produced, but also lots of sets being produced. This included pre-rookie cards such as draft picks, minor leagues, and more.
For example, while his rookie cards are in 1991, Jones did appear on four different 1990 Classic cards, including two solo cards. While kind of neat cards, these sell for only $25-50 in a PSA 10 condition. So, not exactly breaking the bank or great investments, but these are nice inexpensive pickups for the Jones collector.
Jones also appeared on several minor league cards, including a few 1991 Procards offerings, plus more from Classic. Some of the Procards cards can be a little tougher to find and are lower PSA populations, making them another fun option for your Jones collection.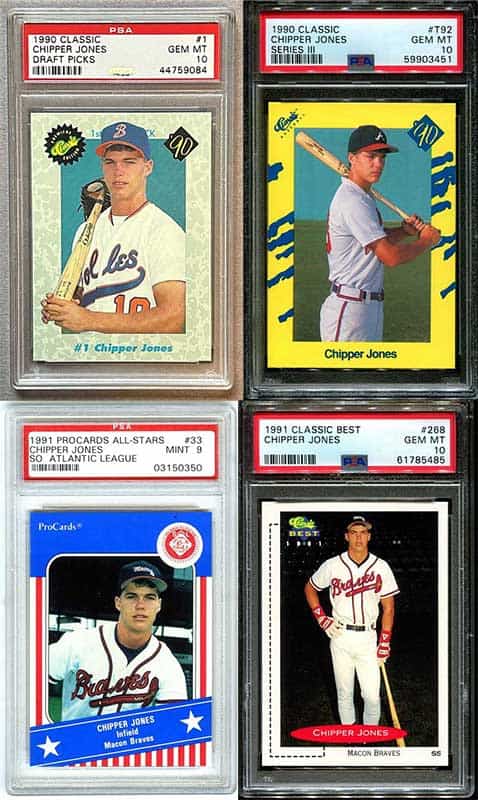 1992 Chipper Jones rookie card – Second year cards
Ordinarily, I wouldn't give much mention to second year cards in an article like this, but I wanted to call out a few interesting 1992 Chipper Jones cards.
Jones appears on a number of minor league cards in 1992, including from Procards, Upper Deck, and Classic.
The interesting cards, in my mind, though, come from Topps and Bowman. The 1992 Bowman Chipper Jones is his second Bowman card after his 1991 rookie card mentioned above. The card pictures Jones not in uniform, but standing in front of a cactus at what looks like a Spring Training site, wearing plain clothes.
In this case, the clothes consist of a pair of black shorts with a brown braided belt, a long sleeve, pinstriped button-down shirt, white sneakers, and a stiff white baseball cap. It's….a bit odd.
The Bowman Jones sells for between $35-70 in PSA 10 condition.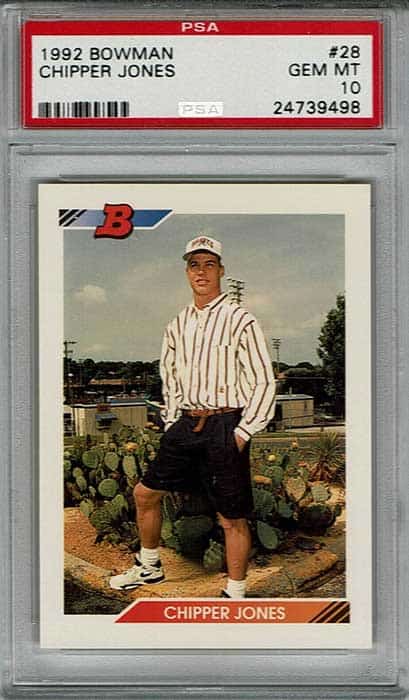 The 1992 Topps Chipper Jones card is interesting only because it's a four-player "prospect" card, which while not unheard of, it is a bit unusual for a player to appear on a multi-player rookie/prospect card AFTER they have appeared on a solo card.
The 1992 Topps Chipper Jones card sells for $20-40 in PSA 10. If you're looking for a bit tougher early Topps Jones, there are Gold and Gold Winner versions available. While these sell for significantly more than the base version, they are still affordable even in PSA 10 slabs.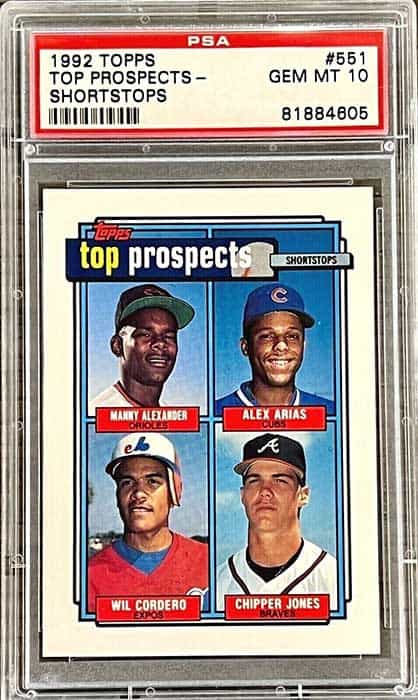 Final thoughts on the best Chipper Jones rookie card
Chipper Jones is an Atlanta Braves icon and a Baseball Hall of Famer. But thanks to their release during the junk wax era, Jones rookie cards are easily available and generally affordable.
The Tiffany and Desert Storm versions provide something for the big game hunter to chase, and the minor league and oddball cards provide lots fun for Jones fans.
In this way, there's a lot of options to own a Jones rookie (or early career) card, and little excuse not to have a Jones RC or two in your collection (unless maybe you were a fan of another NL East team in the 1990's and 2000's, I suppose).
More Cardlines top baseball card rookie coverage