What You Need To Know About Clean Sweep Auctions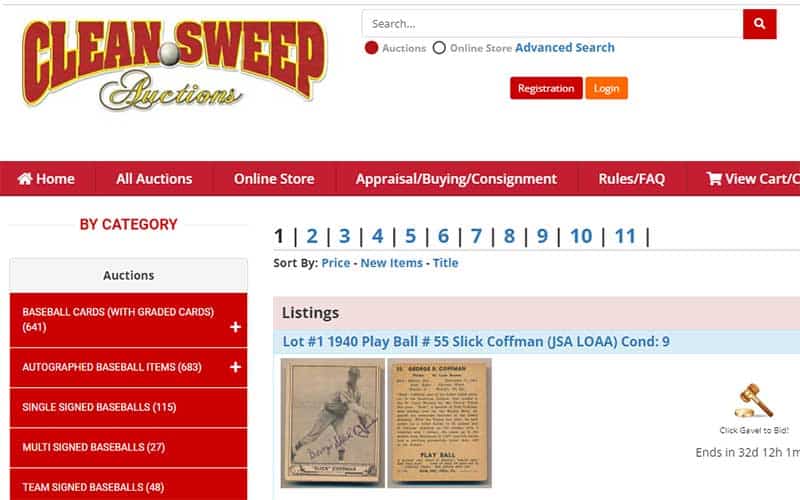 If you've been following our monthly auction house review (March 2023 edition here) then you've seen Clean Sweep Auctions make a number of appearances.
But who is Clean Sweep? What do their auctions look like and how do you bid? What are the rules of the road? We'll explore these questions and more in this review.
Who are Clean Sweep Auctions?
Clean Sweep Auctions has been in the auction business for over 25 years and are located in Port Washington, NY. They were founded by and are run by hobby veteran Steve Verkman.
What is Clean Sweep Auctions known for?
Clean Sweep prides itself on being "not too big or too small". This allows them to provide personal service while still bringing in eyeballs and auction sales results. Like other auction houses, they have ridden the Covid card price wave to record-setting years in 2021 and 2022.
Clean Sweep Auctions cover all major sports and eras, although they do skew towards vintage and baseball. Clean Sweep has been running a series of "$5 Reserve Auctions" which start all auctions at that low price point. These are proving popular, as they lead to lots of bids and action.
Where can I find Clean Sweep Auctions Online?
Clean Sweep Auctions has a presence across the internet, hitting many major platforms, although with perhaps a smaller presence on social media than many competitors.
A rundown:
Also, Clean Sweep Auctions' Steve Verkman can be found on LinkedIn.
Clean Sweep Auctions auction frequency
Clean Sweep runs an auction roughly once a month, or occasionally every other month. For example, Clean Sweep had an auction that ended on March 2nd, with their next auction ending April 12th and 13th. More to come on that one in our next auction preview.
The Clean Sweep Online Store
In addition to running auctions, Clean Sweep also has an online store where you can buy items immediately, direct from them. The store is a differentiator for Clean Sweep, as not many competitors have this feature.
Because of the online store, Clean Sweep actually buys items outright from collectors to make available in the store. If you're considering sending some items to auction and are more concerned with a quick sale and guaranteed price than getting top dollar, this is a viable option. It's the auction house equivalent of selling your cards to a dealer instead of listing them on eBay yourself.
Registering with Clean Sweep Auctions
The registration process with Clean Sweep is pretty straightforward. To get started, you will need to provide some basic info, including a username, password, name, and address. They also ask for auction house references, although it is not clear how many they want or if they check them.
Clean Sweep Auctions basics
Clean Sweep Auctions is a little bit old school. For example, they won't take a credit or debit card. You can pay by personal or bank check, or money order.
A few more things to be aware of:
Bid increments are 10% for items under $40,000. For items over $40,000, the bid increment is 5%.
New York, New Jersey, and Illinois residents are charged sales tax.
They take non-payment seriously. From their website – "Names of collectors who renege will be published in all future auctions and correspondence. Please do not embarrass yourself."
You must bid on an item by 8 PM EST on the final day of the auction in order to place a bid on that item after that time. If you bid on 10 or more auction items, this rule is removed.
Bids placed after 1:30 AM EST on the final day of the auction (extended bidding) are subject to an additional 5% buyer's premium, and after 2:30 AM EST, add an additional 10% to the buyer's premium.
A small number of items in a given auction may have a reserve price, although no reserve is the norm. Items with a reserve price are clearly noted on the item detail page.
Check out the full Terms & Conditions before bidding.
Clean Sweep Auctions Shipping & buyer's premium
Clean Sweep Auctions charges a buyer's premium of 20%, which is basically standard for the industry. Shipping and handling starts at $3 and is based on the item price and size. The estimated shipping cost for each item is listed on the item detail pages.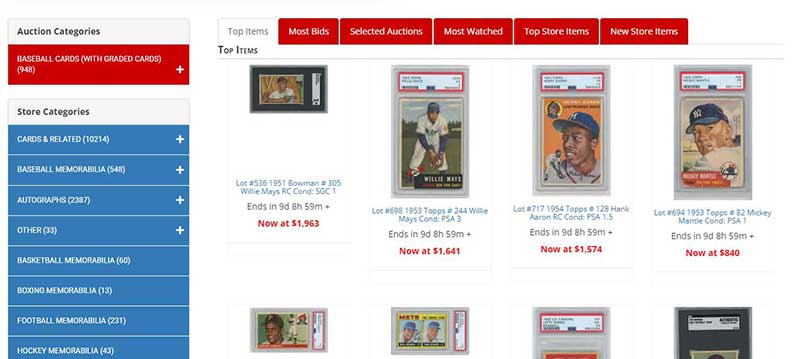 Clean Sweep Auctions: Searching, viewing, Bidding
The Clean Sweep Auctions website has a fairly standard look and feel for a sports card auction site, although it does have a few areas that are worth calling out.
The auction home page can show a mix of auction and online store offerings. Depending on what you're looking for, this can be a welcome feature or a bit distracting. The filtering on the left-hand side of the page allows you to hone in on a particular type of item or an era.
The search at the top of the screen allows you to search either auctions or the online store and appears to work pretty well.
The item detail page includes a large-sized photo or scan of the item, some description info, and detailed info on the current price, next bid, shipping, and any reserve. The large photo/scan is great for seeing the details of an item description.
The item descriptions are a bit sparse compared to some auctions houses' flowery prose, but I can get behind letting the item photo do the talking. The info on shipping cost, auction time left and price, bid increments, and the like is great. Very informative and it has all the info you need to bid intelligently.
The bidding process appears straightforward and simple, although I'd say that before bidding make yourself familiar with the "end of auction" procedure and bid timing requirements as stated higher up in this article.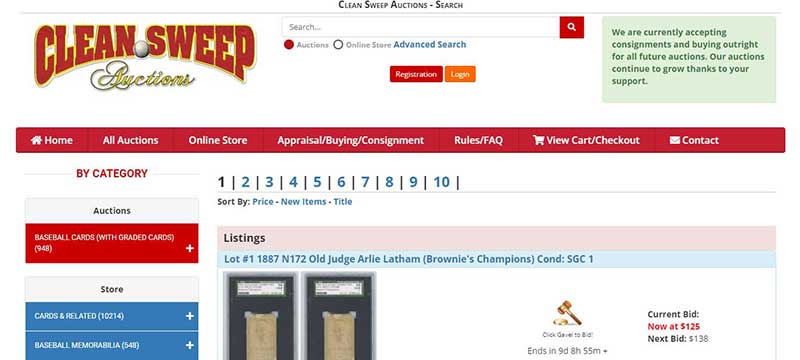 The final word on Clean Sweep Auctions
Clean Sweep Auctions is a long-time industry player with a solid reputation. If you're looking to get into the auction action, Clean Sweep Auctions is a great place to find some impressive items to add to your collection.
Check out our other reviews on notable auction house providers in the industry:
Clean Sweep Auctions frequently asked questions (FAQ)